Govind Dev Ji Temple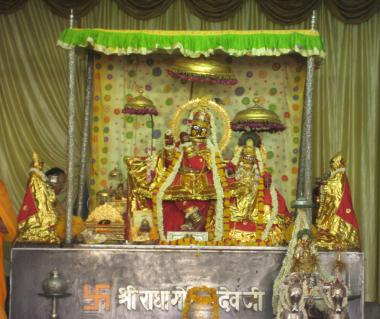 Tours near Govind Dev Ji Temple
Tours for Govind Dev Ji Temple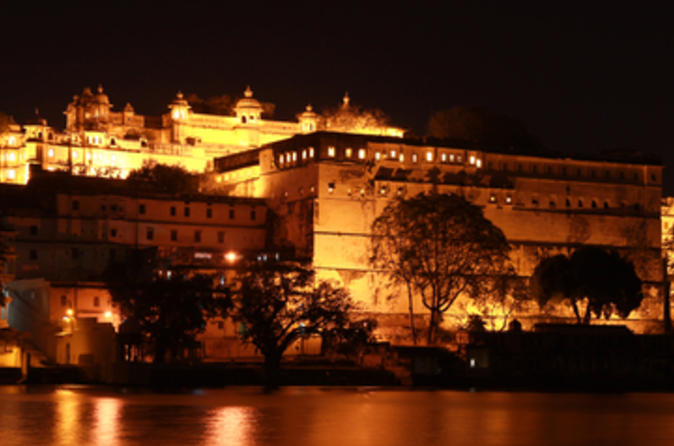 Book Now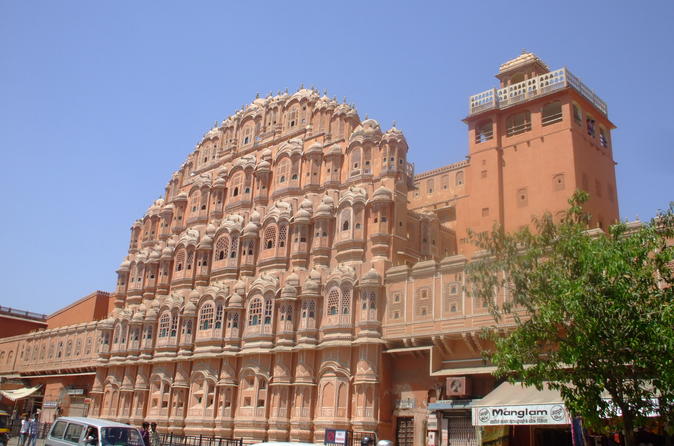 Book Now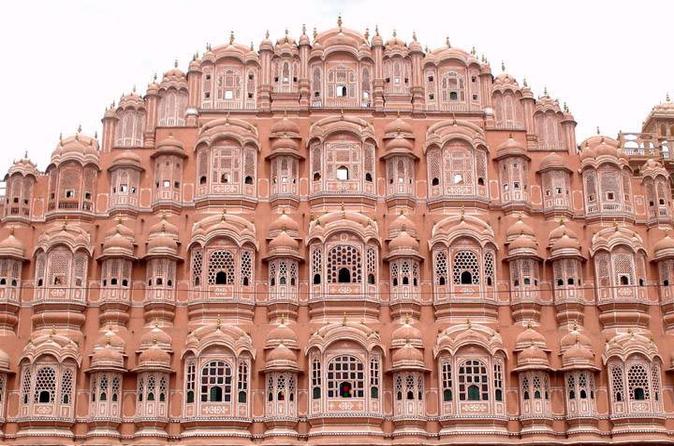 Book Now
Show More
Book Now
Book Now
Book Now
Show More
About Govind Dev Ji Temple, Jaipur
Considered to be one of the most sacred temples in Jaipur, Govind Deviji Temple is much revered by Hindu devotees. Located inside the City Palace complex, this temple exudes spiritual faith and Hindu belief. Devoted to Lord Shri Krishna, this temple houses that idol of him which he exhibited during his incarnation on earth. As you enter inside the premises of this temple, you shall be left awe struck with this idol's magnificence and beauty. If you wish to see the temple in full splendour, visit it during the festival of Janmashtami when it is thoroughly decorated with lights and flowers.
Govind Dev Ji Temple Information
Follow the Hindu rituals while entering the temple.
Govind Dev Ji Temple Tickets Prices
Govind Dev Ji Temple Opening and Closing Hours
Timings are subject to change in different seasons.
For detailed time schedule, refer the website.
How To Get To Govind Dev Ji Temple by Public Transport
By Bus stop: Gattewale Mandir Bus stop.
Love this? Explore the entire list of things to do in Jaipur before you plan your trip.
Fancy a good night's sleep after a tiring day? Check out where to stay in Jaipur and book an accommodation of your choice.
Address: Shanti Niketan Colony, Tonk Phatak, Jaipur, Rajasthan 302015
Phone: +91-9924563892
Time Required: 00:30 Mins
Timings: 05:00 am - 09:00 pm Details
Added 7.8K times in trip plans
Religious Site, Temple, Family And Kids
Try TripHobo Trip Planner
Book Govind Dev Ji Temple Tickets And Tours
Share your experience - Rate Govind Dev Ji Temple, Jaipur
My experience to this place is most amazing. When i visit the temple, first of all it spread in a very large area including park, other tenples. The exciting thing is that when the Aarti starts the people sing it in a very beautiful way. Its a place where your mind feels relax. Love this place

कृष्णनाम कीर्तन से होने वाली शब्द ध्वनी के द्वारासाक्षात् श्री कृष्ण का संग प्राप्त हो जाता है Chant... Hare Krishna Hare Krishna Krishna Krishna Hare Hare Hare Rama Hare Rama Rama Rama Hare Hare And Be Happy... Jai Jai Sri Radhe Jai Srila Gurudev

Read more

This is a temple of lod krishna. it has four green grass garden. Two of them have lots of fun and games for children.it is a perfect place for evening for prays and stay calm.i usually go their for peace and I felt blessed.

"On the order of Śrīman Caitanya Mahāprabhu, Śrī Rūpa Gosvāmī wanted to manifest the deity of Śrī Govinda that had previously been installed by Śrī Vajranābha in Vṛndāvana. One day, during his parikramā of Vṛndāvana, he became very restless thinking about the deity of Śrī Govinda. He sat under a tree on the bank of the Yamunā and wept, yearning for His darśana. At that time, a beautiful Vrajavāsī boy who was also doing parikramā walked past. He saw Śrī Rūpa Gosvāmī weeping under the tree, and asked him why he was crying. At first, Rūpa Gosvāmī said nothing, but when the boy persisted, he revealed to Him the pain in his heart. The Vrajavāsī boy brought Rūpa Gosvāmī to Gomā-ṭīlā and said, "Please listen. Every day, just before noon, one cow comes to this mound, and irrigates this place with the milk from her udder. I think that your desire will be fulfilled here." Saying this, the boy immediately disappeared. Thinking of the beauty and sweet words of the boy, Śrī Rūpa Gosvāmī fainted. Upon regaining consciousness, he called the neighbouring Vrajavāsīs, who very carefully dug up the earth at that place. There, a little under the ground, was Śrī Govindajī, more beautiful than millions of cupids. They bathed the deity with great ceremony. News of this spread quickly, and crowds of people gathered to take darśana of Śrī Govindajī. Śrī Govindadeva is Vṛndāvaneśvara – the Lord (īśvara) of Śrī Vṛndāvana. In the Skanda, Padma, Varāha and other Purāṇas, He is said to be Vṛndāvana's rāja-rājeśvara, King of kings. Śrī Govindadeva is thus the worshipful deity of Vṛndāvana. Śrī Caitanya-caritāmṛta (Ādi-līlā 8.50–states: "At the mahā-yogapīṭha in Vṛndāvana, beneath a desire tree is a golden throne bedecked with jewels. On that throne Vrajendra-nandana, Śrī Govindadeva, the transcendental Cupid, is seated." Śrī Caitanya-caritāmṛta (Ādi-līlā1.16) also says: "I meditate upon Śrī Rādhā-Govindadeva, who are seated beneath a desire tree on an effulgent bejewelled throne in the supremely beautiful land of Vṛndāvana. There, They are always being served by Their beloved sakhīs, especially by Lalitā and Viśākhā." There are many famous statements regarding Śrī Govinda in different scriptures." Before Śrī Rūpa Gosvāmī's arrival in Śrī Dhāma Vṛndāvana, it was unheard of to place a deity of Śrīmatī Rādhikā beside a deity of Śrī Kṛṣṇa. It so happened that a deity of Śrī Rādhikā, who was present in the temple of Jagannātha in Purī-dhāma at a place named Cakrabeḍa, was being worshipped by everyone as Lakṣmījī. Śrīmatī Rādhikā instructed the father of Mahārāja Pratāparudra, Puruṣottama Jānā, in a dream: "I am not Lakṣmī; I am Rādhā, the beloved of Vrajendra-nandana Śrī Kṛṣṇa. I am waiting for the manifestation of Śrī Govindadeva in Vṛndāvana. When He appears please send Me to Him with great care." This deity, along with other deities of Śrīmatī Rādhikā, was later sent to Vṛndāvana with Śrī Jāhnavā Ṭhākurānī, and the contemporary gosvāmīs placed this deity of Śrī Rādhā to the left of Śrī Govindadeva. After being united with Śrīmatī Rādhikā, Śrī Govinda became famous by the name of Śrī Rādhā-Govinda. In 1670 AD, the tyrannical Mughal emperor Aurangzeb demolished Govindadeva's temple, destroying the top four floors. Before the temples of Vṛndāvana were destroyed, Śrī Govindajī and other worshipful deities of the Gauḍīyas were sent to Jaipura. The ancient and original Govindadeva along with His beloved Rādhikā now reside here in Jaipura near the royal palace." Excerpt from the book 'Sri Vraja-mandal Parikrama' by Srila Bhaktivedanta Narayana Gosvami Maharaja

Read more
Read all reviews