Jammu Tourism
Explore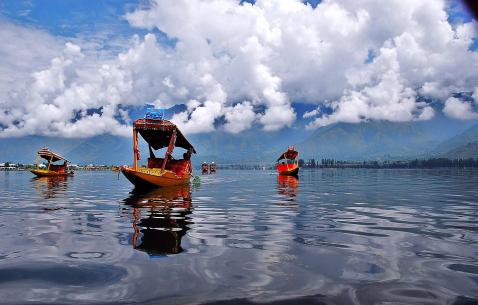 Accommodations with

See All
Visit Jammu - Best of Jammu
Called the city of temples, Jammu is the winter capital of the Indian state of Jammu and Kashmir. A beautiful, green, hilly city with warm big hearted people and lot of well known tourist attractions, an itinerary to Jammu is usually popular among families.
A municipal corporation that oversees the administrative matters of the Jammu directin, this city is also the gateway to the exotic valley of Kashmir.
It has been the winter capital of the region since the times of the Jammu and Kashmir princely state.
The existence of this city dates back to the Harappan civilization. Traces from Maurya, Kushan, Kushanshahs and Gupta periods have been found at excavation sites near the city.
A legend states that Raja JambuLochan, brother of Bahulochan saw a tiger and a deer drinking water from river tawi harmoniously and took that as a sign that it was the right place for a peaceful co-existence. He built the Bahu fort there and the settlement around the fort grew over ages to become the city of Jammu.
Of all the rulers in Jammu, the Dogra rulers are fondly remembered in the area. They rejuvenated the city, renovated and built the forts, temples and mosques. Their influence on the architecture and cuisine can be still seen in the region.
The city has a number of visits worthy temples and mosques. Intricately carved designs on the walls and peaceful surroundings make these places very memorable. Some of these places are Chrar-e-Shareif, Martand sun temple, Raghunath temple, SudhMahadev temple, PeerbabaDargah and Peer kho cave temple.
Jammu itineraries must include Mubarak Mandi Palace, Bahu fort, Baag-e-Bahu Park, Amar Mahal Museum, Mansar Lake and the Fish Aquarium at Baag-e-Bahu.
Many tourists travel to Jammu to visit the Vaishno Devi temple which is very close to Jammu at Katra. Thousands of Hindu pilgrims pass through Jammu every year to visit this temple and get the blessings of the Mata. It is one of the biggest pilgrimages in all over the world.
Jammu has a lot of things to offer to make a choosy traveller happy. Apart the warm welcomes from the chirpy locals, the creativity of these folks is reflected in all the handicraft materials and fabric created in the local markets. Raghunath Bazaar and VirMarg are popular shopping destinations.
Last but not the least, a Jammu vacation planner must introduce you to the culinary heights of the region! This city is one of the best places in the state to understand food laced with hidden Dogri delights. Don't forget to try the authentic food, especially the meaty delights!
Don't forget to buy a Pashmina shawl as a souvenir and yes, ' Jai Mata Di'!!
Explore the best travel planner for your visit to Jammu and create a flawless plan in few simple steps!
More about Jammu
Trip plans for Jammu