Things to do in Jersey City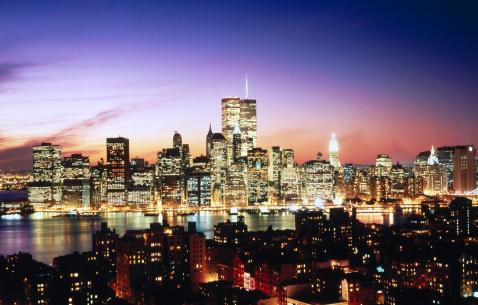 30 Best Things To Do in Jersey City
1. Behold the skyline of NYC from Liberty State Park
Making an impact on almost every visitor coming to Jersey City, the Liberty State Park offers a plethora of activities to do. Rent a bicycle, work up some sweat with a run, feel the breeze as you enjoy a rejuvenating stroll or simply catch a bench and enjoy the beguiling skyline of New York. Sprawling across an area of a whopping 1,212 acres, this park is a photographer's delight with its inclusions of Caven Point, Chapel Avenue and the gorgeous Peninsula Park. This is also the city's favored picnic spot making it a patent of best things to do in Jersey City. The fact that you can behold all this goodness absolutely free of cost makes this park all the more appealing.
2. Indulge in some edutainment at the Liberty Science Center
Counted among the best things to do in Jersey City with kids, the Liberty Science Center is a plethora of enlightenment and fun. Children along with adults can take part in activities such as film and laser shows of the planetarium. There are special programs for kids and adults for various days of the week including weekends. The adults can make the most of programs like the MakerLab Classes and Hands-On Learning at LSC After Dark. School field trips too are a popular thing here encompassing activities such as Laboratory Workshops, Innovation Lab & MakerLab, Live From Surgery and more. Kids, especially, would enjoy programs such as the LSC Science Camp conducted for different levels.
3. Pay your respects at the Empty Sky 9-11 Memorial
Commemorating the doleful event of 9/11 that had 746 New Jerseyans losing their lives, the Empty Sky 9-11 Memorial lies in the Liberty State Park. What you will see here are two twin walls towering at height of 30 feet. These walls also feature names of all these victims engraved on stainless steel, each letter featuring a length of 4 inches. This indeed is a remarkable sight and your opportunity to empathize with the 9/11 event. Naturally, the memorial is a very silent and humbling place to be at. For these reasons and more, this is one of the best places to see in Jersey City.
4. Get wonderstruck at the New Jersey Colgate Clock
Bestowing you with panoramic views of Manhattan, the New Jersey Colgate Clock is a one of its kind attraction. A vantage point you've got to include in your list of things to do in Jersey City, this attraction is simply stirring with its unique octagonal structure. Owing to its height of a whopping 400 metres, this clock can be spotted from anywhere in the city. More than the day, it is the night that draws out to the true colours, read lighting, of this clock.
5. Get enchanted by mesmerizing sunsets at the Liberty Landing Marina
The Liberty Landing Marina is a slip marina boasting of a capacity to dock 520 ships. This is a lovely place to spend a few minutes or even few days. Locals love to come here in the evenings, dock and enjoy some good dining at the two restaurants here. This attraction too is located in the huge Liberty State Park. There are ferry services to New York as well as the Statue of Liberty. The ease of parking here elevates the marinas appeal. It is a practice for many to drive down till here and then take a boat to New York. Apart from all this, mesmerizing sunsets are something you that make it a usual on the best things to do in Jersey City in the evenings.
6. Witness a power packed performance at the Loew's Jersey Theatre
A beautiful palace (dating back to the 1930's) converted into a theatre, the Loew's Jersey Theatre amplifies the drama of any performance you witness here. With remarkable amenities such as a very good sound system, a theatre experience here is truly glorifying. One of the most popular things to do in Jersey City. Along with theatre performances, the Loew's Jersey Theatre is also a popular venue for live musical events. Historical, mysterious, vintage and a step back in time are some ways to describe a visit to the Loew's Jersey Theatre. The walls are adorned with motifs from the bygone era.
7. Spend an evening soaked in leisure at the J. Owen Grundy Park
Bestowing visitors with unparalleled views of the Manhattan skyline, the J. Owen Grundy Park is a patent on almost every list of things to do in Jersey City. The evenings here can be especially very rewarding with the views of the sunset, the cool breeze, a soul-stirring walk with a friend or perhaps yourself. Lot of places to sit down at and get something to nibble on from the many food parks present on site. The sundial here is especially worth a mention here. If you have keen interests in it, you can even learn how to interpret it.
8. Take a chill pill at the Zeppelin Hall
There is no dearth of places in Jersey City to chill with a bottle of beer along with some good food. Of the many best places to eat in Jersey City, the Zeppelin Hall has garnered itself a unique reputation. Essentially a European-style biergarten, this restaurant is popular for its wide array of more than hundred beers imported from Europe and American crafts. along with lip-smacking German & American grubs. At any given time of your visit, you are most likely to walk into some live music performance or a DJ dishing out some groovy music.
9. Feel the breeze at the Hudson River Waterfront Walkway
Essentially designed to link the municipalities of George Washington Bridge and Bayonne Bridge by an even access, the Hudson River Waterfront Walkway today is counted as one of the most rejuvenating places in Jersey City. Spanning across the shoreline of the Hudson River, this walkway stretches at a distance of 18.5 miles or 29.8 kilometers. A walk here will give you the opportunity to see a melange of sights including views of the New York skyline, wetland preservation zones, public and private marinas as well as re-developed piers along with a lot more. Best visited towards the sunset.
10. Experience a live music performance at the White Eagle Hall
A place dotted by live music enthusiasts, the White Eagle Hall is basically a theatre, dining and music venue. Over the years, this attraction has drastically shaped Downtown Jersey City's nightlife. Apart from live music, one can look forward to theatre and dance performances too at this theatre. Its construction dates back to the year 1910 when it was propagated as a community centre. In the past events of bingo games, concerts and dance recitals too have taken place here. Today is out and out and entertainment centre. The area of this venue sprawls across 8,000 square-foot accommodating several people at a time, both seating and standing.
11. Flashback on the past at the Katyn Memorial
Built in memory of the 1940 Katyn massacre, the Katyn Memorial was unveiled to the public in the year 1991. It is designed by famous Polish-American sculptor Andrzej Pitynski. The statue depicts a soldier being impaled by a bayoneted rifle in the back. Along with this commemoration, this site is famous for the beguiling views of Manhattan skyline one gets from here. To get the most of this attraction, it is suggested that you take a stroll around it. At first, the statue may appear disturbing but it only after one learns its purpose that they get its importance.
12. Revere the historic Grace Church Van Vorst
When you seek some spiritual tranquillity amidst your exploration of Jersey City, make a visit to the Grace Church Van Vorst. Owing to its listing on the National Register of Historic Places, several visitors to the city make it a point to include this church on their list of things to do in Jersey City. Its construction, however, dates back to 1853. A striking construction of brownstone and a distinctive slate roof, this church is certain to mesmerize onlookers
13.Enjoy a rejuvenating stroll at The Morris Canal
Located in proximity to the State Liberty Park is the serene Morris Canal. A brilliant place to be combined with the other things to do in Jersey City, the canal boasts of some iconic moments from history. It was in the year 1836 that the canal's extension was introduced into the city. Ever since the canal has played a pivotal role in shaping the city's industrial development. This is a spot that several locals resort to for daily leisure. Cycling, walking and basking in the beauty of Manhattan skyline from here.
14. Shop till you drop at the Newport Centre Mall
Ever since its opening in the year 1987, the New Port Mall has been serving shopaholics that come to explore Jersey City from across the world. The mall spans across three floors full of entertaining avenues such as shops, restaurants, movies and more. You can find everything from designer brands to boutique clothing to your liking here. Seasoned shoppers also believe this to be a great option instead of shopping in New York that may have a heavier taxing system. Evenings and weekends see a lot of crowd at this mall, so if you are not fond of that, it is best to visit on weekdays, preferably early mornings.
15. Check out the beauty of the vintage Stanley Theatre
A fabulous example of restoration, the Stanley Theatre is a beautiful landmark of Jersey City. it has been adding to the entertainment experiences of locals as well as visitors ever since its opening in the year 1928 on the 24th of March. This is a beautiful site, and everything about this theatre adds to the dramatic experience one can look forward to here. Details such as solid brass doors, copper marquee, huge arched windows and materials outsourced from places like Italy are what deserve special attention. Today, it is a popular venue for several city happenings including assemblies and performances.
16. Head to the Old Bergen Church for a spiritual delight
Instituted way back in the sixteenth century, the Old Bergen Church is the city's oldest continuous religious congregation. However, the edifice that you see today is that what was built in the year 1841. The congregation of the church holds significance for the fact that it was instituted in the year 1660 in a Netherlands village called Bergen. With services initially being held in log houses, today the church boasts of modern amenities to facilitate the same. All in all, a great place to visit when you seek some spiritual enlightenment.
17. Admire thought provoking work at the Museum Of Russian Art
A given on every art enthusiast's list of thing to do in Jersey City, the Museum of Russian Art is a treasure trove of skill, craft and technique! If you are someone interested in knowing more about art with one on one interactions with the artists themselves, then the Museum of Russian Art is a place to be. The exhibits of the museum are displayed very well, serving your interests well. Russian art along with some exquisite Jewish Russian art as well as Soviet Nonconformist Art are what you can look forward to on your visit here. It was formerly known by the name C.A.S.E. Museum of Russian Art in Exile.
18. Spend a few moments of tranquility at the Bayview - New York Bay Cemetery, Jersey City
Cemeteries have their own charm that beguile several and it is the places like Bayview - New York Bay Cemetery in Jersey City that prove this just right. Owing to its tranquilness, the cemetery sees several locals coming here to indulge in activities such as morning walks or simply to seek solace. Previously known as the Greenville Cemetery, the cemetery later went on to be merged with the New York Bay Cemetery leading to its present name of Bayview - New York Bay Cemetery. It was constructed in the eighteenth century; the year 1848 to be precise.
19. Get awestruck by design at the Hudson County Courthouse
Set in one of the most strategic locations of Jersey City, the Hudson County Courthouse is a six-story structure that will strike you several times as you explore Jersey City. It holds special significance for being one of the few structures of the Beaux-Arts architectural style in the nation. The construction of this building spanned across a period of four years from 1906 to 1910. It is also known by the name of Justice William J. Brennan Jr. Courthouse since the year 1984 following the decision of The Hudson County Board of Chosen Freeholders.
20. Behold natural goodness at the Delaware Water Gap National Recreation Area, Jersey City
Sharing borders with the region of New Jersey along with Pennsylvania, the Delaware Water Gap National Recreation Area is one of the best things to do in Jersey City for nature and outdoor enthusiast alike. Blessed with a wealth of natural beauty including enchanting forested mountains, several grassy beaches and the much famed Delaware Water Gap this attraction is exhilarating. Of all things, it is the sight of the Delaware Water Gap dividing the Kittatinny Ridge that is truly beholding. Trails like the Appalachian National Scenic Trail, one of the most famous hiking trails in the USA are located in this area.
21. Have a good evening of food and drinks at the Light Horse Tavern
Previously a very popular speakeasy in the city, the Light Horse Tavern today serves as one of the best places to eat in Jersey City. Its existence dates back to the eighteenth century following restorations in the year 1850. The restaurant derives its name from the early American Patriot and politician, Henry Lee III who was monikered as "Light Horse Harry". Look forward to some lip-smacking delicacies served by the incredibly talented chef Marcos Costas. He replaced the very famous Ian Topper-Kapitan who was known as "Jersey City's Transformative Chef" in the year 2007. A great place to enjoy a good dinner along with drinks combined with a good ambiance!
22. Let Italian food take over your senses at the Hudson at Battello
Bringing to you authentic delicacies of Italy is the fabulous Hudson at Battello counted among the best places to eat in Jersey City. This place has especially got to be on your list of things to do in Jersey City if you are a fan of good seafood. A visit here bequeaths you with an experience of good food and drinks along with scenic views of the Hudson River. The best time to visit Hudson at Battello would undoubtedly be around sunset when you get to see the skyline transfer into this panorama of glitz! You can also look forward to the restaurant's happy hours. For operating hours, it is advised to call ahead and check.
23. Work some sweat at the Lincoln Park
Sprawling across an area of 273.4 acres, the Lincoln Park is a lovely urban park that began operating in the year 1905. Formerly known as the West Side park owing to its location, this park is divided into two sections- Lincoln Park East along with Lincoln Park West. In the middle lies the highway of U.S. Route 1/9 Truck. To get to either side of the park, one can access the foot and vehicular bridge. Owing to the sports, especially gymnastics and recreation facilities, the park draws several fitness enthusiasts as well.
24. Get awestruck by architecture at the Hudson and Manhattan Railroad Powerhouse
One of the most popular historical landmarks of Jersey City, the Hudson and Manhattan Railroad Powerhouse has played a pivotal role in shaping the city's subway system. Although not in its best state at the moment, this attraction sees several visitors. The architecture of this structure is especially noteworthy with its distinct redstone construction. It is surrounded by several cafes and restaurants that make a quick grub possible.
25. Sip some coffee followed by a stroll at the Paulus Hook
Featured in several Hollywood and other movies alike, the Paulus Hook is the quaint neighborhood of Jersey City that boasts of the characteristic red stone apartments. The neighborhood derives its name from the Dutch word "hoeck" which means a point of land in English. It also holds significance for once being a British colonial fortification. This area is one of the most expensive real estate properties characterized by expensive homes and coffee shops. If you like old-world stuff then the post office here is a definite must-see!
26. Make merry in Hoboken
Located towards the northern side of Jersey City lies the tiny city of Hoboken packed with a number of party places. Once a sleepy town comprising the quintessential redstone apartments, this city dons a reputation of a lively party city owing to a plethora of clubs, bars, restaurants and lounges, today. There dive bars, cantinas and gorgeous drinkeries all across the city, making this ideal for those who love to chill! The area of Washington Street especially is dotted with such options.
27. Check out the art of brewing at Departed Soles Brewing Company
As intriguing as the name sounds, the Departed Soles Brewing Company is a place every beer-lover must include on their list of things to do in Jersey City. There is a wide range of beers one can find here. The fact that all are brewed right in the heart of the city make it even more special. Health freaks can rejoice by knowing that this place also serves brews with ingredients that are 100 percent gluten free. The cool ambiance of this place is denoted by skateboards and graffiti donning walls. You can have all your queries answered by the very calm and knowledgeable bartenders.
28. Head to Dullboy to spend a good evening
Amongst a plethora of good places to eat and drinks in jersey City, the Dullboy is one bar that has garnered attention with its fantastic ambiance and delicious cocktails along with American food. With a rustic, exposed, red brick walls, this place bequeaths visitors with a cool vibe. Along with delicious cocktails make sure you order some food off the menu should you be on keen on indulging in preparations by chefs who have experiences in Michelin-starred restaurants. One of the most popular of their dishes includes the Dull burger.
29. Visit Little Manila to experience Filipino culture
A brilliant place to visit if you are interested by other cultures, the Little Manila is a delight presenting you with the very interesting Filipino culture. There are several places where you can try out authentic drinks and food that come at a price too good to be true and full of flavours! From home-cooked dishes to those with a regional twist, this place will not cease to surprise on the food front. Some of the best places to try out authentic Filipino food include the Casa Manila, Fiesta Grill, American Pinoy Food Market and the Little Quiapo.
30. Spoil yourself with homemade ice creams at Torico
A foodie's delight, more so for someone who has a sweet tooth, the Torico ice cream shop is an absolute must-visit while exploring Jersey City's food scene. This is one place where you can relish a variety of homemade ice creams. It has been in business since the year 1968 and ever since has been creating ice cream lovers! Choose your pick and further adorn it with your choice of toppings and sauces and you are sorted for one indulging time! All this goodness from ingredients as real as they could get, sure are reasons enough to consider a visit here.
Explore the travel planning tool for your visit to Jersey City and create a flawless plan in few simple steps!
29 Tourist Attractions in Jersey City

Must see places in Jersey City ranked on popularity. Here is the complete list of best attractions in Jersey City and point of interests to visit.
Tourist Attractions Near Jersey City
Find Your Jersey City Attractions on Map
Types of Things To Do in Jersey City
Find more attractions and places to visit in Jersey City under these things to do categories.
Top Jersey City Activities And Tours
Explore the best things to do in Jersey City. These are the most preferred tourist activities.
Save 10%

1 Reviews

Duration: 1 Hrs

Experience an interactive 1-hour Pyramid Escape Game. Try your hand at solving advanced puzzles and riddles to see if yo...
Find more places to see in Jersey City
Morris-Jumel Mansion

65 Jumel Ter

Historic and Protected Sites

Hamilton Grange National Memorial

414 W 141st St

Historic and Protected Sites

Oakeside Bloomfield Cultural Center

240 Belleville Ave

Historic and Protected Sites

General Society Of Mechanics

20 W 44th St

Historic and Protected Sites

Sidewalks Of NY Tours

88 Greenwich St

Historic and Protected Sites

Federal Hall National Memorial

26 Wall St

Historic and Protected Sites
View On Map
Jacqueline Kennedy Onassis Reservoir

1150 Park Ave

Lakes

Central Park – Turtle Pond

Lakes
View On Map
Jersey City Museum

350 Montgomery St

Museums

Liberty Science Center

222 Jersey City Blvd

Museums

Liberty Science Center

251 Phillip St

Museums

Museum of Russian Art

80 Grand St

Museums

Ellis Island Immigration Museum

1 Audrey Zapp Dr

Museums

Afro-American Historical and Cultural Society Museum

1841 John F Kennedy Blvd

Museums
View On Map
Adventurers Amusement Park

1824 Shore Pkwy

Amusement Parks

Arcades

Rack N Roll Family Fun Center

212 Washington Pl

Amusement Parks

Arcades

Boardwalk Billiards

3200 Coney Island Ave

Amusement Parks

Arcades

Funtime Junction

400 Fairfield Rd

Amusement Parks

Arcades

El Dorado Bumper Cars & Arcade

1216 Surf Ave

Amusement Parks

Arcades

Blood Manor

163 Varick St

Amusement Parks

Restaurants

Landmarks
View On Map
White Star Warren

179 Warren St

Burgers

Bars

American

Litm

140 Newark Ave

American

Bars

Burgers

Surf City

1 Marin Blvd

Bars

American

Seafood

Skinner's Loft

146 Newark Ave

American

International

Bars

9th and Coles Tavern

174 Coles St

American

Bars

Burgers

Brazickis Tavern

153 Liberty Ave

Bars
View On Map
Frankie's Carnival Time

3435 E Tremont Ave

Casinos and Gaming

Restaurants

Bronxdale Bingo

2028 White Plains Rd

Casinos and Gaming

Restaurants

Resorts World Casino New York City

11000 Rockaway Blvd

Casinos and Gaming

Bars

Sushi

Fifth Av Hall

416 5th Ave

Casinos and Gaming

West Side Hall

309 W 125th St

Casinos and Gaming

Cafes, Coffee and Tea Houses

Casino Special Event

215 Wessington Ave

Casinos and Gaming
View On Map
Columbus Park

67 Mulberry St

Playgrounds

Natural Parks

Thomas Edison National Historical Park

211 Main St

Natural Parks

Overpeck County Park

Fort Lee Rd

Natural Parks

Battery Park

70 Little West St

Natural Parks

Hamilton Park

773 Boulevard E

Natural Parks

Jamaica Bay Wildlife Refuge

175 Cross Bay Pkwy

Natural Parks
View On Map
Washington Park

2ND St

Playgrounds

Dog Parks

De Witt Clinton Park

W 52ND St

Playgrounds

Dog Parks

Church Square Park

4TH St

Dog Parks

Williamsbridge Oval Park

3225 Reservoir Oval W

Dog Parks

Randall's Island Park

20 Randalls Is

Dog Parks

Wolfe's Pond Park

420 Cornelia Ave

Dog Parks
View On Map
Newport Beach

Park Lane South

Beaches

Silver Gull Beach Club

1 Beach 193rd St

Beaches

Rockaway Beach and Boardwalk

8601 Shore Front Pkwy

Beaches

Riis Park Beach Bazaar

157 Rockaway Beach Blvd

Beaches
View On Map
Mount Moses

1770-1778 Manor Rd

Hiking

Hudson River Greenway

282 West St

Hiking

Brooklyn Bridge Promenade

Brooklyn Bridge

Hiking

Watchung Reservation

1 Cataract Hollow Rd

Hiking

Alley Pond Park Trail

Hiking
View On Map
What To Do in Jersey City: Day-Wise Ideas
Find what not to miss in Jersey City! Recommended Jersey City itineraries and vacation ideas created by travelers across the world.