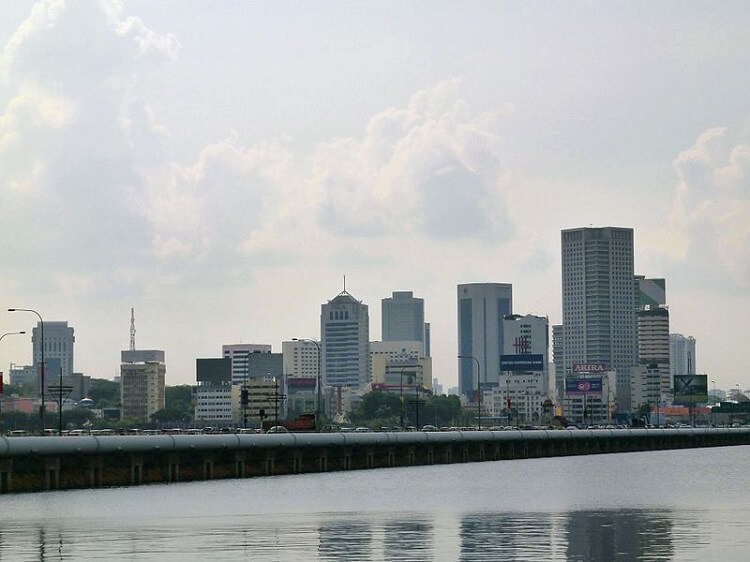 Image Source: wikipedia.org
You will come across enough spots of sightseeing attractions, cultural attraction, religious structures along with various things to do in Johor Bahru on your trip.
Things to do in Johor Bahru
Let's explore the best things to do in Johor Bahru:
1. Build your own Lego at Legoland Malaysia

Image Source: wikimedia.org
The first international theme park in Malaysia, Legoland is a children's paradise. Enjoy over 40 interactive rides and shows.
Head on here for a fulfilling day for the kids, with the perfect end at the Legoland hotel - a Lego-themed hotel, attached to the theme park.
Get on the aerial monorail ride, perfect for adults accompanying their kids here.
2. Danga Bay

Image Source: wikimedia.org
Danga Bay recreational park is the largest, one of its kind attraction in the city.
Along with featuring several rides, this attraction is also popular as an events' venue.
Kids, especially, are certain to have a great time here.
A bunch of restaurants dotting the Danga Bay make this an ideal place to spend the evening at.
3. Be in Awe of Splendour at the Istana Besar

Image Source: flickr.com
Constructed in 1866, the palace has a beautiful view overlooking the Straits of Johor.
Be sure to visit the Royal museum located inside the palace for a detailed history into the lifestyle of the royal family.
The palace architecture is inspired by an Anglo-Malay style, with an artful dome of Malay design and a distinctive blue roof – indicatively of the Anglo influence.
4. Let your kids make merry at the Angry Birds Theme Park

Image Source: wikimedia.org
Located surprisingly within the famous Komplex Tun Abdul Razak mall in Johor Bahru, this theme park is at its unique best.
A big hit with the children, this theme park is designed after the famous mobile game – Angry Birds.
Get kids to try the many activities within the park such as the foam pit, the trampoline, and the exciting egg hunt.
5. Glance upon splendid architecture at Arulmigu Sri Rajakaliamman Glass Temple
Built in 1922, Arulmigu Sri Rajakaliamman temple is one of the oldest Hindu temples in Johor. A true display of Malaysian architectural prowess, this temple is unlike any other - earning it a Guinness world record.
The temple's key attraction is its reflective glass body which makes up 90% of the surface of the temple.
The interior is covered with colourful mosaics, statues and murals, making it a beautiful picture backdrop.
The temple is primarily open for religious activities but also permits tourists at specific hours.
6. Enrich yourself with the culture at Sultan Abu Bakar State Mosque

Image Source: wikimedia.org
The sun setting over the horizon with the skyline of Johor Bahru on one side and the Straits of Johor on the other – this is the sight you will be rewarded with when visiting the Sultan Abu Bakar State Mosque.
Known to be one of the oldest and most beautiful mosques in Malaysia, it can accommodate over 2000 worshippers at a time.
The architecture – a mix of Victorian and Malaysian styles – is a sight for sore eyes.
Listed as a protected heritage site by the Department of Museums and Antiquities, head over here to be culturally enriched.
7. Be one with the animals at Johor Zoo

Image Source: flickr.com
Johor Zoo is one of the first zoos to open in Asia.
From the mighty prides of lions to our distant relatives - the gorillas, this zoo is home to hundreds of species of animals. F
Apart from animal-watching, the zoo also offers activities like paddle boating, horseback riding, or even feeding the animals.
8. Walk through history at the Chinese Heritage Museum

Image Source: wikimedia.org
Located in the heart of Chinatown, the museum provides a glimpse into how the Chinese people in Johor lived.
From mock-ups of the rooms to the many artefacts kept here, the tour lets you step back in time.
If you are into the history and culture of a place, this museum is not to be missed!
9. Discover Chinese heritage Tan Hiok Nee Heritage Street
A perfect combination of old and news, the Tan Hiok Nee heritage street showcase the Chinese heritage through the architecture and buildings and adopts the new with the many modern cafes here.
It highlights numerous food and retro bistros and old-fashioned shops.
Pick from any of these famous bistros - Bev C, a boutique cafe, Drums Cafe, Amphawa Boat Noodle, Chaiwalla & Co container cafe, EHHE Art Café - for a great food experience.
10. Explore Gunung Pulai Forest Reserve

Image Source: wikimedia.org
With beautiful trails for walking and cycling, this reserve is a hiker's paradise.
Although the entire length of the trails is only 10km, the picturesque view and the magical rainforest sounds, make up for the short distance.
Being 700m above sea level, the reserve remains at a pleasant climate throughout.
Cut off from concrete buildings and civilization, it is the perfect escape for adventure lovers.
11. Pet a majestic bird at Desaru Ostrich Farm
Has it been a dream to be within petting distance of a majestic bird like Ostrich? Then look no further than the Desaru Ostrich Farm as it gives you this very experience.
With over two hundred ostriches in the farm, visitors can take pictures and even ride these powerful birds for a fee.
There is also a well-stocked souvenir shop, where you can buy ornaments made from ostrich eggs, beaks, bones and even leather.
If you are in the mood for an adventurous tasting, the in-house restaurant also offers ostrich meat, done a few different ways.
12. Eat at Meldrum Night Market
A must-visit for all foodies, the Meldrum night market is just a short distance away from JB Sentral.
Hidden away in a back alley behind two famous food streets - Jalan Wong Ah Fook and Jalan Meldrum, this market has a variety of culinary treats for all who visit.
From Singapore delights like Char Kway Teoh to the Malay version of pancakes (Apam Balik), this market offers street food at its best.
If ambiance and fancy seating is not a matter of prime importance for you, then head on here for the best food experience!
13. Get into dangerous encounters at the Teluk Sengat Crocodile Farm

Image Source: wikimedia.org
If you are looking for a kick of adrenalin from close encounters with dangerous animals, then look no further.
Teluk Sengat Crocodile Farm allows the visitors to touch crocodiles with their bare hands.
A conservatory and tourist centre in one - the farm also gives visitors the chance to observe baby crocodiles, watch and feed in the hundreds of more crocodiles they have.
14. Explore ancient tradition at Johor Bahru Old Chinese Temple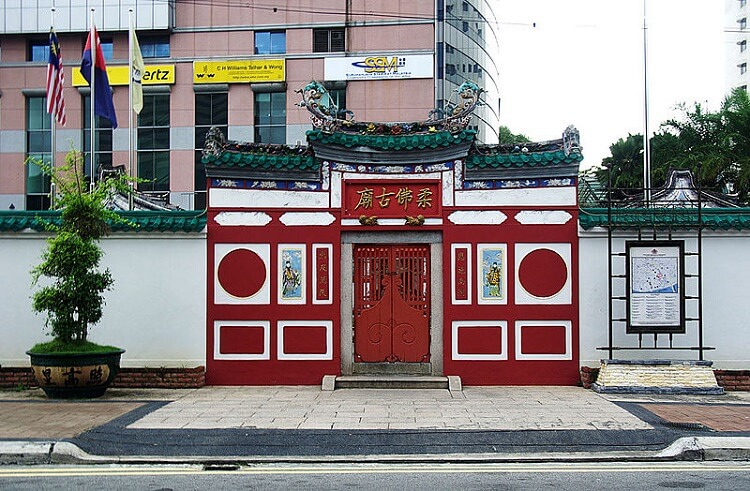 Photo: wikimedia.org
One of the oldest structures in Johor Bahru, this Chinese temple stands out against the modern skyscrapers that make up the city's skyline.
The temple stands testament as a symbol of unity among five Chinese dialect groups - Teochew, Hoklo (Hokkien), Cantonese, Hakka and Hainan.
Although it has been renovated to make it more structurally sound, the cultural aura of the temple has been preserved.
15. Appreciate the beauty of Istana Bukit Serene

Image Source: wikimedia.org
Also known as Laman Mahkota, the Istana Bukit Serene is the official residence of the Sultan of Johor.
It is regarded as one of the most famous landmarks in Johor with a majestic palace within.
Although entry to the palace isn't allowed, visitors can still take photographs with the artistic palace in the backdrop.
The most distinct feature is the ornate and artfully carved crown that is placed before the palace as a gift from the Sultan to his people.
16. Bathe yourself in luxury at Princess Cove Johor Bahru
If experiencing the royal life is on your bucket list then there is no better place to go than Princess Cove.
The many hotels, offices and malls here are the most aesthetically pleasing built right against the marina, meant for the lifestyle of royals.
From fine dining experiences to shopping at the most expensive boutiques, the line-up of luxury is endless here.
17. Feast like a king at Jalan Tan Hiok Nee

Image Source: wikimedia.org
It highlights numerous food and retro bistros and old-fashioned shops.
With its unique architectural design, it highlights old pilgrim structures which you can't miss against the modernity of the rest of the city.
Don't forget to try the famous food trail with authentic Malaysian cuisine, open-air karaoke, and play Chinese chess right on the road!
18. Eat authentically at Jalan Wong Ah Fook

Image Source: wikimedia.org
Yet another one for the foodie in you - Jalan Wong Ah Fook is one of the busiest one-way roads in Johor Bahru bustling with the most delicious street foods.
From Malaysian finger foods to spicy Singapore noodles, from satays to western pasta, this street is all about satisfying your food cravings.
Located within a 10-minute walk from the city square, this street can be combined with city square shopping, making it the ultimate gratification day.
19. Wake your inner shopaholic at Johor Premium Outlets

Image Source: wikimedia.org
As the principal premium-brand outlet in Southeast Asia, you'll be able to discover extravagant brands at affordable prices.
As big as more 30 football fields consolidated, Johor Premium Outlets houses 130 designer stores from Calvin Klein to Burberry.
Rebates are throughout the entire year, in some cases going as high as 90%!
20. Shop at Komtar JBCC

Image Source: wikimedia.org
Komtar JBCC, one of the biggest malls in Malaysia. Find a huge collection of brands of your choice at affordable prices.
Komtar has everything you need to spend an entire day here. It houses designer stores from Calvin Klein to Burberry, Bath and Body work to Marc Jacobs.