Things to do in Johor Bahru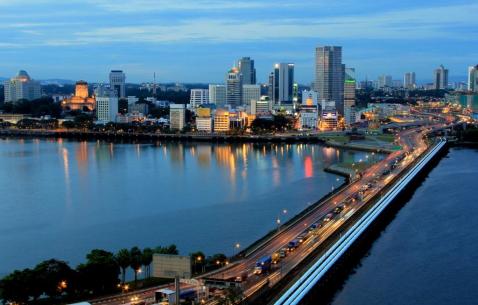 The Best Things To Do in Johor Bahru
Until recent past, Johor Bahru was famous for being gateway to Singapore. However, with the growth in tourism, this city in Malaysia has achieved its share of stardom with glittering skyscrapers and entertaining amusement parks. Its nightlife beams with lights and attracts a lot of tourists to its vicinity. Legoland Malaysia, Johor zoo, Angry birds Activity park, are some of the things to do in Johor Bahru that will draw a lot of families with kids here.
There is no dearth of cultural attractions in Johor Bahru, some of them are Arulmigu Sri Rajakaliamman Glass Temple, Sultan Abu Bakar State Mosque, Old Chinese Temple, Chinese Heritage Museum, Kuso Trick Art Gallery and others that lend an introduction to the religious structures of the city and the nation. Danga bay, Gunung Pulai Recreational Forest are some of the places where you can retreat in the lap of nature and replenish your tired souls. For those who want to shop, KSL city mall is one of the best options.
Things to do in Johor Bahru at night
Often surpassed as a dirty, small border city in Southern Malaysia, the capital of the Johor state can surprise you. Today, the city serves as a quick halt for a night or two bore travelers who like the eccentric. An eclectic and beaming Johor Bahru nightlife is what you can look forward to on your stay here. There are several pubs you can head out to for good music, dancing and interesting drinks. Places like the Bongo Pub, Whisky House Johor Bahru, Rooftop bar and the Bierhaus Sentosa are some of the most popular nightclubs in Johor Bahru. If you are not too keen on nightlife you could resort to some blissfully rejuvenating therapies at the Spa Manja Johor Bahru. As you begin to explore the city you will realize that you don't have to think much about where to go in JB at night.
Romantic places in JB
Owing to the number of honeymooners, Malaysia visits, Johor Bahru is steadily catching up as one place that can be considered for romance. It is far from the conventionally touristy locales of Malaysia; plus, given its development rate it is still to be struck by commercialization. So, you can actually have quite an interesting, romantic time in JB. There are a lot of entertainment opportunities here, one of them being the very popular Legoland Theme Park. Secondly, given the number of romantic cafes and restaurants here, you will never have to contemplate what to eat in Johor Bahru, given their diverse menus. Special events like the World Kite Festival too, can be a cute thing to along with your partner.
There are interesting romantic places to put up at too, if you are up for forgoing the conventional hotels, albeit cashing in on an unparalleled comfort. The Canopy Tribes at Ulu Sungai is a lovely experience, where you get to stay in a lavish, very comfortable tent; complete with a barbeque right outside! Firefly Valley Leisure Park Johor is another amazingly dreamy place that you can go to with your lover. There are several organic and ostrich farms that are a good romantic idea.
Interesting places in Johor to visit
On a JB day trip itinerary you can manage to visit some super interesting places like the Johor zoo and the Johor Bahru old Chinese temple among many other. The Johor Zoo has a very substantial entrance fee, with limited animals' variety yet making for an interesting place if you are fond of animals. It is a good place to go with your family and kids. The best time to visit this zoo would ideally be mornings as the afternoons can get unbearably hot. The Johor Bahru old Chinese temple is one of the most interesting place of JB for more reasons than one. Firstly, it is the oldest Chinese temple in town, and if you happen to be around on the New Year's Eve you are for a very delightful celebration ceremony. The heritage and history of JB, very well preserved that too, can be experienced here.
Other interesting places include Mount Pulai, Tanjung Piai, Arulmigu Sri Rajakaliamman Glass Temple and the Sultan Abu Bakar State Mosque among many others.
Johor Bahru Danga bay
One of the most luxurious and happening places of Malaysia the Danga Bay is a brilliant place if you wish to spend a day outside JB. Several luxury resorts fringe the bay, offering world-class facilities, amenities and entertainment options. Many spas and restaurants serving delectable food along with a good dose of water sports are another highlight of the Johor Bahru Danga bay.
Explore the travel planning tool for your visit to Johor Bahru and create a flawless plan in few simple steps!
35 Tourist Attractions in Johor Bahru

Must see places in Johor Bahru ranked on popularity. Here is the complete list of best attractions in Johor Bahru and point of interests to visit.
Tourist Attractions Near Johor Bahru
Find Your Johor Bahru Attractions on Map
Types of Things To Do in Johor Bahru
Find more attractions and places to visit in Johor Bahru under these things to do categories.
What To Do in Johor Bahru: Day-Wise Ideas
Find what not to miss in Johor Bahru! Recommended Johor Bahru itineraries and vacation ideas created by travelers across the world.