Like some places that come in the limelight later than sooner, Kaliningrad too was forgotten for a long long time. But well, the place can't be blamed for it. Until WWII, it was almost entirely German. After it was annexed from Germany in 1945, the territory was a closed military zone throughout the Soviet period. It is still of great strategic importance to Moscow since it houses the Russian Baltic Fleet at the port of Baltiysk and is the country's only ice-free European port. Today Kaliningrad is separated from Russia by Lithuania and Poland. However the distance does not stop it from being intimately attached to the motherland and there are plenty of points of interest in Kaliningrad that are a reminder of its past. Kaliningrad's history and its patchwork of culture are visible through this list of places and experiences that are highly recommended by us. The most recommended Kaliningrad tourist attractions include Museum of the world ocean and Königsberg Cathedral. Other major places to visit in Kaliningrad are the Dancing forest and the Amber Museum.
Here's a list of 15 best things to do in Kaliningrad:
1. Museum of the World Ocean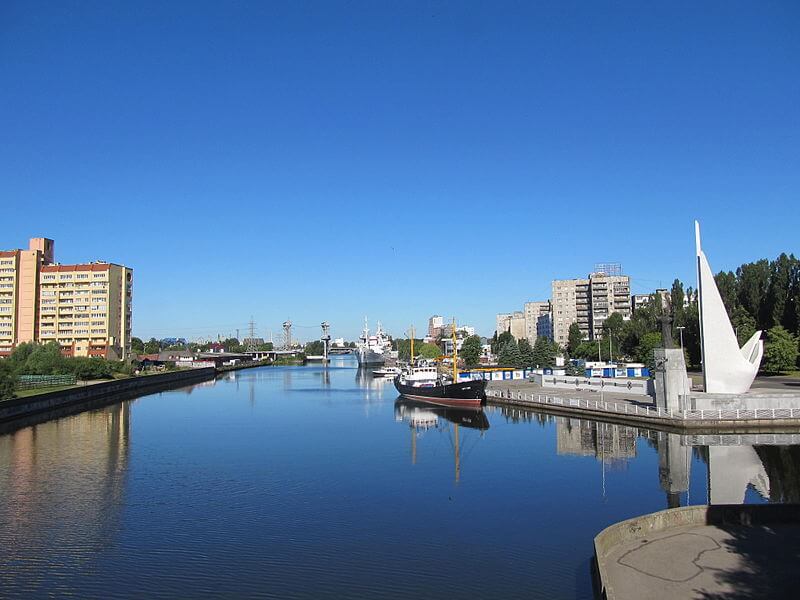 Image Source: wikimedia.org
Museum of the World Ocean is a big museum & research center that among other things has a restored storehouse with displays that talk about the history of Kaliningrad. Overall, it focuses on the ocean, with boats, seaplanes & a submarine to explore. A key attraction has been the guided tour to the handsome former scientific expedition vessel Vityaz.
2. Königsberg Cathedral
A UNESCO World Heritage Site and a landmark building in Kaliningrad, Königsberg Cathedral was destroyed in a bombing in World War II and rebuilt in the 1990s. It was a Catholic church that became Lutheran after the Reformation. Apart from soaking in its history, you get a chance to witness their contemporary organ concerts that are held daily.
3. Amber Museum
Amber Museum hosts some of the most impressive pieces of amber that are found in the Baltic. An art depository, Amber Museum is a one-mineral treasury. You can see the impressive types and shades of amber at display as well as purchase affordable amber jewellery for yourself and your loved ones. A large part of the museum's exhibition consists of art works of modern-day artists from Russia, Denmark, Germany, France, Italy, Japan, Latvia, Poland, Lithuania and the USA.
4. Dancing Forest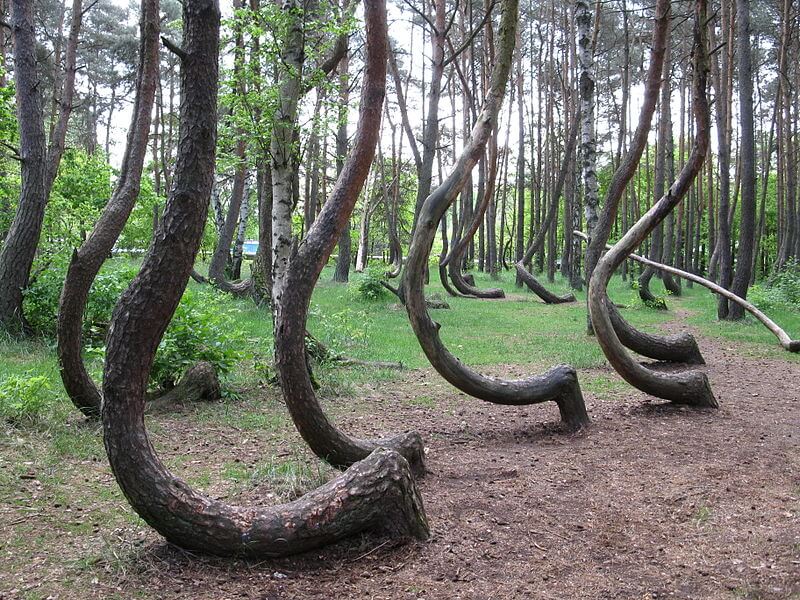 Image Source: wikipedia.org
The Dancing Forest is a pine forest on the Curonian Spit known for being a strange natural phenomenon never seen before. It has unusually twisted trees that grow in spirals and rings. Whatever be the reason behind this occurrence, if nature mysteries excite you, you must make a visit to this Forest. Isn't travelling to an offbeat place all about taking a step close to the unknown anyway?
5. Victory Square
Victory Square marks a sign of Kaliningrad getting into the limelight again. It includes fountains that give the square a modernized feel, a statue of Lenin, the Christ the Saviour Cathedral and a victory column raised in the middle of it. As you may have guessed, the square is indeed the heart of the city and serves as a popular meeting point for locals. It is also a well known a public transport hub.
6. Georgenburg Castle and Stud Farm
A Castle which has had many owners in the past, is also known for housing soldiers of Russian field marshal Apraksin during the seven years war. Interbreeding which was a result of a lot of horse breeding at the farm led to the birth of the elite Trakehner breed of horse. The farm is also the location of the Georgenburg Cup, an international show-jumping tournament generally held on the second weekend in September.
7. Central Market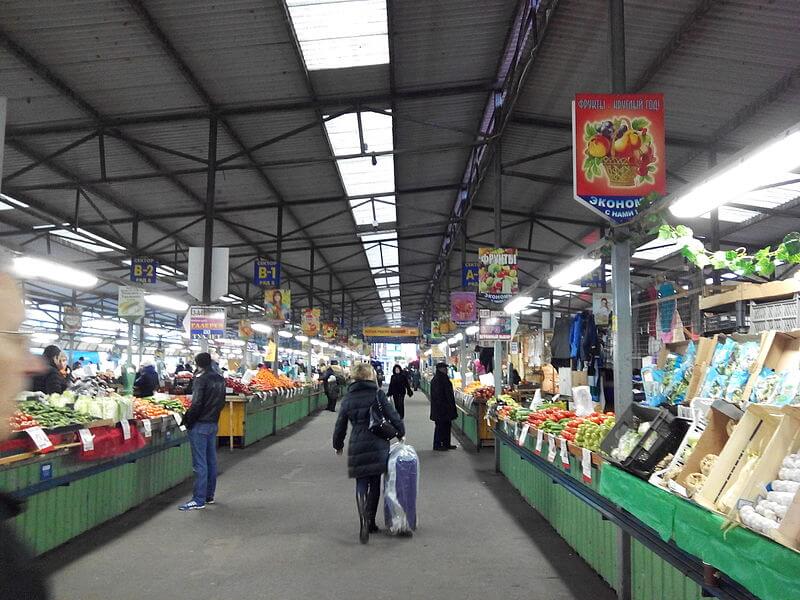 Image Source: wikimedia.org
Central Markets are not new to any tourist however the one at Kaliningrad takes you back to the Soviet past. Located between the Upper Pond and Victory Square, the market does seem oddly out of place in the still visibly Prussian city. But then well, since when did that come as a surprise for a place like Kaliningrad?
8. Curonian Spit
Curonian Spit is a UNESCO world heritage site shared by Lithuania and Russia. The existence of this slender shoal is innately threatened by the natural processes that govern shoreline features since it depends on a dynamic balance between sand transport and deposition. It is also home to many wild animals and is particularly famous for its large drifting sandy dunes.
9. Bunker Museum
Although Bunker Museum's entrance is rather humble and less appealing, it does not speak on behalf of the exhibits in there. Following the bloody Battle of Königsberg, the city's last German commander, Otto Lasch, capitulated to the Soviets from this buried command post in 1945. Exhibits here include wartime photographs and film, and a peek into the cell where Lasch surrendered.
10. Becker Park
Named after the man – Moritz Becke who created the park, Becker Park is highly frequented by locals and tourists alike. The park includes trees from different corners of the world including Weymouth pines and the unique North American tulip tree. The park's other landmark is a European beech which is estimated to be over 300 years old. Becker Park was granted a local cultural heritage status in 2007.
11. Kant Island & Riverside
Kant Island & Riverside's key attraction is the majestic Kaliningrad Cathedral. The Cathedral represents the tradition of Hanseatic Gothic style architecture originating in Germany and Poland and rarely seen in Russia. Churches in this style have no sculptural decoration. Their facades are beautiful but rigid red-bricks. A once densely populated island, it still manages to give you glimpses of how it may have looked during the earlier decades through the the neotraditional row of shops, restaurants and hotels known as Fish Village. You can also get a bird's-eye view from the 31m-high lighthouse viewing tower.
12. Herman Brachert House-Museum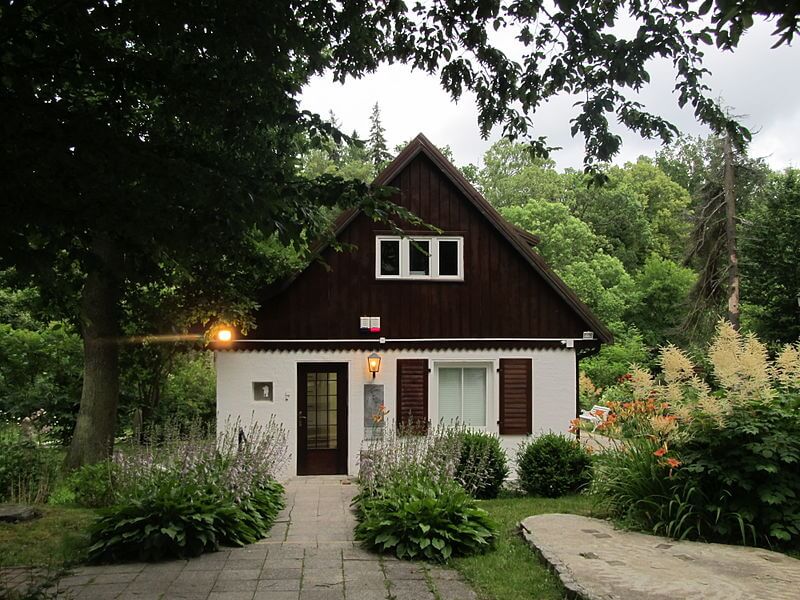 Image Source: wikimedia.org
This museum features the work of Herman Brachert (1890–1972), the sculptor whose work can be spotted all around Svetlogorsk. The creative way of the sculptor consists of three parts: Stuttgart - Konisberg - Stuttgart. Brachert's worldly acclaimed bronze Nymph statue resides in a mosaic-decorated shell on the promenade. You will also find more of his pieces and other works by contemporary sculptors at the museum.
13. Friedland Gate Museum
This museum is situated in the 19th-century Friedland Gate which for many years one of the main entry points into the city. Aiming to be contempary and historic at the same time, the museum's key highlight is a half hour multimedia show which includes projections of photos taken in the city between 1908 and 1913 along with grainy footage shot around the castle in 1937.
14. Kaliningrad Zoo
Although Kaliningrad is more of a museum place, it does have something interesting to offer to the kids and families as well. The zoo dates from 1896, when it was founded as the Königsberger Tiergarten. It is one of the oldest zoological gardens in Russia apart from being and one of the largest as well. The destruction of WWII and funding shortfalls made things difficult for the animals that reside there. However improvement is in place which is visible through their varieties of big cats, hippos and the bear.
15. Murrarium
Although not a zoo, Murrarium is a place that will be appreciated by lovers of the humble cat. It features the largest private collection of cat-themed art in all of Russia with more than 3500 pieces on display, some common while some rather comely. Taking their love for cats to the next level, the city even has a sculpture monument of Zelenograd Cats on Kurortny Avenue.