Best Time To Visit Kanchanaburi
Explore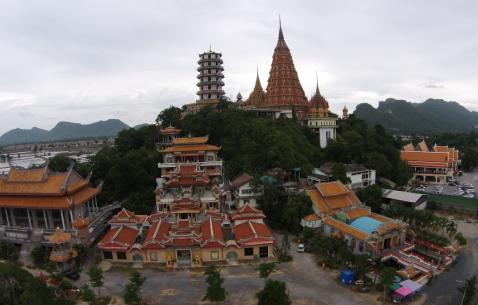 Best Time To Go To Kanchanaburi
Kanchanaburi has a tropical climate with three distinct seasons. The weather is hot and humid all year round.
Warm Season (February - May): Summers are very hot with an average temperature of 38 degree Celsius. This is basically off-season in Kanchanaburi.
Rainy Season (June - October): Monsoons experience heavy rains with cool days and warm nights which make this time of the year as low season for tourists.
Cold Season (November - January): The weather in the cold season can be dry and warm with an average of 25 degree Celsius. This is the peak season for tourists in Kanchanaburi.
So, the best time to visit Kanchanaburi is year around but peak months are from November through February when the temperatures are cooler.
Best time to go to Kanchanaburi Attractions

: Everyday 9:00 AM -
: Everyday 9:00 AM -
: Everyday 9:00 AM -
: Everyday 9:00 AM -
: Everyday 9:00 AM -
: Everyday 9:00 AM -
: Everyday 9:00 AM -
: Everyday 9:00 AM -
: Everyday 9:00 AM -
: Everyday 9:00 AM -
: Everyday 9:00 AM -
: Everyday 9:00 AM -

: Everyday 9:00 AM - 1:00 PM
: Everyday 9:00 AM - 1:00 PM
: Everyday 9:00 AM - 1:00 PM
: Everyday 9:00 AM - 1:00 PM
: Everyday 9:00 AM - 1:00 PM
: Everyday 9:00 AM - 1:00 PM
: Everyday 9:00 AM - 1:00 PM
: Everyday 9:00 AM - 1:00 PM
: Everyday 9:00 AM - 1:00 PM
: Everyday 9:00 AM - 1:00 PM
: Everyday 9:00 AM - 1:00 PM
: Everyday 9:00 AM - 1:00 PM

: Everyday 3:00 PM - 6:00 PM
: Everyday 3:00 PM - 6:00 PM
: Everyday 3:00 PM - 6:00 PM
: Everyday 3:00 PM - 6:00 PM
: Everyday 3:00 PM - 6:00 PM
: Everyday 3:00 PM - 6:00 PM
: Everyday 3:00 PM - 6:00 PM
: Everyday 3:00 PM - 6:00 PM
: Everyday 3:00 PM - 6:00 PM
: Everyday 3:00 PM - 6:00 PM
: Everyday 3:00 PM - 6:00 PM
: Everyday 3:00 PM - 6:00 PM

: Everyday 11:00 AM - 3:00 PM
: Everyday 11:00 AM - 3:00 PM
: Everyday 11:00 AM - 3:00 PM
: Everyday 11:00 AM - 3:00 PM
: Everyday 11:00 AM - 3:00 PM
: Everyday 11:00 AM - 3:00 PM
: Everyday 11:00 AM - 3:00 PM
: Everyday 11:00 AM - 3:00 PM
: Everyday 11:00 AM - 3:00 PM
: Everyday 11:00 AM - 3:00 PM
: Everyday 11:00 AM - 3:00 PM
: Everyday 11:00 AM - 3:00 PM

: Everyday 3:00 PM - 6:00 PM
: Everyday 3:00 PM - 6:00 PM
: Everyday 3:00 PM - 6:00 PM
: Everyday 3:00 PM - 6:00 PM
: Everyday 3:00 PM - 6:00 PM
: Everyday 3:00 PM - 6:00 PM
: Everyday 3:00 PM - 6:00 PM
: Everyday 3:00 PM - 6:00 PM
: Everyday 3:00 PM - 6:00 PM
: Everyday 3:00 PM - 6:00 PM
: Everyday 3:00 PM - 6:00 PM
: Everyday 3:00 PM - 6:00 PM

: Everyday 11:00 AM - 2:00 PM
: Everyday 11:00 AM - 2:00 PM
: Everyday 11:00 AM - 2:00 PM
: Everyday 11:00 AM - 2:00 PM
: Everyday 11:00 AM - 2:00 PM
: Everyday 11:00 AM - 2:00 PM
: Everyday 11:00 AM - 2:00 PM
: Everyday 11:00 AM - 2:00 PM
: Everyday 11:00 AM - 2:00 PM
: Everyday 11:00 AM - 2:00 PM
: Everyday 11:00 AM - 2:00 PM
: Everyday 11:00 AM - 2:00 PM

: Everyday 10:00 AM - 3:00 PM
: Everyday 10:00 AM - 3:00 PM
: Everyday 10:00 AM - 3:00 PM
: Everyday 10:00 AM - 3:00 PM
: Everyday 10:00 AM - 3:00 PM
: Everyday 10:00 AM - 3:00 PM
: Everyday 10:00 AM - 3:00 PM
: Everyday 10:00 AM - 3:00 PM
: Everyday 10:00 AM - 3:00 PM
: Everyday 10:00 AM - 3:00 PM
: Everyday 10:00 AM - 3:00 PM
: Everyday 10:00 AM - 3:00 PM

: Everyday 10:00 AM - 1:00 PM
: Everyday 10:00 AM - 1:00 PM
: Everyday 10:00 AM - 1:00 PM
: Everyday 10:00 AM - 1:00 PM
: Everyday 10:00 AM - 1:00 PM
: Everyday 10:00 AM - 1:00 PM
: Everyday 10:00 AM - 1:00 PM
: Everyday 10:00 AM - 1:00 PM
: Everyday 10:00 AM - 1:00 PM
: Everyday 10:00 AM - 1:00 PM
: Everyday 10:00 AM - 1:00 PM
: Everyday 10:00 AM - 1:00 PM

: Everyday 9:00 AM - 1:00 PM
: Everyday 9:00 AM - 1:00 PM
: Everyday 9:00 AM - 1:00 PM
: Everyday 9:00 AM - 1:00 PM
: Everyday 9:00 AM - 1:00 PM
: Everyday 9:00 AM - 1:00 PM
: Everyday 9:00 AM - 1:00 PM
: Everyday 9:00 AM - 1:00 PM
: Everyday 9:00 AM - 1:00 PM
: Everyday 9:00 AM - 1:00 PM
: Everyday 9:00 AM - 1:00 PM
: Everyday 9:00 AM - 1:00 PM

: Everyday 3:00 PM - 6:00 PM
: Everyday 3:00 PM - 6:00 PM
: Everyday 3:00 PM - 6:00 PM
: Everyday 3:00 PM - 6:00 PM
: Everyday 3:00 PM - 6:00 PM
: Everyday 3:00 PM - 6:00 PM
: Everyday 3:00 PM - 6:00 PM
: Everyday 3:00 PM - 6:00 PM
: Everyday 3:00 PM - 6:00 PM
: Everyday 3:00 PM - 6:00 PM
: Everyday 3:00 PM - 6:00 PM
: Everyday 3:00 PM - 6:00 PM

: Everyday 10:00 AM - 2:00 PM
: Everyday 10:00 AM - 2:00 PM
: Everyday 10:00 AM - 2:00 PM
: Everyday 10:00 AM - 2:00 PM
: Everyday 10:00 AM - 2:00 PM
: Everyday 10:00 AM - 2:00 PM
: Everyday 10:00 AM - 2:00 PM
: Everyday 10:00 AM - 2:00 PM
: Everyday 10:00 AM - 2:00 PM
: Everyday 10:00 AM - 2:00 PM
: Everyday 10:00 AM - 2:00 PM
: Everyday 10:00 AM - 2:00 PM

: Everyday 11:00 AM - 2:00 PM
: Everyday 11:00 AM - 2:00 PM
: Everyday 11:00 AM - 2:00 PM
: Everyday 11:00 AM - 2:00 PM
: Everyday 11:00 AM - 2:00 PM
: Everyday 11:00 AM - 2:00 PM
: Everyday 11:00 AM - 2:00 PM
: Everyday 11:00 AM - 2:00 PM
: Everyday 11:00 AM - 2:00 PM
: Everyday 11:00 AM - 2:00 PM
: Everyday 11:00 AM - 2:00 PM
: Everyday 11:00 AM - 2:00 PM

: Everyday 3:00 PM - 6:00 PM
: Everyday 3:00 PM - 6:00 PM
: Everyday 3:00 PM - 6:00 PM
: Everyday 3:00 PM - 6:00 PM
: Everyday 3:00 PM - 6:00 PM
: Everyday 3:00 PM - 6:00 PM
: Everyday 3:00 PM - 6:00 PM
: Everyday 3:00 PM - 6:00 PM
: Everyday 3:00 PM - 6:00 PM
: Everyday 3:00 PM - 6:00 PM
: Everyday 3:00 PM - 6:00 PM
: Everyday 3:00 PM - 6:00 PM

: Everyday 10:00 AM - 2:00 PM
: Everyday 10:00 AM - 2:00 PM
: Everyday 10:00 AM - 2:00 PM
: Everyday 10:00 AM - 2:00 PM
: Everyday 10:00 AM - 2:00 PM
: Everyday 10:00 AM - 2:00 PM
: Everyday 10:00 AM - 2:00 PM
: Everyday 10:00 AM - 2:00 PM
: Everyday 10:00 AM - 2:00 PM
: Everyday 10:00 AM - 2:00 PM
: Everyday 10:00 AM - 2:00 PM
: Everyday 10:00 AM - 2:00 PM

: Everyday 11:00 AM - 2:00 PM
: Everyday 11:00 AM - 2:00 PM
: Everyday 11:00 AM - 2:00 PM
: Everyday 11:00 AM - 2:00 PM
: Everyday 11:00 AM - 2:00 PM
: Everyday 11:00 AM - 2:00 PM
: Everyday 11:00 AM - 2:00 PM
: Everyday 11:00 AM - 2:00 PM
: Everyday 11:00 AM - 2:00 PM
: Everyday 11:00 AM - 2:00 PM
: Everyday 11:00 AM - 2:00 PM
: Everyday 11:00 AM - 2:00 PM

: Everyday 11:00 AM - 4:00 PM
: Everyday 11:00 AM - 4:00 PM
: Everyday 11:00 AM - 4:00 PM
: Everyday 11:00 AM - 4:00 PM
: Everyday 11:00 AM - 4:00 PM
: Everyday 11:00 AM - 4:00 PM
: Everyday 11:00 AM - 4:00 PM
: Everyday 11:00 AM - 4:00 PM
: Everyday 11:00 AM - 4:00 PM
: Everyday 11:00 AM - 4:00 PM
: Everyday 11:00 AM - 4:00 PM
: Everyday 11:00 AM - 4:00 PM

: Everyday 1:00 PM - 4:00 PM
: Everyday 1:00 PM - 4:00 PM
: Everyday 1:00 PM - 4:00 PM
: Everyday 1:00 PM - 4:00 PM
: Everyday 1:00 PM - 4:00 PM
: Everyday 1:00 PM - 4:00 PM
: Everyday 1:00 PM - 4:00 PM
: Everyday 1:00 PM - 4:00 PM
: Everyday 1:00 PM - 4:00 PM
: Everyday 1:00 PM - 4:00 PM
: Everyday 1:00 PM - 4:00 PM
: Everyday 1:00 PM - 4:00 PM

: Everyday 9:30 AM - 9:00 PM
: Everyday 9:30 AM - 9:00 PM
: Everyday 9:30 AM - 9:00 PM
: Everyday 9:30 AM - 9:00 PM
: Everyday 9:30 AM - 9:00 PM
: Everyday 9:30 AM - 9:00 PM
: Everyday 9:30 AM - 9:00 PM
: Everyday 9:30 AM - 9:00 PM
: Everyday 9:30 AM - 9:00 PM
: Everyday 9:30 AM - 9:00 PM
: Everyday 9:30 AM - 9:00 PM
: Everyday 9:30 AM - 9:00 PM

: Everyday 24 Hrs
: Everyday 24 Hrs
: Everyday 24 Hrs
: Everyday 24 Hrs
: Everyday 24 Hrs
: Everyday 24 Hrs
: Everyday 24 Hrs
: Everyday 24 Hrs
: Everyday 24 Hrs
: Everyday 24 Hrs
: Everyday 24 Hrs
: Everyday 24 Hrs