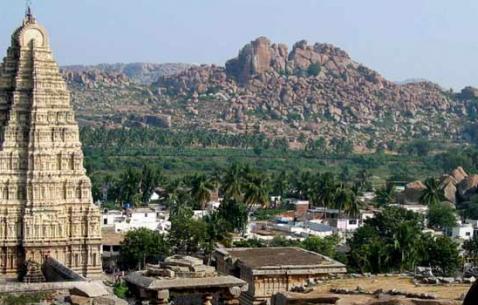 Kanchipuram otherwise known as Kanchi (previously romanised as Kāñci-pura, Conjevaram) is a city in the Indian state of Tamil Nadu, 72 km (45 mi) from Chennai – the capital of Tamil Nadu. The city covers an area of 11.605 km2 (4.481 sq mi) and had a population of 164,265 in 2001. It is the administrative headquarters of Kanchipuram District. Kanchipuram is well-connected by road and rail. Chennai International Airport is the nearest domestic and international airport to the city, which is located at Tirusulam in Kanchipuram district. Located on the banks of the Vegavathy river, Kanchipuram has been ruled by the Pallavas, the Medieval Cholas, the Later Cholas, the Later Pandyas, the Vijayanagar Empire, the Carnatic kingdom, and the British. The city's historical monuments include the Kailasanathar Temple and the Vaikunta Perumal Temple. Historically, Kanchipuram was a centre of education and was known as the ghatikasthanam, or "place of learning". The city was also a religious centre of advanced education for Jainism and Buddhism between the 1st and 5th centuries. In Vaishnavism Hindu theology, Kanchipuram is one of the seven Tirtha (pilgrimage) sites, for spiritual release. The city houses Varadharaja Perumal Temple, Ekambareswarar Temple, Kamakshi Amman Temple, and Kumarakottam Temple, which are some of major Hindu temples in the state. Of the 108 holy temples of the Hindu god Vishnu, 14 are located in Kanchipuram. The city is particularly important to Sri Vaishnavism, but is also a holy pilgrimage site in Shaivism. The city is well known for its hand woven silk sarees and most of the city's workforce is involved in the weaving industry. Kanchipuram is administered by a Special grade municipality constituted in 1947. It is the headquarters of the Kanchi matha, a Hindu monastic institution believed to have been founded by the Hindu saint and commentator Adi Sankaracharya, and was the capital city of the Pallava Kingdom between the 4th and 9th centuries. Kanchipuram has been chosen as one of the heritage cities for HRIDAY - Heritage City Development and Augmentation Yojana scheme of Government of India.
Wikipedia
Is in on your travel bucket list? This online travel guide is all you need to have before planning your trip. To explore , set aside 1 to 2 number of your days. You'll be coming back for more!
is an affair to remember, follow this apt itinerary of the place and return home with a bunch of memories.
Kanchipuram Trip Planner
Plan your customized day by day trip plan for Kanchipuram. Choose from various experinces categories as adventure, romantic and family and kids friendly for your trip using using Kanchipuram trip planner.