15 Best Things To Do in Kansas City
Kansas City is a city in Missouri and sits on the border of Kansas. If you are a fan of barbecue, jazz or fountains then Kansas City is the place to be. It offers a large number of activities for people of all ages. You would not want to miss out on a visit to Kansas City because you are sure to fall in love with this city. There is a lot to know about this city, and it will not take you long to discover.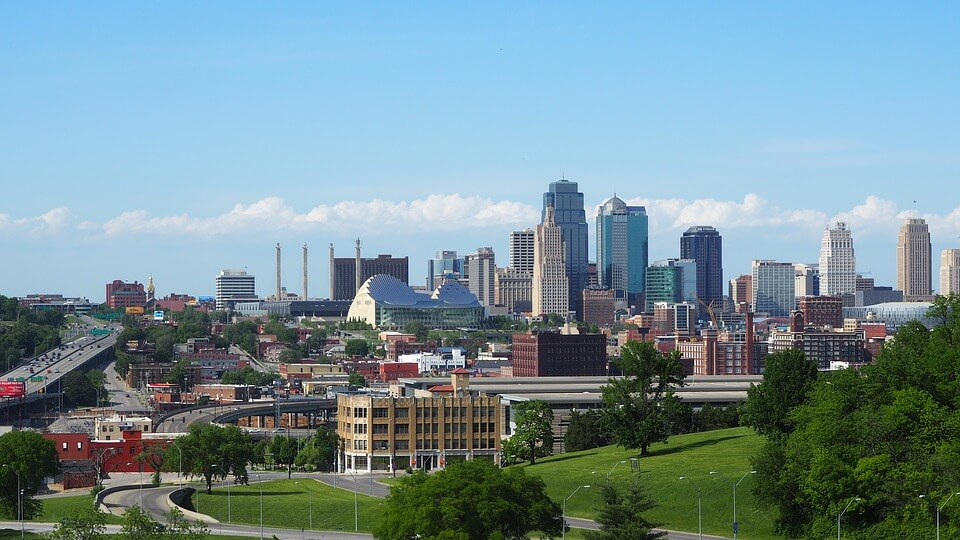 Image Source: pixabay.com
Here is a list of 15 things to do on your trip to Kansas City.
1. Visit The Nelson Atkins Museum of Art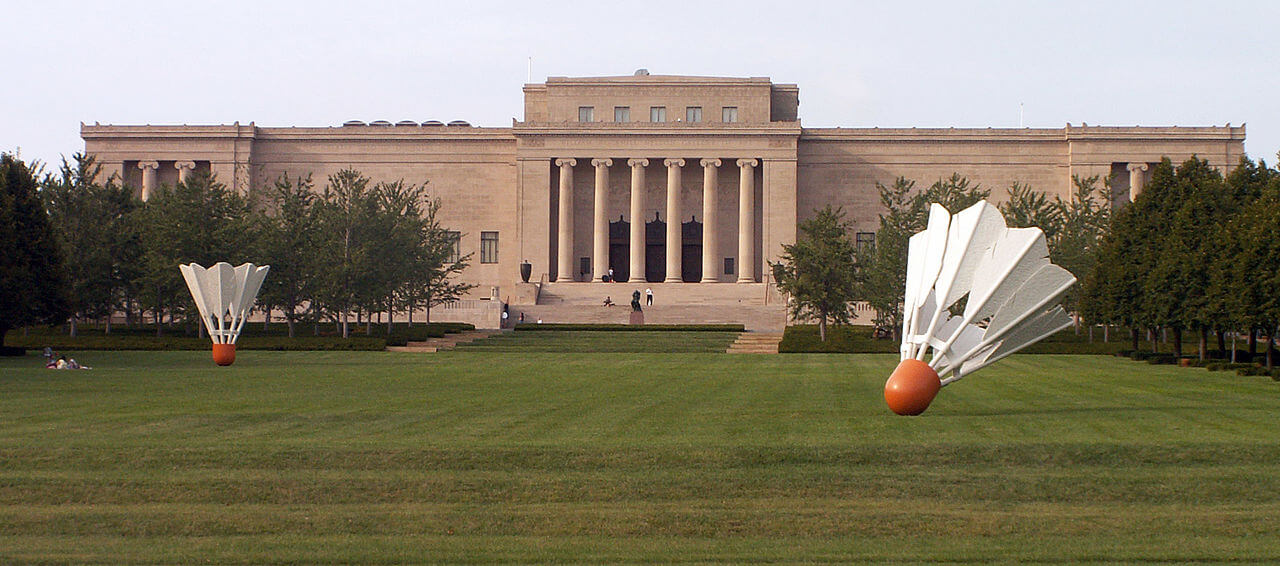 Image Source: wikipedia.org
This museum appeals to all kinds of visitors, kids and adults alike. The art museum has a permanent collection of over a 35,000 pieces and features of art from all over the world. Not only is the museum known for its art, but also for the building's architecture. Everything about is gorgeous.
2. Visit The Arabia Steamboat Museum
The Arabia Steamboat had once sunk to the bottom of the sea. A few years, later it was discovered and refurbished and turned into a museum. You can take a tour of the steamer all through the deck and hull. The store and gallery hold smaller pieces excavated from the great steamboat. You can learn a great deal about the history of the steamboat.
3. Spend a Gala Time with Your Family At Westport
It is a popular neighbourhood where people flock down to have a nice dinner out or just enjoy some shopping with your friends. It is known to be the oldest establishment in the city. There are many bars and restaurants that line this area. A great spot to come down to, to enjoy a nice meal or a drink with your friends or family.
4. Enjoy a Swig or Two At Boulevard Brewing Company
The locals here take extreme pride in this brewing company. It is known to offer the most delicious beers. Some of them are made from unfiltered wheat which seems to be a favourite among the locals. Be sure to visit this place if you are a fan of beer.
5. Enjoy Your Time At Country Club Plaza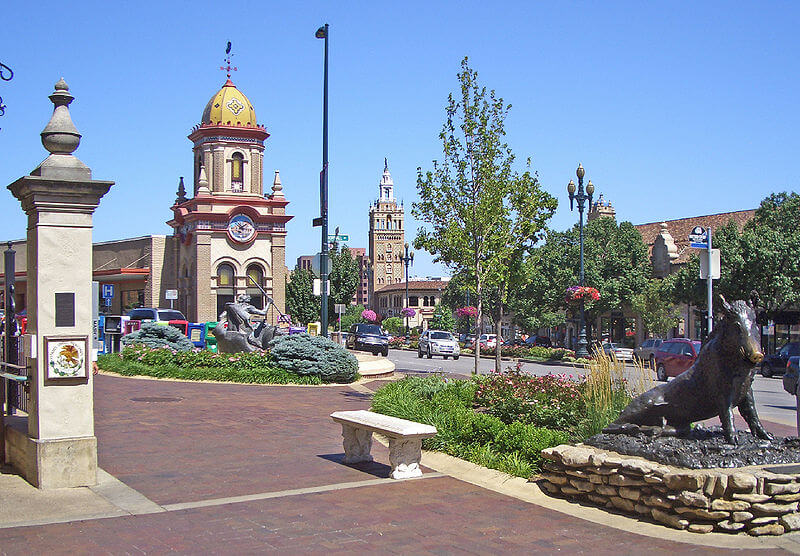 Image Source: wikipedia.org
Another one of Kansas City's most popular spots for dining and a night on the town. You can dine or you even just take a walk around the plaza. You can window shop along this outdoor shopping district. It is a great way to spend some time with your friends.
6. Visit The National World War I Museum
This museum has been set up in such a way that it feels like the soldiers are narrating the whole story to the visitors. The exhibits are quite interactive and include various replicas of trenches, guns and propaganda posters. A visit to this museum is sure to take you back in time and make you learn quite a lot about the history of the world.
7. Watch A Match Or Two At The Kauffman Stadium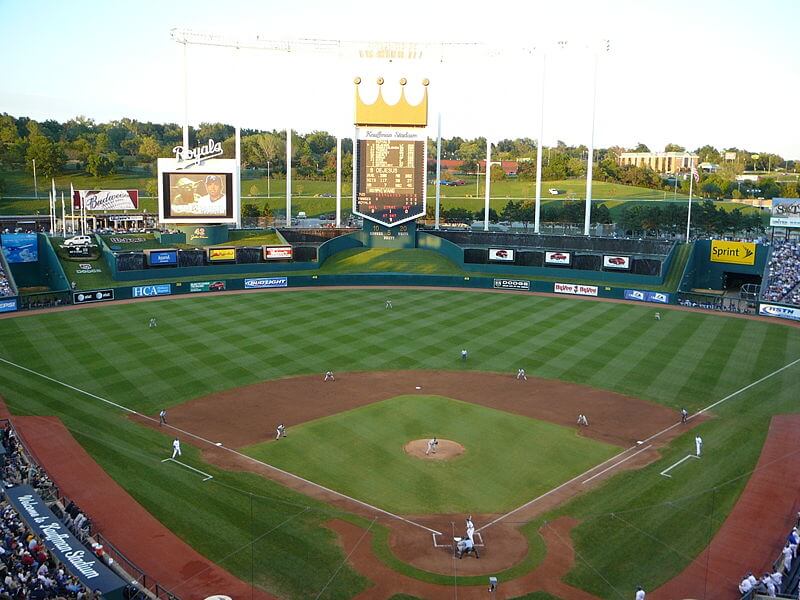 Image Source: wikipedia.org
Another spot of great pride to the locals. It is home to the Royals of the Major Baseball League. The team plays many games on their home turf which tends to cause a wave of enthusiasm among the locals. You should surely give it a visit if there is a game. The game food is also quite delicious.
8. Enjoy A Night out At Power and Light District
This district is known for the numerous nightclubs and restaurants set up in the area. It is considered to be a newer part of the city. There are many concerts and live performances held here throughout the year. This is the place to visit if you are falling into a routine. Entry into any one of the establishments here is sure to make you forget the stresses and get back to loving life.
9. Take Your Kids To Wolds of Fun
This theme park is going to wake that child in you. There are various rides set up for both, kids and adults alike. They also have an area for live entertainment. You could spend a whole day here, riding each ride till you are bored to your core, which is going to take ages. They also have a few restaurants and stores selling tasty dishes. Do forget to try those out.
10. Visit The Kansas City Zoo
This zoo is located in Swope Park and is very famous. Kansas City Zoo is home to various species of wildlife, and you get to observe the wildlife habitats. There are also various interactive exhibits set up all throughout the zoo to help you learn more about the various species as well as keep the kids interested.
11. Visit The Science City at Union Station
Another spot catered to kids. This family-friendly museum is another great place to visit with your kids. It is filled with various interactive science displays. Some of them include a test kitchen and a planetarium. Amazing spot to spend some time bonding with your family.
12. Witness The Grandeur Of The Union Station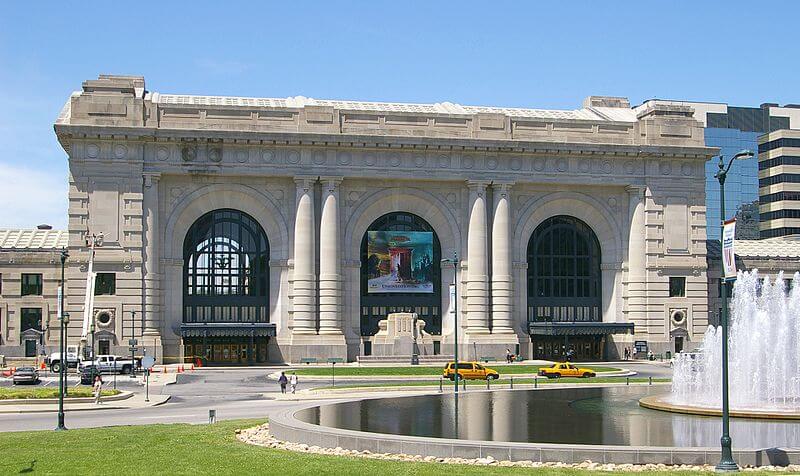 Image Source: wikimedia.org
This grand historical station is home to numerous permanent as well as temporary exhibits. The architecture of the building is unique, and hence it can be spotted very easily. It would be a great place to visit on your day of sightseeing around the city.
13. Take your kids to Legoland Discovery Centre
Everyone loves Legos. It is a dream for any kid to visit. They have numerous types of Legos to play with as well as rides and 4D films. You surely would not be bored on your trip here. Just one thing to remember, do not step on any Legos while walking.
14. Visit The Kemper Museum of Contemporary Art
This quaint museum is known to house various exhibits by international artists. They also hold special exhibitions of challenging art with various theme. An art lover would love a visit to this place. I do not think bringing kids here would be a very good idea.
15. Spend Time At The Harry S. Truman Presidential Library and Museum
This museum cum library has works describing the details of the life and work of the 33rd President of the United States of America.
There is so much that Kansas City can offer to you. It caters more towards a family-friendly experience. There are a lot of fun activities to take part in. Be sure to keep Kansas City in your mind while deciding a place for your next vacation.
Are you looking for a Kansas City travel itinerary? Create an itinerary within minutes, on your own!
Top-Rated Tourist Attractions in Kansas City, Missouri
Must see places in Kansas City ranked on popularity. Here is the complete list of best attractions in Kansas City and point of interests to visit.
Tourist Attractions Near Kansas City
Find Your Kansas City Attractions on Map
Types of Things To Do in Kansas City
Find more attractions and places to visit in Kansas City under these things to do categories.
Top Kansas City Activities And Tours
Explore the best things to do in Kansas City. These are the most preferred tourist activities.
Find more places to see in Kansas City
Thomas Hart Benton Home

3616 Belleview Ave

Historic and Protected Sites

Kansas City Power and Light Building

1330 Baltimore Ave

Historic and Protected Sites

Sauer Castle

935 Shawnee Rd

Historic and Protected Sites

Rosedale Memorial Arch

Historic and Protected Sites

Walt Disney Laugh O Gram Studio

1127 E 31st St

Historic and Protected Sites

Granada Theater

1015 Minnesota Ave

Historic and Protected Sites
View On Map
Longview Lake

11101 Raytown Rd

Lakes

Wyandotte County Lake

Leavenworth Rd

Lakes

Shawnee Mission Dog Park

Lakes
View On Map
The Money Museum

1 Memorial Dr

Museums

Lakeside Nature Center

4701 E Gregory Blvd

Museums

Arabia Steamboat Museum

400 Grand Blvd

Museums

Kemper Museum of Contemporary Art

4420 Warwick Blvd

Museums

Hallmark Visitors Center

2501 McGee St

Museums

Landmarks

TWA Museum

10 NW Richards Rd

Museums
View On Map
Jaegers Paintball Park

9300 NE Underground Dr

Amusement Parks

Arcades

The Springs Aquatic Center

9400 N Congress Ave

Amusement Parks

The Edge of Hell

1300 W 12th St

Amusement Parks

Arcades

Jaegerz Laser Tag

9300 NE Underground Dr

Amusement Parks

Arcades

Oceans of Fun

4545 NE Worlds of Fun Dr

Amusement Parks

Restaurants

Great Wolf Lodge

10401 Cabela Dr

Amusement Parks
View On Map
Moonlight Sushi Bar & Grill

8678 NE Flintlock Rd

Japanese

Bars

Sushi

Danny's Bar & Grill

10940 Parallel Pkwy

Bars

American

Barbecue

The Kansas City Juke House

1700 E 18th St

Seafood

Bars

Music and Show Venues

Californos

4124 Pennsylvania Ave

American

International

Bars

Journeyman Cafe

1121 W 47th St

Restaurants

Cafes, Coffee and Tea Houses

Bars

Tomfooleries Restaurant & Bar

612 W 47th St

American

Pizza

Bars
View On Map
Isle of Capri Casino

1800 E Front St

Casinos and Gaming

Hotels and Motels

Hollywood Casino at Kansas Speedway

777 Hollywood Casino Blvd

Casinos and Gaming

7th Street Casino

777 N 7th St

Casinos and Gaming

Restaurants

Fantasyland Bingo

6972 N Broadway St

Casinos and Gaming

Harrah's Poker Room

1 Riverboat Dr

Casinos and Gaming

Hotels and Motels

Wyandotte Casino

803 N 7th St

Casinos and Gaming
View On Map
Penn Valley Park

2698 Main St

Dog Parks

Gillham Park

3630 Gillham Rd

Playgrounds

Dog Parks

Waggin Trail Dog Park

432 E 32nd Ave

Dog Parks

Penn Valley Off Leash Dog Park

Dog Parks

Federal Storage Parking Lot

4023 Pennsylvania Ave

Dog Parks

Jarboe Park

1150 W 17TH St

Playgrounds

Dog Parks
View On Map
Crossing The Missouri River

Beaches
View On Map
Cliff Drive

3500 Gladstone Blvd

Hiking

Fox Hollow Trail

4701 E Gregory Blvd

Hiking

Indian Creek Bike Trail

Hiking

Kcpd Trail Of Heroes

Hiking

The Little Blue River Trail

Hiking
View On Map
Blue Parkway Bait & Dog Supplies

6921 Blue Pkwy

Hunting and Fishing

Alex George Lake Park

10700 Blue River Rd

Hunting and Fishing

OFB Tactical

Hunting and Fishing

Al's Bait & Tackle

7830 Leavenworth Rd

Hunting and Fishing

Heartland Trails

4200 NW 100th St

Hunting and Fishing

Shooters Choice

1629 N 134th St

Hunting and Fishing
View On Map
What To Do in Kansas City: Day-Wise Ideas
Find what not to miss in Kansas City! Recommended Kansas City itineraries and vacation ideas created by travelers across the world.