Best Time To Visit Kaposvar
Explore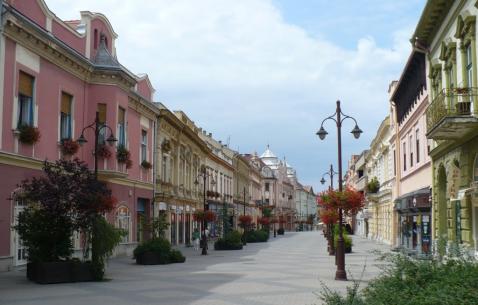 Best Time To Go To Kaposvar
Weather in Kaposvar is pleasantly mediterranean almost throughout the year.
Summer: May to September is peak summer in Kaposvar. August is considered the hottest month with 21 degrees C as the average temperature.
Rainy: May and November are known for intense rains. Sometime July too can have heavy rains. The south and southwest of Hungary receives more rain than the east, making Kaposvar idyllic for a summer-visit.
Winter: November to February is the winter season. January is the coldest month with as low as -2 degrees C.
Spring: March and April
The best time to visit Kaposvar is from May to September.
Best time to go to Kaposvar Attractions

: Monday to Friday 10:00 AM - 4:00 PM
: Monday to Friday 10:00 AM - 4:00 PM
: Monday to Friday 10:00 AM - 4:00 PM
: Monday to Friday 10:00 AM - 4:00 PM
: Monday to Friday 10:00 AM - 4:00 PM
: Monday to Friday 10:00 AM - 4:00 PM
: Monday to Friday 10:00 AM - 4:00 PM
: Monday to Friday 10:00 AM - 4:00 PM
: Monday to Friday 10:00 AM - 4:00 PM
: Monday to Friday 10:00 AM - 4:00 PM
: Monday to Friday 10:00 AM - 4:00 PM
: Monday to Friday 10:00 AM - 4:00 PM

: Tuesday to Sunday 11:00 AM - 5:00 PM
: Tuesday to Sunday 11:00 AM - 5:00 PM
: Tuesday to Sunday 11:00 AM - 5:00 PM
: Tuesday to Sunday 11:00 AM - 5:00 PM
: Tuesday to Sunday 11:00 AM - 5:00 PM
: Tuesday to Sunday 11:00 AM - 5:00 PM
: Tuesday to Sunday 11:00 AM - 5:00 PM
: Tuesday to Sunday 11:00 AM - 5:00 PM
: Tuesday to Sunday 11:00 AM - 5:00 PM
: Tuesday to Sunday 11:00 AM - 5:00 PM
: Tuesday to Sunday 11:00 AM - 5:00 PM
: Tuesday to Sunday 11:00 AM - 5:00 PM

: Tuesday to Sunday 11:00 AM - 5:00 PM
: Tuesday to Sunday 11:00 AM - 5:00 PM
: Tuesday to Sunday 11:00 AM - 5:00 PM
: Tuesday to Sunday 11:00 AM - 5:00 PM
: Tuesday to Sunday 11:00 AM - 5:00 PM
: Tuesday to Sunday 11:00 AM - 5:00 PM
: Tuesday to Sunday 11:00 AM - 5:00 PM
: Tuesday to Sunday 11:00 AM - 5:00 PM
: Tuesday to Sunday 11:00 AM - 5:00 PM
: Tuesday to Sunday 11:00 AM - 5:00 PM
: Tuesday to Sunday 11:00 AM - 5:00 PM
: Tuesday to Sunday 11:00 AM - 5:00 PM

: Monday to Friday 9:00 AM - 5:00 PM
: Monday to Friday 9:00 AM - 5:00 PM
: Monday to Friday 9:00 AM - 5:00 PM
: Monday to Friday 9:00 AM - 5:00 PM
: Monday to Friday 9:00 AM - 5:00 PM
: Monday to Friday 9:00 AM - 5:00 PM
: Monday to Friday 9:00 AM - 5:00 PM
: Monday to Friday 9:00 AM - 5:00 PM
: Monday to Friday 9:00 AM - 5:00 PM
: Monday to Friday 9:00 AM - 5:00 PM
: Monday to Friday 9:00 AM - 5:00 PM
: Monday to Friday 9:00 AM - 5:00 PM

: Everyday 9:00 AM - 6:00 PM
: Everyday 9:00 AM - 6:00 PM
: Everyday 9:00 AM - 6:00 PM
: Everyday 9:00 AM - 6:00 PM
: Everyday 9:00 AM - 6:00 PM
: Everyday 9:00 AM - 6:00 PM
: Everyday 9:00 AM - 6:00 PM
: Everyday 9:00 AM - 6:00 PM
: Everyday 9:00 AM - 6:00 PM
: Everyday 9:00 AM - 6:00 PM
: Everyday 9:00 AM - 6:00 PM
: Everyday 9:00 AM - 6:00 PM

: Everyday 10:00 AM - 3:00 PM
: Everyday 10:00 AM - 3:00 PM
: Everyday 10:00 AM - 3:00 PM
: Everyday 10:00 AM - 3:00 PM
: Everyday 10:00 AM - 3:00 PM
: Everyday 10:00 AM - 3:00 PM
: Everyday 10:00 AM - 3:00 PM
: Everyday 10:00 AM - 3:00 PM
: Everyday 10:00 AM - 3:00 PM
: Everyday 10:00 AM - 3:00 PM
: Everyday 10:00 AM - 3:00 PM
: Everyday 10:00 AM - 3:00 PM

: Everyday 9:00 AM - 4:00 PM
: Everyday 9:00 AM - 4:00 PM
: Everyday 9:00 AM - 4:00 PM
: Everyday 9:00 AM - 4:00 PM
: Everyday 9:00 AM - 4:00 PM
: Everyday 9:00 AM - 4:00 PM
: Everyday 9:00 AM - 4:00 PM
: Everyday 9:00 AM - 4:00 PM
: Everyday 9:00 AM - 4:00 PM
: Everyday 9:00 AM - 4:00 PM
: Everyday 9:00 AM - 4:00 PM
: Everyday 9:00 AM - 4:00 PM

: Tuesday to Saturday 11:00 AM - 5:00 PM
: Tuesday to Saturday 11:00 AM - 5:00 PM
: Tuesday to Saturday 11:00 AM - 5:00 PM
: Tuesday to Saturday 11:00 AM - 5:00 PM
: Tuesday to Saturday 11:00 AM - 5:00 PM
: Tuesday to Saturday 11:00 AM - 5:00 PM
: Tuesday to Saturday 11:00 AM - 5:00 PM
: Tuesday to Saturday 11:00 AM - 5:00 PM
: Tuesday to Saturday 11:00 AM - 5:00 PM
: Tuesday to Saturday 11:00 AM - 5:00 PM
: Tuesday to Saturday 11:00 AM - 5:00 PM
: Tuesday to Saturday 11:00 AM - 5:00 PM

: Everyday 7:00 AM - 6:00 PM
: Everyday 7:00 AM - 6:00 PM
: Everyday 7:00 AM - 6:00 PM
: Everyday 7:00 AM - 6:00 PM
: Everyday 7:00 AM - 6:00 PM
: Everyday 7:00 AM - 6:00 PM
: Everyday 7:00 AM - 6:00 PM
: Everyday 7:00 AM - 6:00 PM
: Everyday 7:00 AM - 6:00 PM
: Everyday 7:00 AM - 6:00 PM
: Everyday 7:00 AM - 6:00 PM
: Everyday 7:00 AM - 6:00 PM

: Tuesday to Sunday 11:00 AM - 3:00 PM
: Tuesday to Sunday 11:00 AM - 3:00 PM
: Tuesday to Sunday 11:00 AM - 3:00 PM
: Tuesday to Sunday 11:00 AM - 3:00 PM
: Tuesday to Sunday 11:00 AM - 3:00 PM
: Tuesday to Sunday 11:00 AM - 3:00 PM
: Tuesday to Sunday 11:00 AM - 3:00 PM
: Tuesday to Sunday 11:00 AM - 3:00 PM
: Tuesday to Sunday 11:00 AM - 3:00 PM
: Tuesday to Sunday 11:00 AM - 3:00 PM
: Tuesday to Sunday 11:00 AM - 3:00 PM
: Tuesday to Sunday 11:00 AM - 3:00 PM

: Everyday 9:00 AM - 4:00 PM
: Everyday 9:00 AM - 4:00 PM
: Everyday 9:00 AM - 4:00 PM
: Everyday 9:00 AM - 4:00 PM
: Everyday 9:00 AM - 4:00 PM
: Everyday 9:00 AM - 4:00 PM
: Everyday 9:00 AM - 4:00 PM
: Everyday 9:00 AM - 4:00 PM
: Everyday 9:00 AM - 4:00 PM
: Everyday 9:00 AM - 4:00 PM
: Everyday 9:00 AM - 4:00 PM
: Everyday 9:00 AM - 4:00 PM

: Everyday 10:00 AM - 4:00 PM
: Everyday 10:00 AM - 4:00 PM
: Everyday 10:00 AM - 4:00 PM
: Everyday 10:00 AM - 4:00 PM
: Everyday 10:00 AM - 4:00 PM
: Everyday 10:00 AM - 4:00 PM
: Everyday 10:00 AM - 4:00 PM
: Everyday 10:00 AM - 4:00 PM
: Everyday 10:00 AM - 4:00 PM
: Everyday 10:00 AM - 4:00 PM
: Everyday 10:00 AM - 4:00 PM
: Everyday 10:00 AM - 4:00 PM

: Everyday 9:00 AM - 6:00 PM
: Everyday 9:00 AM - 6:00 PM
: Everyday 9:00 AM - 6:00 PM
: Everyday 9:00 AM - 6:00 PM
: Everyday 9:00 AM - 6:00 PM
: Everyday 9:00 AM - 6:00 PM
: Everyday 9:00 AM - 6:00 PM
: Everyday 9:00 AM - 6:00 PM
: Everyday 9:00 AM - 6:00 PM
: Everyday 9:00 AM - 6:00 PM
: Everyday 9:00 AM - 6:00 PM
: Everyday 9:00 AM - 6:00 PM

: Tuesday, Thursday, Friday 11:00 AM - 4:00 PM; Sunday 9:00 AM - 4:00 PM
: Tuesday, Thursday, Friday 11:00 AM - 4:00 PM; Sunday 9:00 AM - 4:00 PM
: Tuesday, Thursday, Friday 11:00 AM - 4:00 PM; Sunday 9:00 AM - 4:00 PM
: Tuesday, Thursday, Friday 11:00 AM - 4:00 PM; Sunday 9:00 AM - 4:00 PM
: Tuesday, Thursday, Friday 11:00 AM - 4:00 PM; Sunday 9:00 AM - 4:00 PM
: Tuesday, Thursday, Friday 11:00 AM - 4:00 PM; Sunday 9:00 AM - 4:00 PM
: Tuesday, Thursday, Friday 11:00 AM - 4:00 PM; Sunday 9:00 AM - 4:00 PM
: Tuesday, Thursday, Friday 11:00 AM - 4:00 PM; Sunday 9:00 AM - 4:00 PM
: Tuesday, Thursday, Friday 11:00 AM - 4:00 PM; Sunday 9:00 AM - 4:00 PM
: Tuesday, Thursday, Friday 11:00 AM - 4:00 PM; Sunday 9:00 AM - 4:00 PM
: Tuesday, Thursday, Friday 11:00 AM - 4:00 PM; Sunday 9:00 AM - 4:00 PM
: Tuesday, Thursday, Friday 11:00 AM - 4:00 PM; Sunday 9:00 AM - 4:00 PM

: Everyday 24 Hrs
: Everyday 24 Hrs
: Everyday 24 Hrs
: Everyday 24 Hrs
: Everyday 24 Hrs
: Everyday 24 Hrs
: Everyday 24 Hrs
: Everyday 24 Hrs
: Everyday 24 Hrs
: Everyday 24 Hrs
: Everyday 24 Hrs
: Everyday 24 Hrs

: Everyday 24 Hrs
: Everyday 24 Hrs
: Everyday 24 Hrs
: Everyday 24 Hrs
: Everyday 24 Hrs
: Everyday 24 Hrs
: Everyday 24 Hrs
: Everyday 24 Hrs
: Everyday 24 Hrs
: Everyday 24 Hrs
: Everyday 24 Hrs
: Everyday 24 Hrs