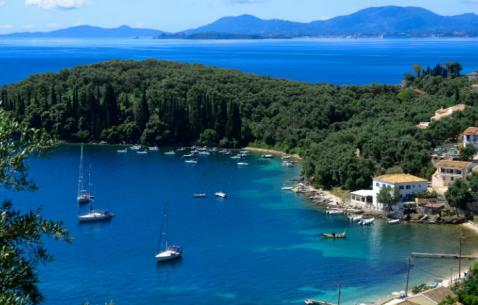 Founded in the 3rd century BC, Kassiopi has a surprising amount of history, for a village that seems to be so innocuous. Emperor Nero built a Temple of Zeus here; later, the Byzantines used the headlands to make a fortress that survived through Venetian times till Turkish invasions in the 16th century. Before becoming a wildly popular tourist retreat, Kassiopi's main trade was fishing. Today though, tourism drives the economy. It's fast and hard.
Today, visitors mostly drop in for a night or two from Corfu. 36 km north of Corfu Town and Corfu airport. The resort is the largest village in the northeast of the island and is unique. Kassiopi Panoramic View among Corfu's resorts in having both a very picturesque setting and a fair amount of history. A holiday in Kassiopi has the magnificent backdrop of Mount Pantokrator and hills covered with olive groves, vines and citrus plantations. This resort is a colorful place reached by picturesque coast roads. It also provides views out to sea to the Albanian coast and shares the same northern coastline as Sidari, Roda and Acharavi. It is an attractive resort with traditional narrow streets and overlooked by the ruins of an ancient castle. Once a quite fishing village, the resort has been transformed into a popular holiday destination.
Although its big history, Kassiopi combines also a wide range of modern facilities such as waterskiing and paragliding, as well as a diving centre, where you have the opportunity for lessons and dive excursions for both adults and children, tennis courts, swimming pools and motor boat hire. Moreover there is no shortage of land based sports in Kassiopi. Mountain biking, horse riding and golf are just a few of the activities available. Furthermore it is worth visiting the church of Panagia Kassiopi tissa, which possibly has been built on the place of an ancient temple dedicated to Zeus Kassius. You will also see the ruins of the Byzantine castle that used to protect the town and its port and was guarding the sea route from Corfu to the opposite coast. A great local feast ("panigyri") takes place on the 15th of August, in honor of Panagia Kassiopi.
As far as sightseeing goes, the village itself offers up the castle ruins. There is a church where the ancient Temple of Zeus used to be. Strolling through the narrow streets with their assortment of establishments – boutiques, shops, restaurants, bars – is always fun. On the outskirts of the village, not too far away, are Kassiopi's many pretty beaches, some crowded with tourists, others less so. Stay at the hotels listed below, or lease a Kassiopi villa.
Essential travel information and Kassiopi tips for your visit
ESSENTIAL INFORMATION
Time Zone: Time Zone: EET (GMT+2, GMT+3 in summer)
Currency: Euros
Languages: Greek, English, Itlakian
Tipping: Tip just enough to round out the amount on the bill.
Electricity and Internet: 220 - 240 V. Round pin plugs - type C,F.
Security: 100 (Police), 166 (Medical)
Kassiopi Trip Planner
Plan your customized day by day trip plan for Kassiopi. Choose from various experinces categories as adventure, romantic and family and kids friendly for your trip using using Kassiopi trip planner.