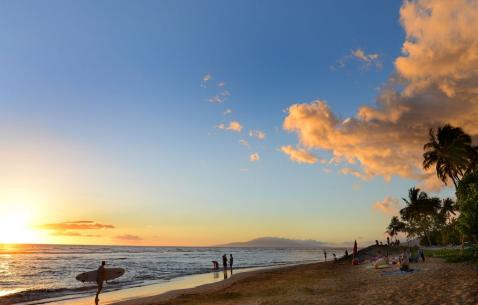 Hawaii is known to be exotic and one of the most sought after travel destinations. What makes Hawaii special are the little regions which put together make beautiful Islands of Hawaii. Kihei is one such region in the state of Maui. Extremely scenic, quaint and beautiful, this town is your one stop solution for all water related adventures that have existed on your bucket list ever since you learnt about those activities.
In Kihei, whale watching is like a daily activity and living the bay watch life is not really a dream. You want to go Surfing? Check. Snorkelling? Check. Has a one sided conversation with Turtles? Check. Swim along Rafts? Check. Play with dolphins? Double check. Your kids would go back forgetting all the hydrophobia that you have been trying to get rid of and thank you for the amazing interaction with all these lovely little creatures. If they are still not satisfied, you have places to just paint and paint with them till they are completely happy with their masterpieces.
Like all the other towns in the world, you also have a chance to have your conversations with the Lord in the church but you will be extremely excited about all the fun that the community has here. Also try out the delicacies, the food is lovely here and drinks are something that you should add to enhance your experience in this city.
The best part about Kihei is that it does not demand a week from you, even three days are enough for it if you promise to look around its neighboring districts. For a complete Hawaiian experience, Kapalua, Lahaina, Haleakala National Park, Wailea-Makena should definitely feature on your itinerary! Take a trip to Maui and spend three to four memorable days in Kihei!
Essential travel information and Kihei tips for your visit
Essential Info
Time Zone: Hawaii-Aleutian Time Zone UTC-10:00.
Currency: The currency followed in Hawaii and Kihei is USD.
Electricity: Voltage: 120 V
Frequency: 60 Hz
Power sockets: Type A / B
Internet: Although there are various internet service providers, the internet here is poor generally according to a lot of tourists.
Languages: The languages spoken by people in Kihei are quite diverse. These are mainly languages people preferentially speak when they are at home with their families. The most common language spoken in Kihei is English. Other important languages spoken here include Pacific Island languages, Spanish, Tagalog and Chinese.
Off-beaten Path: You can rent scooters and go around.
Security
The crime rate in Kihei is not very high.
It's still a good idea to be cautious, remember to lock your doors. Do not wear flashy jewellery. Keep your wallet away from the sight or reach pickpockets.
South Kihei Road is the safest area as it is always busy and bustling with people.
Maui Police Department- +1 808-244-6400
American Medical Response- +1 808-871-2153
Do not travel alone at night.
Keep your belongings with you specially when you are at a beach. There are instances of stuff being stolen here.
When asking for directions, no locals will know what "Highway 31" is, they will know it as Pi'ilani Highway. The numbers of highways are seldom posted, and are not known by anyone on island.
The best tours and activities in the city, guided by experts to give you a local insight to the best of Kihei