Best Time To Visit Kilkenny
Explore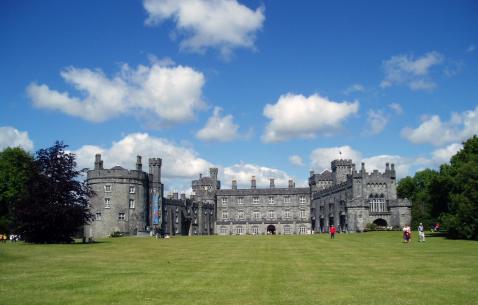 Accommodations with

See All
Best Time To Go To Kilkenny
Even though rainfalls are experienced almost all through the year, Kilkenny does have arelatively pleasant and warmer weather.
Winter: November, December, January
Spring: February, March, April
Summer: May, June, July
The best time to visit Kilkenny is from February to May.
Explore the best travel planner for your visit to Kilkenny and create a flawless plan in few simple steps!
Best time to go to Kilkenny Attractions

: Everyday 10:00 AM - 5:00 PM
: Everyday 10:00 AM - 5:00 PM
: Everyday 10:00 AM - 5:00 PM
: Everyday 10:00 AM - 5:00 PM
: Everyday 10:00 AM - 5:00 PM
: Everyday 10:00 AM - 5:00 PM
: Everyday 10:00 AM - 5:00 PM
: Everyday 10:00 AM - 5:00 PM
: Everyday 10:00 AM - 5:00 PM
: Everyday 10:00 AM - 5:00 PM
: Everyday 10:00 AM - 5:00 PM
: Everyday 10:00 AM - 5:00 PM

: Monday to Saturday 11:00 AM - 3:00 PM; Sunday 2:00 PM - 3:00 PM
: Monday to Saturday 11:00 AM - 3:00 PM; Sunday 2:00 PM - 3:00 PM
: Monday to Saturday 11:00 AM - 3:00 PM; Sunday 2:00 PM - 3:00 PM
: Monday to Saturday 11:00 AM - 3:00 PM; Sunday 2:00 PM - 3:00 PM
: Monday to Saturday 11:00 AM - 3:00 PM; Sunday 2:00 PM - 3:00 PM
: Sunday 2:00 PM - 3:00 PM
: Sunday 2:00 PM - 3:00 PM
: Sunday 2:00 PM - 3:00 PM
: Monday to Saturday 11:00 AM - 3:00 PM; Sunday 2:00 PM - 3:00 PM
: Monday to Saturday 11:00 AM - 3:00 PM; Sunday 2:00 PM - 3:00 PM
: Monday to Saturday 11:00 AM - 3:00 PM; Sunday 2:00 PM - 3:00 PM
: Monday to Saturday 11:00 AM - 3:00 PM; Sunday 2:00 PM - 3:00 PM

: Everyday 10:00 AM - 5:00 PM
: Everyday 10:00 AM - 5:00 PM
: Everyday 10:00 AM - 5:00 PM
: Everyday 10:00 AM - 5:00 PM
: Everyday 10:00 AM - 5:00 PM
: Everyday 10:00 AM - 5:00 PM
: Everyday 10:00 AM - 5:00 PM
: Everyday 10:00 AM - 5:00 PM
: Everyday 10:00 AM - 5:00 PM
: Everyday 10:00 AM - 5:00 PM
: Everyday 10:00 AM - 5:00 PM
: Everyday 10:00 AM - 5:00 PM

: Monday to Saturday 11:00 AM - 4:00 PM
: Monday to Saturday 11:00 AM - 4:00 PM
: Monday to Saturday 11:00 AM - 4:00 PM
: Monday to Saturday 11:00 AM - 4:00 PM; Sunday 3:00 PM - 4:00 PM
: Monday to Saturday 11:00 AM - 4:00 PM; Sunday 3:00 PM - 4:00 PM
: Monday to Saturday 11:00 AM - 4:00 PM; Sunday 3:00 PM - 4:00 PM
: Monday to Saturday 11:00 AM - 4:00 PM; Sunday 3:00 PM - 4:00 PM
: Monday to Saturday 11:00 AM - 4:00 PM; Sunday 3:00 PM - 4:00 PM
: Monday to Saturday 11:00 AM - 4:00 PM; Sunday 3:00 PM - 4:00 PM
: Monday to Saturday 11:00 AM - 4:00 PM; Sunday 3:00 PM - 4:00 PM
: Monday to Saturday 11:00 AM - 4:00 PM
: Monday to Saturday 11:00 AM - 4:00 PM

: Everyday 10:00 AM - 6:00 PM
: Everyday 10:00 AM - 6:00 PM
: Everyday 10:00 AM - 6:00 PM
: Everyday 10:00 AM - 6:00 PM
: Everyday 10:00 AM - 6:00 PM
: Everyday 10:00 AM - 6:00 PM
: Everyday 10:00 AM - 6:00 PM
: Everyday 10:00 AM - 6:00 PM
: Everyday 10:00 AM - 6:00 PM
: Everyday 10:00 AM - 6:00 PM
: Everyday 10:00 AM - 6:00 PM
: Everyday 10:00 AM - 6:00 PM

: Everyday 10:00 AM - 4:00 PM
: Everyday 10:00 AM - 4:00 PM
: Everyday 10:00 AM - 4:00 PM
: Everyday 10:00 AM - 4:00 PM
: Everyday 10:00 AM - 4:00 PM
: Everyday 10:00 AM - 4:00 PM
: Everyday 10:00 AM - 4:00 PM
: Everyday 10:00 AM - 4:00 PM
: Everyday 10:00 AM - 4:00 PM
: Everyday 10:00 AM - 4:00 PM
: Everyday 10:00 AM - 4:00 PM
: Everyday 10:00 AM - 4:00 PM

: Everyday 10:00 AM - 3:00 PM
: Everyday 10:00 AM - 3:00 PM
: Everyday 10:00 AM - 3:00 PM
: Everyday 10:00 AM - 3:00 PM
: Everyday 10:00 AM - 3:00 PM
: Everyday 10:00 AM - 3:00 PM
: Everyday 10:00 AM - 3:00 PM
: Everyday 10:00 AM - 3:00 PM
: Everyday 10:00 AM - 3:00 PM
: Everyday 10:00 AM - 3:00 PM
: Everyday 10:00 AM - 3:00 PM
: Everyday 10:00 AM - 3:00 PM

: Everyday 11:00 AM - 6:00 PM
: Everyday 11:00 AM - 6:00 PM
: Everyday 11:00 AM - 6:00 PM
: Everyday 11:00 AM - 6:00 PM
: Everyday 11:00 AM - 6:00 PM
: Everyday 11:00 AM - 6:00 PM
: Everyday 11:00 AM - 6:00 PM
: Everyday 11:00 AM - 6:00 PM
: Everyday 11:00 AM - 6:00 PM
: Everyday 11:00 AM - 6:00 PM
: Everyday 11:00 AM - 6:00 PM
: Everyday 11:00 AM - 6:00 PM

: Everyday 10:00 AM - 5:00 PM
: Everyday 10:00 AM - 5:00 PM
: Everyday 10:00 AM - 5:00 PM
: Everyday 10:00 AM - 5:00 PM
: Everyday 10:00 AM - 5:00 PM
: Everyday 10:00 AM - 5:00 PM
: Everyday 10:00 AM - 5:00 PM
: Everyday 10:00 AM - 5:00 PM
: Everyday 10:00 AM - 5:00 PM
: Everyday 10:00 AM - 5:00 PM
: Everyday 10:00 AM - 5:00 PM
: Everyday 10:00 AM - 5:00 PM

: Everyday 10:00 AM - 5:00 PM
: Everyday 10:00 AM - 5:00 PM
: Everyday 10:00 AM - 5:00 PM
: Everyday 10:00 AM - 5:00 PM
: Everyday 10:00 AM - 5:00 PM
: Everyday 10:00 AM - 5:00 PM
: Everyday 10:00 AM - 5:00 PM
: Everyday 10:00 AM - 5:00 PM
: Everyday 10:00 AM - 5:00 PM
: Everyday 10:00 AM - 5:00 PM
: Everyday 10:00 AM - 5:00 PM
: Everyday 10:00 AM - 5:00 PM

: Monday, Wednesday, Thursday, Friday, Saturday 8:30 PM - 11:30 PM
: Monday, Wednesday, Thursday, Friday, Saturday 8:30 PM - 11:30 PM
: Monday, Wednesday, Thursday, Friday, Saturday 8:30 PM - 11:30 PM
: Monday, Wednesday, Thursday, Friday, Saturday 8:30 PM - 11:30 PM
: Monday, Wednesday, Thursday, Friday, Saturday 8:30 PM - 11:30 PM
: Monday, Wednesday, Thursday, Friday, Saturday 8:30 PM - 11:30 PM
: Monday, Wednesday, Thursday, Friday, Saturday 8:30 PM - 11:30 PM
: Monday, Wednesday, Thursday, Friday, Saturday 8:30 PM - 11:30 PM
: Monday, Wednesday, Thursday, Friday, Saturday 8:30 PM - 11:30 PM
: Monday, Wednesday, Thursday, Friday, Saturday 8:30 PM - 11:30 PM
: Monday, Wednesday, Thursday, Friday, Saturday 8:30 PM - 11:30 PM
: Monday, Wednesday, Thursday, Friday, Saturday 8:30 PM - 11:30 PM

: Everyday 9:00 AM - 7:00 PM
: Everyday 9:00 AM - 7:00 PM
: Everyday 9:00 AM - 7:00 PM
: Everyday 9:00 AM - 7:00 PM
: Everyday 9:00 AM - 7:00 PM
: Everyday 9:00 AM - 7:00 PM
: Everyday 9:00 AM - 7:00 PM
: Everyday 9:00 AM - 7:00 PM
: Everyday 9:00 AM - 7:00 PM
: Everyday 9:00 AM - 7:00 PM
: Everyday 9:00 AM - 7:00 PM
: Everyday 9:00 AM - 7:00 PM

: Everyday 10:00 AM - 1:00 PM
: Everyday 10:00 AM - 1:00 PM
: Everyday 10:00 AM - 1:00 PM
: Everyday 10:00 AM - 1:00 PM
: Everyday 10:00 AM - 1:00 PM
: Everyday 10:00 AM - 1:00 PM
: Everyday 10:00 AM - 1:00 PM
: Everyday 10:00 AM - 1:00 PM
: Everyday 10:00 AM - 1:00 PM
: Everyday 10:00 AM - 1:00 PM
: Everyday 10:00 AM - 1:00 PM
: Everyday 10:00 AM - 1:00 PM

: Everyday 10:30 AM - 6:30 PM
: Everyday 10:30 AM - 6:30 PM
: Everyday 10:30 AM - 6:30 PM
: Everyday 10:30 AM - 6:30 PM
: Everyday 10:30 AM - 6:30 PM
: Everyday 10:30 AM - 6:30 PM
: Everyday 10:30 AM - 6:30 PM
: Everyday 10:30 AM - 6:30 PM
: Everyday 10:30 AM - 6:30 PM
: Everyday 10:30 AM - 6:30 PM
: Everyday 10:30 AM - 6:30 PM
: Everyday 10:30 AM - 6:30 PM

: Everyday 10:30 AM - 1:00 PM; Everyday 10:30 AM - 1:00 PM | 2:00 PM - 4:00 PM
: Everyday 10:30 AM - 1:00 PM; Everyday 10:30 AM - 1:00 PM | 2:00 PM - 4:00 PM
: Everyday 10:30 AM - 1:00 PM; Everyday 10:30 AM - 1:00 PM | 2:00 PM - 4:00 PM
: Everyday 10:30 AM - 1:00 PM; Everyday 10:30 AM - 1:00 PM | 2:00 PM - 4:00 PM
: Everyday 10:30 AM - 4:00 PM
: Everyday 10:30 AM - 4:00 PM
: Everyday 10:30 AM - 4:00 PM
: Everyday 10:30 AM - 4:00 PM
: Everyday 10:30 AM - 4:00 PM
: Everyday 10:30 AM - 1:00 PM; Everyday 10:30 AM - 1:00 PM | 2:00 PM - 4:00 PM
: Everyday 10:30 AM - 1:00 PM; Everyday 10:30 AM - 1:00 PM | 2:00 PM - 4:00 PM
: Everyday 10:30 AM - 1:00 PM; Everyday 10:30 AM - 1:00 PM | 2:00 PM - 4:00 PM

: Everyday 10:30 AM - 5:00 PM
: Everyday 10:30 AM - 5:00 PM
: Everyday 10:30 AM - 5:00 PM
: Everyday 10:30 AM - 5:00 PM
: Everyday 10:30 AM - 5:00 PM
: Everyday 10:30 AM - 5:00 PM
: Everyday 10:30 AM - 5:00 PM
: Everyday 10:30 AM - 5:00 PM
: Everyday 10:30 AM - 5:00 PM
: Everyday 10:30 AM - 5:00 PM
: Everyday 10:30 AM - 5:00 PM
: Everyday 10:30 AM - 5:00 PM

: Everyday 9:00 AM - 6:00 PM
: Everyday 9:00 AM - 6:00 PM
: Everyday 9:00 AM - 6:00 PM
: Everyday 9:00 AM - 6:00 PM
: Everyday 9:00 AM - 6:00 PM
: Everyday 9:00 AM - 6:00 PM
: Everyday 9:00 AM - 6:00 PM
: Everyday 9:00 AM - 6:00 PM
: Everyday 9:00 AM - 6:00 PM
: Everyday 9:00 AM - 6:00 PM
: Everyday 9:00 AM - 6:00 PM
: Everyday 9:00 AM - 6:00 PM

: Everyday 4:00 PM - 11:00 PM
: Everyday 4:00 PM - 11:00 PM
: Everyday 4:00 PM - 11:00 PM
: Everyday 4:00 PM - 11:00 PM
: Everyday 4:00 PM - 11:00 PM
: Everyday 4:00 PM - 11:00 PM
: Everyday 4:00 PM - 11:00 PM
: Everyday 4:00 PM - 11:00 PM
: Everyday 4:00 PM - 11:00 PM
: Everyday 4:00 PM - 11:00 PM
: Everyday 4:00 PM - 11:00 PM
: Everyday 4:00 PM - 11:00 PM

: Everyday 10:00 AM - 9:00 PM
: Everyday 10:00 AM - 9:00 PM
: Everyday 10:00 AM - 9:00 PM
: Everyday 10:00 AM - 9:00 PM
: Everyday 10:00 AM - 9:00 PM
: Everyday 10:00 AM - 9:00 PM
: Everyday 10:00 AM - 9:00 PM
: Everyday 10:00 AM - 9:00 PM
: Everyday 10:00 AM - 9:00 PM
: Everyday 10:00 AM - 9:00 PM
: Everyday 10:00 AM - 9:00 PM
: Everyday 10:00 AM - 9:00 PM

: Monday to Saturday 10:00 AM - 5:00 PM
: Monday to Saturday 10:00 AM - 5:00 PM
: Monday to Saturday 10:00 AM - 5:00 PM
: Monday to Saturday 10:00 AM - 5:00 PM
: Monday to Saturday 10:00 AM - 5:00 PM
: Monday to Saturday 10:00 AM - 5:00 PM
: Monday to Saturday 10:00 AM - 5:00 PM
: Monday to Saturday 10:00 AM - 5:00 PM
: Monday to Saturday 10:00 AM - 5:00 PM
: Monday to Saturday 10:00 AM - 5:00 PM
: Everyday 10:00 AM - 5:00 PM
: Everyday 10:00 AM - 5:00 PM

: Everyday 10:00 AM - 6:00 PM
: Everyday 10:00 AM - 6:00 PM
: Everyday 10:00 AM - 6:00 PM
: Everyday 10:00 AM - 6:00 PM
: Everyday 10:00 AM - 6:00 PM
: Everyday 10:00 AM - 6:00 PM
: Everyday 10:00 AM - 6:00 PM
: Everyday 10:00 AM - 6:00 PM
: Everyday 10:00 AM - 6:00 PM
: Everyday 10:00 AM - 6:00 PM
: Everyday 10:00 AM - 6:00 PM
: Everyday 10:00 AM - 6:00 PM

: Monday to Friday 10:00 AM - 6:00 PM; Saturday 2:00 PM - 6:00 PM
: Monday to Friday 10:00 AM - 6:00 PM; Saturday 2:00 PM - 6:00 PM
: Monday to Friday 10:00 AM - 6:00 PM; Saturday 2:00 PM - 6:00 PM
: Monday to Friday 10:00 AM - 6:00 PM; Saturday 2:00 PM - 6:00 PM
: Monday to Friday 10:00 AM - 6:00 PM; Saturday 2:00 PM - 6:00 PM
: Monday to Friday 10:00 AM - 6:00 PM; Saturday 2:00 PM - 6:00 PM
: Monday to Friday 10:00 AM - 6:00 PM; Saturday 2:00 PM - 6:00 PM
: Monday to Friday 10:00 AM - 6:00 PM; Saturday 2:00 PM - 6:00 PM
: Monday to Friday 10:00 AM - 6:00 PM; Saturday 2:00 PM - 6:00 PM
: Monday to Friday 10:00 AM - 6:00 PM; Saturday 2:00 PM - 6:00 PM
: Monday to Friday 10:00 AM - 6:00 PM; Saturday 2:00 PM - 6:00 PM
: Monday to Friday 10:00 AM - 6:00 PM; Saturday 2:00 PM - 6:00 PM

: Everyday 10:00 AM - 7:00 PM
: Everyday 10:00 AM - 7:00 PM
: Everyday 10:00 AM - 7:00 PM
: Everyday 10:00 AM - 7:00 PM
: Everyday 10:00 AM - 7:00 PM
: Everyday 10:00 AM - 7:00 PM
: Everyday 10:00 AM - 7:00 PM
: Everyday 10:00 AM - 7:00 PM
: Everyday 10:00 AM - 7:00 PM
: Everyday 10:00 AM - 7:00 PM
: Everyday 10:00 AM - 7:00 PM
: Everyday 10:00 AM - 7:00 PM

: Everyday 10:00 AM - 5:00 PM
: Everyday 10:00 AM - 5:00 PM
: Everyday 10:00 AM - 5:00 PM
: Everyday 10:00 AM - 5:00 PM
: Everyday 10:00 AM - 5:00 PM
: Everyday 10:00 AM - 5:00 PM
: Everyday 10:00 AM - 5:00 PM
: Everyday 10:00 AM - 5:00 PM
: Everyday 10:00 AM - 5:00 PM
: Everyday 10:00 AM - 5:00 PM
: Everyday 10:00 AM - 5:00 PM
: Everyday 10:00 AM - 5:00 PM

: Monday to Saturday 11:00 AM - 5:00 PM
: Monday to Saturday 11:00 AM - 5:00 PM
: Monday to Saturday 11:00 AM - 5:00 PM
: Monday to Saturday 11:00 AM - 5:00 PM
: Monday to Saturday 11:00 AM - 5:00 PM
: Monday to Saturday 11:00 AM - 5:00 PM
: Monday to Saturday 11:00 AM - 5:00 PM
: Monday to Saturday 11:00 AM - 5:00 PM
: Monday to Saturday 11:00 AM - 5:00 PM
: Monday to Saturday 11:00 AM - 5:00 PM
: Monday to Saturday 11:00 AM - 5:00 PM
: Monday to Saturday 11:00 AM - 5:00 PM