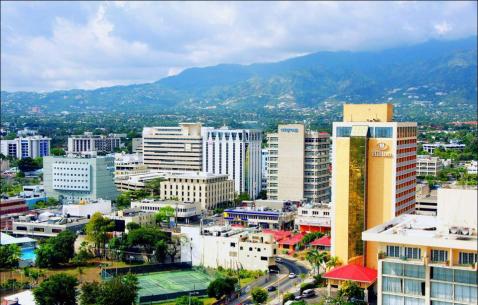 The birthplace of Reggae and Rastafarians, Kingston started out as a modest agricultural area in Jamaica but in 1607 when an earthquake destroyed the erstwhile capital Port Royal, Kingston was set up as a community for survivors who largely lived in tents at the time. However, by the early 1700s, when pirates destroyed what was left of Port Royal, Kingston became a bustling city on the island with thriving trade. Today, it is the capital of Jamaica and its commercial and cultural hub. It is the largest city in the Caribbean and also the most prosperous. The people speak Jamaican Creole, which is locally called Patois (Patwa) but the city also has the biggest English speaking population in the region.
A city of distinct contrasts, Kingston is a mix of English and Spanish influences from its colonial past and the equally powerful Afro-Caribbean culture. It is an important business district and draws several business travellers but is also a tourist haven of beaches, mountains, museums, music and nightlife. It is a place where you will find luxury and squalor in equal measure.
Kingston is the world's seventh largest natural harbor and the city, which was initially a small coastal settlement, now stretches inland over the Liguanea Plain and out to the Blue Mountains. The heart of the city is essentially divided into 'Uptown' and 'Downtown' areas, which are drastically different.
Uptown, which comprises New Kingston is modern and developed, and essentially a robust financial district. It has several hotels, restaurants, clubs, shopping malls and tourist spots. The Emancipation Park, The Bob Marley Museum and Devon house, which are popular jaunts on a Kingston itinerary are all located in the suave Uptown.
Downtown, which lies just 6km away is a world apart from cosmopolitan Uptown. Several historical buildings and art museums, crowded street markets and the beautiful waterfront, all lie in Downtown Kingston. To the west of Parade (William Grant Park), the "ghetto" areas of Trench Town and Tivoli Gardens, which are famed to have been Bob Marley's hangout in his teenage years, are great for partying but also have a high murder and crime rate. Although, most criminal activity takes places between the locals, owing to some internal rivalry, and tourists are generally safe, a little precaution and some street smartness come in handy when exploring the Downtown area, which cannot be given a miss as part of any Kingston, Jamaica tours.
Another popular item on list of things to do on a trip to Kingston, Jamaica is a trek or bike ride up the Blue Mountains, offering breath taking views of the entire city and places that serve the world famous Blue Mountain coffee, it's a must do for tourists and well worth the trip. Also visit attractions like the former capital and pirate town of Port Royal for a glimpse into its interesting past, take a stroll through the Spanish Town to see its beautiful colonial architecture, and explore the rich flora of the Hope Botanical Garden.
The food in Kingston, Jamaica is mouthwatering especially for meat and seafood lovers. There are several authentic restaurants and street stalls the offer lip-smacking fare. One must sample the national dish of Jamaica, Ackee & Saltfish (codfish). Also must try are the jerk chicken, curried pork, bammy cakes (made from cassava) and patties from various bakeries around town.
Kingston is also a great place to let your hair down and party. With several chic and stylish bars in Uptown's New Kingston area and several risque and casual party spots in the downtown area, Kingston nightlife is famed in the Caribbean as one where the party never stops.
Keep in mind that while the rest of Jamaica is laid back, Kingston is a fast paced metro caught up in the process of rapid growth and development. Kingston, Jamaica tourism has a mixed reputation owing to its crime rate, however it is quite safe and the place that holds many wonders for any earnest traveller. A buzzing nightlife, soulful Caribbean music, mouthwatering food at sophisticated restaurants, an interesting and colored history all make up the charm of this sprawling city.
Essential travel information and Kingston tips for your visit
Use mosquito repellents and nets, as the mosquito problem is quite a concern when visiting Kingston. People have been known to contract dengue fever from bites.
Although crime rate is high, tourists are generally safe if they stick to popular tourist areas.
Do not carry too much cash or valuables such as jewelry when travelling in the city. Avoid resistance if you find yourself being a victim to mugging.
Do not travel alone at night, especially women and avoid walking to anywhere in the city in the night. Taxis are your safest bet.
Homosexuality is prohibited in the country and the laws and punishment are quite severe.
Contrary to perception, marijuana in illegal in Jamaica and the penalties are high if caught in possession of illegal drugs.
A handshake is an acceptable form of greeting in formal and informal settings.
Medical treatment is expensive, therefore, it is advisable to have health & travel insurance.
Negotiate with taxis in advance so you know the exact fare before hand in order to avoid problems later.
Kingston Trip Planner
Plan your customized day by day trip plan for Kingston. Choose from various experinces categories as adventure, romantic and family and kids friendly for your trip using using Kingston trip planner.
The best tours and activities in the city, guided by experts to give you a local insight to the best of Kingston