Best Time To Visit Kingston
Explore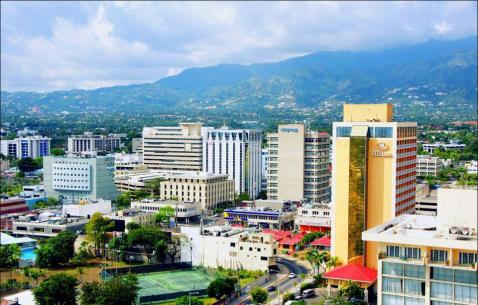 Accommodations with

See All
Best Time To Go To Kingston
Kingston, like the rest of Jamaica, experiences tropical climate with year round hot and humid weather. There are two distinct seasons, wet and dry. However, Kingston, Jamaica weather is relatively drier than the rest of the island as the city is shielded from heavy rainfall by the Blue Mountains. It is an ideal vacation spot as the weather in Kingston, Jamaica is essentially warm and balmy with short spells of rainfall.
The best time to visit the city is during the dry season, which occurs from December to April. The wet season extends from May to December and although not often, hurricanes and tropical storms are experienced during the months of July to November.
Explore the best travel planner for your visit to Kingston and create a flawless plan in few simple steps!
Best time to go to Kingston Attractions

: Everyday 10:00 AM - 4:00 PM
: Everyday 10:00 AM - 4:00 PM
: Everyday 10:00 AM - 4:00 PM
: Everyday 10:00 AM - 4:00 PM
: Everyday 10:00 AM - 4:00 PM
: Everyday 10:00 AM - 4:00 PM
: Everyday 10:00 AM - 4:00 PM
: Everyday 10:00 AM - 4:00 PM
: Everyday 10:00 AM - 4:00 PM
: Everyday 10:00 AM - 4:00 PM
: Everyday 10:00 AM - 4:00 PM
: Everyday 10:00 AM - 4:00 PM

: Monday to Saturday 11:00 AM - 4:00 PM
: Monday to Saturday 11:00 AM - 4:00 PM
: Monday to Saturday 11:00 AM - 4:00 PM
: Monday to Saturday 11:00 AM - 4:00 PM
: Monday to Saturday 11:00 AM - 4:00 PM
: Monday to Saturday 11:00 AM - 4:00 PM
: Monday to Saturday 11:00 AM - 4:00 PM
: Monday to Saturday 11:00 AM - 4:00 PM
: Monday to Saturday 11:00 AM - 4:00 PM
: Monday to Saturday 11:00 AM - 4:00 PM
: Monday to Saturday 11:00 AM - 4:00 PM
: Monday to Saturday 11:00 AM - 4:00 PM

: Everyday 24 Hrs
: Everyday 24 Hrs
: Everyday 24 Hrs
: Everyday 24 Hrs
: Everyday 24 Hrs
: Everyday 24 Hrs
: Everyday 24 Hrs
: Everyday 24 Hrs
: Everyday 24 Hrs
: Everyday 24 Hrs
: Everyday 24 Hrs
: Everyday 24 Hrs

: Monday to Thursday 5:00 AM - 11:00 PM; Friday to Sunday 5:00 AM - 11:59 PM
: Monday to Thursday 5:00 AM - 11:00 PM; Friday to Sunday 5:00 AM - 11:59 PM
: Monday to Thursday 5:00 AM - 11:00 PM; Friday to Sunday 5:00 AM - 11:59 PM
: Monday to Thursday 5:00 AM - 11:00 PM; Friday to Sunday 5:00 AM - 11:59 PM
: Monday to Thursday 5:00 AM - 11:00 PM; Friday to Sunday 5:00 AM - 11:59 PM
: Monday to Thursday 5:00 AM - 11:00 PM; Friday to Sunday 5:00 AM - 11:59 PM
: Monday to Thursday 5:00 AM - 11:00 PM; Friday to Sunday 5:00 AM - 11:59 PM
: Monday to Thursday 5:00 AM - 11:00 PM; Friday to Sunday 5:00 AM - 11:59 PM
: Monday to Thursday 5:00 AM - 11:00 PM; Friday to Sunday 5:00 AM - 11:59 PM
: Monday to Thursday 5:00 AM - 11:00 PM; Friday to Sunday 5:00 AM - 11:59 PM
: Monday to Thursday 5:00 AM - 11:00 PM; Friday to Sunday 5:00 AM - 11:59 PM
: Monday to Thursday 5:00 AM - 11:00 PM; Friday to Sunday 5:00 AM - 11:59 PM

: Everyday 24 Hrs
: Everyday 24 Hrs
: Everyday 24 Hrs
: Everyday 24 Hrs
: Everyday 24 Hrs
: Everyday 24 Hrs
: Everyday 24 Hrs
: Everyday 24 Hrs
: Everyday 24 Hrs
: Everyday 24 Hrs
: Everyday 24 Hrs
: Everyday 24 Hrs

: Everyday 11:00 AM - 3:00 PM
: Everyday 11:00 AM - 3:00 PM
: Everyday 11:00 AM - 3:00 PM
: Everyday 11:00 AM - 3:00 PM
: Everyday 11:00 AM - 3:00 PM
: Everyday 11:00 AM - 3:00 PM
: Everyday 11:00 AM - 3:00 PM
: Everyday 11:00 AM - 3:00 PM
: Everyday 11:00 AM - 3:00 PM
: Everyday 11:00 AM - 3:00 PM
: Everyday 11:00 AM - 3:00 PM
: Everyday 11:00 AM - 3:00 PM

: Everyday 24 Hrs
: Everyday 24 Hrs
: Everyday 24 Hrs
: Everyday 24 Hrs
: Everyday 24 Hrs
: Everyday 24 Hrs
: Everyday 24 Hrs
: Everyday 24 Hrs
: Everyday 24 Hrs
: Everyday 24 Hrs
: Everyday 24 Hrs
: Everyday 24 Hrs

: Everyday 24 Hrs
: Everyday 24 Hrs
: Everyday 24 Hrs
: Everyday 24 Hrs
: Everyday 24 Hrs
: Everyday 24 Hrs
: Everyday 24 Hrs
: Everyday 24 Hrs
: Everyday 24 Hrs
: Everyday 24 Hrs
: Everyday 24 Hrs
: Everyday 24 Hrs

: Everyday 5:30 AM - 6:00 PM
: Everyday 5:30 AM - 6:00 PM
: Everyday 5:30 AM - 6:30 PM
: Everyday 5:30 AM - 6:30 PM
: Everyday 5:30 AM - 6:30 PM
: Everyday 5:30 AM - 6:30 PM
: Everyday 5:30 AM - 6:30 PM
: Everyday 5:30 AM - 6:30 PM
: Everyday 5:30 AM - 6:30 PM
: Everyday 5:30 AM - 6:00 PM
: Everyday 5:30 AM - 6:00 PM
: Everyday 5:30 AM - 6:00 PM

: Everyday 24 Hrs
: Everyday 24 Hrs
: Everyday 24 Hrs
: Everyday 24 Hrs
: Everyday 24 Hrs
: Everyday 24 Hrs
: Everyday 24 Hrs
: Everyday 24 Hrs
: Everyday 24 Hrs
: Everyday 24 Hrs
: Everyday 24 Hrs
: Everyday 24 Hrs

: Everyday 24 Hrs
: Everyday 24 Hrs
: Everyday 24 Hrs
: Everyday 24 Hrs
: Everyday 24 Hrs
: Everyday 24 Hrs
: Everyday 24 Hrs
: Everyday 24 Hrs
: Everyday 24 Hrs
: Everyday 24 Hrs
: Everyday 24 Hrs
: Everyday 24 Hrs

: Everyday 24 Hrs
: Everyday 24 Hrs
: Everyday 24 Hrs
: Everyday 24 Hrs
: Everyday 24 Hrs
: Everyday 24 Hrs
: Everyday 24 Hrs
: Everyday 24 Hrs
: Everyday 24 Hrs
: Everyday 24 Hrs
: Everyday 24 Hrs
: Everyday 24 Hrs

: Everyday 11:00 AM - 3:00 PM
: Everyday 11:00 AM - 3:00 PM
: Everyday 11:00 AM - 3:00 PM
: Everyday 11:00 AM - 3:00 PM
: Everyday 11:00 AM - 3:00 PM
: Everyday 11:00 AM - 3:00 PM
: Everyday 11:00 AM - 3:00 PM
: Everyday 11:00 AM - 3:00 PM
: Everyday 11:00 AM - 3:00 PM
: Everyday 11:00 AM - 3:00 PM
: Everyday 11:00 AM - 3:00 PM
: Everyday 11:00 AM - 3:00 PM

: Everyday 10:30 AM - 3:00 PM
: Everyday 10:30 AM - 3:00 PM
: Everyday 10:30 AM - 3:00 PM
: Everyday 10:30 AM - 3:00 PM
: Everyday 10:30 AM - 3:00 PM
: Everyday 10:30 AM - 3:00 PM
: Everyday 10:30 AM - 3:00 PM
: Everyday 10:30 AM - 3:00 PM
: Everyday 10:30 AM - 3:00 PM
: Everyday 10:30 AM - 3:00 PM
: Everyday 10:30 AM - 3:00 PM
: Everyday 10:30 AM - 3:00 PM

: Tuesday to Saturday 11:00 AM - 3:00 PM
: Tuesday to Saturday 11:00 AM - 3:00 PM
: Tuesday to Saturday 11:00 AM - 3:00 PM
: Tuesday to Saturday 11:00 AM - 3:00 PM
: Tuesday to Saturday 11:00 AM - 3:00 PM
: Tuesday to Saturday 11:00 AM - 3:00 PM
: Tuesday to Saturday 11:00 AM - 3:00 PM
: Tuesday to Saturday 11:00 AM - 3:00 PM
: Tuesday to Saturday 11:00 AM - 3:00 PM
: Tuesday to Saturday 11:00 AM - 3:00 PM
: Tuesday to Saturday 11:00 AM - 3:00 PM
: Tuesday to Saturday 11:00 AM - 3:00 PM

: Monday to Thursday 9:30 AM - 4:30 PM; Friday 9:30 AM - 3:30 PM
: Monday to Thursday 9:30 AM - 4:30 PM; Friday 9:30 AM - 3:30 PM
: Monday to Thursday 9:30 AM - 4:30 PM; Friday 9:30 AM - 3:30 PM
: Monday to Thursday 9:30 AM - 4:30 PM; Friday 9:30 AM - 3:30 PM
: Monday to Thursday 9:30 AM - 4:30 PM; Friday 9:30 AM - 3:30 PM
: Monday to Thursday 9:30 AM - 4:30 PM; Friday 9:30 AM - 3:30 PM
: Monday to Thursday 9:30 AM - 4:30 PM; Friday 9:30 AM - 3:30 PM
: Monday to Thursday 9:30 AM - 4:30 PM; Friday 9:30 AM - 3:30 PM
: Monday to Thursday 9:30 AM - 4:30 PM; Friday 9:30 AM - 3:30 PM
: Monday to Thursday 9:30 AM - 4:30 PM; Friday 9:30 AM - 3:30 PM
: Monday to Thursday 9:30 AM - 4:30 PM; Friday 9:30 AM - 3:30 PM
: Monday to Thursday 9:30 AM - 4:30 PM; Friday 9:30 AM - 3:30 PM

: Monday to Thursday 11:30 AM - 11:00 PM; Friday, Saturday 00:1 AM - 1:00 AM; Friday, Saturday 00:1 AM - 1:00 AM | 11:30 AM - 11:59 PM; Sunday 6:00 PM - 11:00 PM
: Monday to Thursday 11:30 AM - 11:00 PM; Friday, Saturday 00:1 AM - 1:00 AM; Friday, Saturday 00:1 AM - 1:00 AM | 11:30 AM - 11:59 PM; Sunday 6:00 PM - 11:00 PM
: Monday to Thursday 11:30 AM - 11:00 PM; Friday, Saturday 00:1 AM - 1:00 AM; Friday, Saturday 00:1 AM - 1:00 AM | 11:30 AM - 11:59 PM; Sunday 6:00 PM - 11:00 PM
: Monday to Thursday 11:30 AM - 11:00 PM; Friday, Saturday 00:1 AM - 1:00 AM; Friday, Saturday 00:1 AM - 1:00 AM | 11:30 AM - 11:59 PM; Sunday 6:00 PM - 11:00 PM
: Monday to Thursday 11:30 AM - 11:00 PM; Friday, Saturday 00:1 AM - 1:00 AM; Friday, Saturday 00:1 AM - 1:00 AM | 11:30 AM - 11:59 PM; Sunday 6:00 PM - 11:00 PM
: Monday to Thursday 11:30 AM - 11:00 PM; Friday, Saturday 00:1 AM - 1:00 AM; Friday, Saturday 00:1 AM - 1:00 AM | 11:30 AM - 11:59 PM; Sunday 6:00 PM - 11:00 PM
: Monday to Thursday 11:30 AM - 11:00 PM; Friday, Saturday 00:1 AM - 1:00 AM; Friday, Saturday 00:1 AM - 1:00 AM | 11:30 AM - 11:59 PM; Sunday 6:00 PM - 11:00 PM
: Monday to Thursday 11:30 AM - 11:00 PM; Friday, Saturday 00:1 AM - 1:00 AM; Friday, Saturday 00:1 AM - 1:00 AM | 11:30 AM - 11:59 PM; Sunday 6:00 PM - 11:00 PM
: Monday to Thursday 11:30 AM - 11:00 PM; Friday, Saturday 00:1 AM - 1:00 AM; Friday, Saturday 00:1 AM - 1:00 AM | 11:30 AM - 11:59 PM; Sunday 6:00 PM - 11:00 PM
: Monday to Thursday 11:30 AM - 11:00 PM; Friday, Saturday 00:1 AM - 1:00 AM; Friday, Saturday 00:1 AM - 1:00 AM | 11:30 AM - 11:59 PM; Sunday 6:00 PM - 11:00 PM
: Monday to Thursday 11:30 AM - 11:00 PM; Friday, Saturday 00:1 AM - 1:00 AM; Friday, Saturday 00:1 AM - 1:00 AM | 11:30 AM - 11:59 PM; Sunday 6:00 PM - 11:00 PM
: Monday to Thursday 11:30 AM - 11:00 PM; Friday, Saturday 00:1 AM - 1:00 AM; Friday, Saturday 00:1 AM - 1:00 AM | 11:30 AM - 11:59 PM; Sunday 6:00 PM - 11:00 PM

: Thursday to Saturday 00:1 AM - 4:00 AM; Thursday to Saturday 00:1 AM - 4:00 AM | 9:30 PM - 11:59 PM
: Thursday to Saturday 00:1 AM - 4:00 AM; Thursday to Saturday 00:1 AM - 4:00 AM | 9:30 PM - 11:59 PM
: Thursday to Saturday 00:1 AM - 4:00 AM; Thursday to Saturday 00:1 AM - 4:00 AM | 9:30 PM - 11:59 PM
: Thursday to Saturday 00:1 AM - 4:00 AM; Thursday to Saturday 00:1 AM - 4:00 AM | 9:30 PM - 11:59 PM
: Thursday to Saturday 00:1 AM - 4:00 AM; Thursday to Saturday 00:1 AM - 4:00 AM | 9:30 PM - 11:59 PM
: Thursday to Saturday 00:1 AM - 4:00 AM; Thursday to Saturday 00:1 AM - 4:00 AM | 9:30 PM - 11:59 PM
: Thursday to Saturday 00:1 AM - 4:00 AM; Thursday to Saturday 00:1 AM - 4:00 AM | 9:30 PM - 11:59 PM
: Thursday to Saturday 00:1 AM - 4:00 AM; Thursday to Saturday 00:1 AM - 4:00 AM | 9:30 PM - 11:59 PM
: Thursday to Saturday 00:1 AM - 4:00 AM; Thursday to Saturday 00:1 AM - 4:00 AM | 9:30 PM - 11:59 PM
: Thursday to Saturday 00:1 AM - 4:00 AM; Thursday to Saturday 00:1 AM - 4:00 AM | 9:30 PM - 11:59 PM
: Thursday to Saturday 00:1 AM - 4:00 AM; Thursday to Saturday 00:1 AM - 4:00 AM | 9:30 PM - 11:59 PM
: Thursday to Saturday 00:1 AM - 4:00 AM; Thursday to Saturday 00:1 AM - 4:00 AM | 9:30 PM - 11:59 PM

: Everyday 24 Hrs
: Everyday 24 Hrs
: Everyday 24 Hrs
: Everyday 24 Hrs
: Everyday 24 Hrs
: Everyday 24 Hrs
: Everyday 24 Hrs
: Everyday 24 Hrs
: Everyday 24 Hrs
: Everyday 24 Hrs
: Everyday 24 Hrs
: Everyday 24 Hrs

: Everyday 24 Hrs
: Everyday 24 Hrs
: Everyday 24 Hrs
: Everyday 24 Hrs
: Everyday 24 Hrs
: Everyday 24 Hrs
: Everyday 24 Hrs
: Everyday 24 Hrs
: Everyday 24 Hrs
: Everyday 24 Hrs
: Everyday 24 Hrs
: Everyday 24 Hrs

: Everyday 24 Hrs
: Everyday 24 Hrs
: Everyday 24 Hrs
: Everyday 24 Hrs
: Everyday 24 Hrs
: Everyday 24 Hrs
: Everyday 24 Hrs
: Everyday 24 Hrs
: Everyday 24 Hrs
: Everyday 24 Hrs
: Everyday 24 Hrs
: Everyday 24 Hrs

: Everyday 24 Hrs
: Everyday 24 Hrs
: Everyday 24 Hrs
: Everyday 24 Hrs
: Everyday 24 Hrs
: Everyday 24 Hrs
: Everyday 24 Hrs
: Everyday 24 Hrs
: Everyday 24 Hrs
: Everyday 24 Hrs
: Everyday 24 Hrs
: Everyday 24 Hrs