15 Best things to do in Knoxville
When one is visiting a land to lavish that it hosts the Great Smoky Mountains, the Great Smoky Mountains National Park and the river Tennessee, there cannot be any scarcity in leisure activities that could prove to be once-in-a-lifetime experiences. Destination Knoxville in the state of Tennessee has a vast array of tourist attractions that can be tough to choose from. Take a look at our handpicked 15 best things to do in Knoxville listed below.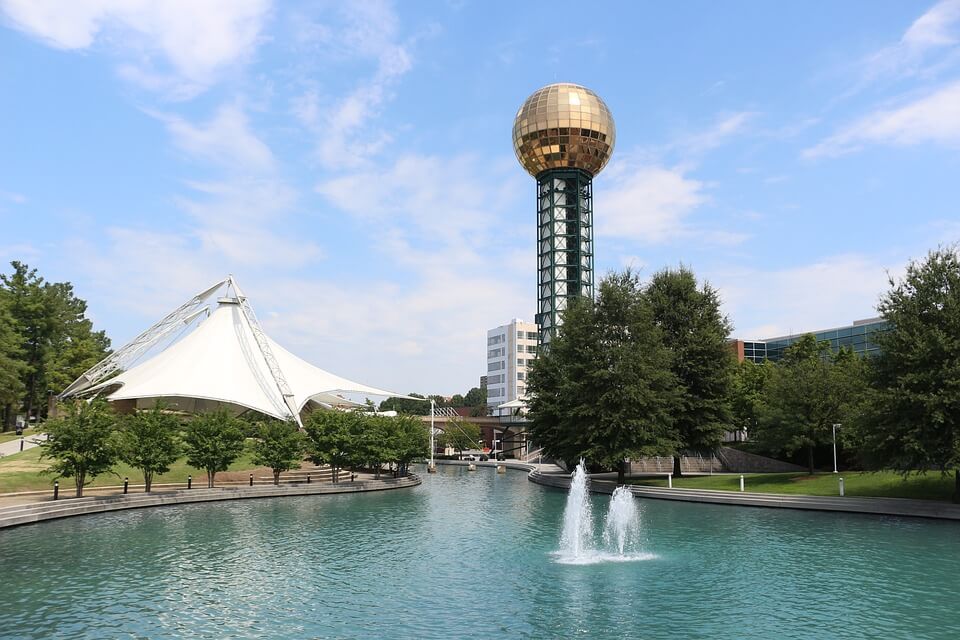 Image Source: maxpixel.net
1. Learn the local history at East Tennessee History Center
The East Tennessee History Center showcases award-winning exhibits and offers year round events and educational programs that acquaint participants with the rich history and cultural chronology of East Tennessee. The Center is run by the East Tennessee Historical Society.
Besides displaying a vast range of exhibits and artifacts from the past three centuries of history of Tennessee, it also conducts well known annual events such as the annual Blue & Gray Reunion in the months of April-May and the East Tennessee History Fair hosted in August.
2. Pay a visit to the Blount Mansion
The restored and recreated Blount Mansion in Tennessee tells its visitors the real life stories of the state's formative years. Locally known as the "the house with many eyes", it offers an intriguing and partly scandalous history of its own.
The mansion is named after William Blount, the then Governor of the Southwest Territory, who constructed this mansion in 1792 after declaring Knoxville as his capital. Almost two centuries later, in 1926, this house was restored by the Blount Mansion Association and turned into a place to showcase the rich history of Knoxville. The mansion hosts events all year long, the highlights of which are the Myths Tour in the month of October and the Merry and Bright Celebration in the last month of each calendar year.
3. Explore the historical James White Fort
The James White Fort, just as the name suggests, is the home of James White, the founder of Knoxville.
White had earned a huge grant of land for his contribution to the Revolutionary War. He thereafter went on an expedition which resulted in the discovery of the geography. This location soon became the city of Knoxville and later also the capital of the Southwest Territory, as declared by Governor Blount.
The James White fort, reconstructed in 1970, displays several artifacts that narrate the history of Knoxville. It also showcases interactive and intriguing exhibits about blacksmithing, cooking and spinning.
The Fort hosts special annual events, such as the Cherokee Heritage Day and Christmas open house. It also annually conducts a very interesting and popular ghost tour. The Fort sees about ten thousand visitors every year.
4. Gorge on more local history at the Old City
No trip to Knoxville is considered complete without a visit to the Old City. This is yet another renovated downtown site housing historic architecture that holds in them interesting secrets from the early Knoxville era.
Visitors can learn more about early Knoxville, take a trip to the quaint art galleries and enjoy delicacies at the well known restaurants and coffee houses. At night the Old City showcases some of the best musical talents of East Tennessee's.
5. Take a tour of the Civil War History Walk
To perfectly wrap up a history enthusiast's tour in Knoxville, taking the Knoxville's Civil War history walk is a must.
This part of the war history is a complex nuance and the walking tour explains the manners and reasons behind East Tennessee being much divided during the war. Visitors can avail a guided tour or even pick up a brochure at the Knoxville Visitor's Center if they opt for a self-guided tour.
6. Experience wildlife face to face at the Knoxville Zoo
Zoo Knoxville is renowned for being the world's biggest and wildest zoo project ever undertaken, named the Asian Trek, This Trek offers visitors the unique once-in-a-lifetime opportunity to encounter the whole world's wildlife up close, face to face.
The zoo houses one of the very rare and endangered Malayan tigers in its Tiger Forest. The authorities have long announced the inaugural of two other trails, the Langur Landing and Gibbon Trail by Spring 2018. Visitors come face to face with giraffes, chimpanzees, gorillas, elephants and more, strolling along with their young ones through the parts of the zoo named the Grasslands Africa, the Chimp Ridge, the Gorilla Valley and so on. Guests can even ride a desert camel here and splash around in the Clayton Safari Splash wet world section.
7. Play and learn at the Muse Knoxville
Tourists, especially with children, must pay a visit to The Muse Knoxville, situated in the Chilhowee Park, right beside the Knoxville Zoo.
It is the children's museum with 4,000 square feet of play space, designed blending together art and science. Children learn about elementary physical science, construction, human biology, nutrition and more - all while having fun, through interesting interactive activities. The museum also hosts fun field trips for kids all year round.
The Muse Knoxville also houses the singular public planetarium of the city, offering a attractive range of shows.
8. Enjoy man made lakes and lawns at the World's Fair
The 1982 World's Fair site stands tall even today in the heart of Knoxville. Visitors wanting to spend time outdoors and relish Man made landscape, lakes and geysers must visit this site.
The Fair was renovated and now hosts sprawling lawns, and man made water bodies, such as fountains and geysers. The lush green lawns of the Fair are used to host annual festivities, functions and live performances all through the year.
The World's Fair also owns a beautiful Sunsphere observation deck offering a panoramic view of the Great Smokey Mountains and the river Tennessee.
9. Spend an adventurous day in Ijams Nature Center
From manmade landscapes to Mother Nature's handiwork - the Ijams Nature Center founded by Harry Ijams is a 300-acres of massive park serving as a leading bird and wildlife sanctuary. It also acts as a center for environmental studies.
This sanctuary merely three miles away from downtown Knoxville offers tourists the experience of trail trekking, exploring natural creeks and groves, homestead and more.
The park also hosts the neighborhood's only natural rock climbing site. Visitors can avail rock climbing experiences ,along with canoe trips in the river.
10. Enjoy the scenic beauty of Mead's Quarry
Though technically speaking, it's part of the Ijams Nature Center, yet Mead's Quarry deserves an exclusive mention.
This used to once be a pink marble quarry. Today a 25 acres vast lake situated inside the quarry attracts regular tourists.
The serene and scenic lake houses a good array of aquatic wildlife ranging from waterfowl to jellyfish. Visitors, besides taking a dip in the lake, can also rent kayaks, paddle boards or canoes from the River Sports Outfitters there to canoe around or take a casual ride in the lake.
11. Take a trip on the Three Rivers Rambler
Speaking of canoe trips, Knoxville visitors love this bona fide steam train along the Tennessee River. The round trip is about 90 minutes long and carries people past the varied historic sites of Knoxville and all the lush landscape.
The longer excursion train offers about a 2 hour trip along the River, starting at Downtown Knoxville, traveling past all the historical sites right upto the "Three Rivers Trestle". The ride offers passengers onboard the sight of lush farmlands, significant quarries, mines and also old Knoxville's first settlement area. There are conductors and volunteers aboard to guide and answer questions during the trip.
12. Fish or angle with the 3 Rivers Angler
Besides the famous Three Rivers Rambler, one could also enjoy the 3 Rivers Angler. No, they aren't hosted by the same tour organizer, rather share a name based on the three rivers common to Knoxville. While the first is a train trip, the later is a fishing trip on river Tennessee.
The experience is unique when it comes to fishing in Knoxville. The water bodies and rivers in and around Knoxville teem with species such as catfish, crappie bluegill, paddlefish, striped bass, musky, and innumerable more. Tourists can choose from a wide range of lakes, streamsand the rivers for casting.
Anglers looking for fly fishing can even cast from drift boats sailing on the Clinch River - home to myriads of trout - rainbow, brook, brown. Guides are available to assist inexperienced or new anglers in their fishing quest.
13. Pick up Local art and farm fresh food at Farmer's Market
The Project Nourish Knoxville was formulated to aaida healthy symbiosis between the Knoxville community and its farmers and local artisans. It is also Aimee at providing the community with healthy fresh food, the Farmer's Market Square was birthed out if just that vision.
Situated in the historic Market Square of downtown Knoxville, it is an open air market selling farm products that are either home grown, raiser, handpicked or handmade by the sellers themselves.
This market is a huge favorite of the locals too, Who frequent the place to buy their weekly grocery, grab a good local homemade lunch or to buy some original and handcrafted gift from the local artists. A visit to historical Knoxville is indeed incomplete without a trip to the Former's Market too.
14. Watch a play at the Tennessee Theatre
The Tennessee Theatre is a historical entity of Knoxville, in action since its inauguration in 1928 as a "movie palace." Restored in 2005, today it draws huge crowd all year round.
The theatre is a huge attraction not only for hosting a wide range of vintage movies, Broadway shows, classical music and rock concert; rather also for its gorgeous Spanish-Moorish architecture, Italian terrazzo floor and ornate interior decoration. The building showcases plush and antic pieces such as Czech crystal chandeliers and some of the finest Asian carpets and drapery.
The Tennessee Theatre is home to the Knoxville Symphony Orchestra and Knoxville Opera. A visit to this iconic theatre is simply "unmissable" for any Knoxville visitor.
15. Get sporty with Women's Basketball and Vintage Base Ball
Visiting the Women's Basketball Hall of Fame worth it as it supports girl power!;and also serves as a home to the world's largest basketball hosted indirectly by the Center for Sport, Peace, and Society, whose mission is "to use sport to change lives, communities, and the world through teaching, research, and service."
Attending a game of Knoxville vintage base ball and to cheer for the Knoxville Holstons is another favorite sporty leisure available here. Knoxville Holstons, a part of the Tennessee Association of Vintage Base Ball promotes cultural enrichment, local history and community pride. It can be a unique experience to watch teams wearing 19th century style jerseys and no gloves to play this vintage version of the modern day game.
Are you looking for a Knoxville travel itinerary? Create an itinerary within minutes, on your own!
Top-Rated Tourist Attractions in Knoxville, Tennessee
Must see places in Knoxville ranked on popularity. Here is the complete list of best attractions in Knoxville and point of interests to visit.
Tourist Attractions Near Knoxville
Find Your Knoxville Attractions on Map
Types of Things To Do in Knoxville
Find more attractions and places to visit in Knoxville under these things to do categories.
Top Knoxville Activities And Tours
Explore the best things to do in Knoxville. These are the most preferred tourist activities.
Bountiful Brunch Tour of Knoxville TN

New on TripHobo

Duration: 2 Hrs

You know you're in the South when Brunch is on the menu! Come and enjoy downtown Knoxville on a wonderful Sunday afternoon. O...
Find more places to see in Knoxville
Governor John Sevier Farm Home

1220 W Governor John Sevier Hwy

Historic and Protected Sites

Westwood

3425 Kingston Pike

Historic and Protected Sites

Historic Fort Sanders Neighborhood

17TH St

Historic and Protected Sites

Bleak House

3148 Kingston Pike

Historic and Protected Sites

Craighead-Jackson House

1000 State St

Historic and Protected Sites

Candoro Marble Works

681 Maryville Pike

Historic and Protected Sites
View On Map
Nsra Street Rod Nationals South

Lakes
View On Map
Women's Basketball Hall of Fame

700 Hall of Fame Dr

Museums

Ramsey House Plantation

2614 Thorngrove Pike

Museums

Blount Mansion

200 W Hill Ave

Museums

East Tennessee Historical Society

601 S Gay St

Museums

Knoxville Museum of Art

1050 Worlds Fair Park Dr

Museums

Mabry Hazen House

1711 Dandridge Ave

Museums
View On Map
Sir Goony's Family Fun Center

10925 Kingston Pike

Amusement Parks

Players Club Paintball

125 Dante Rd

Amusement Parks

Veloce Indoor Speedway Knoxville

9305 Kingston Pike

Amusement Parks

Sir Goony's Go Karts & Minigolf

10925 Kingston Pike

Amusement Parks

Battlefield Knoxville

9329 Kingston Pike

Amusement Parks

Arcades

Navitat Knoxville

2915 Island Home Ave

Amusement Parks
View On Map
The Casual Pint

421 Union Ave

American

Bars

Night Clubs

Willy's Bar & Grill

2600 Whitten Ln

American

Bars

Cazzy's Corner Grill

2099 Thunderhead Rd

American

Diners

Bars

Rafferty's

8906 Kingston Pike

American

Bars

Barbecue

Wild Wing Cafe

11335 Campbell Lakes Dr

Barbecue

American

Bars

Pelancho's Mexican Restaurant

1516 Downtown West Blvd

Mexican

Bars
View On Map
Cades Cove Picnic Area

Natural Parks

Friends of Great Smoky Mountains National Park

3099 Winfield Dunn Pkwy

Natural Parks

Playgrounds
View On Map
Tommy Schumpert Park

6400 Fountain City Rd

Dog Parks

PetSafe Downtown Dog Park

200 S Central St

Dog Parks

Tyson Park

2351 Kingston Pike

Playgrounds

Dog Parks

Holston River Park

3300 Holston Hills Rd

Dog Parks
View On Map
Forks of the River Wildlife Management Area

Hiking

Howard Pinkston Greenway

Hiking

Outdoor Knoxville Adventure Center/gateway Building

900 Volunteer Landing Ln

Hiking

Secret City Half Marathon

Hiking

Melton Lake Greenway

Melton Lake Dr

Hiking

Maryville-Alcoa Greenway - N Hall Rd

1700 Louisville Rd

Hiking
View On Map
Smoky Mountain Gillies

3313 Timberlake Dr

Hunting and Fishing

The Tackle Box

7020 Asheville Hwy

Hunting and Fishing

Kirkland Desmond Fishing

6923 Maynardville Pike

Hunting and Fishing

Smokey Mountain Sports

Hunting and Fishing

Fish On! Guided Tours

Hunting and Fishing

Jack Wade Fishing Service

7928 Quail Run Rd

Hunting and Fishing
View On Map
Knoxville Civic Auditorium

500 Howard Baker Ave

Music and Show Venues

Stadiums and Arenas

Sherri Parker Lee Stadium

2323 Stephenson Dr

Baseball

Stadiums and Arenas

Thompson Boling Arena

1600 Phillip Fulmer Ave

Stadiums and Arenas

Music and Show Venues

Neyland Stadium

1235 Phillip Fulmer Ave

Stadiums and Arenas

Music and Show Venues

Lindsey Nelson Stadium

1511 Pat Summitt Dr

Stadiums and Arenas

Music and Show Venues

Neyland Stadium

Stadiums and Arenas
View On Map
What To Do in Knoxville: Day-Wise Ideas
Find what not to miss in Knoxville! Recommended Knoxville itineraries and vacation ideas created by travelers across the world.