Best Time To Visit Ko Phi Phi Don
Explore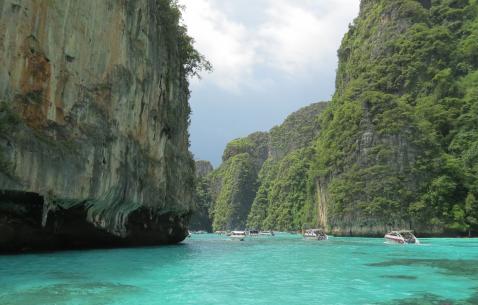 Best Time To Go To Ko Phi Phi Don
Phi Phi enjoys a tropical climate with hot temperatures year round. The weather in Phi Phi during the year can be split into two seasons: A dry season from December till April and a wet season from May till November. The best time to visit Phi Phi is from November to March when humidity and temperatures remain on an average of 28°C and it remains quite comfortable to stroll around with cool breezes refreshing you.
Hot Season: April – May remain hottest with temperatures ranging from 80ºF to 95ºF (27ºC up to 36ºC). There can be frequent short heavy thundery showers, which come up as welcome relief from the temperature and humidity. During June, July and August, the usual pattern is that of brief but heavy showers, with plenty of sunshine between downpours.
Wet Season: During September and early October, there are frequent heavy downpours. However, you can find long intervals of sunshine between the heavy showers.
Best time to go to Ko Phi Phi Don Attractions

: Everyday 9:00 AM - 5:00 PM
: Everyday 9:00 AM - 5:00 PM
: Everyday 9:00 AM - 5:00 PM
: Everyday 9:00 AM - 5:00 PM
: Everyday 9:00 AM - 5:00 PM
: Everyday 9:00 AM - 5:00 PM
: Everyday 9:00 AM - 5:00 PM
: Everyday 9:00 AM - 5:00 PM
: Everyday 9:00 AM - 5:00 PM
: Everyday 9:00 AM - 5:00 PM
: Everyday 9:00 AM - 5:00 PM
: Everyday 9:00 AM - 5:00 PM

: Everyday 6:00 AM - 7:00 PM
: Everyday 6:00 AM - 7:00 PM
: Everyday 6:00 AM - 7:00 PM
: Everyday 6:00 AM - 7:00 PM
: Everyday 6:00 AM - 7:00 PM
: Everyday 6:00 AM - 7:00 PM
: Everyday 6:00 AM - 7:00 PM
: Everyday 6:00 AM - 7:00 PM
: Everyday 6:00 AM - 7:00 PM
: Everyday 6:00 AM - 7:00 PM
: Everyday 6:00 AM - 7:00 PM
: Everyday 6:00 AM - 7:00 PM

: Everyday 6:00 AM - 5:00 PM
: Everyday 6:00 AM - 5:00 PM
: Everyday 6:00 AM - 5:00 PM
: Everyday 6:00 AM - 5:00 PM
: Everyday 6:00 AM - 5:00 PM
: Everyday 6:00 AM - 5:00 PM
: Everyday 6:00 AM - 5:00 PM
: Everyday 6:00 AM - 5:00 PM
: Everyday 6:00 AM - 5:00 PM
: Everyday 6:00 AM - 5:00 PM
: Everyday 6:00 AM - 5:00 PM
: Everyday 6:00 AM - 5:00 PM

: Everyday 1:00 PM - 7:00 PM
: Everyday 1:00 PM - 7:00 PM
: Everyday 1:00 PM - 7:00 PM
: Everyday 1:00 PM - 7:00 PM
: Everyday 1:00 PM - 7:00 PM
: Everyday 1:00 PM - 7:00 PM
: Everyday 1:00 PM - 7:00 PM
: Everyday 1:00 PM - 7:00 PM
: Everyday 1:00 PM - 7:00 PM
: Everyday 1:00 PM - 7:00 PM
: Everyday 1:00 PM - 7:00 PM
: Everyday 1:00 PM - 7:00 PM

: Everyday 6:00 AM - 7:00 PM
: Everyday 6:00 AM - 7:00 PM
: Everyday 6:00 AM - 7:00 PM
: Everyday 6:00 AM - 7:00 PM
: Everyday 6:00 AM - 7:00 PM
: Everyday 6:00 AM - 7:00 PM
: Everyday 6:00 AM - 7:00 PM
: Everyday 6:00 AM - 7:00 PM
: Everyday 6:00 AM - 7:00 PM
: Everyday 6:00 AM - 7:00 PM
: Everyday 6:00 AM - 7:00 PM
: Everyday 6:00 AM - 7:00 PM

: Everyday 9:00 AM - 7:00 PM
: Everyday 9:00 AM - 7:00 PM
: Everyday 9:00 AM - 7:00 PM
: Everyday 9:00 AM - 7:00 PM
: Everyday 9:00 AM - 7:00 PM
: Everyday 9:00 AM - 7:00 PM
: Everyday 9:00 AM - 7:00 PM
: Everyday 9:00 AM - 7:00 PM
: Everyday 9:00 AM - 7:00 PM
: Everyday 9:00 AM - 7:00 PM
: Everyday 9:00 AM - 7:00 PM
: Everyday 9:00 AM - 7:00 PM

: Everyday 10:00 AM - 10:00 PM
: Everyday 10:00 AM - 10:00 PM
: Everyday 10:00 AM - 10:00 PM
: Everyday 10:00 AM - 10:00 PM
: Everyday 10:00 AM - 10:00 PM
: Everyday 10:00 AM - 10:00 PM
: Everyday 10:00 AM - 10:00 PM
: Everyday 10:00 AM - 10:00 PM
: Everyday 10:00 AM - 10:00 PM
: Everyday 10:00 AM - 10:00 PM
: Everyday 10:00 AM - 10:00 PM
: Everyday 10:00 AM - 10:00 PM

: Everyday 6:00 AM - 7:00 PM
: Everyday 6:00 AM - 7:00 PM
: Everyday 6:00 AM - 7:00 PM
: Everyday 6:00 AM - 7:00 PM
: Everyday 6:00 AM - 7:00 PM
: Everyday 6:00 AM - 7:00 PM
: Everyday 6:00 AM - 7:00 PM
: Everyday 6:00 AM - 7:00 PM
: Everyday 6:00 AM - 7:00 PM
: Everyday 6:00 AM - 7:00 PM
: Everyday 6:00 AM - 7:00 PM
: Everyday 6:00 AM - 7:00 PM

: Everyday 9:00 AM - 5:00 PM
: Everyday 9:00 AM - 5:00 PM
: Everyday 9:00 AM - 5:00 PM
: Everyday 9:00 AM - 5:00 PM
: Everyday 9:00 AM - 5:00 PM
: Everyday 9:00 AM - 5:00 PM
: Everyday 9:00 AM - 5:00 PM
: Everyday 9:00 AM - 5:00 PM
: Everyday 9:00 AM - 5:00 PM
: Everyday 9:00 AM - 5:00 PM
: Everyday 9:00 AM - 5:00 PM
: Everyday 9:00 AM - 5:00 PM

: Everyday 6:00 AM - 9:00 PM
: Everyday 6:00 AM - 9:00 PM
: Everyday 6:00 AM - 9:00 PM
: Everyday 6:00 AM - 9:00 PM
: Everyday 6:00 AM - 9:00 PM
: Everyday 6:00 AM - 9:00 PM
: Everyday 6:00 AM - 9:00 PM
: Everyday 6:00 AM - 9:00 PM
: Everyday 6:00 AM - 9:00 PM
: Everyday 6:00 AM - 9:00 PM
: Everyday 6:00 AM - 9:00 PM
: Everyday 6:00 AM - 9:00 PM

: Everyday 8:30 AM - 6:00 PM
: Everyday 8:30 AM - 6:00 PM
: Everyday 8:30 AM - 6:00 PM
: Everyday 8:30 AM - 6:00 PM
: Everyday 8:30 AM - 6:00 PM
: Everyday 8:30 AM - 6:00 PM
: Everyday 8:30 AM - 6:00 PM
: Everyday 8:30 AM - 6:00 PM
: Everyday 8:30 AM - 6:00 PM
: Everyday 8:30 AM - 6:00 PM
: Everyday 8:30 AM - 6:00 PM
: Everyday 8:30 AM - 6:00 PM

: Everyday 9:00 AM - 9:00 PM
: Everyday 9:00 AM - 9:00 PM
: Everyday 9:00 AM - 9:00 PM
: Everyday 9:00 AM - 9:00 PM
: Everyday 9:00 AM - 9:00 PM
: Everyday 9:00 AM - 9:00 PM
: Everyday 9:00 AM - 9:00 PM
: Everyday 9:00 AM - 9:00 PM
: Everyday 9:00 AM - 9:00 PM
: Everyday 9:00 AM - 9:00 PM
: Everyday 9:00 AM - 9:00 PM
: Everyday 9:00 AM - 9:00 PM

: Everyday 7:00 AM - 11:00 PM
: Everyday 7:00 AM - 11:00 PM
: Everyday 7:00 AM - 11:00 PM
: Everyday 7:00 AM - 11:00 PM
: Everyday 7:00 AM - 11:00 PM
: Everyday 7:00 AM - 11:00 PM
: Everyday 7:00 AM - 11:00 PM
: Everyday 7:00 AM - 11:00 PM
: Everyday 7:00 AM - 11:00 PM
: Everyday 7:00 AM - 11:00 PM
: Everyday 7:00 AM - 11:00 PM
: Everyday 7:00 AM - 11:00 PM

: Everyday 7:00 AM - 7:00 PM
: Everyday 7:00 AM - 7:00 PM
: Everyday 7:00 AM - 7:00 PM
: Everyday 7:00 AM - 7:00 PM
: Everyday 7:00 AM - 7:00 PM
: Everyday 7:00 AM - 7:00 PM
: Everyday 7:00 AM - 7:00 PM
: Everyday 7:00 AM - 7:00 PM
: Everyday 7:00 AM - 7:00 PM
: Everyday 7:00 AM - 7:00 PM
: Everyday 7:00 AM - 7:00 PM
: Everyday 7:00 AM - 7:00 PM

: Everyday 9:00 AM - 6:00 PM
: Everyday 9:00 AM - 6:00 PM
: Everyday 9:00 AM - 6:00 PM
: Everyday 9:00 AM - 6:00 PM
: Everyday 9:00 AM - 6:00 PM
: Everyday 9:00 AM - 6:00 PM
: Everyday 9:00 AM - 6:00 PM
: Everyday 9:00 AM - 6:00 PM
: Everyday 9:00 AM - 6:00 PM
: Everyday 9:00 AM - 6:00 PM
: Everyday 9:00 AM - 6:00 PM
: Everyday 9:00 AM - 6:00 PM

: Everyday 6:00 AM - 8:00 PM
: Everyday 6:00 AM - 8:00 PM
: Everyday 6:00 AM - 8:00 PM
: Everyday 6:00 AM - 8:00 PM
: Everyday 6:00 AM - 8:00 PM
: Everyday 6:00 AM - 8:00 PM
: Everyday 6:00 AM - 8:00 PM
: Everyday 6:00 AM - 8:00 PM
: Everyday 6:00 AM - 8:00 PM
: Everyday 6:00 AM - 8:00 PM
: Everyday 6:00 AM - 8:00 PM
: Everyday 6:00 AM - 8:00 PM

: Everyday 6:00 AM - 8:00 PM
: Everyday 6:00 AM - 8:00 PM
: Everyday 6:00 AM - 8:00 PM
: Everyday 6:00 AM - 8:00 PM
: Everyday 6:00 AM - 8:00 PM
: Everyday 6:00 AM - 8:00 PM
: Everyday 6:00 AM - 8:00 PM
: Everyday 6:00 AM - 8:00 PM
: Everyday 6:00 AM - 8:00 PM
: Everyday 6:00 AM - 8:00 PM
: Everyday 6:00 AM - 8:00 PM
: Everyday 6:00 AM - 8:00 PM

: Everyday 11:00 AM - 4:00 PM
: Everyday 11:00 AM - 4:00 PM
: Everyday 11:00 AM - 4:00 PM
: Everyday 11:00 AM - 4:00 PM
: Everyday 11:00 AM - 4:00 PM
: Everyday 11:00 AM - 4:00 PM
: Everyday 11:00 AM - 4:00 PM
: Everyday 11:00 AM - 4:00 PM
: Everyday 11:00 AM - 4:00 PM
: Everyday 11:00 AM - 4:00 PM
: Everyday 11:00 AM - 4:00 PM
: Everyday 11:00 AM - 4:00 PM

: Everyday 9:00 AM - 3:30 PM
: Everyday 9:00 AM - 3:30 PM
: Everyday 9:00 AM - 3:30 PM
: Everyday 9:00 AM - 3:30 PM
: Everyday 9:00 AM - 3:30 PM
: Everyday 9:00 AM - 3:30 PM
: Everyday 9:00 AM - 3:30 PM
: Everyday 9:00 AM - 3:30 PM
: Everyday 9:00 AM - 3:30 PM
: Everyday 9:00 AM - 3:30 PM
: Everyday 9:00 AM - 3:30 PM
: Everyday 9:00 AM - 3:30 PM