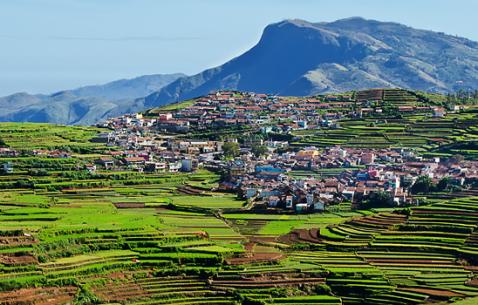 Kodaikanal, located in the Palani Hills in Tamil Nadu is a hill station with picture postcard surroundings complete with rolling hills, deep valleys, dense greenery with fruit plantations and flowering meadows and a sparkling lake in the centre of this city. Its popularity as a tourist hotspot is unrivalled and the large number of tourists thronging this hill station, especially in the summer months when the summer heat is at its strongest, is proof of its status and fame. Originally inhabited by the Palaiyar tribe, this town was later colonized by American missionaries and the British officers living in cities close to Kodaikanal.
Kodaikanal is like a breath of fresh air in the midst of the unbearable humidity of Tamil Nadu. A refuge for families and honeymooners alike, this hill station is perched picturesquely around a lake. Get ready to boat around in the company of swans and smell the nilgiri mist in the air, Kodaikanal will sooth your weary soul.
Take back some handmade chocolates and pleasant memories from this haven tucked in between eucalyptus trees. Whether you crave waterfalls or just want to take in the scenery, Kodaikanal will not disappoint you. This 'Gift of the Forest' will beckon you from a happy corner of your heart. Again and again!
Essential travel information and Kodaikanal tips for your visit
Do buy some famous handmade chocolates as sweet souvenirs of Kodaikanal.
Kodaikanal also has some excellent tea and coffee stores that stock specialty teas and coffees. Worth a visit.
Do carry an umbrella with you because rains are an unpredictable visitor in Kodaikanal.
It's better to pack warm clothes when visiting kodaikanal. Light woollens for summers and raincoats during mansoons.