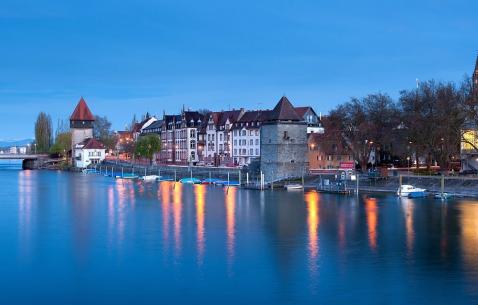 You'll find Konstanz at the mouth of the Rhine, where the river exits the Lake Constance. The pretty town lies on the German-Swiss border. The city has much to thank this proximity for – it ensured that the Allied WWII bombings didn't touch the city, as Switzerland was a neutral country.
Settled as far back as the Stone Age, the city's recorded history goes back to Roman times. The city became the seat of the bishopric in the sixth century, and thus an important spiritual centre. Thriving trade in the Middle Ages and its strategic location led to it being made and Imperial City. Later it became a part of Germany during the years of Germany's unification.
For a tourist, Konstanz's well preserved old town is a great place to wander about, especially the Neiderburg District. Some of the houses here are over 700 years old. There are usually a lot of things to do at the harbour, which is watched over by the infamous Imperia Statue. Close to the Swiss-German border there are a series of sculptures representing the tarot, called the Great Arcana. You can take sightseeing trips out onto the lake or to the nearby Mainau Flower Island, which is about 4km from the city. Konstanz also hosts multiple festivals throughout the year, of which the Seenachtfest, is the most fun. In June or July, there is a huge cross border flea market. Pedestrian Konstanz is also a great place for shopping.
Essential travel information and Konstanz tips for your visit
Tip only if you find services exceptional.
Prefer walking to driving around; parking spaces are rare.