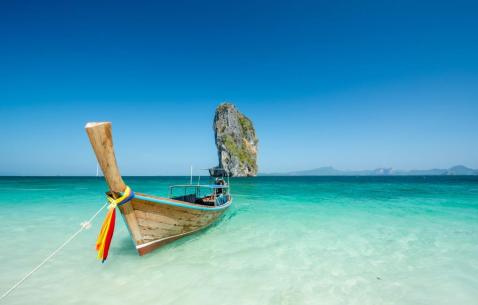 The Best Things To Do In Krabi
Krabi is one of the most relaxed cities in Thailand that has been transformed into a major exotic travel destination in the world. The charming city boasts miles and miles of spectacular coastline, lush tropical forests, caves, waterfalls, pristine beaches, over 200 off coast islands, relaxing beach resorts, bustling market, stunning coral reefs and a plethora of adventure sports and outdoor activities. The best way to soak up the charming, enigmatic costal city is to indulge in some of the best things to do in Krabi, which include a plethora of golden sand beaches kissing crystal blue waters, like the Ao Nang Beach, Nopparat Thara Beach, Koh Hong and the Railay Beaches & Caves. There are several off-shore islands near Karbi and visiting these islands through a speedboat and taking a tour of the islands is a once in a lifetime experience. These include islands like Turtle Island, Chicken Island, Tup Island and Mor Island. When in Krabi, it is a must to visit the incredibly picturesque Phi Phi Islands. Other top things to do in Krabi include venues like The Emerald Pool, Wat Tham Sua (Tiger Cave), Klong Thom Hot Springs, Krabi Town, Ao Luk Mangroves, Tha Khong Kha night market and Thara Park. In addition to the wonderful attractions, Krabi offers a number of opportunities to indulge in adventure sports and outdoor activities, including Elephant Treks, rock climbing, trekking, hiking, kayaking, scuba diving, mountain biking, cycling and snorkelling. Krabi is also home to some outstanding leisure opportunities. These include getting an authentic Thai massage, visiting the temples and tasting the authentic Thai cuisine. Krabi is a perfet exotic getaway, offering some of the best leisure and entertainment opportunities, stunning attractions and exciting adventures.
Explore the travel planning tool for your visit to Krabi and create a flawless plan in few simple steps!
52 Tourist Attractions in Krabi

Must see places in Krabi ranked on popularity. Here is the complete list of best attractions in Krabi and point of interests to visit.
Tourist Attractions Near Krabi
Find Your Krabi Attractions on Map
Types of Things To Do in Krabi
Find more attractions and places to visit in Krabi under these things to do categories.
Top Krabi Activities And Tours
Explore the best things to do in Krabi. These are the most preferred tourist activities.
What To Do in Krabi: Day-Wise Ideas
Find what not to miss in Krabi! Recommended Krabi itineraries and vacation ideas created by travelers across the world.