Wawel Royal Castle, Krakow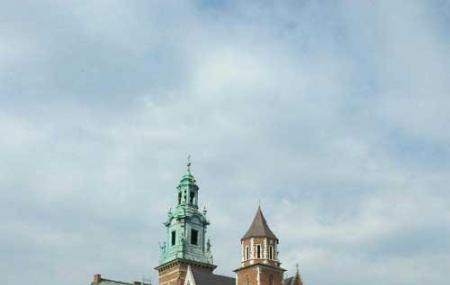 Wawel Royal Castle - A Quick Overview
[Contribute/Review]
Address: Wawel Royal Castle, Wawel 5, Krakow, Poland
Phone: +48-124225155
Timings: 09:30 am - 04:00 pm Details
Currently Closed
Added 24.3K times in trip plans
Art And Culture, Castle, Family And Kids, Architecture , Archaeological Site , Arts And Crafts
Website: http://en.wikipedia.org/wiki?curid=13255613
This is the best itinerary maker online!
Are you associated with this business? Get in touch
About Wawel Royal Castle, Krakow
A conspiracy theorist will no doubt wonder if there is something supernatural that attracts humans to Wawel. Archaeologists have shown the first human settlements on Wawel hill to be more than 50,000 years old. Now, there are other such sites scattered across the world, but Wawel is in the minority to have a castle built on it and become a centre of power. During medieval times, from the 11th to the 16th centuries AD the Wawel Castle was the Polish royalty's seat of power. It was the site of all coronations and all royal funerals. The long history and the large size of the castle means it had enough time and space to change. There are renovations and additions from each era, medieval, gothic and renaissance. The Castle today, in addition to being an architectural beauty, houses one of Poland's premier art museums, with an important collection of Italian Renaissance paintings. Of significant note are the Wawel treasures, over a hundred historical and cultural artefacts that were kept at Wawel, looted by German forces and then restored to their original owners. One of them is Coronation Sword of Poland, Szczerbiec, was used to crown Polish monarchs for five centuries and is around 800 years old. The other, more important artefact is a copy of the Guttenberg Bible, one of the first works printed in movable type back in 1455, a landmark in human invention, something that led to cheaply produced books and the spread of knowledge that we take for granted now.
Wawel Royal Castle Information
It is an extremely large castle with many different exhibitions- the State Rooms, the Royal Private Apartments, the Crown Treasure and Armoury, collection of Oriental Art, the Dragon's Den, Leonardo da Vinci's "Lady with an Ermine" and many more. Each of them has their own ticket prices and opening and closing hours, all of which can be found at their website.
On certain days for certain exhibits there is free admission. Read the website to find out where on which days. Arrive early because the free tickets are limited in number and are usually gone by noon.
Check the website and call ahead to see if you can see all the exhibitions you want to see without wasting too much time. Proper planning is required as there are many things to see at Wawel Castle.
Each exhibition needs separate tickets, and if you are a budget traveller (money or time-wise), read up and trim the fat. Don't visit the exhibits you find unnecessary.
Since it is a major tourist attraction there is almost always a massive crowd. Get there early and buy your tickets in advance.
Luggage is not allowed inside, backpacks, bags, strollers and umbrellas included and must be checked into their luggage room.
There are many restaurants in the old town and two cafes on Wawel hill.
Wawel Royal Castle Opening and Closing Hours
December 24, December 25 and from November 1 until March 31 all exhibitions are closed on Mondays.
Closed on the first Monday of every month.
The Wawel Hill is accessible to visitors daily since April through September from 6:00 am to 8:00 pm and since October through March from 6:00 am to 5:00 pm.
How To reach Wawel Royal Castle by Public Transport
The buses numbered 124, 152, 304, 424, 502 and the trams numbered 1, 2, 3, 4, 6, 8, 10, 13, 14, 18, 19, 20, 24 and 52 can be taken here. The stop is the Main Market Square. Wawel Castle is only a ten minute walk from there.
Love this? Explore the entire list of things to do in Krakow before you plan your trip.
Fancy a good night's sleep after a tiring day? Check out where to stay in Krakow and book an accommodation of your choice.
Wawel Royal Castle Sightseeing Tours
Wawel Royal Castle Rentals
Wawel Royal Castle, Krakow Reviews
A bit mixed feelings after visiting the castle. First of all there is a long queue to buy tickets, we spent probably half an hour in the queue. Then there are limited availability for visiting. We were buying tickets around half eleven and three out of six attractions were sold out. Photography is forbidden in the castle. Even using phones. Why? The castle itself is very well preserved, nice place to visit. And we definitely liked the collection of old swords and guns downstairs.

Must-see place in Krakow! I liked it mostly from it's atmosphere, great city view and well-combined architectual styles. The place has a true spirit of the important historical events of the country and has many expositions inside. By the way, you can offer a good audio-guide either in Russian or in other languages.Very interesting place! But going there you should mention that main expositions are closed at 4 p.m. in winter, and the last excursion (as it was said) goes at 2 p.m. You may spend the whole day here, if you are interested in historical details. So, don't waste such a great opportunity!

Not what you think of with a traditional 'Disney-like' castle but strategically in a very logical location. The grounds are immense and beautiful during all seasons. If you're a tourist in Krakow it's worth a visit. You can easily (and freely) walk the common grounds any time.

Loved this place so much! The architecture is beautiful. The castle is very big and has many places to see. There is nothing in Ukraine like this but Belgorod on Dniester. In the evening time the Wawel Royal Castle is lightened beautifully and is a charming place to walk. It is quiet and warm here even though it's winter. We weren't able to get in due to evening time so I'm planning next visit to Krakow already.

Incredible place. The castle is reminiscent of a fairly tale castle from some Disney Movie or something. Beautiful place! The interior of the castle is great and the tour lasts quite a while. If you like history and art then great... If your not such a fan of art then it could be a bit tedious...
Read all reviews
Find places near Wawel Royal Castle, Krakow
Bank Pekao S.A. Bankomat

ul. Józefińska 18

Bank Pekao S.A. Bankomat

Raciborska 17 Ruczaj

Bank BPH. Oddział

Kalwaryjska 19

Euronet. Bankomat

ul. Kapelanka 56

Citi Handlowy. Bankomat

Krakowska 29

Bank Pekao S.A. Bankomat

Rydlówka 5 Georyt
View On Map
Serwis Bank Sp. z o.o.

Wysłouchów 25h

Bank Zachodni WBK SA. 6 Oddział

por. Halszki 1a

Alior Bank

ul. Wielicka 72

ING Bank Śląski S.A.

Grota Roweckiego 6

Bank Pekao S.A. III Oddział Filia nr 8

Krakowska 46

Bank Pekao S.A. II Oddział

Kapelanka 1
View On Map
Policja. Komenda Miejska. Komisariat V

Zamoyskiego 20/22
View On Map
Supra S.c. Apteka

Traugutta 26

Apteka Prywatna Miła Jolanta Pasek

Witosa 39

"Cito Pharm" Sp. z o.o.

ul. Chmieleniec 2

Balachowska M., mgr farm. Apteka

Józefińska 35

Rydz Jacek. Apteka

por. Halszki 1k

Apteka Prywatna SC Kraków

Komandosów 1
View On Map
Mostowa ArtCafe

ul. Mostowa 8

Ruczaj

Grota Roweckiego 11

Podkowa

ul. pl. Wolnica 10

Drukarnia Jazz Club

ul. Nadwiślańska 1
View On Map
Mile Stone

ul. Nadwislanska 6
View On Map
Konfederacka 4

Konfederacka 4

Bottiglieria 1881

Bochenska 5 LU 1

Winiarnia "Jeszcze ranek nie tak bliski"

Raciborska 17

"Po Drodze" kawiarnia przy kładce

Mostowa 8

Smaki Gruzji Restauracja i winiarnia

Dietla 33 (róg Augustiańskiej)
View On Map
Piekarnia Mojego Taty

Meiselsa 6

Janeczek Włodzimierz i Filip. Piekarnia

Malborska 40

Gądek i Spółka. Piekarnia, cukiernia

Krakowska 20

Mróz Jacek. Pracownia cukiernicza

pl. Wolnica 14

Delicje. Piekarnia. Pazdalscy A.B.

ul. Stojałowskiego 3

Ambasador s.c. Pracownia cukiernicza. Duda C.K.

Beskidzka 27
View On Map
T.E.A. TIME Brewpub

Dietla 1
View On Map
Młynek Cafe. Restauracja wegetariańska

pl. Wolnica 7

Costa Coffee

Bonarka City Center, Henryka Kamieńskiego 11

Cafe Rękawka

Brodzińskiego 4b

Manggha Cafe

Konopnickiej 26
View On Map
Zając Andrzej. Cukiernia

Kobierzyńska 93

Zając Andrzej. Cukiernia

gen. Grota-Roweckiego 9

Adamek A. Pracownia cukiernicza

pl. Łagiewnicki 6

Kasia SC. Cukiernia. Tota J., W., Cichy K.

ul. Łużycka 12

Joasia. Cukiernia

Łany 18a

Cukiernictwo. FHP. Michałek-Gąsior E.

Bojki 4
View On Map
Lody Si Gela

Staromostowa 1
View On Map
Augusta Restauracja & Cocktail Bar

Bulwar Kurlandzki

Galicja Po Kolei

Lwowska 4

Marchewka z Groszkiem

Mostowa 2

Ogniem i Mieczem. Restauracja

pl. Serkowskiego 7

ZaKładka - Food & Wine

ul. Józefińska 2

Studio Qulinarne

Gazowa 4
View On Map
Podgórski Salon Degustacyjny - Restauracja, burgery

Kalwaryjska 26
View On Map
Horai. Restauracja

pl. Wolnica 9

Rong Vang. Kuchnia orientalna

Kalwaryjska 25

Sajgon - Bar Orientalny

Skwerowa 52

Rong Vang Bar. Pham Van Thinh Kraków

Ul. Kalwaryjska 25
View On Map
Rancho TEXAS

Kobierzyńska 175a
View On Map
Spaghetteria 24

ul. Kalwaryjska 24
View On Map
New York Pizza Department

Tuchowska 2

"Square Burger"

ul. Limanowskiego 52

Burger King

Kamieńskiego 11

McDonald's

ul. Kamieńskiego 11 lok. PZ 116

Zacny Burger Milordzie

Norymberska 1

Slow Burger

Chmieleniec 2a
View On Map
Hoang-Hai. Restauracja orientalna

Kapelanka 15a

Restauracja Orientalna Hong Long

Wadowicka 8g

Krystian Skiba Pierogarnia "U Gabi"

ul. Słomiana 17

Hong.Ha Bar Orientalny Lam Ton That Kraków

Malborska 34

A Dong

Ulica Brodzinskiego, 3, Krakow, MA 30506
View On Map
Lewiatan

Bobrzyńskiego 33

Dary Natury. Żywność ekologiczna

Krakowska 21

Firma Handlowo Produkcyjna Arkusz S.C. Małgorzata Adamczyk Marek Bartoń

Łużycka 55

Agnieszka Jaworska

Wincentego Witosa 33

Inter-Wen II Firma. Zbudniewek Edward Kraków

Raciborsko 222, 32-020 Wieliczka Polska
View On Map
Kuchnia u Doroty

Augustiańska 4

Passa. Restauracja

Wodna 4

Bar Mleczny Górnik

Dolnych Młynów

Bistro-Spacja Onyx

al. Powstańców Śląskich 26

Stara Chata

ul. Lwowska 19
View On Map
Antonio Caffe

pl. Wolnica 13

Domino's Pizza

ul. Stojałowskiego 6

"Mini-Bar" Eleonora Karasiewicz

Kościuszkowców 20

Między Nami. Restauracja

ul. Miłkowskiego 3 lok. 2

Ruczaj Grill Bar. Mardyła Stanisław Kraków

Grota-Roweckiego 9
View On Map
Pod Lwem

Ulica Józefińska 4
View On Map
Makaroniarnia

Kazimierza Brodzińskiego 3

Cava

Ulica Nadwiślańska 1

Cesare Ristorante. Niemiec E.

Rynek Podgórski 9

Oregano

Profesora Michała Bobrzyńskiego

Trattoria "Rialto"

ul. Raciborska 17
View On Map
Hummus Amamamusi

Ul. Augustianska 3, Krakow
View On Map
Pub Restauracja Zachcianka

Plac Wolnica 11

Pizzeria Football

Włoska 2b

Pizza Dominium

Zakopiańska 62

Pizza Casino

Monte Cassino 7

Palermo. Restauracja

Torfowa 3
View On Map
Hellada Grecka Tawerna

Królewska 55

North Fish

Kamieńskiego 11
View On Map
TAO by Zen - Teppanyaki & More

Józefińska 4

Meritum.pl Sp. z o.o.

ul. prof. Michała Bobrzyńskiego 25 lok. 91

Daily Sushi

Zakopiańska 62
View On Map
Nova Krova

Plac Wolnica 12
View On Map
PKD Company Grzegorz Rumin

Kolejarzy 71

Arge. Sp. z o.o.

Wielicka 22

Mexol. Sp. z o.o.

ul. Kapelanka 37

A & M Motor-Oil

Węgierska 14
View On Map
CMS Parking

Stojałowskiego 2

Trzopek Maria. Parking strzeżony

Dobczycka 18

Joanna Pycz

ul. Gwarna 12 b

Parking 24H Strzeżony

ul. Konopnickiej 28

Józef Przebinda Paking Przebinda

Jakuba Bojki
View On Map
Kampus UJ

Profesor Michała Bobrzyńskiego

Przystanek Cmentarz Podgórski

-
View On Map
Hostel Guliwer

Kalwaryjska 42

Sadzik Ewa. Pokoje gościnne

Harcerska 13

Firma Handlowo Usługowa Pokoje Gościnne Promie Grzegorz Majda

Tadeusza Motarskiego 8

Apartamenty i Pokoje Rudy Kot

Szumca 5

Hostel Sokół

ul. Sokolska 17

Kurek Małgorzata. Apartaments

Plac Wolnica 4
View On Map
Barka Basia

Bulwar Kurlandzki

Chilli Hostel

ul. Kalwaryjska 58

Hostel New Retro

ul. Barska 59

999 Hostel

ul. Twardowskiego 41

Hostel 70s

Augustianska 32

66. Firma handlowo - usługowa

Jaworowa 4
View On Map