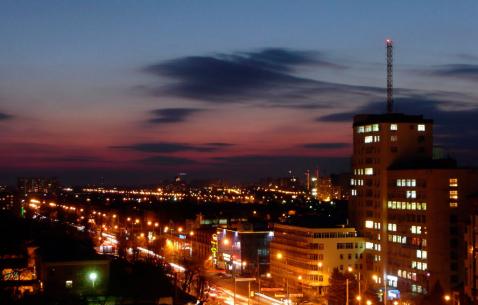 Krasnodar enjoys the privilege of being an administrative, industrial and cultural center of Russia. The city is relatively young in the sense that it was founded in 1793 by the Cossacks on the lands granted by Ekaterina II (hence its former name was Ekaterinodar). Krasnodar gets its current name from the Soviet system that rose to power around 1920. You can easily witness the Cossacks' emblems strewn around the city.
Considered to be the greenest cities of Russia, Krasnodar has an ideal climate for tourism with short winters and the tender southern sun. Endowed with a wonderful geographical location, the city is a center of the Russia's southern touristic zone, situated on the right bank of the Kuban River, 120-150 km from two warm seas – the Black and the Azov. What makes the city's location conspicuous is that it lies in the golden section of the Earth, almost in between the equator and the North Pole, also called "the Golden Line" or "the Life Line". According to the popular opinion, the living conditions in these latitudes are most favorable for human.
This modern city has its own pages of history to delineate. Today, Krasnodar nestles its historic monuments quite dearly and hasn't let the World Wars and Soviet regime destroy their structures. The city's architecture ranges between different styles from Baroque and Classicism to late Modern. With past and present existing so harmoniously together, the city deserves a visit during your tour to Russia.
Essential travel information and Krasnodar tips for your visit
Almost all traffic signs are only in Russian. Familiarize yourself with the alphabet before arriving so you will feel a little less lost.
Many people in the tourist trades speak some English but most people don't.
Russians wear formal clothes when they visit public spaces such as theatres. Even the visitors are expected to follow the same cultural cues.
Walking around the city, you can come across plentiful of unlicensed cabs. It's better to avoid them.