Best Time To Visit Kutna Hora
Explore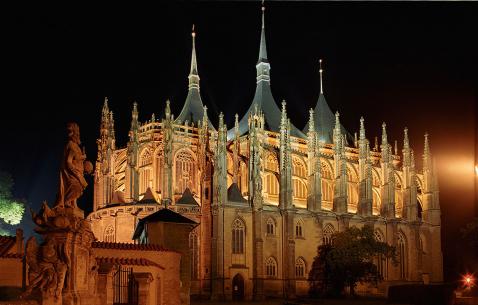 Best Time To Go To Kutna Hora
The weather of Kutna Hora is pretty predictable all year round.
Winter: The months of December, January and February are cold and harsh. With the average night time temperatures dropping down to -2 degrees Celsius, this may not be the best season to visit Kutna Hora.
Summer: The climate starts to change March onwards as the daytime temperatures start rising and the town starts getting enveloped in golden rays. The months from March to May is peak season and sees tourist rush.
Monsoon: By the end of June, the town starts facing rainfall. Although an off season to visit Kutna Hora, monsoons bring their own charm as the town gets covered in lush greenery.
Best time to go to Kutna Hora Attractions

: Everyday 9:30 AM - 2:00 PM
: Everyday 9:30 AM - 2:00 PM
: Everyday 9:30 AM - 2:00 PM
: Everyday 9:30 AM - 2:00 PM
: Everyday 9:30 AM - 2:00 PM
: Everyday 9:30 AM - 2:00 PM
: Everyday 9:30 AM - 2:00 PM
: Everyday 9:30 AM - 2:00 PM
: Everyday 9:30 AM - 2:00 PM
: Everyday 9:30 AM - 2:00 PM
: Everyday 9:30 AM - 2:00 PM
: Everyday 9:30 AM - 2:00 PM

: Everyday 10:00 AM - 3:00 PM
: Everyday 10:00 AM - 3:00 PM
: Everyday 10:00 AM - 3:00 PM
: Everyday 10:00 AM - 3:00 PM
: Everyday 10:00 AM - 3:00 PM
: Everyday 10:00 AM - 3:00 PM
: Everyday 10:00 AM - 3:00 PM
: Everyday 10:00 AM - 3:00 PM
: Everyday 10:00 AM - 3:00 PM
: Everyday 10:00 AM - 3:00 PM
: Everyday 10:00 AM - 3:00 PM
: Everyday 10:00 AM - 3:00 PM

: Everyday 9:00 AM - 4:00 PM
: Everyday 9:00 AM - 4:00 PM
: Everyday 9:00 AM - 4:00 PM
: Everyday 9:00 AM - 4:00 PM
: Everyday 9:00 AM - 4:00 PM
: Everyday 9:00 AM - 4:00 PM
: Everyday 9:00 AM - 4:00 PM
: Everyday 9:00 AM - 4:00 PM
: Everyday 9:00 AM - 4:00 PM
: Everyday 9:00 AM - 4:00 PM
: Everyday 9:00 AM - 4:00 PM
: Everyday 9:00 AM - 4:00 PM

:
:
:
: Tuesday to Sunday 9:00 AM - 1:00 PM
: Tuesday to Sunday 9:00 AM - 1:00 PM
: Tuesday to Sunday 9:00 AM - 1:00 PM
: Tuesday to Sunday 11:00 AM - 3:00 PM
: Tuesday to Sunday 11:00 AM - 3:00 PM
: Tuesday to Sunday 9:00 AM - 1:00 PM
: Tuesday to Sunday 9:00 AM - 1:00 PM
: Tuesday to Sunday 11:00 AM - 3:00 PM
:

: Everyday 10:00 AM - 2:00 PM
: Everyday 10:00 AM - 2:00 PM
: Everyday 10:00 AM - 2:00 PM
: Everyday 10:00 AM - 2:00 PM
: Everyday 10:00 AM - 2:00 PM
: Everyday 10:00 AM - 2:00 PM
: Everyday 10:00 AM - 2:00 PM
: Everyday 10:00 AM - 2:00 PM
: Everyday 10:00 AM - 2:00 PM
: Everyday 10:00 AM - 2:00 PM
: Everyday 10:00 AM - 2:00 PM
: Everyday 10:00 AM - 2:00 PM

: Everyday 10:00 AM - 6:00 PM
: Everyday 10:00 AM - 6:00 PM
: Everyday 10:00 AM - 6:00 PM
: Everyday 10:00 AM - 6:00 PM
: Everyday 10:00 AM - 6:00 PM
: Everyday 10:00 AM - 6:00 PM
: Everyday 10:00 AM - 6:00 PM
: Everyday 10:00 AM - 6:00 PM
: Everyday 10:00 AM - 6:00 PM
: Everyday 10:00 AM - 6:00 PM
: Everyday 10:00 AM - 6:00 PM
: Everyday 10:00 AM - 6:00 PM

: Everyday 11:00 AM - 3:00 PM
: Everyday 11:00 AM - 3:00 PM
: Everyday 11:00 AM - 3:00 PM
: Everyday 11:00 AM - 3:00 PM
: Everyday 11:00 AM - 3:00 PM
: Everyday 11:00 AM - 3:00 PM
: Everyday 11:00 AM - 3:00 PM
: Everyday 11:00 AM - 3:00 PM
: Everyday 11:00 AM - 3:00 PM
: Everyday 11:00 AM - 3:00 PM
: Everyday 11:00 AM - 3:00 PM
: Everyday 11:00 AM - 3:00 PM

:
:
:
:
:
: Everyday 1:00 PM - 5:00 PM
: Everyday 1:00 PM - 5:00 PM
: Everyday 1:00 PM - 5:00 PM
: Everyday 1:00 PM - 5:00 PM
:
:
:

: Everyday 9:00 AM - 3:00 PM
: Everyday 9:00 AM - 3:00 PM
: Everyday 9:00 AM - 3:00 PM
: Everyday 9:00 AM - 3:00 PM
: Everyday 9:00 AM - 3:00 PM
: Everyday 9:00 AM - 3:00 PM
: Everyday 9:00 AM - 3:00 PM
: Everyday 9:00 AM - 3:00 PM
: Everyday 9:00 AM - 3:00 PM
: Everyday 9:00 AM - 3:00 PM
: Everyday 9:00 AM - 3:00 PM
: Everyday 9:00 AM - 3:00 PM

: Everyday 9:00 AM - 5:00 PM
: Everyday 9:00 AM - 5:00 PM
: Everyday 9:00 AM - 5:00 PM
: Everyday 9:00 AM - 5:00 PM
: Everyday 9:00 AM - 5:00 PM
: Everyday 9:00 AM - 5:00 PM
: Everyday 9:00 AM - 5:00 PM
: Everyday 9:00 AM - 5:00 PM
: Everyday 9:00 AM - 5:00 PM
: Everyday 9:00 AM - 5:00 PM
: Everyday 9:00 AM - 5:00 PM
: Everyday 9:00 AM - 5:00 PM

:
:
:
: Everyday 9:00 AM - 2:00 PM
: Tuesday to Sunday 9:00 AM - 2:00 PM
: Tuesday to Sunday 9:00 AM - 2:00 PM
: Tuesday to Sunday 9:00 AM - 2:00 PM
: Tuesday to Sunday 9:00 AM - 2:00 PM
: Tuesday to Sunday 9:00 AM - 2:00 PM
: Everyday 9:00 AM - 2:00 PM
:
:

: Tuesday to Sunday 10:00 AM - 3:00 PM
: Tuesday to Sunday 10:00 AM - 3:00 PM
: Tuesday to Sunday 10:00 AM - 3:00 PM
: Tuesday to Sunday 10:00 AM - 3:00 PM
: Tuesday to Sunday 10:00 AM - 3:00 PM
: Tuesday to Sunday 10:00 AM - 3:00 PM
: Tuesday to Sunday 10:00 AM - 3:00 PM
: Tuesday to Sunday 10:00 AM - 3:00 PM
: Tuesday to Sunday 10:00 AM - 3:00 PM
: Tuesday to Sunday 10:00 AM - 3:00 PM
: Tuesday to Sunday 10:00 AM - 3:00 PM
: Tuesday to Sunday 10:00 AM - 3:00 PM

: Tuesday to Sunday 10:00 AM - 3:00 PM
: Tuesday to Sunday 10:00 AM - 3:00 PM
: Tuesday to Sunday 10:00 AM - 3:00 PM
: Tuesday to Sunday 10:00 AM - 3:00 PM
: Tuesday to Sunday 10:00 AM - 3:00 PM
: Tuesday to Sunday 10:00 AM - 3:00 PM
: Tuesday to Sunday 10:00 AM - 3:00 PM
: Tuesday to Sunday 10:00 AM - 3:00 PM
: Tuesday to Sunday 10:00 AM - 3:00 PM
: Tuesday to Sunday 10:00 AM - 3:00 PM
: Tuesday to Sunday 10:00 AM - 3:00 PM
: Tuesday to Sunday 10:00 AM - 3:00 PM

: Wednesday 1:00 PM - 5:00 PM; Friday 11:00 AM - 5:00 PM; Saturday 10:00 AM - 2:00 PM
: Wednesday 1:00 PM - 5:00 PM; Friday 11:00 AM - 5:00 PM; Saturday 10:00 AM - 2:00 PM
: Wednesday 1:00 PM - 5:00 PM; Friday 11:00 AM - 5:00 PM; Saturday 10:00 AM - 2:00 PM
: Wednesday 1:00 PM - 5:00 PM; Friday 11:00 AM - 5:00 PM; Saturday 10:00 AM - 2:00 PM
: Wednesday 1:00 PM - 5:00 PM; Friday 11:00 AM - 5:00 PM; Saturday 10:00 AM - 2:00 PM
: Wednesday 1:00 PM - 5:00 PM; Friday 11:00 AM - 5:00 PM; Saturday 10:00 AM - 2:00 PM
: Wednesday 1:00 PM - 5:00 PM; Friday 11:00 AM - 5:00 PM; Saturday 10:00 AM - 2:00 PM
: Wednesday 1:00 PM - 5:00 PM; Friday 11:00 AM - 5:00 PM; Saturday 10:00 AM - 2:00 PM
: Wednesday 1:00 PM - 5:00 PM; Friday 11:00 AM - 5:00 PM; Saturday 10:00 AM - 2:00 PM
: Wednesday 1:00 PM - 5:00 PM; Friday 11:00 AM - 5:00 PM; Saturday 10:00 AM - 2:00 PM
: Wednesday 1:00 PM - 5:00 PM; Friday 11:00 AM - 5:00 PM; Saturday 10:00 AM - 2:00 PM
: Wednesday 1:00 PM - 5:00 PM; Friday 11:00 AM - 5:00 PM; Saturday 10:00 AM - 2:00 PM

: Monday to Friday 1:00 PM - 5:00 PM; Saturday, Sunday 10:00 AM - 5:00 PM
: Monday to Friday 1:00 PM - 5:00 PM; Saturday, Sunday 10:00 AM - 5:00 PM
: Monday to Friday 1:00 PM - 5:00 PM; Saturday, Sunday 10:00 AM - 5:00 PM
: Monday to Friday 1:00 PM - 5:00 PM; Saturday, Sunday 10:00 AM - 5:00 PM
: Monday to Friday 1:00 PM - 5:00 PM; Saturday, Sunday 10:00 AM - 5:00 PM
: Monday to Friday 1:00 PM - 5:00 PM; Saturday, Sunday 10:00 AM - 5:00 PM
: Monday to Friday 1:00 PM - 5:00 PM; Saturday, Sunday 10:00 AM - 5:00 PM
: Monday to Friday 1:00 PM - 5:00 PM; Saturday, Sunday 10:00 AM - 5:00 PM
: Monday to Friday 1:00 PM - 5:00 PM; Saturday, Sunday 10:00 AM - 5:00 PM
: Monday to Friday 1:00 PM - 5:00 PM; Saturday, Sunday 10:00 AM - 5:00 PM
: Monday to Friday 1:00 PM - 5:00 PM; Saturday, Sunday 10:00 AM - 5:00 PM
: Monday to Friday 1:00 PM - 5:00 PM; Saturday, Sunday 10:00 AM - 5:00 PM