Best Time To Visit La Spezia
Explore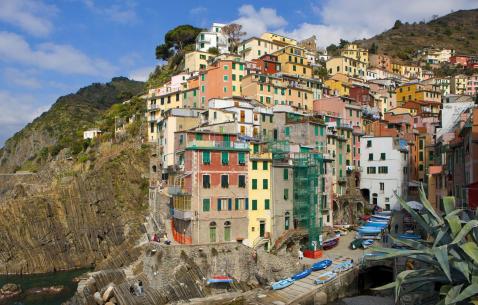 Best Time To Go To La Spezia
La Spezia witnesses typical Mediterranean weather with hot and humid summers, extremely rainy autumn and springs and warm winters.
Summer (June – August): Summer sees a minimum temperature of 20 °C and a maximum of 29 °C on an average.
Winter (December – February): In winters, the average minimum temperature is around 4 °C while the maximum is 11 °C.
Spring (March – May): The average temperature in Spring is around 15°C.
Autumn (September – November): Autumn sees an average temperature around 18°C.
The best time to visit La Spezia is April through June.
Best time to go to La Spezia Attractions

: Monday to Saturday 2:00 PM - 4:00 PM; Sunday 11:00 AM - 1:00 PM
: Monday to Saturday 2:00 PM - 4:00 PM; Sunday 11:00 AM - 1:00 PM
: Monday to Saturday 2:00 PM - 4:00 PM; Sunday 11:00 AM - 1:00 PM
: Monday to Saturday 2:00 PM - 4:00 PM; Sunday 11:00 AM - 1:00 PM
: Monday to Saturday 2:00 PM - 4:00 PM; Sunday 11:00 AM - 1:00 PM
: Monday to Saturday 2:00 PM - 4:00 PM; Sunday 11:00 AM - 1:00 PM
: Monday to Saturday 2:00 PM - 4:00 PM; Sunday 11:00 AM - 1:00 PM
: Monday to Saturday 2:00 PM - 4:00 PM; Sunday 11:00 AM - 1:00 PM
: Monday to Saturday 2:00 PM - 4:00 PM; Sunday 11:00 AM - 1:00 PM
: Monday to Saturday 2:00 PM - 4:00 PM; Sunday 11:00 AM - 1:00 PM
: Monday to Saturday 2:00 PM - 4:00 PM; Sunday 11:00 AM - 1:00 PM
: Monday to Saturday 2:00 PM - 4:00 PM; Sunday 11:00 AM - 1:00 PM

: Monday to Friday 9:00 AM - 11:00 AM
: Monday to Friday 9:00 AM - 11:00 AM
: Monday to Friday 9:00 AM - 11:00 AM
: Monday to Friday 9:00 AM - 11:00 AM
: Monday to Friday 9:00 AM - 11:00 AM
: Monday to Friday 9:00 AM - 11:00 AM
: Monday to Friday 9:00 AM - 11:00 AM
: Monday to Friday 9:00 AM - 11:00 AM
: Monday to Friday 9:00 AM - 11:00 AM
: Monday to Friday 9:00 AM - 11:00 AM
: Monday to Friday 9:00 AM - 11:00 AM
: Monday to Friday 9:00 AM - 11:00 AM

: Tuesday to Sunday 11:00 AM - 2:00 PM
: Tuesday to Sunday 11:00 AM - 2:00 PM
: Tuesday to Sunday 11:00 AM - 2:00 PM
: Tuesday to Sunday 11:00 AM - 2:00 PM
: Tuesday to Sunday 11:00 AM - 2:00 PM
: Tuesday to Sunday 11:00 AM - 2:00 PM
: Tuesday to Sunday 11:00 AM - 2:00 PM
: Tuesday to Sunday 11:00 AM - 2:00 PM
: Tuesday to Sunday 11:00 AM - 2:00 PM
: Tuesday to Sunday 11:00 AM - 2:00 PM
: Tuesday to Sunday 11:00 AM - 2:00 PM
: Tuesday to Sunday 11:00 AM - 2:00 PM

: Monday to Saturday 8:30 AM - 7:30 PM
: Monday to Saturday 8:30 AM - 7:30 PM
: Monday to Saturday 8:30 AM - 7:30 PM
: Monday to Saturday 8:30 AM - 7:30 PM
: Monday to Saturday 8:30 AM - 7:30 PM
: Monday to Saturday 8:30 AM - 7:30 PM
: Monday to Saturday 8:30 AM - 7:30 PM
: Monday to Saturday 8:30 AM - 7:30 PM
: Monday to Saturday 8:30 AM - 7:30 PM
: Monday to Saturday 8:30 AM - 7:30 PM
: Monday to Saturday 8:30 AM - 7:30 PM
: Monday to Saturday 8:30 AM - 7:30 PM

: Monday to Saturday 9:00 AM - 7:30 PM
: Monday to Saturday 9:00 AM - 7:30 PM
: Monday to Saturday 9:00 AM - 7:30 PM
: Monday to Saturday 9:00 AM - 7:30 PM
: Monday to Saturday 9:00 AM - 7:30 PM
: Monday to Saturday 9:00 AM - 7:30 PM
: Monday to Saturday 9:00 AM - 7:30 PM
: Monday to Saturday 9:00 AM - 7:30 PM
: Monday to Saturday 9:00 AM - 7:30 PM
: Monday to Saturday 9:00 AM - 7:30 PM
: Monday to Saturday 9:00 AM - 7:30 PM
: Monday to Saturday 9:00 AM - 7:30 PM

: Wednesday to Sunday 5:00 PM - 7:00 PM
: Wednesday to Sunday 5:00 PM - 7:00 PM
: Wednesday to Sunday 5:00 PM - 7:00 PM
: Wednesday to Sunday 5:00 PM - 7:00 PM
: Wednesday to Sunday 5:00 PM - 7:00 PM
: Wednesday to Sunday 5:00 PM - 7:00 PM
: Wednesday to Sunday 5:00 PM - 7:00 PM
: Wednesday to Sunday 5:00 PM - 7:00 PM
: Wednesday to Sunday 5:00 PM - 7:00 PM
: Wednesday to Sunday 5:00 PM - 7:00 PM
: Wednesday to Sunday 5:00 PM - 7:00 PM
: Wednesday to Sunday 5:00 PM - 7:00 PM

: Wednesday to Sunday 11:00 AM - 4:00 PM
: Wednesday to Sunday 11:00 AM - 4:00 PM
: Wednesday to Sunday 11:00 AM - 4:00 PM
: Wednesday to Sunday 11:00 AM - 4:00 PM
: Wednesday to Sunday 11:00 AM - 4:00 PM
: Wednesday to Sunday 11:00 AM - 4:00 PM
: Wednesday to Sunday 11:00 AM - 4:00 PM
: Wednesday to Sunday 11:00 AM - 4:00 PM
: Wednesday to Sunday 11:00 AM - 4:00 PM
: Wednesday to Sunday 11:00 AM - 4:00 PM
: Wednesday to Sunday 11:00 AM - 4:00 PM
: Wednesday to Sunday 11:00 AM - 4:00 PM

: Everyday 7:00 PM - 11:59 PM
: Everyday 7:00 PM - 11:59 PM
: Everyday 7:00 PM - 11:59 PM
: Everyday 7:00 PM - 11:59 PM
: Everyday 7:00 PM - 11:59 PM
: Everyday 7:00 PM - 11:59 PM
: Everyday 7:00 PM - 11:59 PM
: Everyday 7:00 PM - 11:59 PM
: Everyday 7:00 PM - 11:59 PM
: Everyday 7:00 PM - 11:59 PM
: Everyday 7:00 PM - 11:59 PM
: Everyday 7:00 PM - 11:59 PM

: Everyday 24 Hrs
: Everyday 24 Hrs
: Everyday 24 Hrs
: Everyday 24 Hrs
: Everyday 24 Hrs
: Everyday 24 Hrs
: Everyday 24 Hrs
: Everyday 24 Hrs
: Everyday 24 Hrs
: Everyday 24 Hrs
: Everyday 24 Hrs
: Everyday 24 Hrs

: Everyday 24 Hrs
: Everyday 24 Hrs
: Everyday 24 Hrs
: Everyday 24 Hrs
: Everyday 24 Hrs
: Everyday 24 Hrs
: Everyday 24 Hrs
: Everyday 24 Hrs
: Everyday 24 Hrs
: Everyday 24 Hrs
: Everyday 24 Hrs
: Everyday 24 Hrs

: Everyday 8:30 AM - 11:00 PM
: Everyday 8:30 AM - 11:00 PM
: Everyday 8:30 AM - 11:00 PM
: Everyday 8:30 AM - 11:00 PM
: Everyday 8:30 AM - 11:00 PM
: Everyday 8:30 AM - 11:00 PM
: Everyday 8:30 AM - 11:00 PM
: Everyday 8:30 AM - 11:00 PM
: Everyday 8:30 AM - 11:00 PM
: Everyday 8:30 AM - 11:00 PM
: Everyday 8:30 AM - 11:00 PM
: Everyday 8:30 AM - 11:00 PM