by Aaditee Kulkarni Updated on 15 Oct 2018
Lahaina is a picturesque town that is located between West Maui Mountains and the coast. Lahaina has popular beach resorts, Kapalua and Ka'anapali beach resorts. This small town is a tourist-friendly place that has beautiful oceanfront restaurants that open to spectacular views. Also, on side is the awesome postcard-worthy mountain scenery. When coming to its historic significance, Lahaina was the capital of the Kingdom of Hawaii for 25 long years during the 19th century.
Let's explore Lahaina points of interest and 15 best things to do in Lahaina:
1. Say hello to this old man-Banyan Tree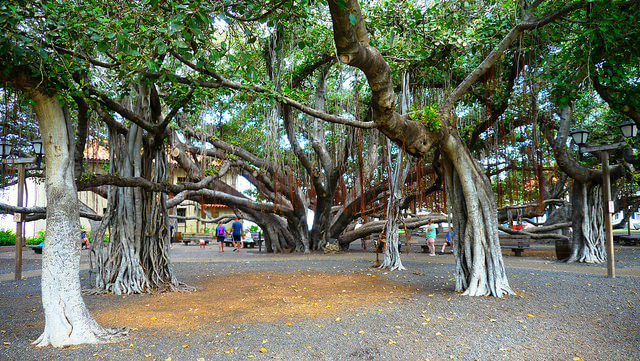 Image Source: flickr.com
This Indian species banyan tree was brought to the land of Hawaii by a Sheriff William Owen Smith, who had planted it for the fiftieth anniversary of a Protestant mission way back in 1873. Since then, the tree has grown to sixty feet height having 16 trunks that have spread over 200 feet area. The tree is the largest in the United States, whose magnificence is better than any man made a historical monument. This vintage artifact of Nature is a must-visit place in Lahaina. Thanks to the Maui County Arborists who have steadily taken care of this tree to keep it in perfect health.
This tree stands well protected in the Banyan Tree Park, which is near the courthouse. If you visit this place on a weekend, local craftsmen and artists put up their stall here, alongside musicians and dancers who keep the entertainment quotient high for everyone around.
2. Explore the "Avatar" side of Hawaii with the Ulalena show
Ulalena is a name given to the local wind of Maui. There is a Ulalena show that happens in Lahaina that presents ancient chants of the wind that gave a red-yellow rain during twilight. The show will basically give you a sneak peek into the Hawaiian culture and their beliefs. Everything from their mythology, tribe and their love for Nature, will give you the "Avatar" movie feels alright! This show is all worth if your curious traveler genes always crave to dig out the history of the places you visit.
3. Unwind and chill in Mala Grill
Beach towns turn even more beautiful if you could just sit in a restaurant with a view. Mala Grill is one such ocean-view restaurant with a tempting menu, serving seafood and local specialties. Their elaborate menu covers quite a range of food from burgers to oysters. Mala also boasts of having one of the best open-air decks in Maui. If you sit out on the deck, you can enjoy the ocean spraying water on your face and enjoy the sound of the waves crashing on the rocks below.
4. Revive and groove to the legendary Elvis in Burn'n Love
Hawaii extends extreme reverence for Elvis Presley and this will be evident if you attend the Burn'n Love show that pays tribute to the late star. Darren Lee impersonates Elvis in ways that will bring the dead-star alive in front of you. Elvis fan or not, you must visit this complete entertainment program that will definitely not disappoint you.
5. Appreciating old architectural strength and beauty in the Baldwin Home Museum
Being the oldest house in Lahaina, Ephraim Spaulding`s home of 1834 has become a tourist attraction now. Dwight Baldwin had moved into this home in 1836 with his family. This house is more of its architectural significance and to get an insight as to the life of people in ancient time who had lived in the neighborhood.
6. Get treated like royalty at the Feast at Lele
Lele is the local name for Lahaina. The town hosts a dinner show called the Lele feast city. The feast is displayed the spirit of Hawaii. It showcases this musical and culinary show for tourists. The feast meal presents a five-course meal that is a culinary tour from a total of five nations of the Pacific Islands, Tahiti, Samoa, Aotearoa, Hawaii, and New Zealand.
7. Experience the adrenaline rush by surfing at the Surf Break Wall
The surfing region called Break Wall is located near the Lahaina boat harbor. This place is the best for amateur surfers and beginners. This place is right across the Banyan Tree. If you rather go to a surf school first before taking the plunge, then there are a bunch of them in Lahaina.
8. Take a ride in Atlantis Submarine
It must be only in movies that you would have seen the insides of a submarine or maybe just in a museum. However, Lahaina actually gives you an opportunity to sit in a live one, which will take you on an underwater tour. It will be a safe dive that is 100 feet into the ocean. The marine life will unfold its mystery in front of you. The submarine seats forty-eight people at a time. The trip takes you through the reef and also lets you see a sunken boat that is sitting at the heart of the ocean.
9. Shopping at the Front Street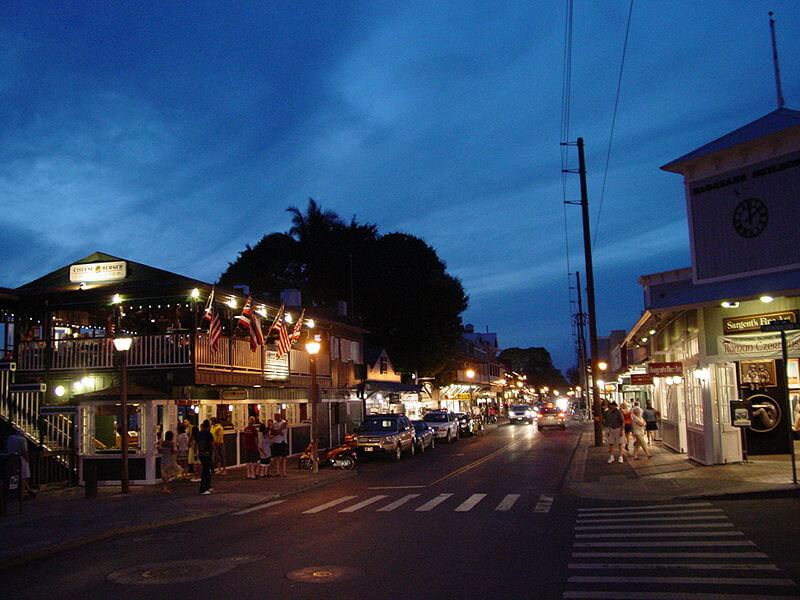 Image Source: wikimedia.org
Lahaina shopping scene is quite interesting. Local art, craft and trinkets are in abundance in the street shopping in Lahaina. This place is a must-visit for souvenir take-backs and small knick-knacks. This place is the most happening place in town, that is lined by bars, restaurants and shops.
10. Seasonal attraction of Whale Watching
Catamaran tours are available that offer specific whale watch tours. There are normal cruises as well to just give you a sailing experience on the waters of Maui. The Whale-watch tours are a complete full or half day tour with food and beverages. There will also be a naturalist with you who will explain all about the excursion and about whales. There will be fancy equipment like hydrophones that lets you hear the whales sing. This is a different island experience altogether that cannot be missed.
11. Picnic in the D.J Fleming beach park
Complete with restrooms, seating area and shower stalls, this beach park is what you will prefer for a perfect beach picnic post a dip in the water. This beach was also featured in one of the best beaches of US in the year 2006.
12. Walk on the Lahaina historic trail
The trail takes you through all the historic spots of the town of Lahaina. Being a self-guided tour, you get to explore this place on your own without any intervention. A little bit of homework on the internet will make things easy when you are on this trail, for your better understanding. The Lahaina Visitor Center can help guide you about the place beforehand.
13. The religious and spiritual side of Lahaina Jodo Mission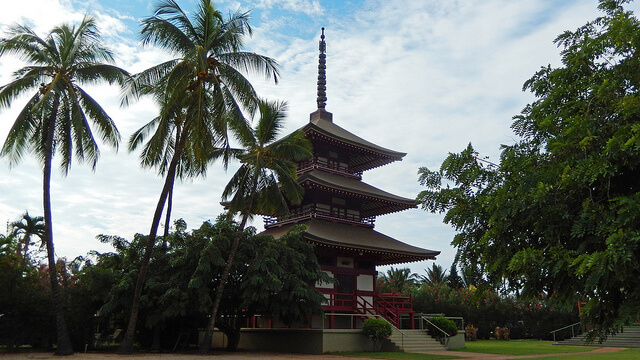 Image Source: flickr.com
The Lahaina Jodo Mission is basically a Japanese Buddhist Temple, which has a large Buddha statue in it. The statue is in bronze and is twelve feet in height. It weighs around three and a half tons. Built in 1968, the statue was erected in the honor of the arrival of Japanese immigrants' in Hawaii. The temple is surrounded by a beautiful and serene garden that breathes relaxation.
14. Take a look at the natural pool in Launiupoko Beach Park
A natural pool that is created by lava rocks all around can be viewed from this part of the beach. Also, the water is calm in this part of the beach in Lahaina. Thus, you can peacefully go for a swim in the water. Being a beach park, they have all the facilities for bathers.
15. Unlimited adventure sports in Kapalua Beach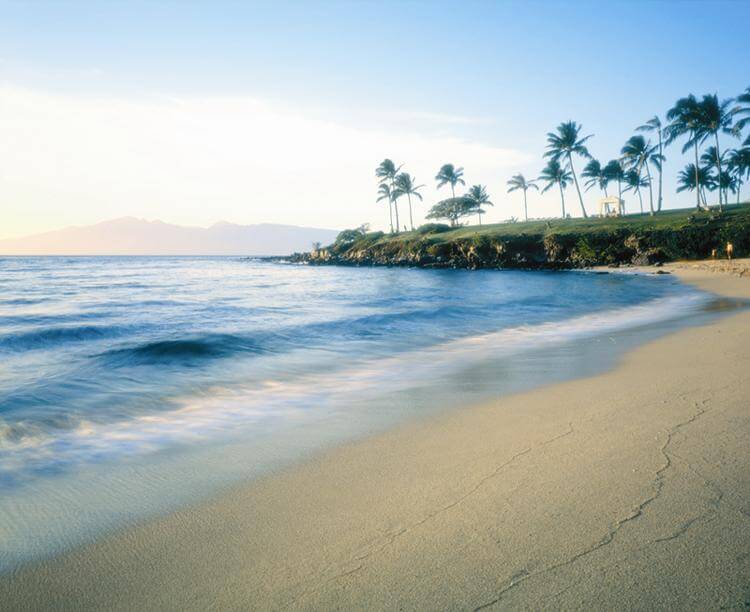 Image Source: wikipedia.org
They also call it as 'Old Fleming Beach' locally. This beach is ideal for water adventures like surfing and snorkeling. A resort in the vicinity of this beach also keeps your food cravings sorted.