Things to do in Las Vegas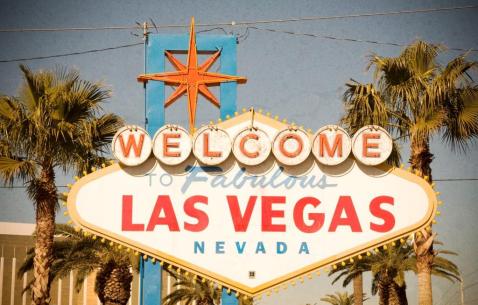 166 Best Things To Do In Las Vegas
Las Vegas, the name of this city makes you think of long drunken nights, parties that end with morning coffee, casinos, and a lot of crazy fun. But, that's not all that Vegas is about. There are many things to do in Las Vegas which can blow your mind. It would be biased to judge the city only on its nightlife as there's so much to scroll through the city even during the day. Vegas is the perfect holiday spot for those enthusiastic travels who keep looking for throbbing entertainment as they travel. Explore this dream city with these best things to do in Las Vegas, available on the list.
Things to do in Vegas for free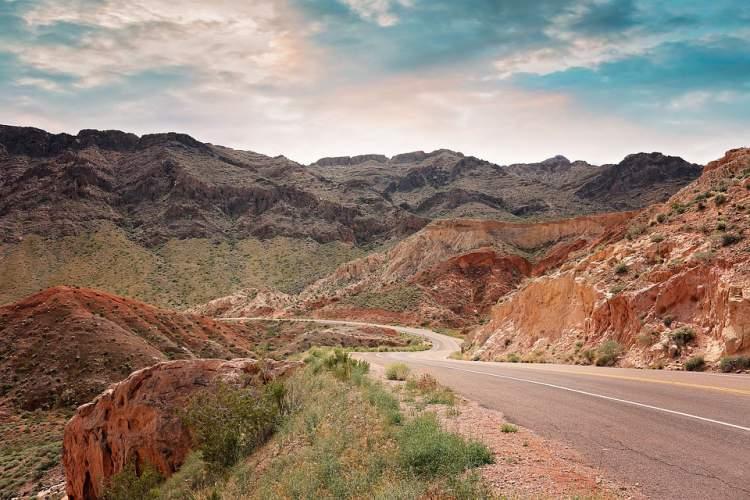 Image Source: pixabay.com
It doesn't cost anything to be happy, they say. And it stands true even when you are in Vegas! As I said earlier, the city is not only about crazy fun. Bliss can be found in the corners of Vegas if you know where to go and what to visit. If you want to explore natural as well as man-made wonders without paying a penny, here's where you can go.
Admire the magnificence of the Colorado River at the Hoover Dam.
Feel like you are in New York as you admire the 150-foot Statue of Liberty model in New York-New York Hotel & Casino.
Stroll around the Town Square and sample some cheese and cakes at the bakeries dotting this square.
Las Vegas attractions for adults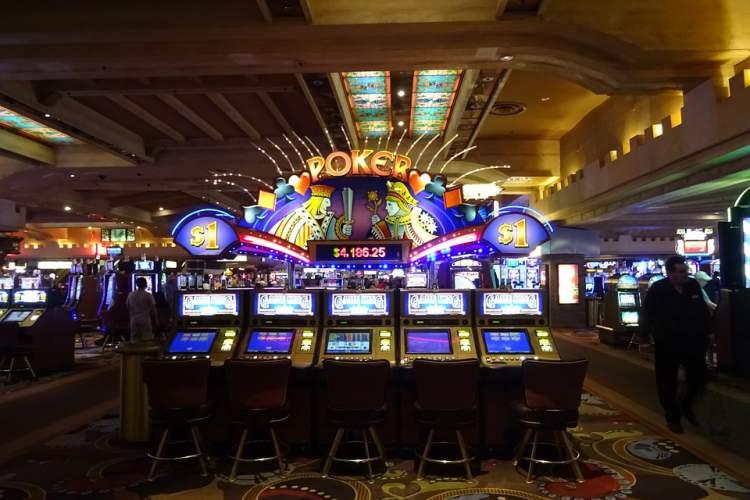 Image Source: pixabay.com
When it comes to dancing the night away in Vegas, every corner of the city will greet you with something or the other. From infamous casinos and clubs to off-beat breweries and gaming zones, every place will introduce you to some unique experience. And you never have to worry about a single thing because - what happens in Vegas, stays in Vegas!
Spend the night gambling away at the Luxor Hotel And Casino.
Have a thrilling time at the largest casino in the downtown area at the Golden Nugget.
Have a glitzy and glamorous time watching the Jubilee The talented artists, the extravagant sets and the sparkling costumes shown in this show were an icon of Las Vegas in earlier times.
Listen to the famous anthems of rock 'n' roll at the Raiding The Rock Vault.
Get dazzled by the spectacular entertainment options at the Caesars Palace. One of the most iconic landmarks in Las Vegas, Caesars Palace is city's one of most prestigious casino hotels.
Experience a top-notch clubbing rendezvous and get high on entertainment at the Marquee Nightclub And Dayclub.
Traverse through 32 floors of pure entertainment and games at the Monte Carlo Resort And Casino.
Savor fine craft beers and offbeat ales at the Banger Brewing.
Enjoy heaps of debauchery and sarcasm at the Dick's Last Resort.
Look forward to attention from a lot of pretty women and lap dances at the Club Platinum.
Have a raunchy time with the hottest ladies in town at the Spearmint Rhino Gentlemen's Club Las Vegas.
Play exciting indoor and outdoor games at the Ellis Island Casino & Brewery.
Frolic in the water and sand and sunbathe at the Voodoo Beach.
Party and hang out with the show dolls at the Fantasy At Luxor.
Enjoy a glamorous cabaret show of talented performers at the Zumanity.
Spend a humorous time at the long-running comedy show of Jest Serendipity Improv.
Party hard and let your hair down at the Hakkasan Las Vegas Nightclub.
Things to do in Las Vegas with kids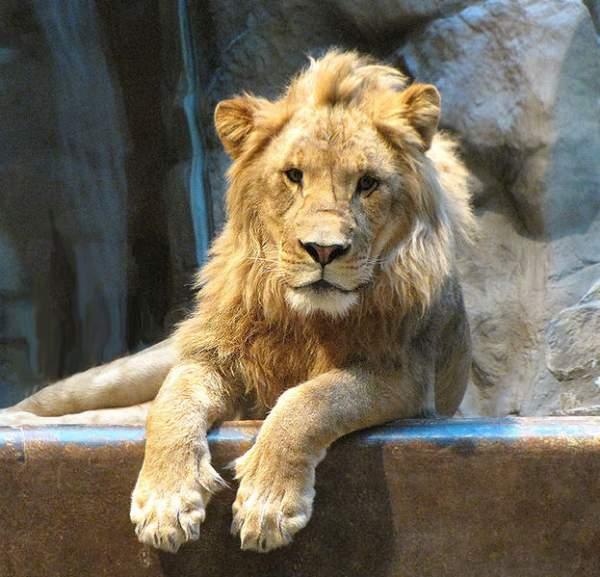 Image Source: wikimedia.org
Who says zoo and theme parks are only for kids? Follow this list to visit some of the most entertaining places in Vegas. You can enjoy to your heart's content while spending some quality time with your kids. There is a child in all of us and this city can be the best place to pamper him.
Have a thrilling time on the adventurous ride at The Roller Coaster. Also known as the Big Apple Coaster, it is a ride whose trains are themed like New York taxicabs.
Come face-to-face with some of the world's deadliest predators, at the Shark Reef At Mandalay Bay.
Have a wonderful encounter with exotic creatures like tigers, lions, panthers, and bottlenose dolphins at Siegfried And Roy's Secret Garden And Dolphin Habitat.
Laugh your heart out at the family-friendly Mac King Comedy Magic Show.
Indulge in some of the tastiest candy around the globe at the M And M's World.
Spend an audacious day at the thrilling rides and activities at the indoor amusement park, Adventuredome.
Embark upon an exhilarating scientific excursion with your kids at the Discovery Children's Museum.
Take a tour of the cacti garden, sample some of the most gourmet chocolates and observe the chocolate making process at the Ethel M Chocolate Factory.
See a live mermaid show and thousands of tropical fish at The Aquarium At Silverton.
Go-kart at the winding outdoor track of Gene Woods Racing Experience Go-kart.
Spend time with lions and giraffes at the wildlife sanctuary of Lion Habitat.
Things to do in Las Vegas for couples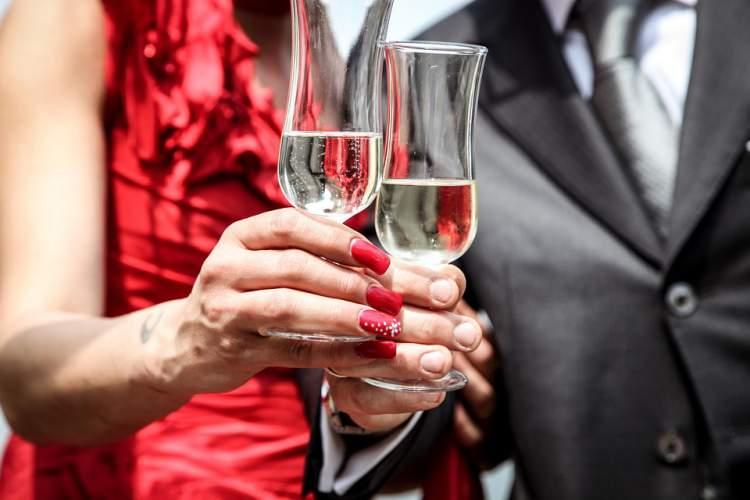 Image Source: pixabay.com
Though Vegas is notorious for bachelor and bachelorette parties, it is also a perfect place to unwind with your loved one. Vegas is a lovely combination of luxury and nature. Who wouldn't want to admire the magnificent skyline while holding hands with their significant other? It will make you fall in love again with your partner and with the city itself!
Enjoy a luxurious stay at Bellagio.
Get pampered with a stay at the indulgent resort Encore.
Have a romantic stay with your partner at the lovely suites and villas in Bally's Las Vegas Hotel & Casino.
Live like a King at the opulent five-diamond luxury hotel and casino resort The Venetian.
Enjoy a tropical island escape at the Rio All-suites Hotel And Casino.
Relish classy amenities and a sleek vacation at the Flamingo hotel and casino.
Make the most of the premiere entertainment opportunities at the Tropicana Las Vegas hotel.
Have a luxurious escape at the Palms Casino Resort.
Stay at the Parisian-themed hotel Paris Las Vegas, and experience what happens when the city of sin meets the city of lights!
Step into a fairytale at the castle-themed Excalibur Hotel & Casino.
Spend a relaxing day getting spa treatments and massages at Canyon Ranch Spaclub Las Vegas.
Have a great time at the refreshing swimming pools, whirlpools and waterfalls at MGM Grand.
Spend an entertaining time at the Polynesian-themed resort The Mirage.
Go on a romantic date at the neon-lit cozy booths featuring Peppermill's Fireside Lounge.
Cherish the opulent vacation experience at the Aria Resort And Casino.
Experience rustic, yet elegant living at The Carriage House.
Admire the Las Vegas skyline from the open-air entertainment venue of The Linq Las Vegas. You can also go on a shopping spree at this promenade.
Gain a boutique hotel experience by staying at the luxurious hotel of Skylofts At MGM Grand.
Stay in the lap of opulence and grandeur at the Polo Towers By Diamond Resorts.
Go on a luxurious getaway at the Wynn Las Vegas.
Stay at the Motel 6 Las Vegas Tropicana for a budget-living option in Las Vegas.
Grab some of the best vacation package deals by booking a stay at the Hilton Grand Vacations On Paradise (Convention Center).
Nourish your body and souls with the relaxing treatments at the Drift Spa And Hammam.
Stay in grand Tahitian style at the Tahiti Village Resort And Spa.
Things to do in Las Vegas for adventure-lovers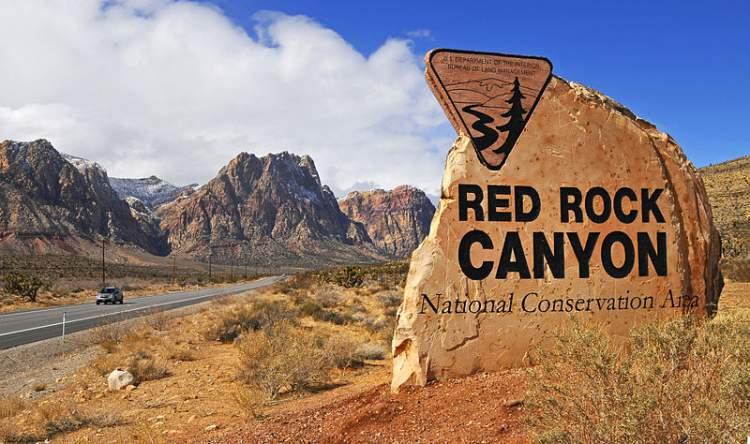 Image Source: wikimedia.org
It's time to get your heart pumping, my friends! Tie your shoelaces, and get ready for experiencing the outdoor as well as indoor recreational activities. Vegas will take you to places far away from its bustling streets and will give you a chance to soak in the raw beauty of nature. Fall from the sky, hike through the woods, or slide down the snow; uncover the other side of Vegas.
Go hiking, rock-climbing and get bedazzled by the large red rock formations of sandstone peaks and walls called the Keystone Thrust at the Red Rock Canyon National Conservation Area.
Ski, hike, and trek at the eighth-highest mountain in the state, Mount Charleston.
Experience the adrenaline rush with free-fall skydiving at the Vegas Indoor Skydiving, nation's first public vertical wind tunnel.
Experience the best of indoor shooting at the Battlefield Vegas. This place offers visitors with over 400 full auto machine guns!
Explore the magnificent sand dunes and natural red rock formations at the Valley Of Fire State Park. This area is one of the best areas in Las Vegas for public recreation.
Drive bulldozers and go on excavation sprees at the Dig This Las Vegas.
Get a five-star driving experience at the complex network of multiple racing tracks at the Las Vegas Motor Speedway.
Boat, fish, hike, cycle and camp at the wonderful Lake Mead National Recreation Area.
Go on a dedicated nature-walk amidst the greens on the 180-acre area of Springs Preserve.
Snowboard, ski, snowshoe and tube down the slopes at the Lee Canyon Ski And Snowboard Resort.
Go roller skating at the well-maintained and safe skating rink in Crystal Palace Skating Center.
Pull the trigger at the exclusive shooting range equipped with an exhaustive equipment at the Machine Gun Experience.
Off you go on a fun-filled and an adventurous ride at the Stratosphere Thrill Rides.
Try your hand at a huge range of firearms at The Gun Store.
Take a thrilling ride between the two of Rio hotel's towers on the Voodoo Zipline.
Museums to visit in Las Vegas, NV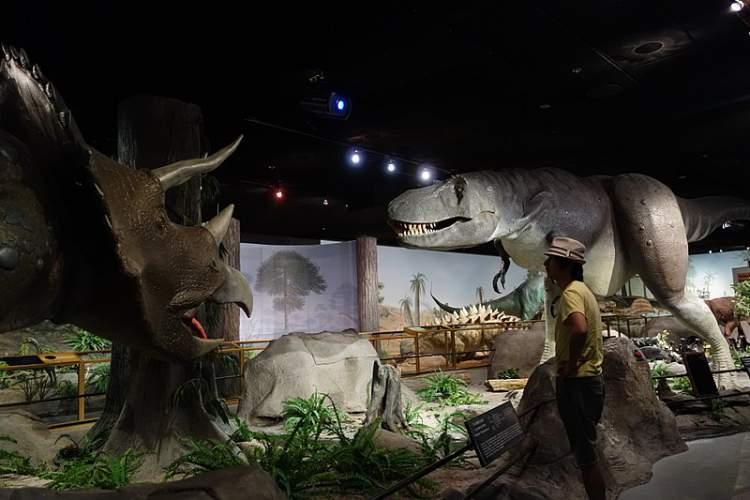 Image Source: wikimedia.org
Even museums in Las Vegas are unusual! They will take you back in time and walk you through the history, but it can be about things you might not have imagined at all. There is a place to see historic neon signs that define this city and there is also a place to see iconic vintage cars. Each museum has created an identity of its own. Do not miss a chance to get a glimpse of this uniqueness.
Know more about the organized crime's impact on Las Vegas history and on America through the bold and interactive exhibits at The Mob Museum.
Delve deeper into the iconic neon signs that characterize Las Vegas at The Neon Museum.
Marvel at some of the world's best automobile restorations at Rick's Restorations.
Watch customized latest hot rods and bikes at Count's Kustoms.
Marvel at the extraordinary works of legendary artists at the exhibitions in the Bellagio Gallery Of Fine Art.
Dive into the world of natural sciences by admiring the interactive exhibits on a wide array of subjects at the Las Vegas Natural History Museum.
Get blown away by the spectacular vintage car display at the Hollywood Cars Museum.
Observe the most notable models and prototypes of race cars at the Carroll Shelby Museum.
View the dazzling exhibits of the most treasured and world-famous signs of Las Vegas Neon Boneyard.
Must do in Vegas for first timers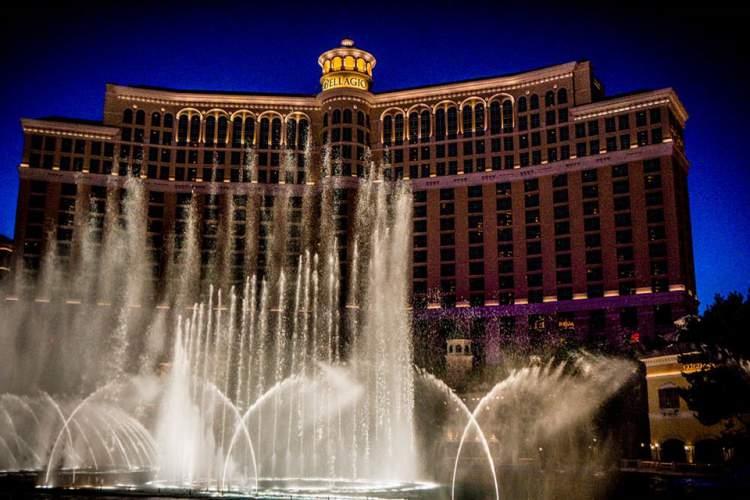 Image Source: pixabay.com
Visiting Vegas for the first time? Then, you must remember the nights by lap dances and striptease. (Let's hope that you will remember anything at all.) and when it comes to spending days, you wouldn't get time from dining, shopping, and admiring the monuments and landmarks. Follow this list and experience the true essence of Vegas.
Get partying at the Fremont Street Experience and admire the dance of lights at the huge LED canopy.
Admire the spectacular aquatic show choreographed to music and lights at the iconic Fountains Of Bellagio.
Witness a mesmerizing rock and roll performance and relive the Beatles era at the Beatleshow Orchestra.
Soak in the quintessential Las Vegas essence at The Strip. Go club-hopping, gambling, and partying at the various up-scale resorts, clubs and casinos located here.
Explore the history of American nuclear testing at the Atomic Testing Museum. Get a once-in-a-lifetime opportunity to see memorabilia like Geiger counters, radio badges and radiation testing devices.
Enjoy the beautiful panoramas of the city from the Stratosphere Tower, the tallest freestanding observation tower in the United States, located in the Stratosphere Casino, Hotel.
Soak in the stunning views of the swanky city from the World's Tallest Observation Wheel, the High Roller. The best time to take a ride of this wheel is at night, when the entire city is lit up!
Get a slice of Paris right here in Las Vegas by taking a tour of the replica of the most popular monument in Paris at the Eiffel Tower Experience.
Witness a romantic wedding ceremony at the Chapel Of The Flowers.
Get entertained by the country's biggest pop stars at the Planet Hollywood Resort And Casino.
Spend a recreational day shopping, eating and watching live entertainment at the Tous (Miracle Mile Shops At Planet Hollywood Resorts And Casino).
Chill at the winter wonderland of Minus 5 Ice Bar amidst ice sculptures made from 90 tons of ice!
Things to do in Las Vegas during the day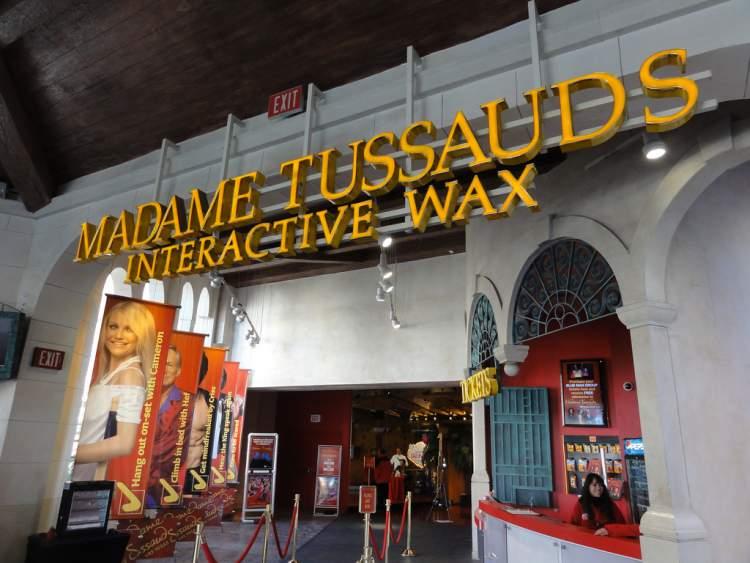 Image Source: flickr.com
The city that is wide-awake at night, doesn't sleep in the day as well. There are enough places to cater to your shopping sprees in the day. And then, there are art galleries, antique shops, and unusual pawn shops that you can visit before the sun sets. Wander through the streets, basking in the sun at your own pace, and wrap yourself with all the lively vibes.
Shop to your heart's content at the retail shopping complex of The Crystals.
Enjoy a leisurely day full of shopping and recreation at the Las Vegas Premium Outlets North mall.
See the 100 intricately designed replicas of famous celebrities at Madame Tussauds Las Vegas.
Get some of the best bargains on rare collectables, jewellery and memorabilia at the Gold And Silver Pawn Shop.
Go on an all-out shopping binge at the Las Vegas South Premium Outlets.
Enjoy the world's largest pinball collection at the magnificent and wonderful Pinball Hall Of Fame.
Get an offbeat shopping experience at a shopping center built from shipping containers in Downtown Container Park.
Buy some of the most timeless pieces from signature brands at the Tourneau The Forum Shops At Caesar's.
Go souvenir shopping at the Lost Vegas Antiques which sells a wide range of funky vintage collectables.
Dive down the memory lane at the Wax Trax Records Inc which houses an extensive collection of records, CDs, cassettes and memorabilia.
Unusual things to do in Las Vegas, Nevada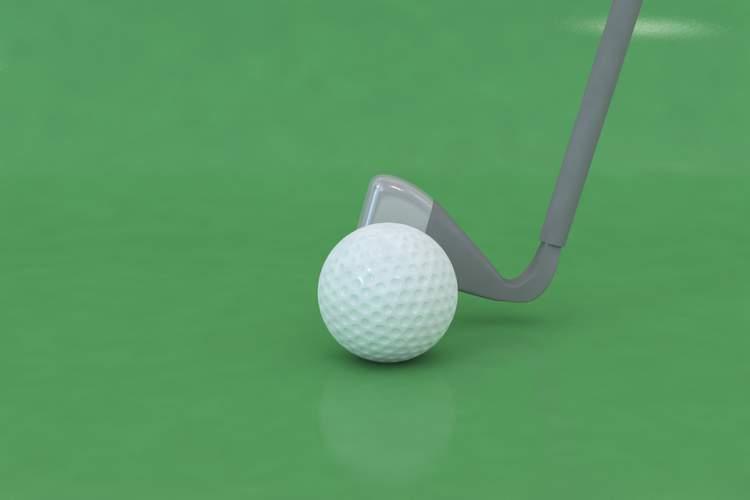 Image Source: pixabay.com
Vegas is all about stepping out of your comfort zone. Here, you can be a child again and witness magic, get hypnotized, experience the uncommon music, or simply laugh the night away at laughter clubs. Vegas celebrates uniqueness with style and you wouldn't regret being part of it.
Catch some offbeat magic, comedy and music show at the Penn And Teller theatre.
Enjoy the dramatic jukebox musical Million Dollar Quartet. It is a recording of an impromptu jam session involving Elvis Presley, Jerry Lee Lewis, Carl Perkins, and Johnny Cash!
Ring in the night by attending a fabulous act of impersonation at Purple Reign, The Prince Tribute Show.
Spend an interesting evening with an interactive and comic show featuring a murder-mystery plot at the Marriage Can Be Murder dinner theatre.
Participate in the hilarious celebration of womanhood at the intriguing show of Menopause The Musical.
Get pumped up while watching the highly entertaining Recycled Percussion show.
Enjoy the immensely entertaining Hypnosis Unleashed Starring Kevin Lepine show.
Enjoy the mind-blowing juggling and performing pets show at the Gregory Popovich's Comedy Pet Theater.
Witness an engaging performance at the Smith Centre For Performing Arts.
Indulge in an exciting round of golf at the Las Vegas Paiute Golf Resort.
Savor the rare sight of a waterbody amidst the desert at the artificial Lake Las Vegas.
Play golf at the beautifully well-maintained golf course in DragonRidge Country Club.
If you happen to visit Las Vegas in the month of September, do not forget to look out for the dates of the Iheartradio Music Festival. This two-day music concert festival is sure to mesmerize you!
Laugh till your cheeks start to hurt at the Laugh Factory Comedy Club which hosts regular comedy shows and stand-up comedy acts.
Run amidst infrared beams and indulge in a thrilling game of laser tag at the Laser Quest.
Sharpen your shooting skills and aim at The Range 702.
Catch an inventive and mind-blowing performance at the Absinthe Las Vegas.
Replenish your art-and-craft stock from the well-stocked store of Michaels.
Shop for some of the trendiest pieces of clothing at the Marshalls.
Best places to eat in Las Vegas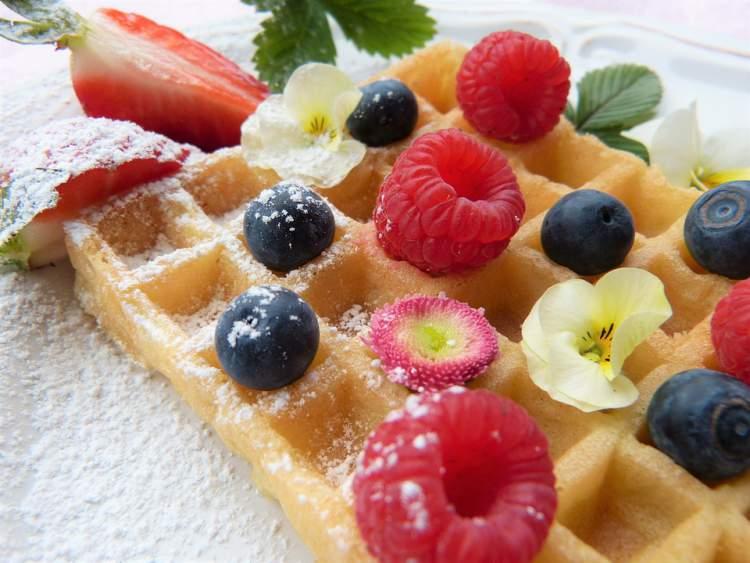 Image Source: pixabay.com
Chic restaurants that go an extra mile to satiate the taste buds and bars and pubs that offer refreshingly exotic cocktails are what Vegas is all about. You can spend weeks in this city trying out different dining places every day and still you wouldn't cover all of them. But, if you follow this list of places to eat in Vegas, you will be able to make the most of your time.
Indulge in a fulfilling meal at the award-winning dining in the Circus Circus Las Vegas Hotel And Casino.
Dance the night away and end the day with a splendid Pan-Asian meal at Tao Nightclub.
Sample some of the most prime steaks and chops at the VooDoo Steakhouse while enjoying the spectacular views of the city.
Have a lavish dining experience and relish confectionary items at the Sugar Factory.
Have a 1950s-style dining experience with burgers and shakes at the Roxy's Diner.
Have a lively classic French meal Mon Ami Gabi bistro.
Spend a fun-filled and a crazy time at the Hogs & Heifers pub and grab some of the best deals of drinks at happy hours.
Sample NYC-meets-Neapolitan pizza, light bites and craft beers at Five50 Pizza Bar.
Indulge in hearty American, English or Scottish meal at the Celtic-themed sports bar Tilted Kilt Pub And Eatery.
Get a one-of-a-kind waterfront dining experience at The Dive Bar.
Drink as much as you can at the best sports lounge in Las Vegas, Twin Peaks Las Vegas.
Snack up on comfort food while enjoying groovy music at PBR Rock Bar & Grill.
Gorge on daquiri cups of premium drinks at Fat Tuesday.
Hang out under the stars while enjoying peppy music at the Carnaval Court.
Indulge in some eclectic fare while seating in a quirky environment at Park On Fremont.
Eat till your stomach can't take any more from the 11 cooking stations at the Cravings Buffet.
Breakfast at the NY-style eatery Backstage Deli serving delicious patty melts and triple-decker sandwiches.
Relish a hearty barbecue meal at the Korean barbecue joint Sura Bbq.
Savor mouth-watering Japanese fare like sushi and sashimi at Sakana.
Drink bottomless mimosas and eat modern Mexican delicacies at Border Grill Las Vegas.
All-you-can-eat crab and shrimp meals await you at the MGM Grand Buffet!
Eat mesquite-grilled meats at The Steakhouse.
Go for a sizzling, butter-topped grilled portion to the Ruth's Chris Steak House.
Rush to the Bacchanal Buffet where 500 dishes are up for grabs!
Sit back and have a laid-back meal of delicious omlettes at Mamas Breakfast And Lunch.
Be ready to get amazed at the gourmet pizzas served at OTTO Enoteca E Pizzera.
Order freshly baked sweet treats from the quaint Sprinkles Cupcakes.
Experience the best of Italy on your plate at the Maggiano's Little Italy.
Munch on some lip-smacking waffles and sandwiches at Bruxie.
Savor classic French delicacies at the Le Cafe Ile St. Louis.
Enjoy creatively topped and perfectly seasoned tasty hot dogs at Pinks Hot Dogs.
Sample simple yet flavorful Mexican dishes and margaritas at Pink Taco Mexican Restaurant.
Enjoy a cozy evening meal of steak and seafood at the Triple George Grill.
Head over to Carl's Jr. for juicy, charbroiled burgers!
Enjoy a delectable spread of global cuisine at The Buffet At Luxor.
Satiate your sweet cravings with a round of tasty donuts at Ronald's Donuts.
Sample classic Italian dishes amidst warm atmosphere and colorful murals at Fellini's.
A wide range of savory and sweet crepes awaits you at the La Creperie!
Have a glamorous, high-end Japanese meal at Nobu Restaurant.
Indulge in scrumptious prime rib steak and desserts at Lawry's The Prime Rib.
Sample some of the best Caribbean-inspired seafood and chicken at Bahama Breeze.
Gulp down tasty mozzarella-oozing pizzas at the Zion Pizza & Noodle Co.
Embark upon a high-end culinary expedition with choicest dishes served at the Wicked Spoon.
Enjoy the beautifully cooked steaks paired with classic salads at the Vic & Anthony's Steakhouse.
Experience the best of buffet dining with the freshly prepared dishes at The Buffet Bellagio.
Indulge in delicious cookies and cannoli at the Carlo's Bakery.
[Updated on February 20, 2018 by TripHobo]
Explore the travel planning tool for your visit to Las Vegas and create a flawless plan in few simple steps!
Tourist Attractions Near Las Vegas
Find Your Las Vegas Attractions on Map
Types of Things To Do in Las Vegas
Find more attractions and places to visit in Las Vegas under these things to do categories.
Top Las Vegas Activities And Tours
Explore the best things to do in Las Vegas. These are the most preferred tourist activities.
Find more places to see in Las Vegas
Old Las Vegas Mormon Fort

500 E Washington Ave

Historic and Protected Sites

Vegas Vic

Fremont Street

Historic and Protected Sites

Tule Springs Ranch

9200 Tule Springs Rd

Historic and Protected Sites

Las Vegas Grammar School

Historic and Protected Sites

Camp Lee Canyon

Historic and Protected Sites

Berkley Square

Historic and Protected Sites
View On Map
Lake Jacqueline

8301-8303 Coral Shores

Lakes
View On Map
Neon Museum

770 Las Vegas Blvd N

Museums

Southern Nevada Museum of Fine Art

450 Fremont St

Museums

Nostalgia Street Rods

5375 Cameron St

Museums

Milk Money Limited

6643 Las Vegas Blvd S

Museums

Las Vegas International Scouting Museum

3025 W Sahara Ave

Museums

Landmarks

Las Vegas Natural History Museum

900 Las Vegas Blvd N

Museums
View On Map
Sky Zone Trampoline Park

7440 Dean Martin Dr

Amusement Parks

Wet'n'Wild Las Vegas

7055 S Fort Apache Rd

Amusement Parks

Bravo Tickets

4515 Dean Martin Dr

Amusement Parks

Arcades

Battle Blast Laser Tag

8125 W Sahara Ave

Amusement Parks

Arcades

Vegas Indoor Skydiving

200 Convention Center Dr

Amusement Parks

Adventuredome Theme Park

2880 Las Vegas Blvd S

Amusement Parks
View On Map
Rick's Rollin' Smoke BBQ & Tavern

725 Las Vegas Blvd S

Barbecue

Bars

Rum Runner Lounge

1801 E Tropicana Ave

Bars

American

Mizuya

3950 Las Vegas Blvd S

Sushi

Japanese

Bars

Putter's Bar & Grill

7790 W Cheyenne Ave

American

Bars

Pizza

5th Avenue Pub & Restaurant

906 S 6th St

Bars

Mexican

Sonny's Saloon & Casino

3449 Industrial Rd

Bars

Casinos and Gaming

Burgers
View On Map
Mermaid's Casino

32 Fremont St

Casinos and Gaming

Fast Food

Labayou Casino

15 Fremont St

Casinos and Gaming

Hotels and Motels

Rampart Casino

221 N Rampart Blvd

Casinos and Gaming

Steakhouses

American

Stratosphere Casino, Hotel and Tower

2000 Las Vegas Blvd S

Casinos and Gaming

Hotels and Motels

Mangos Beach Bar

6650 Vegas Dr

Casinos and Gaming

The Lodge Tenaya

5717 Sky Pointe Dr

Casinos and Gaming
View On Map
Red Rock Canyon National Conservation Area

1000 Scenic Dr

Natural Parks

Red Rock Canyon National Conservation Area

RED Rock Canyon National Conservation Area

Natural Parks

Red Rock Canyon

Natural Parks

Grand Canyon National Arizona

Natural Parks

Zion National Park Tour

Natural Parks

Turtle Head Peak

Natural Parks
View On Map
Desert Breeze Park

8275 Spring Mountain Rd

Dog Parks

Spring Valley Community Park

7600 W Flamingo Rd

Playgrounds

Dog Parks

Kellogg Zaher Dog Park

7601 W Washington Ave

Dog Parks

Barkin' Basin Dog Park

7341 W Alexander Rd

Dog Parks

Charlie Frias Park

4801 S Decatur Blvd

Playgrounds

Dog Parks

Old Spanish Trails Park

8150 Tara Ave

Playgrounds

Dog Parks
View On Map
Omg Its Vegas!! We Made It

Beaches
View On Map
Las Vegas RaZoR Adventures

6845 Speedway Blvd

Hiking

Duck Creek Trails

7050 Wetlands Park Ln

Hiking

Calico Tanks Trail

Red Rock Canyon National Conservation Area

Hiking

The Trails Of Summerlin

Hiking

White Rock Trail Head

Hiking
View On Map
What To Do in Las Vegas: Day-Wise Ideas
Find what not to miss in Las Vegas! Recommended Las Vegas itineraries and vacation ideas created by travelers across the world.