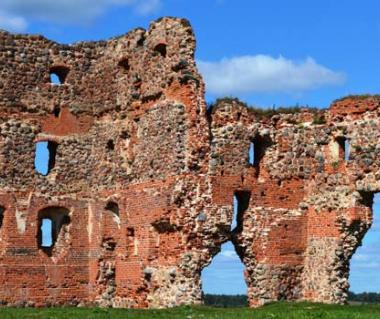 Latvia Trip Planner
Plan your customized trip plan for Latvia. Choose from Top Toursim cities and tourist attarctions of Latvia using trip planner.
Latvia Overview
About:
'Best Enjoyed Slowly' is what the Latvians say about their country. This holds true in so many ways; Latvia is like a well-aged wine that reveals a new layer of flavor in every sip. An undiscovered gem of the Baltic Sea, Latvia offers so many delights for someone who wants to go off the jaded path.
Endless soft, white sandy beaches and acres of forest cover make Latvia a dream destination for the intrepid traveler. A compelling history and the cultural tug-of-war that Latvia experienced just a few decades back have made it an inimitable mix of different races living in harmonious compatibility.
The time to visit is Latvia is now; before throngs of tourists unearth this treasure that has been hiding in plain sight. Riga with its bustling nightlife, the bonny citadels of Sigulda , the romance of the cobalt blue waters along Jurmala will stay with you forever. A place as serene, flawless as Latvia will influence you to be a better person. Come here to rid your emotional baggage, come to open your mind to new horizons and come to lose yourself in this mesmerizing beauty.
When to visit:
In the words of the Latvian poet Ojars Vacietis, 'Both ends of Latvia are white and the middle is green'. Latvia changes here colors in every season; spring, summer, autumn, winter. A temperate weather ensures that this European nirvana is enjoyable in every season.
Spring and autumn: Spring loves Latvia so much, it often arrives early! You might be surprised with spring like weather as early as mid-February. Spring is a magical time in Latvia with birds singing songs of praise and flowers blooming in delight. Autumn is more notorious for its rain and shockingly warm temperatures. But the red and yellow hue of autumn makes Latvia a fairytale paradise in this season.
Summer: Summer is a great time to visit Latvia. In fact, from June till August, temperatures hover around 19-20 Degree Celsius making it extremely comfortable to step out and enjoy the warmth. Do note that although summers in Latvia invite you shed those excess clothes and sunbathe along the dreamy beaches, thunderstorms during this time are not uncommon. It also rains towards the end of summer due to which summer evenings can be quite cool.
Winter:Know that feeling when you step out in the sun after being in biting cold for hours? Well, Latvian winters will make you feel just that. Velvety, furry snow and relieving sunshine beckon you to make an army of snowmen! Winters usually begin by mid December through late March but it is quite common to experience frost till mid-June! So maybe Latvian weather is slightly unpredictable but rest assured it won't make you flinch.
How to reach and How to get around:
Riga, the capital city of Latvia is quite well connected to the major cities in Europe. If you are flying in from any other continent, you might have to take connecting flights.
Get around in Latvia
Even though it's not a very reliable or safe option, hitching is a popular way to get around in Latvia. One can also use buses and trains to get around in Latvia which is a convenient albeit slow option. Public transport in major cities is very well connected and a good, viable option of conveyance. Driving is also a good option to get around because the roads in Latvia are quite smooth to drive on. People with EU driving licenses are allowed to drive with their existing permits. Trains are perhaps the best and reasonable option to move between cities.
What to see and do:
Riga: A befitting capital of this beautiful haven, Riga is a down-to-earth city which is unabashed and shy at the same time. It has embraced the new just as well as it has preserved it's illustrious past. The Old Town is a UNESCO world heritage site and indeed what a sight it is! Cobbled pathways and historic buildings transport you to simpler, elegant times. Get ready to be taken aback by the whimsical Jugendstil architecture that stands proudly in a city fast gaining popularity for its fantastic eateries and clubs. Don't miss the Riga cathedral, St. Peter's church and also the impressive central market.
Kuldiga: Home of the world's wildest waterfall, Venta Rapids, this modest old town is unaware of the treasures it houses.
Sigulda : By the edge of the mighty Gauja valley, Sigulda is surrounded by spans of forts and mysterious caves. 'Switzerland of Latvia' is a very limited synonym for this fantasy town that boasts of rolling green hills and a flower-clad landscape. Visit the Gauja National Park which is an absolute must see on your visit to Latvia. Take a day trip to the neighboring Cesis for one of its legendary open-air concerts or to experience the oldest brewery in the country.
Jurmala: Jurmala is basically a string of small towns stretching over a 20-odd km shoreline. Latvia's answer to the French Riviera, Jurmala sees a flurry of activity in summer when Latvians come to bask in the sun and swim leisurely.Jurmala also has some world class spas that are suitable for the most luxurious bon viveurs.
Cape Kolka : The dramatic position of this beautiful village will take your breath away. The white sandy beaches will romance you and the surrounding pine forests will enchant even the harshest cynic.
Latvia is poised to impress you in every way. Some of its military heritage is truly enthralling, like the Soviet bunker in Irbene. The Rundale palace and museum with its baroque style architecture is larger than life and awe inspiring. Safe to say, you will carry back a little bit of Latvia with you and dream about this out-of-the world destination for years to come.
Festivals and events:
Balloon Festival: The city of Valmiera hosts a balloon festival every year from May 25 to 29 where the sky is painted with the vivid colors of the balloons.
Jani : Held on the 23 & 24 June, this festival is when Latvians celebrate the summer solstice. Latvia lights up with ceremonial bonfires and revels in beer and seasonal produce. Festivities also include folk dance and music.
Sigulda Opera Festival: The festival is dedicated to Opera; it takes place in August in the town of Sigulda.
Latvia Song and Dance Festival: Riga's favorite festival which is held once in five years, this celebration is full of colorful people and a fun, festive ambience. Exhibits, concerts and theatre keep the people on their feet for five whole days.
Travel Tips:
Do buy a Latvian amber to take home as a souvenir. If you are lucky, a thunderstorm might gift you with a natural amber stone on the beach shore.
Do try the chocolate from Laima and help Latvians decide whether it truly is better than its celebrity Belgian counterpart.
Black Balsam, a strong concoction that is rumored to cure even the most severe flu can be added to tea, coffee or even your cocktails. Do try!
Be aware of getting cheated at a local pub or restaurant. Try and avoid conversing with strangers more than required.
Searching for something specific?