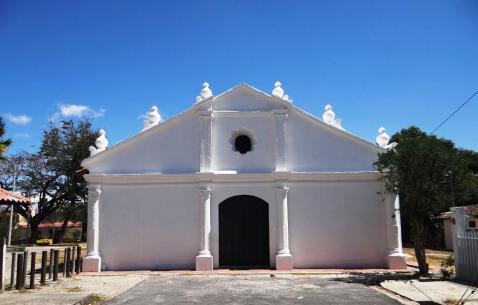 Liberia is the capital city of Guanacaste Province, Costa Rica. It is also the largest city in the area, located 215 kilometres away from San Jose, the national capital. Despite being a relatively small settlement, Liberia has emerged as a major centre for the country's booming tourism industry. Liberia is nicknamed 'la ciudad blanca' or 'the white city', because its roads were once paved with white gravel. As of 2012, it has a permanent population of only around 63,000; however, the city is teeming with tourists almost all year round.
Present day Liberia was originally set up as a hermitage, way back in 1769. It was conveniently located on a strategic location where the roads from the nearby towns all met (which has contributed to its being a centre of activity in the province today). The giant Guanacaste trees in the area provided shade for travellers and animals, which is how it first started attracting settlers. A humble beginning for a city which today contributes to a sizeable chunk of the tourism industry of Costa Rica. Liberia's importance continued to grow as it soon became the heart for agriculture and livestock in the province. The construction of the Pan-American Highway further increased Liberia's importance, providing a boost to commerce coming in and going out of the city. By the late 20th century, Liberia became a favourite for tourists, whotravelled to the lovely beaches of Guanacaste, and it has been growing ever since.
Today, Liberia has a modern day church, as well as a number of shops and restaurants. Though there aren't too many things to do in the city itself, it has a vast number of tour operators who are based in the city. This is primarily due to the many attractions that surround the city in all directions, a phenomenon similar to the little town of La Fortuna near the Arenal Volcano. Some of these include the Rincon le la Vieja National Park, which includes a lot of volcanic activity, trails, waterfalls and plenty of wildlife to observe. The place also has volcanic mud springs, which offer spa service as well. You can even avail of massage services at the spas for a complete relaxing experience. Don't forget to visit the water slide at BuenaVista, which is a lot of fun for the whole family.
There is a lot of information about Adventure Tourism in Liberia, something which has been picking up the pace in Costa Rica over the past few years. Some of the most popular activities that are available in the area of Liberia are white water rafting, hiking, trekking, and ziplining, which takes you airborne over a dense canopy of trees for a truly breath-taking view. You can also go sailing and deep sea diving at some of the beaches near Liberia, and can find out more about the same from the various tour operators. For those looking for some extreme thrills, you can join the famous Guanabikers, who go mountain biking over some of the most testing and scenic locations in the province.
Never judge a book by its cover, as the people of Liberia will be glad to point out. It may be a very small place, but it has a big heart, and visiting it may just turn out to be one of the best decisions you made on your trip to Costa Rica.
Essential travel information and Liberia tips for your visit
Time Zone: UTC/GMT -6 hours. No daylight saving time is observed.
Currency: The Currency operational in Liberia is Costa Rican colón.
Electricity: 110 Volts, AC. Electrical sockets (outlets) in Liberia are the American type. Budget places might require an adapter.
Internet: Some of the Internet providers in Malaysia are: TIGO, KOLBI, TS2 and Qantsat.
Language: Spanish and English.
Emergency Contacts: 2222-1365 or 2221-5337
Tipping: Optional at restaurants, coffee shops and bars. Recommended to bellman at the hotel. Appreciated everywhere.
Local Customs:
Do not initiate discussion on the topics like Premarital sex, abortion and homosexuality with a local.
Note that, while greeting, women kiss women and men kiss women, but men do not kiss men but prefer a handshake.
Getting angry or raising your voice in public is considered alien and is unapproved of.
If visiting a local, never put feet up on the furniture and bring flowers except lilies, they are only gifted on funerals.
Liberia Trip Planner
Plan your customized day by day trip plan for Liberia. Choose from various experinces categories as adventure, romantic and family and kids friendly for your trip using using Liberia trip planner.
The best tours and activities in the city, guided by experts to give you a local insight to the best of Liberia
Cultural areas in Liberia

Answer

Report Abuse

Cultural areas in Liberia

Report Abuse

how to get the Liberian visa form

Answer

Report Abuse

You will have to contact the nearest Liberian embassy to get more information about the visa form.

Report Abuse