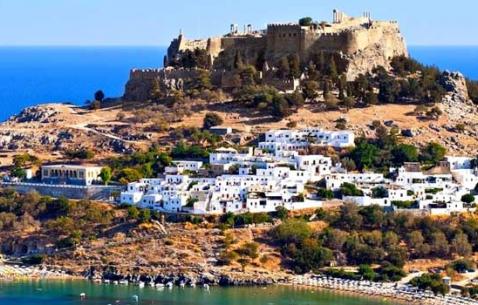 Lindos is an ancient town located on the island of Rhodes in Greece. With its immaculate beauty, this archaeological city captivates you at the very first glimpse. Lindos is famous for the magnificent ancient ruins of Acropolis, picturesque seascape views from the bay, fine beaches and several other sightseeing places which resulted in the flourishing of tourism from a very long time.
The city was said to be founded and inhabited by the Dorians around 10th century BC. Known as one of the six places of Dorian Hexapolis, it was said to be a meeting place for Greeks and the Phoenicians. However, the town lost its importance after foundations were laid for the city of Rhodes in the 5th century.
With radiant classic streets, magical cobbled alleyways and little cube-shaped whitewashed houses, Lindos has a charm of its own. The warmth and the mellowness this quaint city offers you are unmatched to any other major places to visit on your itineraries.
This small village mounted on a beautiful aquamarine bay is everything a traveller dreams of - scenic locations, archaeological and architectural masterpieces and first-rate beaches. Even though there are not many places to see or activities to do, the sleepy town attracts a number of tourists, more than its own population, every year.
When you want to have a holiday different from the rest, include Lindos in your vacation planners. And while you're here, pick up a map or travel guide at the tourist information centre, ride a donkey up to the Acropolis, bask on the beaches, indulge in some sea sports and enjoy a laid back vacation in this enchanting little town.
Essential travel information and Lindos tips for your visit
Carry around a good pair of walking shoes as you need to do a lot of walking to get around the city.