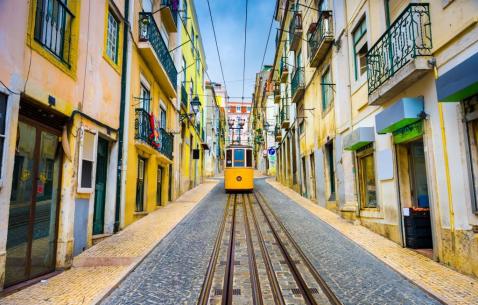 On the north banks of the Tagus River, you will find the historical charm of Lisbon. The city has so much to its history and the culture of this place is another thing that is sure to enchant you and amaze you at the same time. With renovated castles, Cobblestone pavements, Art Nouveau Cafes, and a rich cultural heritage the destination has something in store for everyone who wants to enter and explore the city of Lisbon. Visiting Lisbon in a way is a great thing to do as it is your best chance of getting acquainted with the extremely different and interesting culture of Portugal.
The destination is also known and known well for its savory and flavorful food and scintillating drinks.The weather in Lisbon is charming throughout the year for enjoyment. Visit the various night clubs and pubs that are all over the city and get the real taste of the city. The city also features some of the most famed and decorated palaces and churches that are a must to visit in the city. So take a trip to the city and witness history in a totally different and innovative way.
Lisbon in general is going to give you all the warmth that you deserve while visiting a new city. It offers you lovely traditional food, welcoming people, lively streets and you will realize that the air of the city in itself is mystifying. So go to Portugal to explore a world which has so much to give you. During the day you can explore the city and learn about churches and renovated palaces and during the night, Lisbon has everything you need to let your hair down and unwind. Once you are in Lisbon, you are sure to take back so much more than just souvenirs in terms of memories and experiences! Lisbon awaits you, make it your next destination for unwinding! Each one of you should visit Lisbon at least once and experience all that it has to offer considering the best time to visit Lisbon.
Essential travel information and Lisbon tips for your visit
Essential Information
Time Zone- Lisbon follows the Greenwich Mean time zone. (UTC+00:00)
Currency- Euro
Electricity-
The electric supply in Lisbon is same as most of the European countries.
You will probably find a supply of 220 volts with 2 pin wall sockets at a frequency of 50 Hertz.
If you come from a country that utilises 240 volts, like Ireland and UK most electrical equipment will function properly in Portugal.
But if you plan on using the UK electrical plugs then be sure to carry an electricity plug adapter that will convert the standard 3 pin socket into a 2 pin socket.
If you come from the States, it is highly like that you bring your own electric equipment, then you will need a transformer in order to step down the voltage to 110 volts.
Please keep in mind that damage to the electrical appliance is highly likely to occur if you attempt to use a 110 volts rated electrical appliance with a 220 volts supply.
Internet
The average Internet access speed is 34.5 megabits per second. From Cheap Hotels to Expensive Hotels to Hostels and Shopping Centers, you can easily access Internet connections everywhere.
Emergency Contact numbers
National Emergency Number: 112(it connects you to fire, police and ambulance services).
Portugal's prefix: 00351
Police: 218 641 000 or 213 466 141
Airport: 218 413 500
Hospitals
Dona Estefânia Hospital: 213 126 600Egas Moniz Hospital: 210 431 000, 210 432 418Santa Maria Hospital: 217 805 333/444/555
Ambulances: 808 20 10 68
Chemists: 800 20 21 34 / 35 / 36 / 13
Firefighters: 213 422 222 or 213 924 700
Portuguese Red Cross: 21 303 03 60 / 3
Lost & Found Metro: 213 427 707
Languages
The main language spoken here is Portuguese. But English is spoken almost everywhere.
Security Advice
Never carry too much money with you and definitely do not show it off
Best trick is to calculate how much you will need for the day and leave the rest of the money in your hotel safe.
Don't carry your money and your tickets in your bag.
Keep them separated from the other belongings and from each other.
If you have one of those little bags that you can wear under your shirt or sweater, great. Put it there and always carry this bag in front of you.
Don't show off your cameras or other expensive items by having them hung around your neck.
Keep your valuable items out of sight. Put your camera in your inside jacket pocket.
Have the bag strap go diagonally over your neck and shoulder so that it goes under your arm - this makes it much more difficult for someone to snatch your bag.
Remember to take care of your belongings whenever in cafes and restaurants.
Pay attention during public transportation.
Avoid walking in dark isolated back streets, especially if you are alone.
Make sure you have a travel insurance policy.
Off-beaten path
Shop for unusual stuff that you will find at thieves market.
Taste cakes from this bakery called Tease in Barrio Alto.
Go to the Jardim Botanico da Ajuda which is Portugal's oldest botanical garden, the Palácio Nacional da Ajuda and the Tapada da Ajudo.
Try their famous drink Ginjinha.
Take your kids to the Doll Hospital.
Take a bike and explore the coast.
Tipping
Tipping in Portugal is considered important.
All the staff working here earns low wages, so they do rely on tips to supplement their income.
Adding a service charge or service is not a common practice in Portuagal. However, it is a custom to tip an extra 10 % if the service warrants.
In hotels, tip €1-2 for bellhops who carry your luggage up to the room is a great option.
You can also choose to add add €1 per day for the maid who provides extra service - such as bringing breakfast to the room.
Taxi drivers can be given by any amount you wish, although some people round the fare up to the nearest five euro generally.
Customs
Remember that people here are very polite: you will often hear 'please' (por favor or se faz favor), 'thank you' (obrigado/obrigada) and 'my pleasure' (de nada) .
It's customary to greet a person with a good morning (bom dia), good afternoon/evening (boa tarde) and good night (boa noite) as well as good-bye, depending on the time you meet them.
Avoid snapping your fingers or shouting at waiting staff or bar staff. You will definitely be considered ill mannered and will be ignored for a while post that.
English is widely spoken and majorly understood, but remember to first ask "Fala inglês?" (Do you speak English?).
Entertainment events in Lisbon generally start really late. A concert will be scheduled for 9:30 p.m and may not start on the given time.
General Tips
Pack comfortable clothes and shoes to explore the city better.
Do try the various museums in the place.
Visit a few art galleries and experience art.
See the historic buildings in the region.
Taste the local food and drinks.
Do not speak to Portuguese people in Spanish. Most of them wont appreciate it, for historical reasons.
Lisbon Trip Planner
Plan your customized day by day trip plan for Lisbon. Choose from various experinces categories as adventure, romantic and family and kids friendly for your trip using using Lisbon trip planner.
The best tours and activities in the city, guided by experts to give you a local insight to the best of Lisbon