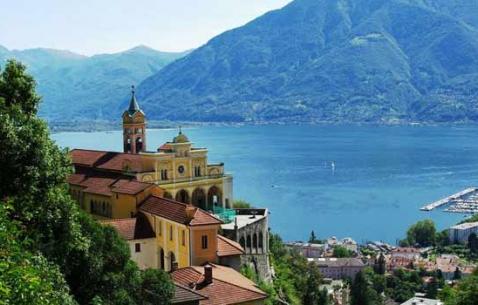 Locarno (Italian: [loˈkarno], German: [loˈkarno]; Ticinese: Locarn [loˈkɑːrn]; formerly in German: Luggárus [luˈɡaːrʊs]) is a southern Swiss town and a municipality in the district Locarno (and its capital), located on the northern shore of Lago Maggiore at its northeastern tip in the canton of Ticino at the southern foot of the Swiss Alps. It has a population of about 16,000 (56,000 for the agglomeration of the same name including Ascona besides other municipalities). The town of Locarno is located on the northeastern part of Maggia's delta; across the river lies the town Ascona on the southwestern part of the delta. It is the 74th largest city in Switzerland by population and the third largest in the Ticino canton, after Lugano and Bellinzona. The official language of Locarno is Italian. The town is known for hosting the Locarno International Film Festival which takes place every year in August and involves open-air screenings at the main square, the Piazza Grande. It is also known for the Locarno Treaties, a series of European territorial agreements negotiated here in October 1925. In January 2004, the Italian historian Marino Vigano speculated that Locarno's castle may have been designed by Leonardo da Vinci.
Wikipedia
Locarno is the capital of the district of Locarno in Switzerland. The exact location of this place is in the northernmost part of Lake Maggiore and the canton of Ticino. It is the third largest city of canton Ticino and famous for the film festival that is held here in the month of August every year.
Locarno Trip Planner
Plan your customized day by day trip plan for Locarno. Choose from various experinces categories as adventure, romantic and family and kids friendly for your trip using using Locarno trip planner.