Best Time To Visit Logrono
Explore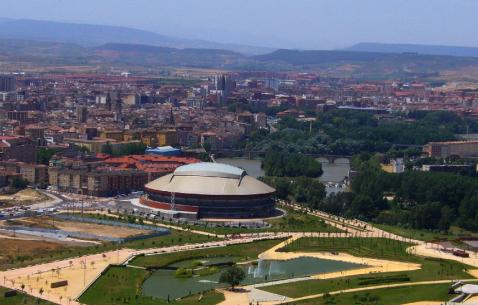 Best Time To Go To Logrono
The best time to visit the Spain destination - Logrono would be fall (June-September).
Winter: November- February – 2 degree C - 13 degree C. The temperature in winter is bound to drop below zero degree C at times.
Summer: July- September – 12 degree C - 29.3 degree C. The temperature in summer sometimes rises above 35 degree C.
Monsoons: April- June. Logrono usually receives well distributed precipitations throughout the year. However, the rainfall during the months of April, May and June is remarkably high.
Best time to go to logrono Attractions

: Everyday 1:00 PM - 4:00 PM; Everyday 1:00 PM - 4:00 PM | 7:00 PM - 11:59 PM
: Everyday 1:00 PM - 4:00 PM; Everyday 1:00 PM - 4:00 PM | 7:00 PM - 11:59 PM
: Everyday 1:00 PM - 4:00 PM; Everyday 1:00 PM - 4:00 PM | 7:00 PM - 11:59 PM
: Everyday 1:00 PM - 4:00 PM; Everyday 1:00 PM - 4:00 PM | 7:00 PM - 11:59 PM
: Everyday 1:00 PM - 4:00 PM; Everyday 1:00 PM - 4:00 PM | 7:00 PM - 11:59 PM
: Everyday 1:00 PM - 4:00 PM; Everyday 1:00 PM - 4:00 PM | 7:00 PM - 11:59 PM
: Everyday 1:00 PM - 4:00 PM; Everyday 1:00 PM - 4:00 PM | 7:00 PM - 11:59 PM
: Everyday 1:00 PM - 4:00 PM; Everyday 1:00 PM - 4:00 PM | 7:00 PM - 11:59 PM
: Everyday 1:00 PM - 4:00 PM; Everyday 1:00 PM - 4:00 PM | 7:00 PM - 11:59 PM
: Everyday 1:00 PM - 4:00 PM; Everyday 1:00 PM - 4:00 PM | 7:00 PM - 11:59 PM
: Everyday 1:00 PM - 4:00 PM; Everyday 1:00 PM - 4:00 PM | 7:00 PM - 11:59 PM
: Everyday 1:00 PM - 4:00 PM; Everyday 1:00 PM - 4:00 PM | 7:00 PM - 11:59 PM

: Everyday 10:00 AM - 11:00 AM; Everyday 10:00 AM - 11:00 AM | 5:00 PM - 6:00 PM
: Everyday 10:00 AM - 11:00 AM; Everyday 10:00 AM - 11:00 AM | 5:00 PM - 6:00 PM
: Everyday 10:00 AM - 11:00 AM; Everyday 10:00 AM - 11:00 AM | 5:00 PM - 6:00 PM
: Everyday 10:00 AM - 11:00 AM; Everyday 10:00 AM - 11:00 AM | 5:00 PM - 6:00 PM
: Everyday 10:00 AM - 11:00 AM; Everyday 10:00 AM - 11:00 AM | 5:00 PM - 6:00 PM
: Everyday 10:00 AM - 11:00 AM; Everyday 10:00 AM - 11:00 AM | 5:00 PM - 6:00 PM
: Everyday 10:00 AM - 11:00 AM; Everyday 10:00 AM - 11:00 AM | 5:00 PM - 6:00 PM
: Everyday 10:00 AM - 11:00 AM; Everyday 10:00 AM - 11:00 AM | 5:00 PM - 6:00 PM
: Everyday 10:00 AM - 11:00 AM; Everyday 10:00 AM - 11:00 AM | 5:00 PM - 6:00 PM
: Everyday 10:00 AM - 11:00 AM; Everyday 10:00 AM - 11:00 AM | 5:00 PM - 6:00 PM
: Everyday 10:00 AM - 11:00 AM; Everyday 10:00 AM - 11:00 AM | 5:00 PM - 6:00 PM
: Everyday 10:00 AM - 11:00 AM; Everyday 10:00 AM - 11:00 AM | 5:00 PM - 6:00 PM

: Everyday 10:00 AM - 11:00 AM; Everyday 10:00 AM - 11:00 AM | 7:00 PM - 8:00 PM
: Everyday 10:00 AM - 11:00 AM; Everyday 10:00 AM - 11:00 AM | 7:00 PM - 8:00 PM
: Everyday 10:00 AM - 11:00 AM; Everyday 10:00 AM - 11:00 AM | 7:00 PM - 8:00 PM
: Everyday 10:00 AM - 11:00 AM; Everyday 10:00 AM - 11:00 AM | 7:00 PM - 8:00 PM
: Everyday 10:00 AM - 11:00 AM; Everyday 10:00 AM - 11:00 AM | 7:00 PM - 8:00 PM
: Everyday 10:00 AM - 11:00 AM; Everyday 10:00 AM - 11:00 AM | 7:00 PM - 8:00 PM
: Everyday 10:00 AM - 11:00 AM; Everyday 10:00 AM - 11:00 AM | 7:00 PM - 8:00 PM
: Everyday 10:00 AM - 11:00 AM; Everyday 10:00 AM - 11:00 AM | 7:00 PM - 8:00 PM
: Everyday 10:00 AM - 11:00 AM; Everyday 10:00 AM - 11:00 AM | 7:00 PM - 8:00 PM
: Everyday 10:00 AM - 11:00 AM; Everyday 10:00 AM - 11:00 AM | 7:00 PM - 8:00 PM
: Everyday 10:00 AM - 11:00 AM; Everyday 10:00 AM - 11:00 AM | 7:00 PM - 8:00 PM
: Everyday 10:00 AM - 11:00 AM; Everyday 10:00 AM - 11:00 AM | 7:00 PM - 8:00 PM

: Everyday 11:30 AM - 11:00 AM
: Everyday 11:30 AM - 11:00 AM
: Everyday 11:30 AM - 11:00 AM
: Everyday 11:30 AM - 11:00 AM
: Everyday 11:30 AM - 11:00 AM
: Everyday 11:30 AM - 11:00 AM
: Everyday 11:30 AM - 11:00 AM
: Everyday 11:30 AM - 11:00 AM
: Everyday 11:30 AM - 11:00 AM
: Everyday 11:30 AM - 11:00 AM
: Everyday 11:30 AM - 11:00 AM
: Everyday 11:30 AM - 11:00 AM

: Tuesday to Saturday 5:00 PM - 8:00 PM; Tuesday to Sunday 11:00 AM - 1:00 PM
: Tuesday to Saturday 5:00 PM - 8:00 PM; Tuesday to Sunday 11:00 AM - 1:00 PM
: Tuesday to Saturday 5:00 PM - 8:00 PM; Tuesday to Sunday 11:00 AM - 1:00 PM
: Tuesday to Saturday 5:00 PM - 8:00 PM; Tuesday to Sunday 11:00 AM - 1:00 PM
: Tuesday to Saturday 5:00 PM - 8:00 PM; Tuesday to Sunday 11:00 AM - 1:00 PM
: Tuesday to Saturday 5:00 PM - 8:00 PM; Tuesday to Sunday 11:00 AM - 1:00 PM
: Tuesday to Saturday 5:00 PM - 8:00 PM; Tuesday to Sunday 11:00 AM - 1:00 PM
: Tuesday to Saturday 5:00 PM - 8:00 PM; Tuesday to Sunday 11:00 AM - 1:00 PM
: Tuesday to Saturday 5:00 PM - 8:00 PM; Tuesday to Sunday 11:00 AM - 1:00 PM
: Tuesday to Saturday 5:00 PM - 8:00 PM; Tuesday to Sunday 11:00 AM - 1:00 PM
: Tuesday to Saturday 5:00 PM - 8:00 PM; Tuesday to Sunday 11:00 AM - 1:00 PM
: Tuesday to Saturday 5:00 PM - 8:00 PM; Tuesday to Sunday 11:00 AM - 1:00 PM

: Tuesday to Saturday 4:00 PM - 6:00 PM; Tuesday to Sunday 11:00 AM - 1:00 PM
: Tuesday to Saturday 4:00 PM - 6:00 PM; Tuesday to Sunday 11:00 AM - 1:00 PM
: Tuesday to Saturday 4:00 PM - 6:00 PM; Tuesday to Sunday 11:00 AM - 1:00 PM
: Tuesday to Saturday 4:00 PM - 6:00 PM; Tuesday to Sunday 11:00 AM - 1:00 PM
: Tuesday to Saturday 4:00 PM - 6:00 PM; Tuesday to Sunday 11:00 AM - 1:00 PM
: Tuesday to Saturday 4:00 PM - 6:00 PM; Tuesday to Sunday 11:00 AM - 1:00 PM
: Tuesday to Saturday 4:00 PM - 6:00 PM; Tuesday to Sunday 11:00 AM - 1:00 PM
: Tuesday to Saturday 4:00 PM - 6:00 PM; Tuesday to Sunday 11:00 AM - 1:00 PM
: Tuesday to Saturday 4:00 PM - 6:00 PM; Tuesday to Sunday 11:00 AM - 1:00 PM
: Tuesday to Saturday 4:00 PM - 6:00 PM; Tuesday to Sunday 11:00 AM - 1:00 PM
: Tuesday to Saturday 4:00 PM - 6:00 PM; Tuesday to Sunday 11:00 AM - 1:00 PM
: Tuesday to Saturday 4:00 PM - 6:00 PM; Tuesday to Sunday 11:00 AM - 1:00 PM

: Everyday 10:00 AM - 1:00 PM; Everyday 10:00 AM - 1:00 PM | 7:00 PM - 8:00 PM
: Everyday 10:00 AM - 1:00 PM; Everyday 10:00 AM - 1:00 PM | 7:00 PM - 8:00 PM
: Everyday 10:00 AM - 1:00 PM; Everyday 10:00 AM - 1:00 PM | 7:00 PM - 8:00 PM
: Everyday 10:00 AM - 1:00 PM; Everyday 10:00 AM - 1:00 PM | 7:00 PM - 8:00 PM
: Everyday 10:00 AM - 1:00 PM; Everyday 10:00 AM - 1:00 PM | 7:00 PM - 8:00 PM
: Everyday 10:00 AM - 1:00 PM; Everyday 10:00 AM - 1:00 PM | 7:00 PM - 8:00 PM
: Everyday 10:00 AM - 1:00 PM; Everyday 10:00 AM - 1:00 PM | 7:00 PM - 8:00 PM
: Everyday 10:00 AM - 1:00 PM; Everyday 10:00 AM - 1:00 PM | 7:00 PM - 8:00 PM
: Everyday 10:00 AM - 1:00 PM; Everyday 10:00 AM - 1:00 PM | 7:00 PM - 8:00 PM
: Everyday 10:00 AM - 1:00 PM; Everyday 10:00 AM - 1:00 PM | 7:00 PM - 8:00 PM
: Everyday 10:00 AM - 1:00 PM; Everyday 10:00 AM - 1:00 PM | 7:00 PM - 8:00 PM
: Everyday 10:00 AM - 1:00 PM; Everyday 10:00 AM - 1:00 PM | 7:00 PM - 8:00 PM

: Everyday 10:00 AM - 1:00 PM
: Everyday 10:00 AM - 1:00 PM
: Everyday 10:00 AM - 1:00 PM
: Everyday 10:00 AM - 1:00 PM
: Everyday 10:00 AM - 1:00 PM
: Everyday 10:00 AM - 1:00 PM
: Everyday 10:00 AM - 1:00 PM
: Everyday 10:00 AM - 1:00 PM
: Everyday 10:00 AM - 1:00 PM
: Everyday 10:00 AM - 1:00 PM
: Everyday 10:00 AM - 1:00 PM
: Everyday 10:00 AM - 1:00 PM

: Everyday 10:00 AM - 4:00 PM
: Everyday 10:00 AM - 4:00 PM
: Everyday 10:00 AM - 4:00 PM
: Everyday 10:00 AM - 4:00 PM
: Everyday 10:00 AM - 4:00 PM
: Everyday 10:00 AM - 4:00 PM
: Everyday 10:00 AM - 4:00 PM
: Everyday 10:00 AM - 4:00 PM
: Everyday 10:00 AM - 4:00 PM
: Everyday 10:00 AM - 4:00 PM
: Everyday 10:00 AM - 4:00 PM
: Everyday 10:00 AM - 4:00 PM

: Everyday 1:00 PM - 2:00 PM; Everyday 1:00 PM - 2:00 PM | 9:00 PM - 11:00 PM
: Everyday 1:00 PM - 2:00 PM; Everyday 1:00 PM - 2:00 PM | 9:00 PM - 11:00 PM
: Everyday 1:00 PM - 2:00 PM; Everyday 1:00 PM - 2:00 PM | 9:00 PM - 11:00 PM
: Everyday 1:00 PM - 2:00 PM; Everyday 1:00 PM - 2:00 PM | 9:00 PM - 11:00 PM
: Everyday 1:00 PM - 2:00 PM; Everyday 1:00 PM - 2:00 PM | 9:00 PM - 11:00 PM
: Everyday 1:00 PM - 2:00 PM; Everyday 1:00 PM - 2:00 PM | 9:00 PM - 11:00 PM
: Everyday 1:00 PM - 2:00 PM; Everyday 1:00 PM - 2:00 PM | 9:00 PM - 11:00 PM
: Everyday 1:00 PM - 2:00 PM; Everyday 1:00 PM - 2:00 PM | 9:00 PM - 11:00 PM
: Everyday 1:00 PM - 2:00 PM; Everyday 1:00 PM - 2:00 PM | 9:00 PM - 11:00 PM
: Everyday 1:00 PM - 2:00 PM; Everyday 1:00 PM - 2:00 PM | 9:00 PM - 11:00 PM
: Everyday 1:00 PM - 2:00 PM; Everyday 1:00 PM - 2:00 PM | 9:00 PM - 11:00 PM
: Everyday 1:00 PM - 2:00 PM; Everyday 1:00 PM - 2:00 PM | 9:00 PM - 11:00 PM

: Monday to Friday 10:00 AM - 6:00 PM; Saturday 10:00 AM - 5:00 PM
: Monday to Friday 10:00 AM - 6:00 PM; Saturday 10:00 AM - 5:00 PM
: Monday to Friday 10:00 AM - 6:00 PM; Saturday 10:00 AM - 5:00 PM
: Monday to Friday 10:00 AM - 6:00 PM; Saturday 10:00 AM - 5:00 PM
: Monday to Friday 10:00 AM - 6:00 PM; Saturday 10:00 AM - 5:00 PM
: Monday to Friday 10:00 AM - 6:00 PM; Saturday 10:00 AM - 5:00 PM
: Monday to Friday 10:00 AM - 6:00 PM; Saturday 10:00 AM - 5:00 PM
: Monday to Friday 10:00 AM - 6:00 PM; Saturday 10:00 AM - 5:00 PM
: Monday to Friday 10:00 AM - 6:00 PM; Saturday 10:00 AM - 5:00 PM
: Monday to Friday 10:00 AM - 6:00 PM; Saturday 10:00 AM - 5:00 PM
: Monday to Friday 10:00 AM - 6:00 PM; Saturday 10:00 AM - 5:00 PM
: Monday to Friday 10:00 AM - 6:00 PM; Saturday 10:00 AM - 5:00 PM

: Monday to Saturday 11:00 AM - 5:00 PM; Sunday 11:00 AM - 3:00 PM
: Monday to Saturday 11:00 AM - 5:00 PM; Sunday 11:00 AM - 3:00 PM
: Monday to Saturday 11:00 AM - 5:00 PM; Sunday 11:00 AM - 3:00 PM
: Monday to Saturday 11:00 AM - 5:00 PM; Sunday 11:00 AM - 3:00 PM
: Monday to Saturday 11:00 AM - 5:00 PM; Sunday 11:00 AM - 3:00 PM
: Monday to Saturday 11:00 AM - 5:00 PM; Sunday 11:00 AM - 3:00 PM
: Monday to Saturday 11:00 AM - 5:00 PM; Sunday 11:00 AM - 3:00 PM
: Monday to Saturday 11:00 AM - 5:00 PM; Sunday 11:00 AM - 3:00 PM
: Monday to Saturday 11:00 AM - 5:00 PM; Sunday 11:00 AM - 3:00 PM
: Monday to Saturday 11:00 AM - 5:00 PM; Sunday 11:00 AM - 3:00 PM
: Monday to Saturday 11:00 AM - 5:00 PM; Sunday 11:00 AM - 3:00 PM
: Monday to Saturday 11:00 AM - 5:00 PM; Sunday 11:00 AM - 3:00 PM

: Everyday 10:00 PM - 11:59 PM
: Everyday 10:00 PM - 11:59 PM
: Everyday 10:00 PM - 11:59 PM
: Everyday 10:00 PM - 11:59 PM
: Everyday 10:00 PM - 11:59 PM
: Everyday 10:00 PM - 11:59 PM
: Everyday 10:00 PM - 11:59 PM
: Everyday 10:00 PM - 11:59 PM
: Everyday 10:00 PM - 11:59 PM
: Everyday 10:00 PM - 11:59 PM
: Everyday 10:00 PM - 11:59 PM
: Everyday 10:00 PM - 11:59 PM

: Everyday 9:00 PM - 11:59 PM
: Everyday 9:00 PM - 11:59 PM
: Everyday 9:00 PM - 11:59 PM
: Everyday 9:00 PM - 11:59 PM
: Everyday 9:00 PM - 11:59 PM
: Everyday 9:00 PM - 11:59 PM
: Everyday 9:00 PM - 11:59 PM
: Everyday 9:00 PM - 11:59 PM
: Everyday 9:00 PM - 11:59 PM
: Everyday 9:00 PM - 11:59 PM
: Everyday 9:00 PM - 11:59 PM
: Everyday 9:00 PM - 11:59 PM

: Everyday 1:00 PM - 4:00 PM; Everyday 1:00 PM - 4:00 PM | 7:00 PM - 11:59 PM
: Everyday 1:00 PM - 4:00 PM; Everyday 1:00 PM - 4:00 PM | 7:00 PM - 11:59 PM
: Everyday 1:00 PM - 4:00 PM; Everyday 1:00 PM - 4:00 PM | 7:00 PM - 11:59 PM
: Everyday 1:00 PM - 4:00 PM; Everyday 1:00 PM - 4:00 PM | 7:00 PM - 11:59 PM
: Everyday 1:00 PM - 4:00 PM; Everyday 1:00 PM - 4:00 PM | 7:00 PM - 11:59 PM
: Everyday 1:00 PM - 4:00 PM; Everyday 1:00 PM - 4:00 PM | 7:00 PM - 11:59 PM
: Everyday 1:00 PM - 4:00 PM; Everyday 1:00 PM - 4:00 PM | 7:00 PM - 11:59 PM
: Everyday 1:00 PM - 4:00 PM; Everyday 1:00 PM - 4:00 PM | 7:00 PM - 11:59 PM
: Everyday 1:00 PM - 4:00 PM; Everyday 1:00 PM - 4:00 PM | 7:00 PM - 11:59 PM
: Everyday 1:00 PM - 4:00 PM; Everyday 1:00 PM - 4:00 PM | 7:00 PM - 11:59 PM
: Everyday 1:00 PM - 4:00 PM; Everyday 1:00 PM - 4:00 PM | 7:00 PM - 11:59 PM
: Everyday 1:00 PM - 4:00 PM; Everyday 1:00 PM - 4:00 PM | 7:00 PM - 11:59 PM

: Tuesday to Sunday 10:00 AM - 4:00 PM; Tuesday to Sunday 10:00 AM - 4:00 PM | 6:00 PM - 7:00 PM
: Tuesday to Sunday 10:00 AM - 4:00 PM; Tuesday to Sunday 10:00 AM - 4:00 PM | 6:00 PM - 7:00 PM
: Tuesday to Sunday 10:00 AM - 4:00 PM; Tuesday to Sunday 10:00 AM - 4:00 PM | 6:00 PM - 7:00 PM
: Tuesday to Sunday 10:00 AM - 4:00 PM; Tuesday to Sunday 10:00 AM - 4:00 PM | 6:00 PM - 7:00 PM
: Tuesday to Sunday 10:00 AM - 4:00 PM; Tuesday to Sunday 10:00 AM - 4:00 PM | 6:00 PM - 7:00 PM
: Tuesday to Sunday 10:00 AM - 4:00 PM; Tuesday to Sunday 10:00 AM - 4:00 PM | 6:00 PM - 7:00 PM
: Tuesday to Sunday 10:00 AM - 4:00 PM; Tuesday to Sunday 10:00 AM - 4:00 PM | 6:00 PM - 7:00 PM
: Tuesday to Sunday 10:00 AM - 4:00 PM; Tuesday to Sunday 10:00 AM - 4:00 PM | 6:00 PM - 7:00 PM
: Tuesday to Sunday 10:00 AM - 4:00 PM; Tuesday to Sunday 10:00 AM - 4:00 PM | 6:00 PM - 7:00 PM
: Tuesday to Sunday 10:00 AM - 4:00 PM; Tuesday to Sunday 10:00 AM - 4:00 PM | 6:00 PM - 7:00 PM
: Tuesday to Sunday 10:00 AM - 4:00 PM; Tuesday to Sunday 10:00 AM - 4:00 PM | 6:00 PM - 7:00 PM
: Tuesday to Sunday 10:00 AM - 4:00 PM; Tuesday to Sunday 10:00 AM - 4:00 PM | 6:00 PM - 7:00 PM

: Everyday 9:00 AM - 11:59 PM
: Everyday 9:00 AM - 11:59 PM
: Everyday 9:00 AM - 11:59 PM
: Everyday 9:00 AM - 11:59 PM
: Everyday 9:00 AM - 11:59 PM
: Everyday 9:00 AM - 11:59 PM
: Everyday 9:00 AM - 11:59 PM
: Everyday 9:00 AM - 11:59 PM
: Everyday 9:00 AM - 11:59 PM
: Everyday 9:00 AM - 11:59 PM
: Everyday 9:00 AM - 11:59 PM
: Everyday 9:00 AM - 11:59 PM

: Everyday 24 Hrs
: Everyday 24 Hrs
: Everyday 24 Hrs
: Everyday 24 Hrs
: Everyday 24 Hrs
: Everyday 24 Hrs
: Everyday 24 Hrs
: Everyday 24 Hrs
: Everyday 24 Hrs
: Everyday 24 Hrs
: Everyday 24 Hrs
: Everyday 24 Hrs

: Monday to Wednesday 8:00 AM - 11:59 PM; Thursday to Saturday 00:1 AM - 2:00 AM; Thursday to Saturday 00:1 AM - 2:00 AM | 8:00 AM - 11:59 PM
: Monday to Wednesday 8:00 AM - 11:59 PM; Thursday to Saturday 00:1 AM - 2:00 AM; Thursday to Saturday 00:1 AM - 2:00 AM | 8:00 AM - 11:59 PM
: Monday to Wednesday 8:00 AM - 11:59 PM; Thursday to Saturday 00:1 AM - 2:00 AM; Thursday to Saturday 00:1 AM - 2:00 AM | 8:00 AM - 11:59 PM
: Monday to Wednesday 8:00 AM - 11:59 PM; Thursday to Saturday 00:1 AM - 2:00 AM; Thursday to Saturday 00:1 AM - 2:00 AM | 8:00 AM - 11:59 PM
: Monday to Wednesday 8:00 AM - 11:59 PM; Thursday to Saturday 00:1 AM - 2:00 AM; Thursday to Saturday 00:1 AM - 2:00 AM | 8:00 AM - 11:59 PM
: Monday to Wednesday 8:00 AM - 11:59 PM; Thursday to Saturday 00:1 AM - 2:00 AM; Thursday to Saturday 00:1 AM - 2:00 AM | 8:00 AM - 11:59 PM
: Monday to Wednesday 8:00 AM - 11:59 PM; Thursday to Saturday 00:1 AM - 2:00 AM; Thursday to Saturday 00:1 AM - 2:00 AM | 8:00 AM - 11:59 PM
: Monday to Wednesday 8:00 AM - 11:59 PM; Thursday to Saturday 00:1 AM - 2:00 AM; Thursday to Saturday 00:1 AM - 2:00 AM | 8:00 AM - 11:59 PM
: Monday to Wednesday 8:00 AM - 11:59 PM; Thursday to Saturday 00:1 AM - 2:00 AM; Thursday to Saturday 00:1 AM - 2:00 AM | 8:00 AM - 11:59 PM
: Monday to Wednesday 8:00 AM - 11:59 PM; Thursday to Saturday 00:1 AM - 2:00 AM; Thursday to Saturday 00:1 AM - 2:00 AM | 8:00 AM - 11:59 PM
: Monday to Wednesday 8:00 AM - 11:59 PM; Thursday to Saturday 00:1 AM - 2:00 AM; Thursday to Saturday 00:1 AM - 2:00 AM | 8:00 AM - 11:59 PM
: Monday to Wednesday 8:00 AM - 11:59 PM; Thursday to Saturday 00:1 AM - 2:00 AM; Thursday to Saturday 00:1 AM - 2:00 AM | 8:00 AM - 11:59 PM

: Everyday 24 Hrs
: Everyday 24 Hrs
: Everyday 24 Hrs
: Everyday 24 Hrs
: Everyday 24 Hrs
: Everyday 24 Hrs
: Everyday 24 Hrs
: Everyday 24 Hrs
: Everyday 24 Hrs
: Everyday 24 Hrs
: Everyday 24 Hrs
: Everyday 24 Hrs

: Everyday 9:00 AM - 11:59 PM
: Everyday 9:00 AM - 11:59 PM
: Everyday 9:00 AM - 11:59 PM
: Everyday 9:00 AM - 11:59 PM
: Everyday 9:00 AM - 11:59 PM
: Everyday 9:00 AM - 11:59 PM
: Everyday 9:00 AM - 11:59 PM
: Everyday 9:00 AM - 11:59 PM
: Everyday 9:00 AM - 11:59 PM
: Everyday 9:00 AM - 11:59 PM
: Everyday 9:00 AM - 11:59 PM
: Everyday 9:00 AM - 11:59 PM

: Everyday 9:00 AM - 11:59 PM
: Everyday 9:00 AM - 11:59 PM
: Everyday 9:00 AM - 11:59 PM
: Everyday 9:00 AM - 11:59 PM
: Everyday 9:00 AM - 11:59 PM
: Everyday 9:00 AM - 11:59 PM
: Everyday 9:00 AM - 11:59 PM
: Everyday 9:00 AM - 11:59 PM
: Everyday 9:00 AM - 11:59 PM
: Everyday 9:00 AM - 11:59 PM
: Everyday 9:00 AM - 11:59 PM
: Everyday 9:00 AM - 11:59 PM