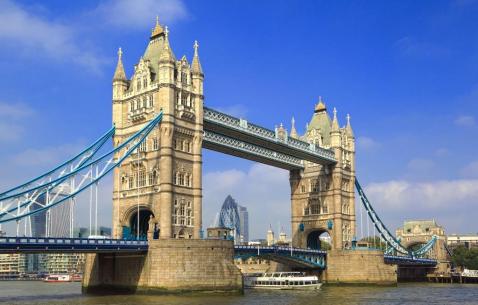 The Best Things To Do in London
London is world's top tourist destination which attracts a lot of visitors with its vibrant art and culture scene each year. The main attractions of London are Royal Palaces, People's Parliament, castles and cathedrals. This ancient city is a beautiful blend of the past and the present and has an array of things to do, which makes the tourists all over the world visit London over and over again. Some of the main attractions of London are Buckingham Palace, British Museum, Tower of London, Big Ben, London Eye and Trafalgar Square.
There are also some renowned parks in London such as Hyde park, Victoria Park and Richmond Park where you can relax and spend some time away from the hustle and bustle of the city. London's night life is dazzling with trendy and posh bars, clubs and dining options.
There are some museums in London such as British Museum, Natural History Museum which will help you to understand the culture and history of London as well as Britain as a whole. Madame Tussauds is one of the famous attractions in London which exhibits the wax statues of famous celebrities around the world. With such array of attractions in London, it is certainly one of the cities in UK that you cannot afford to miss.
What are the free things to do in London
Drenched in history, the gothic architecture of the city offers you several opportunities of free as well as cheap things to do in London. Given the fact that this is one city full of free thinkers that are the pioneers of the rich art and history of this city, you can never run out of things to do in London, on the fronts of art, history, culture, and a lot more. There is plethora of museums here, showcasing collections of a diverse range. It's never a bad idea to gain some enlightenment, and owing to the number of free museums in London, it's hard to cease seeking information. You can visit free museums like British Museum, Natural History Museum, Science Museum and many more.
Not a museum person? London still has a ton more to do; absolutely free of cost. The beauty of London, lies in its Victorian buildings and gardens, complete with charming ponds. A perfect day to spend a day out, London's parks are also abuzz with several activities and events. Here, you can even spot some friendly wildlife like deer, and lots of opportunities to indulge in birdwatching. Wimbledon Common, Richmond Park, Bushy Park and St James's Park are some fabulous places to do so.
Other brilliant free things to do in London include watching the Changing the Guard ceremony at the Buckingham Palace, watching Tower Bridge open, and visiting the ever-buzzing places like Trafalgar Square, Piccadilly Circus and Piccadilly Circus.
What's for couples in London - Places to see in London
It is only natural to get a little mushy and romantic in this perched on the banks of River Thames, full of parks and buildings that bequeath you with a peculiar old-word charm. Not to forget the spectacular fostering of art, literature and culture here. The Land of the English, it is no surprise that you will find plenty of entrées to theatre, in this city. Watching a play or two with some lip-smacking cocktails, can easily solve your dilemma of things to do in London this weekend. It couldn't get better if you follow this up with a Romantic Glass Boat Dinner Cruise on the Thames. This is your chance to revel in the charismatic views of London as you indulge in good food, drinks and music. Speaking of indulgence, we've got to mention getting pampered at the London Spa. Evening strolls at the South Bank are perfect to conclude the day.
Can't get enough of the romance? You could also spend some time at the Millennium Bridge, go to Soho or Carnaby, or head to the Shard for a mesmerizing view of the city's skyline.
Attractions and activities in London for kids
When it comes to kids, there is a surfeit things to do in London today. Even if the weather may not be happy and shiny, the things to do here can certainly brighten up any child's day. From attractions, libraries, story-telling sessions to child-friendly restaurants, London has for long been one the most apt destinations for family vacations. While a trip to the museums is a must, you can also have the kids indulge in activities less boring. Take them out to interact with animal at places like Mudchute Farm and Park, Deen City Farm and Riding School, or the Vauxhall City Farm's.
The Covent Garden, is full of street entertainers that do not cease to make the kids want more. Getting a ride on the giant Ferris wheel of the iconic London Eye, has got to be on your list too. Shows and musicals such as The Lion King, Wicked the Musical and the Shrek The Musical are a brilliant idea too.
The Household Cavalry Museum, Tower of London, ZSL London Zoo, KidZania and sea life London aquarium are some more places you must take your kids too, for a delightful experience.
What to do in London at night
If you are in London just before a weekend and contemplating "things to do in London tomorrow", you may as well get geared up for a much happening time! The nightlife in London is popular all over the world owing to the way it caters to a highly-assorted population. Hence, there is no dearth of London night attractions and London at night activities. Bustling through the day, London transforms as the sun sets. One of the best things to do in London at night for free is taking a London night tour. Essentially, you can choose to pay as much as you like going by their concept of \"Pay-What-You-Like\"; or nothing at all. On tours like this, subjects such as Jack the Ripper and the historic happenings of the River Thames, are thrown light upon.
Thinking of some romantic things to do in London at night, brace yourselves for some of the most sweeping experiences in your life. The Shard and Sky Pod Bar at Sky Garden are our top picks for you to do feel all warm and loving with your partner. If you crave to do something rather offbeat you can also head to the London zoo at night. The London zoo sunset safari is one of the most sought-after things to do in London at night. This is also one of the cutest things to do at night with your boyfriend. There are several bars and restaurants that have happy hours through the evening or specific timings at night, so you can hit these up to uplift your spirit. Admiring the city's views from an Open top bus Tour London will sweep you off your feet!
Unusual activities and things to do in London
If you are someone who seeks quirk and eccentricity then the number of unusual places to visit in London, at par with unusual things to do in London will embrace with all the ambiguity you ever thought of. If you are not intimidated by cemeteries, then a visit to Highgate Cemetery, will certainly make you think twice before heading to a cemetery ever again. Apparently, the creepiest cemetery in London, this one was once a spot for dueling magicians and vampire hunters! Eerie much? Then wait till you check out the Black Museum, for its macabre collection; the Abandoned London Post Office Railway; The Lost River Fleet; the Roof of Gardens at Kensington High Street among others.
Explore the travel planning tool for your visit to London and create a flawless plan in few simple steps!
351 Tourist Attractions in London

Must see places in London ranked on popularity. Here is the complete list of best attractions in London and point of interests to visit.
Tourist Attractions Near London
Find Your London Attractions on Map
Types of Things To Do in London
Find more attractions and places to visit in London under these things to do categories.
Top London Activities And Tours
Explore the best things to do in London. These are the most preferred tourist activities.
Find more places to see in London
Maida Vale

Maida Vale

Historic and Protected Sites

London Dungeon

28-34 Tooley St

Historic and Protected Sites

The Monument

Monument St

Historic and Protected Sites

Paternoster Square

Paternoster Square

Historic and Protected Sites

Chiswick House

Burlington Lane

Historic and Protected Sites

Buckingham Palace

The Mall

Historic and Protected Sites
View On Map
Hampstead Mixed Pond

East Heath Rd

Lakes

City Cruises

Westminster Pier

Lakes

Redbridge Lakes

Roding Lane North

Lakes

Dolphin Swimming Club

Malet St

Lakes

Regent's Park Boating Lake

Lakes

Cannon Lane, Pinner

Lakes
View On Map
Hackney Museum

1 Reading Lane

Museums

Garden Museum

5 Lambeth Palace Rd

Museums

V&A Museum of Childhood

Cambridge Heath Rd

Museums

Fashion & Textile Museum

83 Bermondsey St

Museums

Geffrye Museum

136 Kingsland Rd

Museums

Bruce Castle Museum

Lordship Lane

Museums
View On Map
Crystal Rooms

7-9 Cranbourn St

Amusement Parks

The Raceway

3 Herringham Rd

Amusement Parks

Landmarks

Restaurants

Topsy Turvy World

Brent Cross Shopping Centre, Prince Charles Dr

Amusement Parks

Family Leisure

23 Gerrard St

Amusement Parks

Gambado

7 Station Ct

Amusement Parks

Landmarks

Sun-Orbit Amusements

5 Camden High St

Amusement Parks
View On Map
The Pig & Whistle

479-481 Merton Rd

Bars

Restaurants

Fox & Anchor

115 Charterhouse St

Bars

Restaurants

The Clock House

196A Peckham Rye

Bars

Restaurants

The Jolly Butchers

204 Stoke Newington High St

Bars

Restaurants

The Pickwick

246 Woolwich Rd

Bars

Tommy's Bar

620-622 Hertford Rd

Bars
View On Map
William Hill

Hillmarton Terrace, 4/5

Casinos and Gaming

William Hill

High Rd, 94/96

Casinos and Gaming

William Hill

121-123 Askew Rd

Casinos and Gaming

William Hill

Whitecross St, 185

Casinos and Gaming

Empire Casino

5-6 Leicester Square

Casinos and Gaming

Panther Entertainment

86-90 Paul St

Casinos and Gaming
View On Map
Kentish Town City Farm

1 Cressfield Close

Natural Parks

Gunnersbury Triangle Nature Reserve

Bollo Lane

Natural Parks

Mudchute Park & Farm

Pier St

Natural Parks

Newham City Farm & Visitors Centre

King George Ave

Natural Parks

Surrey Docks Farm

South Wharf

Natural Parks

Hobbledown

Horton Lane

Natural Parks

Playgrounds
View On Map
Greenwich Park

Vanbrugh Park Rd West

Dog Parks

Sir John McDougal Gardens

Westferry Rd

Dog Parks

Geraldine Mary Harmsworth Park

Lambeth Rd / Kennington Rd

Dog Parks

Mostyn Gardens

Mostyn Rd/Martin Way, SW19

Playgrounds

Dog Parks

Morden Hall Park

Morden Hall Rd

Urban Parks

Dog Parks
View On Map
Millennium Bridge

Peters Hill

Beaches

Camden Beach

Chalk Farm Rd

Beaches

Poppy's Beach

Amsterdam Rd

Beaches

Primrose Beach

Primrose Hill

Beaches

Pedrito's Paradise

Beaches
View On Map
Parkland Walk

Parkland Walk

Hiking

Treasure Walks London Royal Palaces and Parks Tour and Scavenger Hunt

Bridge St

Hiking

Thames Trail Greenwich start point

King William Walk

Hiking

Coombe Vale

The Cut

Hiking
View On Map
What To Do in London: Day-Wise Ideas
Find what not to miss in London! Recommended London itineraries and vacation ideas created by travelers across the world.