Best Time To Visit Lorient
Explore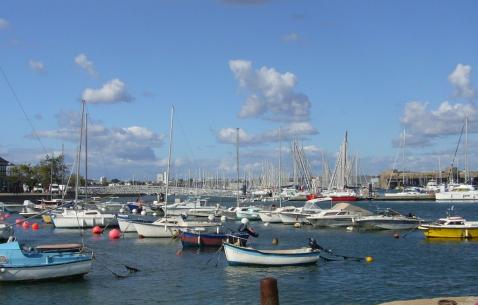 Best Time To Go To Lorient
Lorient is characterized by an Oceanic Climate.
Summer (June – August): The summers are warm with an average temperature of about 17°Celsius.
Winter (December – February): Winters are mild with the temperatures ranging about 6° Celsius on an average.
Spring (March – May): Springs see a transition in weather very often and the daily mean is around 10° Celsius on an average during the season.
Autumn (September – November): The weather in autumn is also changeable, like in spring and the temperature is between 9-12° Celsius on an average.
Lorient can be on your itinerary planners all year round. But the best time to visit the city is during summer, especially the month of August.
Best time to go to Lorient Attractions

: Everyday 2:00 PM - 6:00 PM
: Everyday 2:00 PM - 6:00 PM
: Everyday 2:00 PM - 6:00 PM
: Everyday 2:00 PM - 6:00 PM
: Everyday 2:00 PM - 6:00 PM
: Everyday 2:00 PM - 6:00 PM
: Everyday 2:00 PM - 6:00 PM
: Everyday 2:00 PM - 6:00 PM
: Everyday 2:00 PM - 6:00 PM
: Everyday 2:00 PM - 6:00 PM
: Everyday 2:00 PM - 6:00 PM
: Everyday 2:00 PM - 6:00 PM

: Everyday 10:00 AM - 6:00 PM
: Everyday 10:00 AM - 6:00 PM
: Everyday 10:00 AM - 6:00 PM
: Everyday 10:00 AM - 6:00 PM
: Everyday 10:00 AM - 6:00 PM
: Everyday 10:00 AM - 6:00 PM
: Everyday 10:00 AM - 6:00 PM
: Everyday 10:00 AM - 6:00 PM
: Everyday 10:00 AM - 6:00 PM
: Everyday 10:00 AM - 6:00 PM
: Everyday 10:00 AM - 6:00 PM
: Everyday 10:00 AM - 6:00 PM

: Everyday 9:00 AM - 6:00 PM
: Everyday 9:00 AM - 6:00 PM
: Everyday 9:00 AM - 6:00 PM
: Everyday 9:00 AM - 6:00 PM
: Everyday 9:00 AM - 6:00 PM
: Everyday 9:00 AM - 6:00 PM
: Everyday 9:00 AM - 6:00 PM
: Everyday 9:00 AM - 6:00 PM
: Everyday 9:00 AM - 6:00 PM
: Everyday 9:00 AM - 6:00 PM
: Everyday 9:00 AM - 6:00 PM
: Everyday 9:00 AM - 6:00 PM

:
: Monday, Wednesday, Thursday, Friday, Saturday, Sunday 1:30 PM - 4:00 PM
: Monday, Wednesday, Thursday, Friday, Saturday, Sunday 1:30 PM - 4:00 PM
: Monday, Wednesday, Thursday, Friday, Saturday, Sunday 1:30 PM - 4:00 PM
: Monday, Wednesday, Thursday, Friday, Saturday, Sunday 1:30 PM - 4:00 PM
: Monday, Wednesday, Thursday, Friday, Saturday, Sunday 1:30 PM - 4:00 PM
: Monday, Wednesday, Thursday, Friday, Saturday, Sunday 1:30 PM - 4:00 PM
: Monday, Wednesday, Thursday, Friday, Saturday, Sunday 1:30 PM - 4:00 PM
: Monday, Wednesday, Thursday, Friday, Saturday, Sunday 1:30 PM - 4:00 PM
: Monday, Wednesday, Thursday, Friday, Saturday, Sunday 1:30 PM - 4:00 PM
: Monday, Wednesday, Thursday, Friday, Saturday, Sunday 1:30 PM - 4:00 PM

: Everyday 7:00 PM - 10:00 PM
: Everyday 7:00 PM - 10:00 PM
: Everyday 7:00 PM - 10:00 PM
: Everyday 7:00 PM - 10:00 PM
: Everyday 7:00 PM - 10:00 PM
: Everyday 7:00 PM - 10:00 PM
: Everyday 7:00 PM - 10:00 PM
: Everyday 7:00 PM - 10:00 PM
: Everyday 7:00 PM - 10:00 PM
: Everyday 7:00 PM - 10:00 PM
: Everyday 7:00 PM - 10:00 PM
: Everyday 7:00 PM - 10:00 PM

: Everyday 9:00 AM - 11:00 AM
: Everyday 9:00 AM - 11:00 AM
: Everyday 9:00 AM - 11:00 AM
: Everyday 9:00 AM - 11:00 AM
: Everyday 9:00 AM - 11:00 AM
: Everyday 9:00 AM - 11:00 AM
: Everyday 9:00 AM - 11:00 AM
: Everyday 9:00 AM - 11:00 AM
: Everyday 9:00 AM - 11:00 AM
: Everyday 9:00 AM - 11:00 AM
: Everyday 9:00 AM - 11:00 AM
: Everyday 9:00 AM - 11:00 AM

: Everyday 9:00 AM - 11:00 PM
: Everyday 9:00 AM - 11:00 PM
: Everyday 9:00 AM - 11:00 PM
: Everyday 9:00 AM - 11:00 PM
: Everyday 9:00 AM - 11:00 PM
: Everyday 9:00 AM - 11:00 PM
: Everyday 9:00 AM - 11:00 PM
: Everyday 9:00 AM - 11:00 PM
: Everyday 9:00 AM - 11:00 PM
: Everyday 9:00 AM - 11:00 PM
: Everyday 9:00 AM - 11:00 PM
: Everyday 9:00 AM - 11:00 PM

: Everyday 9:00 AM - 11:00 PM
: Everyday 9:00 AM - 11:00 PM
: Everyday 9:00 AM - 11:00 PM
: Everyday 9:00 AM - 11:00 PM
: Everyday 9:00 AM - 11:00 PM
: Everyday 9:00 AM - 11:00 PM
: Everyday 9:00 AM - 11:00 PM
: Everyday 9:00 AM - 11:00 PM
: Everyday 9:00 AM - 11:00 PM
: Everyday 9:00 AM - 11:00 PM
: Everyday 9:00 AM - 11:00 PM
: Everyday 9:00 AM - 11:00 PM

: Everyday 9:00 AM - 11:00 PM
: Everyday 9:00 AM - 11:00 PM
: Everyday 9:00 AM - 11:00 PM
: Everyday 9:00 AM - 11:00 PM
: Everyday 9:00 AM - 11:00 PM
: Everyday 9:00 AM - 11:00 PM
: Everyday 9:00 AM - 11:00 PM
: Everyday 9:00 AM - 11:00 PM
: Everyday 9:00 AM - 11:00 PM
: Everyday 9:00 AM - 11:00 PM
: Everyday 9:00 AM - 11:00 PM
: Everyday 9:00 AM - 11:00 PM

: Everyday 11:00 AM - 3:00 PM
: Everyday 11:00 AM - 3:00 PM
: Everyday 11:00 AM - 3:00 PM
: Everyday 11:00 AM - 3:00 PM
: Everyday 11:00 AM - 3:00 PM
: Everyday 11:00 AM - 3:00 PM
: Everyday 11:00 AM - 3:00 PM
: Everyday 11:00 AM - 3:00 PM
: Everyday 11:00 AM - 3:00 PM
: Everyday 11:00 AM - 3:00 PM
: Everyday 11:00 AM - 3:00 PM
: Everyday 11:00 AM - 3:00 PM

: Everyday 9:00 AM - 11:00 PM
: Everyday 9:00 AM - 11:00 PM
: Everyday 9:00 AM - 11:00 PM
: Everyday 9:00 AM - 11:00 PM
: Everyday 9:00 AM - 11:00 PM
: Everyday 9:00 AM - 11:00 PM
: Everyday 9:00 AM - 11:00 PM
: Everyday 9:00 AM - 11:00 PM
: Everyday 9:00 AM - 11:00 PM
: Everyday 9:00 AM - 11:00 PM
: Everyday 9:00 AM - 11:00 PM
: Everyday 9:00 AM - 11:00 PM

: Saturday 2:00 PM - 5:00 PM
: Saturday 2:00 PM - 5:00 PM
: Saturday 2:00 PM - 5:00 PM
: Saturday 2:00 PM - 5:00 PM
: Saturday 2:00 PM - 5:00 PM
: Saturday 2:00 PM - 5:00 PM
: Saturday 2:00 PM - 5:00 PM
: Saturday 2:00 PM - 5:00 PM
: Saturday 2:00 PM - 5:00 PM
: Saturday 2:00 PM - 5:00 PM
: Saturday 2:00 PM - 5:00 PM
: Saturday 2:00 PM - 5:00 PM

: Monday to Friday 8:00 AM - 7:00 PM
: Monday to Friday 8:00 AM - 7:00 PM
: Monday to Friday 8:00 AM - 7:00 PM
: Monday to Friday 8:00 AM - 7:00 PM
: Monday to Friday 8:00 AM - 7:00 PM
: Monday to Friday 8:00 AM - 7:00 PM
: Monday to Friday 8:00 AM - 7:00 PM
: Monday to Friday 8:00 AM - 7:00 PM
: Monday to Friday 8:00 AM - 7:00 PM
: Monday to Friday 8:00 AM - 7:00 PM
: Monday to Friday 8:00 AM - 7:00 PM
: Monday to Friday 8:00 AM - 7:00 PM