Best Time To Visit Luang Prabang
Explore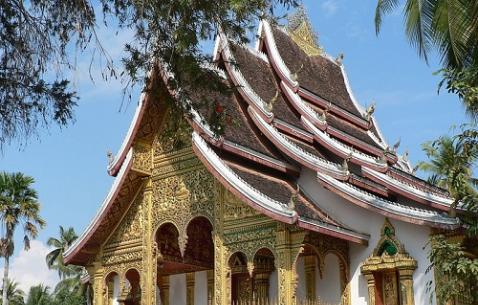 Best Time To Go To Luang Prabang
Luang Prabang has a tropical wet climate which is typically found in the equatorial region and receives abundant rainfall and warm temperatures throughout the year. The months from May to October receive rainfall and is referred to as the wet season, with very heavy rainfall particularly between July & September. The dry season, running from November to April, can see much warmer days with temperature going up to 35 degree Celsius. Luang Prabang is an all-year-round destination, the best time to visit Luang Prabang would be from November to February as the weather is expected to be cooler and days to be drier.
Wet Season (May to October): As with most tropical Southeast Asian towns, Luang Prabang receives rainfall that lasts a few hours every day. Though the rainfall is spread uniformly, the month of August may see the maximum amount of rains. Landslides are common during the wet seasons and this may lead to land transportation being slow moving. Expect lesser tourists during this season. The average temperatures range between a high of 33 degree Celsius to a low of 24 degree Celsius.
Dry Season (November to April): Further divided into cold dry season and hot dry season, Luang Prabang expects a number of tourists during the dry season with the maximum of them visiting between November to February. These months offer cool and clean air making it a favourite with the travellers. The hot dry season of March and April is particularly intolerable due to the smoke factor as the farmers set fire to the remains of the harvested rice fields to prepare them for the next season. The average temperatures range between a high of 27 degree Celsius to a low of 15 degree Celsius.
Best time to go to Luang Prabang Attractions

: Everyday 9:00 AM - 3:00 PM
: Everyday 9:00 AM - 3:00 PM
: Everyday 9:00 AM - 3:00 PM
: Everyday 9:00 AM - 3:00 PM
: Everyday 9:00 AM - 3:00 PM
: Everyday 9:00 AM - 3:00 PM
: Everyday 9:00 AM - 3:00 PM
: Everyday 9:00 AM - 3:00 PM
: Everyday 9:00 AM - 3:00 PM
: Everyday 9:00 AM - 3:00 PM
: Everyday 9:00 AM - 3:00 PM
: Everyday 9:00 AM - 3:00 PM

: Everyday 8:00 AM - 4:00 PM
: Everyday 8:00 AM - 4:00 PM
: Everyday 8:00 AM - 4:00 PM
: Everyday 8:00 AM - 4:00 PM
: Everyday 8:00 AM - 4:00 PM
: Everyday 8:00 AM - 4:00 PM
: Everyday 8:00 AM - 4:00 PM
: Everyday 8:00 AM - 4:00 PM
: Everyday 8:00 AM - 4:00 PM
: Everyday 8:00 AM - 4:00 PM
: Everyday 8:00 AM - 4:00 PM
: Everyday 8:00 AM - 4:00 PM

: Everyday 7:00 AM - 5:00 PM
: Everyday 7:00 AM - 5:00 PM
: Everyday 7:00 AM - 5:00 PM
: Everyday 7:00 AM - 5:00 PM
: Everyday 7:00 AM - 5:00 PM
: Everyday 7:00 AM - 5:00 PM
: Everyday 7:00 AM - 5:00 PM
: Everyday 7:00 AM - 5:00 PM
: Everyday 7:00 AM - 5:00 PM
: Everyday 7:00 AM - 5:00 PM
: Everyday 7:00 AM - 5:00 PM
: Everyday 7:00 AM - 5:00 PM

: Monday, Wednesday, Thursday, Friday, Saturday, Sunday 10:30 AM - 3:00 PM
: Monday, Wednesday, Thursday, Friday, Saturday, Sunday 10:30 AM - 3:00 PM
: Monday, Wednesday, Thursday, Friday, Saturday, Sunday 10:30 AM - 3:00 PM
: Monday, Wednesday, Thursday, Friday, Saturday, Sunday 10:30 AM - 3:00 PM
: Monday, Wednesday, Thursday, Friday, Saturday, Sunday 10:30 AM - 3:00 PM
: Monday, Wednesday, Thursday, Friday, Saturday, Sunday 10:30 AM - 3:00 PM
: Monday, Wednesday, Thursday, Friday, Saturday, Sunday 10:30 AM - 3:00 PM
: Monday, Wednesday, Thursday, Friday, Saturday, Sunday 10:30 AM - 3:00 PM
: Monday, Wednesday, Thursday, Friday, Saturday, Sunday 10:30 AM - 3:00 PM
: Monday, Wednesday, Thursday, Friday, Saturday, Sunday 10:30 AM - 3:00 PM
: Monday, Wednesday, Thursday, Friday, Saturday, Sunday 10:30 AM - 3:00 PM
: Monday, Wednesday, Thursday, Friday, Saturday, Sunday 10:30 AM - 3:00 PM

: Monday, Wednesday, Thursday, Friday, Saturday, Sunday 8:00 AM - 11:00 AM; Monday, Wednesday, Thursday, Friday, Saturday, Sunday 8:00 AM - 11:00 AM | 2:00 PM - 3:00 PM
: Monday, Wednesday, Thursday, Friday, Saturday, Sunday 8:00 AM - 11:00 AM; Monday, Wednesday, Thursday, Friday, Saturday, Sunday 8:00 AM - 11:00 AM | 2:00 PM - 3:00 PM
: Monday, Wednesday, Thursday, Friday, Saturday, Sunday 8:00 AM - 11:00 AM; Monday, Wednesday, Thursday, Friday, Saturday, Sunday 8:00 AM - 11:00 AM | 2:00 PM - 3:00 PM
: Monday, Wednesday, Thursday, Friday, Saturday, Sunday 8:00 AM - 11:00 AM; Monday, Wednesday, Thursday, Friday, Saturday, Sunday 8:00 AM - 11:00 AM | 2:00 PM - 3:00 PM
: Monday, Wednesday, Thursday, Friday, Saturday, Sunday 8:00 AM - 11:00 AM; Monday, Wednesday, Thursday, Friday, Saturday, Sunday 8:00 AM - 11:00 AM | 2:00 PM - 3:00 PM
: Monday, Wednesday, Thursday, Friday, Saturday, Sunday 8:00 AM - 11:00 AM; Monday, Wednesday, Thursday, Friday, Saturday, Sunday 8:00 AM - 11:00 AM | 2:00 PM - 3:00 PM
: Monday, Wednesday, Thursday, Friday, Saturday, Sunday 8:00 AM - 11:00 AM; Monday, Wednesday, Thursday, Friday, Saturday, Sunday 8:00 AM - 11:00 AM | 2:00 PM - 3:00 PM
: Monday, Wednesday, Thursday, Friday, Saturday, Sunday 8:00 AM - 11:00 AM; Monday, Wednesday, Thursday, Friday, Saturday, Sunday 8:00 AM - 11:00 AM | 2:00 PM - 3:00 PM
: Monday, Wednesday, Thursday, Friday, Saturday, Sunday 8:00 AM - 11:00 AM; Monday, Wednesday, Thursday, Friday, Saturday, Sunday 8:00 AM - 11:00 AM | 2:00 PM - 3:00 PM
: Monday, Wednesday, Thursday, Friday, Saturday, Sunday 8:00 AM - 11:00 AM; Monday, Wednesday, Thursday, Friday, Saturday, Sunday 8:00 AM - 11:00 AM | 2:00 PM - 3:00 PM
: Monday, Wednesday, Thursday, Friday, Saturday, Sunday 8:00 AM - 11:00 AM; Monday, Wednesday, Thursday, Friday, Saturday, Sunday 8:00 AM - 11:00 AM | 2:00 PM - 3:00 PM
: Monday, Wednesday, Thursday, Friday, Saturday, Sunday 8:00 AM - 11:00 AM; Monday, Wednesday, Thursday, Friday, Saturday, Sunday 8:00 AM - 11:00 AM | 2:00 PM - 3:00 PM

: Everyday 6:00 AM - 8:00 PM
: Everyday 6:00 AM - 8:00 PM
: Everyday 6:00 AM - 8:00 PM
: Everyday 6:00 AM - 8:00 PM
: Everyday 6:00 AM - 8:00 PM
: Everyday 6:00 AM - 8:00 PM
: Everyday 6:00 AM - 8:00 PM
: Everyday 6:00 AM - 8:00 PM
: Everyday 6:00 AM - 8:00 PM
: Everyday 6:00 AM - 8:00 PM
: Everyday 6:00 AM - 8:00 PM
: Everyday 6:00 AM - 8:00 PM

: Everyday 9:00 AM - 3:00 PM
: Everyday 9:00 AM - 3:00 PM
: Everyday 9:00 AM - 3:00 PM
: Everyday 9:00 AM - 3:00 PM
: Everyday 9:00 AM - 3:00 PM
: Everyday 9:00 AM - 3:00 PM
: Everyday 9:00 AM - 3:00 PM
: Everyday 9:00 AM - 3:00 PM
: Everyday 9:00 AM - 3:00 PM
: Everyday 9:00 AM - 3:00 PM
: Everyday 9:00 AM - 3:00 PM
: Everyday 9:00 AM - 3:00 PM

: Everyday 5:00 PM - 10:00 PM
: Everyday 5:00 PM - 10:00 PM
: Everyday 5:00 PM - 10:00 PM
: Everyday 5:00 PM - 10:00 PM
: Everyday 5:00 PM - 10:00 PM
: Everyday 5:00 PM - 10:00 PM
: Everyday 5:00 PM - 10:00 PM
: Everyday 5:00 PM - 10:00 PM
: Everyday 5:00 PM - 10:00 PM
: Everyday 5:00 PM - 10:00 PM
: Everyday 5:00 PM - 10:00 PM
: Everyday 5:00 PM - 10:00 PM

: Everyday 9:00 AM - 3:00 PM
: Everyday 9:00 AM - 3:00 PM
: Everyday 9:00 AM - 3:00 PM
: Everyday 9:00 AM - 3:00 PM
: Everyday 9:00 AM - 3:00 PM
: Everyday 9:00 AM - 3:00 PM
: Everyday 9:00 AM - 3:00 PM
: Everyday 9:00 AM - 3:00 PM
: Everyday 9:00 AM - 3:00 PM
: Everyday 9:00 AM - 3:00 PM
: Everyday 9:00 AM - 3:00 PM
: Everyday 9:00 AM - 3:00 PM

: Tuesday to Sunday 9:00 AM - 5:00 PM
: Tuesday to Sunday 9:00 AM - 5:00 PM
: Tuesday to Sunday 9:00 AM - 5:00 PM
: Tuesday to Sunday 9:00 AM - 5:00 PM
: Tuesday to Sunday 9:00 AM - 5:00 PM
: Tuesday to Sunday 9:00 AM - 5:00 PM
: Tuesday to Sunday 9:00 AM - 5:00 PM
: Tuesday to Sunday 9:00 AM - 5:00 PM
: Tuesday to Sunday 9:00 AM - 5:00 PM
: Tuesday to Sunday 9:00 AM - 5:00 PM
: Tuesday to Sunday 9:00 AM - 5:00 PM
: Tuesday to Sunday 9:00 AM - 5:00 PM

: Everyday 8:00 AM - 3:00 PM
: Everyday 8:00 AM - 3:00 PM
: Everyday 8:00 AM - 3:00 PM
: Everyday 8:00 AM - 3:00 PM
: Everyday 8:00 AM - 3:00 PM
: Everyday 8:00 AM - 3:00 PM
: Everyday 8:00 AM - 3:00 PM
: Everyday 8:00 AM - 3:00 PM
: Everyday 8:00 AM - 3:00 PM
: Everyday 8:00 AM - 3:00 PM
: Everyday 8:00 AM - 3:00 PM
: Everyday 8:00 AM - 3:00 PM

: Everyday 8:00 AM - 6:00 PM
: Everyday 8:00 AM - 6:00 PM
: Everyday 8:00 AM - 6:00 PM
: Everyday 8:00 AM - 6:00 PM
: Everyday 8:00 AM - 6:00 PM
: Everyday 8:00 AM - 6:00 PM
: Everyday 8:00 AM - 6:00 PM
: Everyday 8:00 AM - 6:00 PM
: Everyday 8:00 AM - 6:00 PM
: Everyday 8:00 AM - 6:00 PM
: Everyday 8:00 AM - 6:00 PM
: Everyday 8:00 AM - 6:00 PM

: Everyday 8:00 AM - 4:00 PM
: Everyday 8:00 AM - 4:00 PM
: Everyday 8:00 AM - 4:00 PM
: Everyday 8:00 AM - 4:00 PM
: Everyday 8:00 AM - 4:00 PM
: Everyday 8:00 AM - 4:00 PM
: Everyday 8:00 AM - 4:00 PM
: Everyday 8:00 AM - 4:00 PM
: Everyday 8:00 AM - 4:00 PM
: Everyday 8:00 AM - 4:00 PM
: Everyday 8:00 AM - 4:00 PM
: Everyday 8:00 AM - 4:00 PM

: Monday, Tuesday, Thursday, Friday, Saturday, Sunday 8:00 AM - 3:00 PM
: Monday, Tuesday, Thursday, Friday, Saturday, Sunday 8:00 AM - 3:00 PM
: Monday, Tuesday, Thursday, Friday, Saturday, Sunday 8:00 AM - 3:00 PM
: Monday, Tuesday, Thursday, Friday, Saturday, Sunday 8:00 AM - 3:00 PM
: Monday, Tuesday, Thursday, Friday, Saturday, Sunday 8:00 AM - 3:00 PM
: Monday, Tuesday, Thursday, Friday, Saturday, Sunday 8:00 AM - 3:00 PM
: Monday, Tuesday, Thursday, Friday, Saturday, Sunday 8:00 AM - 3:00 PM
: Monday, Tuesday, Thursday, Friday, Saturday, Sunday 8:00 AM - 3:00 PM
: Monday, Tuesday, Thursday, Friday, Saturday, Sunday 8:00 AM - 3:00 PM
: Monday, Tuesday, Thursday, Friday, Saturday, Sunday 8:00 AM - 3:00 PM
: Monday, Tuesday, Thursday, Friday, Saturday, Sunday 8:00 AM - 3:00 PM
: Monday, Tuesday, Thursday, Friday, Saturday, Sunday 8:00 AM - 3:00 PM

: Everyday 7:00 AM - 9:00 AM
: Everyday 7:00 AM - 9:00 AM
: Everyday 7:00 AM - 9:00 AM
: Everyday 7:00 AM - 9:00 AM
: Everyday 7:00 AM - 9:00 AM
: Everyday 7:00 AM - 9:00 AM
: Everyday 7:00 AM - 9:00 AM
: Everyday 7:00 AM - 9:00 AM
: Everyday 7:00 AM - 9:00 AM
: Everyday 7:00 AM - 9:00 AM
: Everyday 7:00 AM - 9:00 AM
: Everyday 7:00 AM - 9:00 AM

: Everyday 8:00 AM - 4:00 PM
: Everyday 8:00 AM - 4:00 PM
: Everyday 8:00 AM - 4:00 PM
: Everyday 8:00 AM - 4:00 PM
: Everyday 8:00 AM - 4:00 PM
: Everyday 8:00 AM - 4:00 PM
: Everyday 8:00 AM - 4:00 PM
: Everyday 8:00 AM - 4:00 PM
: Everyday 8:00 AM - 4:00 PM
: Everyday 8:00 AM - 4:00 PM
: Everyday 8:00 AM - 4:00 PM
: Everyday 8:00 AM - 4:00 PM

: Everyday 8:00 AM - 4:00 PM
: Everyday 8:00 AM - 4:00 PM
: Everyday 8:00 AM - 4:00 PM
: Everyday 8:00 AM - 4:00 PM
: Everyday 8:00 AM - 4:00 PM
: Everyday 8:00 AM - 4:00 PM
: Everyday 8:00 AM - 4:00 PM
: Everyday 8:00 AM - 4:00 PM
: Everyday 8:00 AM - 4:00 PM
: Everyday 8:00 AM - 4:00 PM
: Everyday 8:00 AM - 4:00 PM
: Everyday 8:00 AM - 4:00 PM

: Everyday 10:00 AM - 5:00 PM
: Everyday 10:00 AM - 5:00 PM
: Everyday 10:00 AM - 5:00 PM
: Everyday 10:00 AM - 5:00 PM
: Everyday 10:00 AM - 5:00 PM
: Everyday 10:00 AM - 5:00 PM
: Everyday 10:00 AM - 5:00 PM
: Everyday 10:00 AM - 5:00 PM
: Everyday 10:00 AM - 5:00 PM
: Everyday 10:00 AM - 5:00 PM
: Everyday 10:00 AM - 5:00 PM
: Everyday 10:00 AM - 5:00 PM

: Everyday 8:00 AM - 4:00 PM
: Everyday 8:00 AM - 4:00 PM
: Everyday 8:00 AM - 4:00 PM
: Everyday 8:00 AM - 4:00 PM
: Everyday 8:00 AM - 4:00 PM
: Everyday 8:00 AM - 4:00 PM
: Everyday 8:00 AM - 4:00 PM
: Everyday 8:00 AM - 4:00 PM
: Everyday 8:00 AM - 4:00 PM
: Everyday 8:00 AM - 4:00 PM
: Everyday 8:00 AM - 4:00 PM
: Everyday 8:00 AM - 4:00 PM

: Everyday 8:00 AM - 1:00 PM
: Everyday 8:00 AM - 1:00 PM
: Everyday 8:00 AM - 1:00 PM
: Everyday 8:00 AM - 1:00 PM
: Everyday 8:00 AM - 1:00 PM
: Everyday 8:00 AM - 1:00 PM
: Everyday 8:00 AM - 1:00 PM
: Everyday 8:00 AM - 1:00 PM
: Everyday 8:00 AM - 1:00 PM
: Everyday 8:00 AM - 1:00 PM
: Everyday 8:00 AM - 1:00 PM
: Everyday 8:00 AM - 1:00 PM

: Everyday 9:00 AM - 3:00 PM
: Everyday 9:00 AM - 3:00 PM
: Everyday 9:00 AM - 3:00 PM
: Everyday 9:00 AM - 3:00 PM
: Everyday 9:00 AM - 3:00 PM
: Everyday 9:00 AM - 3:00 PM
: Everyday 9:00 AM - 3:00 PM
: Everyday 9:00 AM - 3:00 PM
: Everyday 9:00 AM - 3:00 PM
: Everyday 9:00 AM - 3:00 PM
: Everyday 9:00 AM - 3:00 PM
: Everyday 9:00 AM - 3:00 PM

: Everyday 8:00 AM - 4:00 PM
: Everyday 8:00 AM - 4:00 PM
: Everyday 8:00 AM - 4:00 PM
: Everyday 8:00 AM - 4:00 PM
: Everyday 8:00 AM - 4:00 PM
: Everyday 8:00 AM - 4:00 PM
: Everyday 8:00 AM - 4:00 PM
: Everyday 8:00 AM - 4:00 PM
: Everyday 8:00 AM - 4:00 PM
: Everyday 8:00 AM - 4:00 PM
: Everyday 8:00 AM - 4:00 PM
: Everyday 8:00 AM - 4:00 PM

: Everyday 8:00 AM - 4:00 PM
: Everyday 8:00 AM - 4:00 PM
: Everyday 8:00 AM - 4:00 PM
: Everyday 8:00 AM - 4:00 PM
: Everyday 8:00 AM - 4:00 PM
: Everyday 8:00 AM - 4:00 PM
: Everyday 8:00 AM - 4:00 PM
: Everyday 8:00 AM - 4:00 PM
: Everyday 8:00 AM - 4:00 PM
: Everyday 8:00 AM - 4:00 PM
: Everyday 8:00 AM - 4:00 PM
: Everyday 8:00 AM - 4:00 PM

: Everyday 8:00 AM - 4:00 PM
: Everyday 8:00 AM - 4:00 PM
: Everyday 8:00 AM - 4:00 PM
: Everyday 8:00 AM - 4:00 PM
: Everyday 8:00 AM - 4:00 PM
: Everyday 8:00 AM - 4:00 PM
: Everyday 8:00 AM - 4:00 PM
: Everyday 8:00 AM - 4:00 PM
: Everyday 8:00 AM - 4:00 PM
: Everyday 8:00 AM - 4:00 PM
: Everyday 8:00 AM - 4:00 PM
: Everyday 8:00 AM - 4:00 PM

: Everyday 8:00 AM - 10:00 AM; Everyday 8:00 AM - 10:00 AM | 1:30 PM - 3:30 PM
: Everyday 8:00 AM - 10:00 AM; Everyday 8:00 AM - 10:00 AM | 1:30 PM - 3:30 PM
: Everyday 8:00 AM - 10:00 AM; Everyday 8:00 AM - 10:00 AM | 1:30 PM - 3:30 PM
: Everyday 8:00 AM - 10:00 AM; Everyday 8:00 AM - 10:00 AM | 1:30 PM - 3:30 PM
: Everyday 8:00 AM - 10:00 AM; Everyday 8:00 AM - 10:00 AM | 1:30 PM - 3:30 PM
: Everyday 8:00 AM - 10:00 AM; Everyday 8:00 AM - 10:00 AM | 1:30 PM - 3:30 PM
: Everyday 8:00 AM - 10:00 AM; Everyday 8:00 AM - 10:00 AM | 1:30 PM - 3:30 PM
: Everyday 8:00 AM - 10:00 AM; Everyday 8:00 AM - 10:00 AM | 1:30 PM - 3:30 PM
: Everyday 8:00 AM - 10:00 AM; Everyday 8:00 AM - 10:00 AM | 1:30 PM - 3:30 PM
: Everyday 8:00 AM - 10:00 AM; Everyday 8:00 AM - 10:00 AM | 1:30 PM - 3:30 PM
: Everyday 8:00 AM - 10:00 AM; Everyday 8:00 AM - 10:00 AM | 1:30 PM - 3:30 PM
: Everyday 8:00 AM - 10:00 AM; Everyday 8:00 AM - 10:00 AM | 1:30 PM - 3:30 PM

: Everyday 8:00 AM - 4:00 PM
: Everyday 8:00 AM - 4:00 PM
: Everyday 8:00 AM - 4:00 PM
: Everyday 8:00 AM - 4:00 PM
: Everyday 8:00 AM - 4:00 PM
: Everyday 8:00 AM - 4:00 PM
: Everyday 8:00 AM - 4:00 PM
: Everyday 8:00 AM - 4:00 PM
: Everyday 8:00 AM - 4:00 PM
: Everyday 8:00 AM - 4:00 PM
: Everyday 8:00 AM - 4:00 PM
: Everyday 8:00 AM - 4:00 PM

: Everyday 8:00 AM - 4:00 PM
: Everyday 8:00 AM - 4:00 PM
: Everyday 8:00 AM - 4:00 PM
: Everyday 8:00 AM - 4:00 PM
: Everyday 8:00 AM - 4:00 PM
: Everyday 8:00 AM - 4:00 PM
: Everyday 8:00 AM - 4:00 PM
: Everyday 8:00 AM - 4:00 PM
: Everyday 8:00 AM - 4:00 PM
: Everyday 8:00 AM - 4:00 PM
: Everyday 8:00 AM - 4:00 PM
: Everyday 8:00 AM - 4:00 PM

: Everyday 8:00 AM - 4:00 PM
: Everyday 8:00 AM - 4:00 PM
: Everyday 8:00 AM - 4:00 PM
: Everyday 8:00 AM - 4:00 PM
: Everyday 8:00 AM - 4:00 PM
: Everyday 8:00 AM - 4:00 PM
: Everyday 8:00 AM - 4:00 PM
: Everyday 8:00 AM - 4:00 PM
: Everyday 8:00 AM - 4:00 PM
: Everyday 8:00 AM - 4:00 PM
: Everyday 8:00 AM - 4:00 PM
: Everyday 8:00 AM - 4:00 PM

: Everyday 8:00 AM - 4:00 PM
: Everyday 8:00 AM - 4:00 PM
: Everyday 8:00 AM - 4:00 PM
: Everyday 8:00 AM - 4:00 PM
: Everyday 8:00 AM - 4:00 PM
: Everyday 8:00 AM - 4:00 PM
: Everyday 8:00 AM - 4:00 PM
: Everyday 8:00 AM - 4:00 PM
: Everyday 8:00 AM - 4:00 PM
: Everyday 8:00 AM - 4:00 PM
: Everyday 8:00 AM - 4:00 PM
: Everyday 8:00 AM - 4:00 PM