Best Time To Visit Lucerne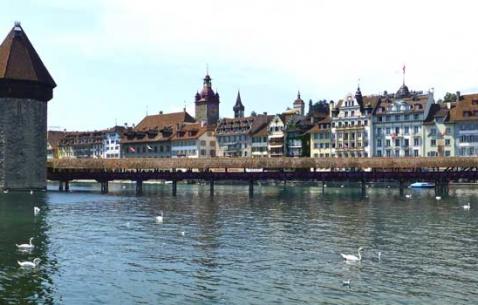 Best Time To Go To Lucerne
Lucerne's weather can be described to be Oceanic Climate. Rainfall is spread over the year, though autumn sees a lot more rains than the other months. Lucerne can easily be visited anytime of the year.
Winter: The months of December to February are very cold and temperature is usually around 1 degree Celsius.
Spring: Trees start blossoming and the grass starts turning green again in the months of March to May.
Summer: The temperatures usually reach around 25 degree Celsius during the summer months of June to August.
Autumn: The fruits start ripening usually around the months of September to November with the onset of autumn.
Though it is usually said that there is no best time to visit Lucerne and it can be visited around the year, if you want to enjoy sightseeing in the sun then the months of March to August are perfect for your visit. Though if you want to catch a sight of some Swiss snow then plan a visit in the winters. The hotel rates would also be more affordable during this off season.
Best time to go to Lucerne Attractions

: Everyday 11:00 AM - 5:00 PM
: Everyday 11:00 AM - 5:00 PM
: Everyday 11:00 AM - 5:00 PM
: Everyday 11:00 AM - 5:00 PM
: Everyday 11:00 AM - 5:00 PM
: Everyday 11:00 AM - 5:00 PM
: Everyday 11:00 AM - 5:00 PM
: Everyday 11:00 AM - 5:00 PM
: Everyday 11:00 AM - 5:00 PM
: Everyday 11:00 AM - 5:00 PM
: Everyday 11:00 AM - 5:00 PM
: Everyday 11:00 AM - 5:00 PM

: Everyday 9:00 AM - 5:00 PM
: Everyday 9:00 AM - 5:00 PM
: Everyday 9:00 AM - 5:00 PM
: Everyday 9:00 AM - 5:00 PM
: Everyday 9:00 AM - 5:00 PM
: Everyday 9:00 AM - 5:00 PM
: Everyday 9:00 AM - 5:00 PM
: Everyday 9:00 AM - 5:00 PM
: Everyday 9:00 AM - 5:00 PM
: Everyday 9:00 AM - 5:00 PM
: Everyday 9:00 AM - 5:00 PM
: Everyday 9:00 AM - 5:00 PM

: Everyday 10:00 AM - 6:00 PM
: Everyday 10:00 AM - 6:00 PM
: Everyday 10:00 AM - 6:00 PM
: Everyday 10:00 AM - 6:00 PM
: Everyday 10:00 AM - 6:00 PM
: Everyday 10:00 AM - 6:00 PM
: Everyday 10:00 AM - 6:00 PM
: Everyday 10:00 AM - 6:00 PM
: Everyday 10:00 AM - 6:00 PM
: Everyday 10:00 AM - 6:00 PM
: Everyday 10:00 AM - 6:00 PM
: Everyday 10:00 AM - 6:00 PM

: Everyday 9:00 AM - 5:00 PM
: Everyday 9:00 AM - 5:00 PM
: Everyday 9:00 AM - 5:00 PM
: Everyday 9:00 AM - 5:00 PM
: Everyday 9:00 AM - 5:00 PM
: Everyday 9:00 AM - 5:00 PM
: Everyday 9:00 AM - 5:00 PM
: Everyday 9:00 AM - 5:00 PM
: Everyday 9:00 AM - 5:00 PM
: Everyday 9:00 AM - 5:00 PM
: Everyday 9:00 AM - 5:00 PM
: Everyday 9:00 AM - 5:00 PM

: Everyday 9:00 AM - 3:00 PM
: Everyday 9:00 AM - 3:00 PM
: Everyday 9:00 AM - 3:00 PM
: Everyday 9:00 AM - 3:00 PM
: Everyday 9:00 AM - 3:00 PM
: Everyday 9:00 AM - 3:00 PM
: Everyday 9:00 AM - 3:00 PM
: Everyday 9:00 AM - 3:00 PM
: Everyday 9:00 AM - 3:00 PM
: Everyday 9:00 AM - 3:00 PM
: Everyday 9:00 AM - 3:00 PM
: Everyday 9:00 AM - 3:00 PM

: Everyday 1:00 PM - 3:00 PM
: Everyday 1:00 PM - 3:00 PM
: Everyday 1:00 PM - 3:00 PM
: Everyday 1:00 PM - 3:00 PM
: Everyday 1:00 PM - 3:00 PM
: Everyday 1:00 PM - 3:00 PM
: Everyday 1:00 PM - 3:00 PM
: Everyday 1:00 PM - 3:00 PM
: Everyday 1:00 PM - 3:00 PM
: Everyday 1:00 PM - 3:00 PM
: Everyday 1:00 PM - 3:00 PM
: Everyday 1:00 PM - 3:00 PM

: Everyday 9:00 AM - 3:00 PM
: Everyday 9:00 AM - 3:00 PM
: Everyday 9:00 AM - 3:00 PM
: Everyday 9:00 AM - 3:00 PM
: Everyday 9:00 AM - 3:00 PM
: Everyday 9:00 AM - 3:00 PM
: Everyday 9:00 AM - 3:00 PM
: Everyday 9:00 AM - 3:00 PM
: Everyday 9:00 AM - 3:00 PM
: Everyday 9:00 AM - 3:00 PM
: Everyday 9:00 AM - 3:00 PM
: Everyday 9:00 AM - 3:00 PM

: Everyday 2:00 PM - 3:00 PM
: Everyday 2:00 PM - 3:00 PM
: Everyday 2:00 PM - 3:00 PM
: Everyday 2:00 PM - 3:00 PM
: Everyday 2:00 PM - 3:00 PM
: Everyday 2:00 PM - 3:00 PM
: Everyday 2:00 PM - 3:00 PM
: Everyday 2:00 PM - 3:00 PM
: Everyday 2:00 PM - 3:00 PM
: Everyday 2:00 PM - 3:00 PM
: Everyday 2:00 PM - 3:00 PM
: Everyday 2:00 PM - 3:00 PM

: Everyday 9:00 AM - 5:00 PM
: Everyday 9:00 AM - 5:00 PM
: Everyday 9:00 AM - 5:00 PM
: Everyday 9:00 AM - 5:00 PM
: Everyday 9:00 AM - 5:00 PM
: Everyday 9:00 AM - 5:00 PM
: Everyday 9:00 AM - 5:00 PM
: Everyday 9:00 AM - 5:00 PM
: Everyday 9:00 AM - 5:00 PM
: Everyday 9:00 AM - 5:00 PM
: Everyday 9:00 AM - 5:00 PM
: Everyday 9:00 AM - 5:00 PM

: Everyday 7:00 AM - 1:00 PM; Everyday 7:00 AM - 1:00 PM | 2:00 PM - 5:00 PM
: Everyday 7:00 AM - 1:00 PM; Everyday 7:00 AM - 1:00 PM | 2:00 PM - 5:00 PM
: Everyday 7:00 AM - 1:00 PM; Everyday 7:00 AM - 1:00 PM | 2:00 PM - 5:00 PM
: Everyday 7:00 AM - 1:00 PM; Everyday 7:00 AM - 1:00 PM | 2:00 PM - 5:00 PM
: Everyday 7:00 AM - 1:00 PM; Everyday 7:00 AM - 1:00 PM | 2:00 PM - 5:00 PM
: Everyday 7:00 AM - 1:00 PM; Everyday 7:00 AM - 1:00 PM | 2:00 PM - 5:00 PM
: Everyday 7:00 AM - 1:00 PM; Everyday 7:00 AM - 1:00 PM | 2:00 PM - 5:00 PM
: Everyday 7:00 AM - 1:00 PM; Everyday 7:00 AM - 1:00 PM | 2:00 PM - 5:00 PM
: Everyday 7:00 AM - 1:00 PM; Everyday 7:00 AM - 1:00 PM | 2:00 PM - 5:00 PM
: Everyday 7:00 AM - 1:00 PM; Everyday 7:00 AM - 1:00 PM | 2:00 PM - 5:00 PM
: Everyday 7:00 AM - 1:00 PM; Everyday 7:00 AM - 1:00 PM | 2:00 PM - 5:00 PM
: Everyday 7:00 AM - 1:00 PM; Everyday 7:00 AM - 1:00 PM | 2:00 PM - 5:00 PM

: Everyday 11:00 AM - 2:00 PM
: Everyday 11:00 AM - 2:00 PM
: Everyday 11:00 AM - 2:00 PM
: Everyday 11:00 AM - 2:00 PM
: Everyday 11:00 AM - 2:00 PM
: Everyday 11:00 AM - 2:00 PM
: Everyday 11:00 AM - 2:00 PM
: Everyday 11:00 AM - 2:00 PM
: Everyday 11:00 AM - 2:00 PM
: Everyday 11:00 AM - 2:00 PM
: Everyday 11:00 AM - 2:00 PM
: Everyday 11:00 AM - 2:00 PM

: Monday, Tuesday, Wednesday, Thursday, Saturday, Sunday 8:00 AM - 11:00 AM
: Monday, Tuesday, Wednesday, Thursday, Saturday, Sunday 8:00 AM - 11:00 AM
: Monday, Tuesday, Wednesday, Thursday, Saturday, Sunday 8:00 AM - 11:00 AM
: Monday, Tuesday, Wednesday, Thursday, Saturday, Sunday 8:00 AM - 11:00 AM
: Monday, Tuesday, Wednesday, Thursday, Saturday, Sunday 8:00 AM - 11:00 AM
: Monday, Tuesday, Wednesday, Thursday, Saturday, Sunday 8:00 AM - 11:00 AM
: Monday, Tuesday, Wednesday, Thursday, Saturday, Sunday 8:00 AM - 11:00 AM
: Monday, Tuesday, Wednesday, Thursday, Saturday, Sunday 8:00 AM - 11:00 AM
: Monday, Tuesday, Wednesday, Thursday, Saturday, Sunday 8:00 AM - 11:00 AM
: Monday, Tuesday, Wednesday, Thursday, Saturday, Sunday 8:00 AM - 11:00 AM
: Monday, Tuesday, Wednesday, Thursday, Saturday, Sunday 8:00 AM - 11:00 AM
: Monday, Tuesday, Wednesday, Thursday, Saturday, Sunday 8:00 AM - 11:00 AM

:
:
: Tuesday to Sunday 10:00 AM - 11:30 AM
: Tuesday to Sunday 10:00 AM - 11:30 AM
: Tuesday to Sunday 10:00 AM - 11:30 AM
: Tuesday to Sunday 10:00 AM - 11:30 AM
: Tuesday to Sunday 10:00 AM - 11:30 AM
: Tuesday to Sunday 10:00 AM - 11:30 AM
: Tuesday to Sunday 10:00 AM - 11:30 AM
: Tuesday to Sunday 10:00 AM - 11:30 AM
:

: Everyday 10:00 AM - 4:00 PM
: Everyday 10:00 AM - 4:00 PM
: Everyday 10:00 AM - 4:00 PM
: Everyday 10:00 AM - 4:00 PM
: Everyday 10:00 AM - 4:00 PM
: Everyday 10:00 AM - 4:00 PM
: Everyday 10:00 AM - 4:00 PM
: Everyday 10:00 AM - 4:00 PM
: Everyday 10:00 AM - 4:00 PM
: Everyday 10:00 AM - 4:00 PM
: Everyday 10:00 AM - 4:00 PM
: Everyday 10:00 AM - 4:00 PM

:
:
:
: Everyday 3:00 PM - 6:00 PM
: Everyday 3:00 PM - 6:00 PM
: Everyday 3:00 PM - 6:00 PM
: Everyday 3:00 PM - 6:00 PM
: Everyday 3:00 PM - 6:00 PM
: Everyday 3:00 PM - 6:00 PM
: Everyday 3:00 PM - 6:00 PM

: Everyday 9:00 AM - 6:00 PM
: Everyday 9:00 AM - 6:00 PM
: Everyday 9:00 AM - 6:00 PM
: Everyday 9:00 AM - 6:00 PM
: Everyday 9:00 AM - 6:00 PM
: Everyday 9:00 AM - 6:00 PM
: Everyday 9:00 AM - 6:00 PM
: Everyday 9:00 AM - 6:00 PM
: Everyday 9:00 AM - 6:00 PM
: Everyday 9:00 AM - 6:00 PM
: Everyday 9:00 AM - 6:00 PM
: Everyday 9:00 AM - 6:00 PM

:
:
:
: Everyday 9:00 AM - 11:30 AM; Everyday 9:00 AM - 11:30 AM | 1:30 PM - 5:00 PM
: Everyday 9:00 AM - 11:30 AM; Everyday 9:00 AM - 11:30 AM | 1:30 PM - 5:00 PM
: Everyday 9:00 AM - 11:30 AM; Everyday 9:00 AM - 11:30 AM | 1:30 PM - 5:00 PM
: Everyday 9:00 AM - 11:30 AM; Everyday 9:00 AM - 11:30 AM | 1:30 PM - 5:00 PM
: Everyday 9:00 AM - 11:30 AM; Everyday 9:00 AM - 11:30 AM | 1:30 PM - 5:00 PM
: Everyday 9:00 AM - 11:30 AM; Everyday 9:00 AM - 11:30 AM | 1:30 PM - 5:00 PM
: Everyday 9:00 AM - 11:30 AM; Everyday 9:00 AM - 11:30 AM | 1:30 PM - 5:00 PM
:
:

: Everyday 2:00 PM - 4:00 PM
: Everyday 2:00 PM - 4:00 PM
: Everyday 2:00 PM - 4:00 PM
: Everyday 2:00 PM - 4:00 PM
: Everyday 2:00 PM - 4:00 PM
: Everyday 2:00 PM - 4:00 PM
: Everyday 2:00 PM - 4:00 PM
: Everyday 2:00 PM - 4:00 PM
: Everyday 2:00 PM - 4:00 PM
: Everyday 2:00 PM - 4:00 PM
: Everyday 2:00 PM - 4:00 PM
: Everyday 2:00 PM - 4:00 PM

: Everyday 8:00 AM - 6:00 PM
: Everyday 8:00 AM - 6:00 PM
: Everyday 8:00 AM - 6:00 PM
: Everyday 8:00 AM - 6:00 PM
: Everyday 8:00 AM - 6:00 PM
: Everyday 8:00 AM - 6:00 PM
: Everyday 8:00 AM - 6:00 PM
: Everyday 8:00 AM - 6:00 PM
: Everyday 8:00 AM - 6:00 PM
: Everyday 8:00 AM - 6:00 PM
: Everyday 8:00 AM - 6:00 PM
: Everyday 8:00 AM - 6:00 PM

: Everyday 10:00 AM - 4:00 PM
: Everyday 10:00 AM - 4:00 PM
: Everyday 10:00 AM - 4:00 PM
: Everyday 10:00 AM - 4:00 PM
: Everyday 10:00 AM - 4:00 PM
: Everyday 10:00 AM - 4:00 PM
: Everyday 10:00 AM - 4:00 PM
: Everyday 10:00 AM - 4:00 PM
: Everyday 10:00 AM - 4:00 PM
: Everyday 10:00 AM - 4:00 PM
: Everyday 10:00 AM - 4:00 PM
: Everyday 10:00 AM - 4:00 PM

: Everyday 9:00 AM - 3:00 PM
: Everyday 9:00 AM - 3:00 PM
: Everyday 9:00 AM - 3:00 PM
: Everyday 9:00 AM - 3:00 PM
: Everyday 9:00 AM - 3:00 PM
: Everyday 9:00 AM - 3:00 PM
: Everyday 9:00 AM - 3:00 PM
: Everyday 9:00 AM - 3:00 PM
: Everyday 9:00 AM - 3:00 PM
: Everyday 9:00 AM - 3:00 PM
: Everyday 9:00 AM - 3:00 PM
: Everyday 9:00 AM - 3:00 PM

: Everyday 9:00 AM - 4:00 PM
: Everyday 9:00 AM - 4:00 PM
: Everyday 9:00 AM - 4:00 PM
: Everyday 9:00 AM - 4:00 PM
: Everyday 9:00 AM - 4:00 PM
: Everyday 9:00 AM - 4:00 PM
: Everyday 9:00 AM - 4:00 PM
: Everyday 9:00 AM - 4:00 PM
: Everyday 9:00 AM - 4:00 PM
: Everyday 9:00 AM - 4:00 PM
: Everyday 9:00 AM - 4:00 PM
: Everyday 9:00 AM - 4:00 PM

: Tuesday to Sunday 10:00 AM - 3:00 PM
: Tuesday to Sunday 10:00 AM - 3:00 PM
: Tuesday to Sunday 10:00 AM - 3:00 PM
: Tuesday to Sunday 10:00 AM - 3:00 PM
: Tuesday to Sunday 10:00 AM - 3:00 PM
: Tuesday to Sunday 10:00 AM - 3:00 PM
: Tuesday to Sunday 10:00 AM - 3:00 PM
: Tuesday to Sunday 10:00 AM - 3:00 PM
: Tuesday to Sunday 10:00 AM - 3:00 PM
: Tuesday to Sunday 10:00 AM - 3:00 PM
: Tuesday to Sunday 10:00 AM - 3:00 PM
: Tuesday to Sunday 10:00 AM - 3:00 PM

: Tuesday to Sunday 11:00 AM - 5:00 PM
: Tuesday to Sunday 11:00 AM - 5:00 PM
: Tuesday to Sunday 11:00 AM - 5:00 PM
: Tuesday to Sunday 11:00 AM - 5:00 PM
: Tuesday to Sunday 11:00 AM - 5:00 PM
: Tuesday to Sunday 11:00 AM - 5:00 PM
: Tuesday to Sunday 11:00 AM - 5:00 PM
: Tuesday to Sunday 11:00 AM - 5:00 PM
: Tuesday to Sunday 11:00 AM - 5:00 PM
: Tuesday to Sunday 11:00 AM - 5:00 PM
: Tuesday to Sunday 11:00 AM - 5:00 PM
: Tuesday to Sunday 11:00 AM - 5:00 PM

: Tuesday to Sunday 10:00 AM - 4:00 PM
: Tuesday to Sunday 10:00 AM - 4:00 PM
: Tuesday to Sunday 10:00 AM - 4:00 PM
: Tuesday to Sunday 10:00 AM - 4:00 PM
: Tuesday to Sunday 10:00 AM - 4:00 PM
: Tuesday to Sunday 10:00 AM - 4:00 PM
: Tuesday to Sunday 10:00 AM - 4:00 PM
: Tuesday to Sunday 10:00 AM - 4:00 PM
: Tuesday to Sunday 10:00 AM - 4:00 PM
: Tuesday to Sunday 10:00 AM - 4:00 PM
: Tuesday to Sunday 10:00 AM - 4:00 PM
: Tuesday to Sunday 10:00 AM - 4:00 PM

: Monday to Friday 9:00 AM - 4:00 PM
: Monday to Friday 9:00 AM - 4:00 PM
: Monday to Friday 9:00 AM - 4:00 PM
: Monday to Friday 9:00 AM - 4:00 PM
: Monday to Friday 9:00 AM - 4:00 PM
: Monday to Friday 9:00 AM - 4:00 PM
: Monday to Friday 9:00 AM - 4:00 PM
: Monday to Friday 9:00 AM - 4:00 PM
: Monday to Friday 9:00 AM - 4:00 PM
: Monday to Friday 9:00 AM - 4:00 PM
: Monday to Friday 9:00 AM - 4:00 PM
: Monday to Friday 9:00 AM - 4:00 PM

: Everyday 8:00 AM - 5:00 PM
: Everyday 8:00 AM - 5:00 PM
: Everyday 8:00 AM - 5:00 PM
: Everyday 8:00 AM - 5:00 PM
: Everyday 8:00 AM - 5:00 PM
: Everyday 8:00 AM - 5:00 PM
: Everyday 8:00 AM - 5:00 PM
: Everyday 8:00 AM - 5:00 PM
: Everyday 8:00 AM - 5:00 PM
: Everyday 8:00 AM - 5:00 PM
: Everyday 8:00 AM - 5:00 PM
: Everyday 8:00 AM - 5:00 PM

: Monday to Friday 9:00 AM - 11:00 AM
: Monday to Friday 9:00 AM - 11:00 AM
: Monday to Friday 9:00 AM - 11:00 AM
: Monday to Friday 9:00 AM - 11:00 AM
: Monday to Friday 9:00 AM - 11:00 AM
: Monday to Friday 9:00 AM - 11:00 AM
: Monday to Friday 9:00 AM - 11:00 AM
: Monday to Friday 9:00 AM - 11:00 AM
: Monday to Friday 9:00 AM - 11:00 AM
: Monday to Friday 9:00 AM - 11:00 AM
: Monday to Friday 9:00 AM - 11:00 AM
: Monday to Friday 9:00 AM - 11:00 AM