Mortuary Temple Of Hatshepsut
Address:

Kings Valley Rd, Qesm Al Wahat Al Khargah, New Valley Governorate, Egypt, Luxor

Map

Ticket Price:

Free

Tags: Temple, Historical Site, Family And Kids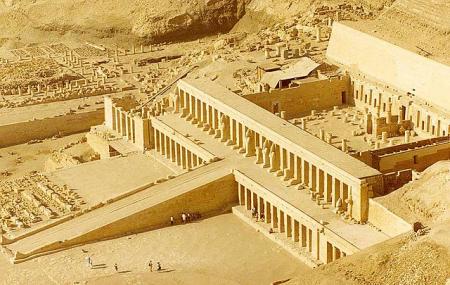 One of the many wonders in Egypt includes the magnificent Mortuary Temple of Hatshepsut in Luxor's Valley of the Kings. Dedicated to the second female Pharaoh, Queen Hatshepsut, the three-storied temple is cast in sand, and is considered one of the most beautiful royal temples in the region that you must visit. In the reconstructed temple, you can take the long ramps to access the various levels which are open to tourists. There are several statues and ancient painted reliefs of the Queen Hatshepsut, Egyptian Gods and sphinxes that you will come across in the Temple premises. The stark barrenness of the surrounding areas and of the Temple itself is awe-inspiring and will have you transported to an earlier era.
More about Mortuary Temple Of Hatshepsut
Mortuary Temple Of Hatshepsut is located in Luxor, Egypt. A great place to visit, you can check out the other popular places of the city on the best things to do page in Luxor section.
Important information about Mortuary Temple Of Hatshepsut, Luxor such as address, and contact number can be found on this page. Apart from this, information about the average time spent and the popularity of this place is also provided in the top section. Here, you can also search about Mortuary Temple Of Hatshepsut on the map. This will enable you to gauge the distance and the routes from your accommodation to this spot. Discover the vibe of the place by checking out the images of the Mortuary Temple Of Hatshepsut.
Have paid a visit to the Mortuary Temple Of Hatshepsut recently and think you have better images and more accurate data regarding the same? If yes, then you can also contribute/edit this page to enhance the experience for other visitors.
Traveling and exploring an unknown place can be a scary prospect because of the lack of information. Here, to solve your difficulties, essential information about gas stations, pharmacies, tourist information centres, internet cafes located near Mortuary Temple Of Hatshepsut has also been listed.
If you are hungry, you can find restaurants near Mortuary Temple Of Hatshepsut listed below. With a comprehensive list of hotels and restaurants spanning across different genres like fine-dine, quick bite, snacks, specific cuisines and desserts, you can be rest assured that you will not have to leave this place on an empty stomach.
For reaching the place, railway stations and bus stations near Mortuary Temple Of Hatshepsut are listed. This will help you in commuting to and from the Mortuary Temple Of Hatshepsut with ease.
To find the best deals on recommended hotels and homestays near Mortuary Temple Of Hatshepsut, Luxor you can also view our recommendations mentioned at the right side of this page. Once you select the hotel or a homestay it is also possible to add it to your itinerary planner. This will help you in planning your trip better as you will have all the essential info regarding accommodations at one place.
Popular tours for Luxor are the best way to explore this city and to make sure you don't miss out on anything. The right part of this page shows the recommended tours from top vendors. So, if you are too lazy to plan your own trip to Mortuary Temple Of Hatshepsut, then you can take help of these already created Luxor itinerary planner and pre-planned tours for a memorable vacation. For more options visit the tours page.
To create a detailed trip plan for visiting Mortuary Temple Of Hatshepsut, Luxor, you can use Triphobo's Luxor itinerary planner. If you are planning to explore entire Egypt, we suggest using Egypt trip planner to make a detailed plan. You can also calculate the budget for your trip by taking the help of our cost of trip tool.
Mortuary Temple Of Hatshepsut Address: Kings Valley Rd, Qesm Al Wahat Al Khargah, New Valley Governorate, Egypt, Luxor
Mortuary Temple Of Hatshepsut Price: Free
Try the best online travel planner to plan your travel itinerary!
Are you associated with this business? Get in Touch
It was amazing to see how this temple was right under the giant cliffs. We saw some archeologist working in/around the temple. We took the little train in because it was very hot out. Luckily when we were there there was basically no one there, so we were able to explore the area casually, but we weren't there long. When we left, there's buses of school children coming in. Whew, just missed them!

Amazing really... i loved it. The Temple have 3 levels. And you can see around in the mountain archeologysts keep working on the place. Advice, if you need go toilette is in the entrance, where you pay the ticket, keep a good sunblock to go because is big area to walk under the sun

Another great site to visit in Egypt. This temple looks super modern nowadays thanks to the Polish that helped rebuilding it to its original shape. The surroundings where the temple was built are worth a couple pictures, won't disapoint.

One of the best preserved temples in Egypt. The immense temple to Queen Hatshepsut is huge by any standard. The temple still has many paintings which are still bright and clearly visible.

Such a beautiful well preserved look into the past for the Egyptian ruler, hatshepsut. The colour on certain walls is excellently preserved which shows just how advanced and how good the craftsmanship of that time was. This temple is unique in Egypt with its squat looking design from the front, but holds wonderful secrets in the back of the temple. To the left is a temple to the god of birthing, and to the right is tje room for mummification. Hatshepsut was a woman, but is depicted as a man on her statues.
Read all reviews