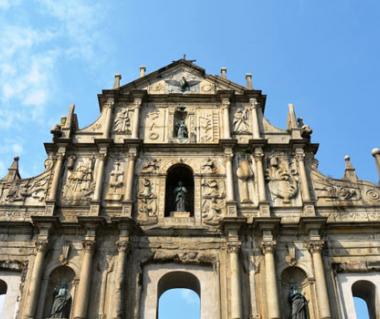 Macao Trip Planner
Plan your customized trip plan for Macao. Choose from Top Toursim cities and tourist attarctions of Macao using trip planner.
Macao Overview
"The Monte Carlo of the Orient", "The Las Vegas of the East" are phrases commonly used to describe Macau. And justifiably so! Macau is the world's biggest gambling destination and has even surpassed Las Vegas.
Although autonomous till 2049, Macau or Macao is a Special Administrative Region (SAR) of China similar to Hong Kong. It was the last colonial outpost in Asia, a Portuguese colony until 1999. It is the most densely populated region on earth and this is evident in the crowded streets and narrow lanes teeming with tourists and locals alike. Macau originally consisted of 3 regions, The Macau Peninsula, and the islands of Taipa and Coloane, which were connected by bridges. However, land reclamation as led to the forming of a fourth region The Cotai Strip which now joins Taipa and Coloane making it one big island.
With over 400 years of colonial rule, Macau is essentially an eclectic mix of Portuguese and Chinese culture. A fusion of both these strong and distinct civilizations permeates everything in Macau. Here you will find temples alongside churches, European style architecture with Chinese characteristics, food that is a blend of spices from the east with herbs of the west, modern buildings and historical monuments, beaches, hills and casinos galore.
The gambling industry, a major contributor to Macau's stellar reputation as a holiday destination and to its economy has steadily gained momentum and has generated the highest gaming revenue in the world. With de-regularization in 2002, Macau opened its doors to leading casinos from Las Vegas and the world, and now boasts of over 30 casinos, big and small. The world's largest casino, The Venetian Macau Hotel-Resort is located on the Cotai Strip. Other noteworthy ones are The MGM Grand Macau, The City of Dreams and The Grand Lisboa. The Wynn Macau, apart from its casino is also known for the Performance Lake, which is a choreographed display of dancing water fountains. The world's only dog racing track is in Macao, where people bet on greyhound races at the Canidrome.
If gambling is not your thing, a portion of the Macau peninsula, comprising over 25 buildings, churches and other sites of historical significance, has been classified as a UNESCO World Heritage Site. Popular places among tourists are the Ruins of the Sao Paolo (St. Paul's) Cathedral, The Guia Fort, Macau Museum, The Macau Wine Museum for a sampling of exquisite Portuguese wines and The Temple of A-Ma from which the name Macau originates. There are organized Heritage Walks for tourists or one can explore these sights at ones own leisure.
For the adventurous and sportingly inclined, The Macau Grand Prix is held every November and both car and bike races take place. The most popular races are the Formula 3 Grand Prix and the Guia Race. It is known as one of the most demanding circuits in the world. Other adventure activities include, Bungee jumping or Sky jumping from the Macau Tower at the height of 233 meters.
For a more relaxed experience or one closer to nature, Coloane region has two beautiful beaches, the HacSa beach with black swirling sands and the Cheoc Van beach. Coloane is also more rural than the rest of Macau and has several nature trails for hiking and biking. All major hotels in Macau have Spas and one can also opt for a relaxing day in any one of them. However, prostitution is legal in Macau and the term "sauna" is essentially used to name brothels. One must not confuse the two and exercise caution when approaching them.
The food and nightlife of Macau are at par with any urban city in the world, with several modern bars, clubs and fine dining restaurants within the hotels or as standalone establishments. One must sample Macanese cuisine to truly understand the people of Macau as the food represents the true mix of their Chinese and Portugueseheritage. Seafood and barbecue dishes are a major part of Macanese cuisine and several restaurants offer authentic fare. Portuguese Wine and Macau Beer are popular local beverages one must sample.
Macau is a place where the heritage of the west lives in harmony with the cultural influence of the east, a Mecca for gamblers and urban holidaymakers alike.
BEST TIME TO VISIT
Located between Mainland China and the South China Sea, Macau experiences both continental and ocean climates. It has 4 distinct seasons and has been known to face Typhoons from time to time.
Spring: Mild temperatures and pleasant sunshine with occasional rainfall and humidity largely characterize spring in Macau. Springtime in Macau is experienced during the months of March and April.
Summer: Beginning in May and lasting till September, summers here are hot, humid and wet. Heavy rainfall, thunderstorms, cyclones and typhoons are experienced during this time of year. In the event of typhoon warnings, most tourist activities come to a standstill. It is not advisable to travel to the region during the summer months.
Autumn: The best time of the year to visit Macau is in autumn, from October to December. Cool winds and mild temperatures are largely experienced throughout the region.
Winter: Winters in Macau are chilly with temperatures dropping as low as -10 C (50 F) owing to cold Siberian winds. Beginning in late December, winter lasts till February, which is the coldest month of the year.
GET IN
By Air: Macau International airport is located at Taipa. Several low cost carriers operate flights to Macau from cities like Kuala Lumpur, Bangkok, Manila and Seoul. There is also the quick but expensive Sky Shuttle Helicopter service to Macau's Terminal Maritimo from Hong Kong-Macau Ferry Pier and Shenzhen Airport.
By Boat: This is the most popular means of transport to Macau from Hong Kong and Mainland China.The main ferry terminal in Macau is the Macau Ferry Terminal. Several ferries operate here, to and from Hong Kong and Shekou and Fu Yong ports in China. One can take direct ferries from Hong Kong International Airport or Shenzhen International Airport (Fu Yong port) to Macau. There also ferry services from Jiangmen and neighboring Zhuhai.
By Road: There are two main entry points into Macau from China by road. The Portas do Cerco connects Zhuhai to the northern part of the Macau Peninsula and the Lotus Bridge, which connects Zhuhai with the Cotai Strip. Cars are required to have two number plates and drivers have to hold two driving licenses, one each from Macau and China. There are also several bus services operating from Guangzhou, Shenzhen Airport, Dongguan and Zuhai in China to Macau. Locals and residents of Mainland China who live orwork on either side also leave and enter on foot through the Portas do Cerco (Barrier Gate) and visitors are permitted to do the same.
GET AROUND
On Foot: This is the best way to explore the Macau Peninsula, which is small. However, it is not advisable to do the same when visiting the Cotai Strip as it has wide long streets and very little to see outdoors.
Scooter/Car Rental: While scooters are available on rent and are a fun way to explore the entire Macau region, car rental in not a popular option as the busy streets will be hard to navigate for tourists.
By Taxi: Taxis are available at all tourist entry points and elsewhere around the city. However, most taxi drivers speak only Cantonese and communication might be a problem. Ideally one is advised to carry the address of one's destination written in Chinese
By Bus/Shuttle Bus: There are busses run by three companies operating within Macau Peninsula and to Taipa, Cotai and Coloane. They have a fixed fair but routes maybe difficult to figure out as there are no English listings and the drivers speak mostly Cantonese. However, the websites of the bus companies offer detailed routes.
Shuttle Buses are free and are operated by most large casinos and hotels. Although meant to shuttle gamblers and guests of the casinos, the shuttle busses are complementary for all who wish to use them and ply between most popular tourist spots.
WHAT TO SEE
Macau is small; you can cover the entire region in just a few days.
Macau Peninsula: The Casino Lisboa, The Macau Tower, The ruins of Sao Paulo Cathedral, the Guia Fort and several other tourist spots are all on the main peninsula. It is a tourist haven with several eating, shopping and drinking destinations.
Taipa: It is separated from the mainland by the Pearl River and connected to by 3 bridges. An urban area, and largely residentional, Taipa also has several casinos, shopping malls and restaurants. The Macau Jockey Club Racecourse and Macau International Airport are both located in Taipa.
Cotai: The Cotai Strip has been fashioned similar to the Las Vegas Strip. All major world casinos namely the Venetian, MGM Grand and the City of Dreams are located on the strip. It is essentially reclaimed land that now connects the islands of Coloane and Taipa, which is how it derived its name.
Coloane: Coloane Village is a quiet getaway from the bustle of the neighboring peninsula. It's known for its quaint Portuguese houses and narrow lanes.Visit Coloane for its two famous beaches, HacSa and Cheouc Van. Also for some authentic Macanese cuisine on the beaches of HacSa. Also visit the 20m high A-Ma statue and surrounding cultural village.
FESTIVALS
Chinese New Year: In Macau, which has a predominantly Chinese population, the NewYear is celebrated in much the same way as in Hong Kong or Mainland China. Falling between the months of January and February of the Georgian calendar, the festivities last up to 15 days with the first 3 days proclaimed as public holidays in Macau.
A-Ma Festival: A-Ma, also known as Tin Mau is the goddess of the fishermen and sailors and the goddess from whom Macau gets its name. The A-Ma festival holds special significance to the people of Macau. It takes place in the month of April and offerings are made to the statue of the goddess. Chinese opera performances also take place during this time.
Dragon Boat Festival: Falling in the month of June, it is essentially a boat racing competition held in the Nam Van Lakes. The festival has an interesting history and is quite a spectacular display of dragon boats of all sizes.
Macau Grand Prix: The biggest event of the year, The Macau Grand Prix sees visitors and automobile enthusiasts from the world over. Formula 3 Cars, Motorcycles and Salon Cars take part in the races. Taking place in the month of November, it is held at the demanding Guia Circuit.
Do's and Dont's:
Dress in layers so as to adapt to the hot outdoor temperatures v/s cold air-conditioned indoor temperatures, as people have been known to fall sick owing to this contrast.
Stay indoors during typhoon warnings, as the storms in this region can be quite severe.
While the crime rate in Macau is quite low, tourist should be cautious of scams and touts offering cheap options for travel and accommodation and beware of pick pocketing in crowded areas.
Falun Gong is a religious/political organization that is banned in Mainland China. However, they harass tourists by forcing them to accept flyers and other literary handouts. Do not carry any of these into the Mainland, as they are illegal.
Tips are generally not expected in most Macau establishments (except in some luxury hotels), there is usually a service charge levied in the bill itself in lieu of tips.
Locals are friendly to tourists; however, most of the older generation speaks mostly Cantonese with a few who speak Portuguese or Mandarin.
An acceptable form of greeting is a handshake. No overt physical contact should be made such as hugging or kissing.
Prostitution is legal in Macau. Saunas are essentially brothels. Refrain from passing judgment or being vulgar about it.
Do not gift people white or yellow flowers, especially chrysanthemums, as these are used in funerals. Also avoid gifting anyone pears.
Searching for something specific?