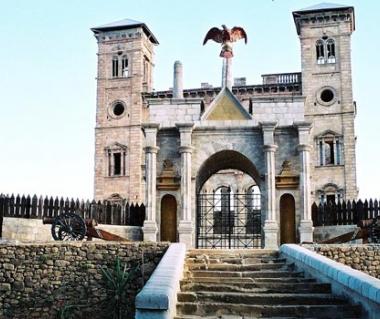 Madagascar Trip Planner
Plan your customized trip plan for Madagascar. Choose from Top Toursim cities and tourist attarctions of Madagascar using trip planner.
Madagascar Overview
In its seemingly sleepy spot just off the east coast of Southern Africa, Madagascar is an island rich in natural wonders. Although not the obvious choice for a holiday destination, millions of tourists have stumbled upon the wonderful treasure that is Madagascar and keep going back for more. Known for its beautiful beaches and wide variety of indigenous plant and animal life, the island offers a getaway like no other; literally taking visitors off the beaten track to experience a break from urban city living in a bid to refresh not only the body but also the soul as it creates a unique utopia of sand, sun and seas.
The Republic of Madagascar is the 4th largest island in the world and incorporates the two smaller islands of Nosy Be and Nosy Boraha as well as several other smaller peripheral islands. The main island is considered an ecological goldmine because over eighty percent of its plant life cannot be found anywhere else on Earth!
Climate
During the rainy season, the island experiences very heavy rainfall with high winds and sometimes cyclones in some areas as well. The summer months are beautifully hot and searing – perfect for days spent on the beach. The different regions of Madagascar experiences vast differences in weather where the east and west coasts can become unbearably hot during summer and the inland regions experience very cold winter nights.
Best Time To Travel
The best time to visit would be during April, October and November but it would be best to decide on which area you will be visiting and work from there. This is because for some areas, winter months are more pleasant than the summer ones. Madagascar rarely experiences very low temperatures during winter which makes it the perfect getaway for most of the year.
Travel Information
Getting To and Around
It is possible to reach Madagascar by sea although it is best to keep in mind that this form of transport is often uncomfortable for most due to rough seas. You can get a cargo ship from Kenya or Tanzania or enjoy a yacht trip from South Africa, Mauritius or Reunion. Air travel is more popular of course and there are a few major airlines that fly to Madagascar from Europe and South Africa, with Air Madagascar offering a direct route to the island for most Asian countries.
The island of Madagascar itself is covered in lush forests and thus the main way of traveling is offered by cargo boats that take you from one point of the island to another. There are trains and trams that operate inland as well as long distance buses. You will be able to rent a car or motorcycle for the time you spend on the island, which will give you more freedom with how much you see and how long you spend in any given area. Mountain bikes are considered an essential when on the island as locals depend on this mode of transport to get around. There are popular trails to visit as well.
Where To Stay
Antananarivo offers a selection of five star hotels like The Carlton Hotel and Sunny Hotel Antananarivo as well as budget accommodation like guest houses and smaller hotels such as La Residence and Guest House Les 3 Metis. You can do a simple online search to find accommodation best suited to your needs and budget.
What to see
The Andringitra National Park
The Andringitra mountains is a range that travels from north to south in Southern Madagascar. Some samples taken from the rocks have been dated as far back as 400 million years. The breathtaking beauty of the mountain range along with its unique bio- and cultural diversity make it a must see for all who visit the island.
Botanical And Zoological Gardens
Antananarivo is a bustling part of Madagascar with a lot to offer tourists in lieu of sights and activities. Two of the most popular attractions are the Botanical and Zoological Gardens situated here. Every year hundreds upon hundreds of visitors flock to these natural sights to take in their unique beauty.
Ambohimanga
Ambihimanga is one of the most popular destinations for people visiting Madagascar. It is also often referred to as the Forbidden City, Blue City and Holy City. Surrounded by lush forests and populated with sparse remains of ancient structures, Ambihimanga has an air of mystery and rich culture that can be associated with Madagascar's colourful history.
Ile Ste-Marie
Ile Ste-Marie is covered with thick vegetation under a awe-inspiring canopy of indigenous trees that make it virtuall inaccessible to visitors. The oldest church in Madagascar has its home here along with several clove plantations.
The East Coast
There are several tours available of the East Coast where you can take in the Baobabs, Lemurs, indigenous plants and wildlife and then of course the beautiful butterflies and chameleons at Mandraka Farm.
Nosy Komba
Nosy Komba is a tiny island that lies between its larger neighbour, Nosy Be and mainland Madagascar. There is no electricity on this island and not a car in sight, making it the perfect place to reconnect with nature at a most basic level. It is known for its beautiful beaches and emerald coloured water.
Where to be
Antananarivo
Antananarivo or Tana as it is often called, is a French community that is home to many historic sights. You can visit Queen's Palace, Royal Village or Merina Dynasty. Zoma Market is a popular attraction for locals as well as tourists and is the second largest market in the world. Visit Zoma to experience local shopping at its best.
Pandora Nightclub
Pandora Nightclub is the most popular attraction for nightlife in Antananarivo. Locals and tourists alike love the ambience created by the eclectic mix of African and French music, giving their holiday experience more of an exotic feel. The club usually doesn't fill up until after midnight, when the party crowds make their way into Antananarivo.
Events
Short Film Festival
The Madagascar Short Film Festival is a national festival that comprises of entries from aspiring locals and is the biggest of its kind on the island. The festival acts as a platform for filmmakers to be invited to international film festivals. Screenings are held and are followed by discussions about the entries as well as an awards ceremony.
Donia Festival
The Donia Festival is a huge tourist attraction. It is held on the island of Nosy Be which is just off the north-west coast of Madagascar. Sporting competitions are held for about a week after which a carnival acts as the opening event to five nights of evening concerts, fun and comeradie among locals and tourists alike.
Searching for something specific?