Best Time To Visit Mainz
Explore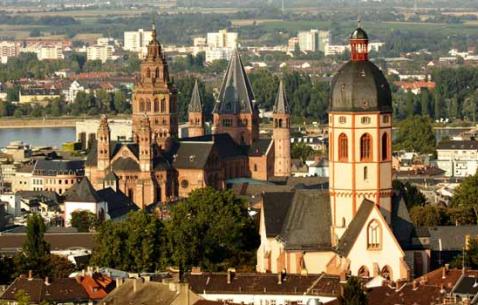 Best Time To Go To Mainz
Mainz experiences maritime climate with an annual average high of 14°C and low of 5.9°C.
Summer (June – August): The summers of Mainz are warm with an average temperature of 20°Celsius.
Winter (December – February): The temperatures in Mainz can drop down to 2°Celsius during the cold winters.
Spring (March – May): The spring generally has a pleasant weather where the temperatures range from around 10-15 degree Celsius.
Autumn (September – November): Mainz looks beautiful in the autumn where the temperature is around 9°Celsius.
The best time to visit Mainz is in late summer and autumn, during the months of August through November when the city is colourful with vineyards all around.
Best time to go to Mainz Attractions

: Monday to Saturday - 3:00 PM; Sunday 1:00 PM - 3:00 PM
: Monday to Saturday 1:00 PM - 3:00 PM; Sunday 1:00 PM - 3:00 PM
: Monday to Saturday 1:00 PM - 3:00 PM; Sunday 1:00 PM - 3:00 PM
: Monday to Saturday 1:00 PM - 3:00 PM; Sunday 2:00 PM - 3:00 PM
: Monday to Saturday 2:00 PM - 3:00 PM; Sunday 2:00 PM - 3:00 PM
: Monday to Saturday 2:00 PM - 3:00 PM; Sunday 2:00 PM - 3:00 PM
: Monday to Saturday 2:00 PM - 3:00 PM; Sunday 2:00 PM - 3:00 PM
: Monday to Saturday 2:00 PM - 3:00 PM; Sunday 2:00 PM - 3:00 PM
: Monday to Saturday 2:00 PM - 3:00 PM; Sunday 2:00 PM - 3:00 PM
: Monday to Saturday 2:00 PM - 3:00 PM; Sunday 1:00 PM - 3:00 PM
: Monday to Saturday 1:00 PM - 3:00 PM; Sunday 1:00 PM - 3:00 PM
: Monday to Saturday 1:00 PM - 3:00 PM; Sunday 1:00 PM - 3:00 PM

: Everyday 1:00 PM - 4:00 PM
: Everyday 1:00 PM - 4:00 PM
: Everyday 1:00 PM - 4:00 PM
: Everyday 1:00 PM - 4:00 PM
: Everyday 1:00 PM - 4:00 PM
: Everyday 1:00 PM - 4:00 PM
: Everyday 1:00 PM - 4:00 PM
: Everyday 1:00 PM - 4:00 PM
: Everyday 1:00 PM - 4:00 PM
: Everyday 1:00 PM - 4:00 PM
: Everyday 1:00 PM - 4:00 PM
: Everyday 1:00 PM - 4:00 PM

: Tuesday to Sunday 11:00 AM - 3:00 PM
: Tuesday to Sunday 11:00 AM - 3:00 PM
: Tuesday to Sunday 11:00 AM - 3:00 PM
: Tuesday to Sunday 11:00 AM - 3:00 PM
: Tuesday to Sunday 11:00 AM - 3:00 PM
: Tuesday to Sunday 11:00 AM - 3:00 PM
: Tuesday to Sunday 11:00 AM - 3:00 PM
: Tuesday to Sunday 11:00 AM - 3:00 PM
: Tuesday to Sunday 11:00 AM - 3:00 PM
: Tuesday to Sunday 11:00 AM - 3:00 PM
: Tuesday to Sunday 11:00 AM - 3:00 PM
: Tuesday to Sunday 11:00 AM - 3:00 PM

: Tuesday to Sunday 10:00 AM - 5:00 PM
: Tuesday to Sunday 10:00 AM - 5:00 PM
: Tuesday to Sunday 10:00 AM - 5:00 PM
: Tuesday to Sunday 10:00 AM - 5:00 PM
: Tuesday to Sunday 10:00 AM - 5:00 PM
: Tuesday to Sunday 10:00 AM - 5:00 PM
: Tuesday to Sunday 10:00 AM - 5:00 PM
: Tuesday to Sunday 10:00 AM - 5:00 PM
: Tuesday to Sunday 10:00 AM - 5:00 PM
: Tuesday to Sunday 10:00 AM - 5:00 PM
: Tuesday to Sunday 10:00 AM - 5:00 PM
: Tuesday to Sunday 10:00 AM - 5:00 PM

: Everyday 24 Hrs
: Everyday 24 Hrs
: Everyday 24 Hrs
: Everyday 24 Hrs
: Everyday 24 Hrs
: Everyday 24 Hrs
: Everyday 24 Hrs
: Everyday 24 Hrs
: Everyday 24 Hrs
: Everyday 24 Hrs
: Everyday 24 Hrs
: Everyday 24 Hrs

: Everyday 11:00 AM - 3:00 PM
: Everyday 11:00 AM - 3:00 PM
: Everyday 11:00 AM - 3:00 PM
: Everyday 11:00 AM - 3:00 PM
: Everyday 11:00 AM - 3:00 PM
: Everyday 11:00 AM - 3:00 PM
: Everyday 11:00 AM - 3:00 PM
: Everyday 11:00 AM - 3:00 PM
: Everyday 11:00 AM - 3:00 PM
: Everyday 11:00 AM - 3:00 PM
: Everyday 11:00 AM - 3:00 PM
: Everyday 11:00 AM - 3:00 PM

: Monday to Saturday 10:00 AM - 6:00 PM
: Monday to Saturday 10:00 AM - 6:00 PM
: Monday to Saturday 10:00 AM - 6:00 PM
: Monday to Saturday 10:00 AM - 6:00 PM
: Monday to Saturday 10:00 AM - 6:00 PM
: Monday to Saturday 10:00 AM - 6:00 PM
: Monday to Saturday 10:00 AM - 6:00 PM
: Monday to Saturday 10:00 AM - 6:00 PM
: Monday to Saturday 10:00 AM - 6:00 PM
: Monday to Saturday 10:00 AM - 6:00 PM
: Monday to Saturday 10:00 AM - 6:00 PM
: Monday to Saturday 10:00 AM - 6:00 PM

: Tuesday to Sunday 10:00 AM - 6:00 PM
: Tuesday to Sunday 10:00 AM - 6:00 PM
: Tuesday to Sunday 10:00 AM - 6:00 PM
: Tuesday to Sunday 10:00 AM - 6:00 PM
: Tuesday to Sunday 10:00 AM - 6:00 PM
: Tuesday to Sunday 10:00 AM - 6:00 PM
: Tuesday to Sunday 10:00 AM - 6:00 PM
: Tuesday to Sunday 10:00 AM - 6:00 PM
: Tuesday to Sunday 10:00 AM - 6:00 PM
: Tuesday to Sunday 10:00 AM - 6:00 PM
: Tuesday to Sunday 10:00 AM - 6:00 PM
: Tuesday to Sunday 10:00 AM - 6:00 PM

: Tuesday to Sunday 10:00 AM - 3:00 PM
: Tuesday to Sunday 10:00 AM - 3:00 PM
: Tuesday to Sunday 10:00 AM - 3:00 PM
: Tuesday to Sunday 10:00 AM - 3:00 PM
: Tuesday to Sunday 10:00 AM - 3:00 PM
: Tuesday to Sunday 10:00 AM - 3:00 PM
: Tuesday to Sunday 10:00 AM - 3:00 PM
: Tuesday to Sunday 10:00 AM - 3:00 PM
: Tuesday to Sunday 10:00 AM - 3:00 PM
: Tuesday to Sunday 10:00 AM - 3:00 PM
: Tuesday to Sunday 10:00 AM - 3:00 PM
: Tuesday to Sunday 10:00 AM - 3:00 PM

: Tuesday to Sunday 10:00 AM - 2:00 PM
: Tuesday to Sunday 10:00 AM - 2:00 PM
: Tuesday to Sunday 10:00 AM - 2:00 PM
: Tuesday to Sunday 10:00 AM - 2:00 PM
: Tuesday to Sunday 10:00 AM - 2:00 PM
: Tuesday to Sunday 10:00 AM - 2:00 PM
: Tuesday to Sunday 10:00 AM - 2:00 PM
: Tuesday to Sunday 10:00 AM - 2:00 PM
: Tuesday to Sunday 10:00 AM - 2:00 PM
: Tuesday to Sunday 10:00 AM - 2:00 PM
: Tuesday to Sunday 10:00 AM - 2:00 PM
: Tuesday to Sunday 10:00 AM - 2:00 PM

: Everyday 24 Hrs
: Everyday 24 Hrs
: Everyday 24 Hrs
: Everyday 24 Hrs
: Everyday 24 Hrs
: Everyday 24 Hrs
: Everyday 24 Hrs
: Everyday 24 Hrs
: Everyday 24 Hrs
: Everyday 24 Hrs
: Everyday 24 Hrs
: Everyday 24 Hrs

: Monday, Tuesday, Wednesday, Thursday, Saturday, Sunday 11:00 AM - 3:00 PM; Friday 11:00 AM - 3:00 PM
: Monday, Tuesday, Wednesday, Thursday, Saturday, Sunday 11:00 AM - 3:00 PM; Friday 11:00 AM - 3:00 PM
: Monday, Tuesday, Wednesday, Thursday, Saturday, Sunday 11:00 AM - 3:00 PM; Friday 11:00 AM - 3:00 PM
: Monday, Tuesday, Wednesday, Thursday, Saturday, Sunday 11:00 AM - 3:00 PM; Friday 11:00 AM - 3:00 PM
: Monday, Tuesday, Wednesday, Thursday, Saturday, Sunday 11:00 AM - 3:00 PM; Friday 11:00 AM - 3:00 PM
: Monday, Tuesday, Wednesday, Thursday, Saturday, Sunday 11:00 AM - 3:00 PM; Friday 11:00 AM - 3:00 PM
: Monday, Tuesday, Wednesday, Thursday, Saturday, Sunday 11:00 AM - 3:00 PM; Friday 11:00 AM - 3:00 PM
: Monday, Tuesday, Wednesday, Thursday, Saturday, Sunday 11:00 AM - 3:00 PM; Friday 11:00 AM - 3:00 PM
: Monday, Tuesday, Wednesday, Thursday, Saturday, Sunday 11:00 AM - 3:00 PM; Friday 11:00 AM - 3:00 PM
: Monday, Tuesday, Wednesday, Thursday, Saturday, Sunday 11:00 AM - 3:00 PM; Friday 11:00 AM - 3:00 PM
: Monday, Tuesday, Wednesday, Thursday, Saturday, Sunday 11:00 AM - 3:00 PM; Friday 11:00 AM - 3:00 PM
: Monday, Tuesday, Wednesday, Thursday, Saturday, Sunday 11:00 AM - 3:00 PM; Friday 11:00 AM - 3:00 PM

: Everyday 11:00 AM - 6:00 PM
: Everyday 11:00 AM - 6:00 PM
: Everyday 11:00 AM - 6:00 PM
: Everyday 11:00 AM - 6:00 PM
: Everyday 11:00 AM - 6:00 PM
: Everyday 11:00 AM - 6:00 PM
: Everyday 11:00 AM - 6:00 PM
: Everyday 11:00 AM - 6:00 PM
: Everyday 11:00 AM - 6:00 PM
: Everyday 11:00 AM - 6:00 PM
: Everyday 11:00 AM - 6:00 PM
: Everyday 11:00 AM - 6:00 PM

:
:
: Everyday 10:30 AM - 11:30 AM
: Everyday 10:30 AM - 11:30 AM
: Everyday 10:30 AM - 11:30 AM
: Everyday 10:30 AM - 11:30 AM
: Everyday 10:30 AM - 11:30 AM
: Everyday 10:30 AM - 11:30 AM
: Everyday 10:30 AM - 11:30 AM
: Everyday 10:30 AM - 11:30 AM
: Everyday 10:30 AM - 11:30 AM
:

: Tuesday to Sunday 11:00 AM - 4:00 PM
: Tuesday to Sunday 11:00 AM - 4:00 PM
: Tuesday to Sunday 11:00 AM - 4:00 PM
: Tuesday to Sunday 11:00 AM - 4:00 PM
: Tuesday to Sunday 11:00 AM - 4:00 PM
: Tuesday to Sunday 11:00 AM - 4:00 PM
: Tuesday to Sunday 11:00 AM - 4:00 PM
: Tuesday to Sunday 11:00 AM - 4:00 PM
: Tuesday to Sunday 11:00 AM - 4:00 PM
: Tuesday to Sunday 11:00 AM - 4:00 PM
: Tuesday to Sunday 11:00 AM - 4:00 PM
: Tuesday to Sunday 11:00 AM - 4:00 PM

: Everyday 10:30 AM - 4:00 PM
: Everyday 10:30 AM - 4:00 PM
: Everyday 10:30 AM - 4:00 PM
: Everyday 10:30 AM - 4:00 PM
: Everyday 10:30 AM - 4:00 PM
: Everyday 10:30 AM - 4:00 PM
: Everyday 10:30 AM - 4:00 PM
: Everyday 10:30 AM - 4:00 PM
: Everyday 10:30 AM - 4:00 PM
: Everyday 10:30 AM - 4:00 PM
: Everyday 10:30 AM - 4:00 PM
: Everyday 10:30 AM - 4:00 PM

: Sunday 10:00 AM - 11:00 AM
: Sunday 10:00 AM - 11:00 AM
: Sunday 10:00 AM - 11:00 AM
: Sunday 10:00 AM - 11:00 AM
: Sunday 10:00 AM - 11:00 AM
: Sunday 10:00 AM - 11:00 AM
: Sunday 10:00 AM - 11:00 AM
: Sunday 10:00 AM - 11:00 AM
: Sunday 10:00 AM - 11:00 AM
: Sunday 10:00 AM - 11:00 AM
: Sunday 10:00 AM - 11:00 AM
: Sunday 10:00 AM - 11:00 AM

: Monday to Friday 10:00 AM - 4:00 PM
: Monday to Friday 10:00 AM - 4:00 PM
: Monday to Friday 10:00 AM - 4:00 PM
: Monday to Friday 10:00 AM - 4:00 PM
: Monday to Friday 10:00 AM - 4:00 PM
: Monday to Friday 10:00 AM - 4:00 PM
: Monday to Friday 10:00 AM - 4:00 PM
: Monday to Friday 10:00 AM - 4:00 PM
: Monday to Friday 10:00 AM - 4:00 PM
: Monday to Friday 10:00 AM - 4:00 PM
: Monday to Friday 10:00 AM - 4:00 PM
: Monday to Friday 10:00 AM - 4:00 PM

: Monday to Friday 10:00 AM - 6:00 PM; Saturday 11:00 AM - 2:00 PM
: Monday to Friday 10:00 AM - 6:00 PM; Saturday 11:00 AM - 2:00 PM
: Monday to Friday 10:00 AM - 6:00 PM; Saturday 11:00 AM - 2:00 PM
: Monday to Friday 10:00 AM - 6:00 PM; Saturday 11:00 AM - 2:00 PM
: Monday to Friday 10:00 AM - 6:00 PM; Saturday 11:00 AM - 2:00 PM
: Monday to Friday 10:00 AM - 6:00 PM; Saturday 11:00 AM - 2:00 PM
: Monday to Friday 10:00 AM - 6:00 PM; Saturday 11:00 AM - 2:00 PM
: Monday to Friday 10:00 AM - 6:00 PM; Saturday 11:00 AM - 2:00 PM
: Monday to Friday 10:00 AM - 6:00 PM; Saturday 11:00 AM - 2:00 PM
: Monday to Friday 10:00 AM - 6:00 PM; Saturday 11:00 AM - 2:00 PM
: Monday to Friday 10:00 AM - 6:00 PM; Saturday 11:00 AM - 2:00 PM
: Monday to Friday 10:00 AM - 6:00 PM; Saturday 11:00 AM - 2:00 PM

: Everyday 24 Hrs
: Everyday 24 Hrs
: Everyday 24 Hrs
: Everyday 24 Hrs
: Everyday 24 Hrs
: Everyday 24 Hrs
: Everyday 24 Hrs
: Everyday 24 Hrs
: Everyday 24 Hrs
: Everyday 24 Hrs
: Everyday 24 Hrs
: Everyday 24 Hrs

: Everyday 24 Hrs
: Everyday 24 Hrs
: Everyday 24 Hrs
: Everyday 24 Hrs
: Everyday 24 Hrs
: Everyday 24 Hrs
: Everyday 24 Hrs
: Everyday 24 Hrs
: Everyday 24 Hrs
: Everyday 24 Hrs
: Everyday 24 Hrs
: Everyday 24 Hrs

: Everyday 24 Hrs
: Everyday 24 Hrs
: Everyday 24 Hrs
: Everyday 24 Hrs
: Everyday 24 Hrs
: Everyday 24 Hrs
: Everyday 24 Hrs
: Everyday 24 Hrs
: Everyday 24 Hrs
: Everyday 24 Hrs
: Everyday 24 Hrs
: Everyday 24 Hrs

: Everyday 24 Hrs
: Everyday 24 Hrs
: Everyday 24 Hrs
: Everyday 24 Hrs
: Everyday 24 Hrs
: Everyday 24 Hrs
: Everyday 24 Hrs
: Everyday 24 Hrs
: Everyday 24 Hrs
: Everyday 24 Hrs
: Everyday 24 Hrs
: Everyday 24 Hrs

: Everyday 24 Hrs
: Everyday 24 Hrs
: Everyday 24 Hrs
: Everyday 24 Hrs
: Everyday 24 Hrs
: Everyday 24 Hrs
: Everyday 24 Hrs
: Everyday 24 Hrs
: Everyday 24 Hrs
: Everyday 24 Hrs
: Everyday 24 Hrs
: Everyday 24 Hrs

: Everyday 24 Hrs
: Everyday 24 Hrs
: Everyday 24 Hrs
: Everyday 24 Hrs
: Everyday 24 Hrs
: Everyday 24 Hrs
: Everyday 24 Hrs
: Everyday 24 Hrs
: Everyday 24 Hrs
: Everyday 24 Hrs
: Everyday 24 Hrs
: Everyday 24 Hrs

: Everyday 24 Hrs
: Everyday 24 Hrs
: Everyday 24 Hrs
: Everyday 24 Hrs
: Everyday 24 Hrs
: Everyday 24 Hrs
: Everyday 24 Hrs
: Everyday 24 Hrs
: Everyday 24 Hrs
: Everyday 24 Hrs
: Everyday 24 Hrs
: Everyday 24 Hrs

: Everyday 24 Hrs
: Everyday 24 Hrs
: Everyday 24 Hrs
: Everyday 24 Hrs
: Everyday 24 Hrs
: Everyday 24 Hrs
: Everyday 24 Hrs
: Everyday 24 Hrs
: Everyday 24 Hrs
: Everyday 24 Hrs
: Everyday 24 Hrs
: Everyday 24 Hrs

: Everyday 24 Hrs
: Everyday 24 Hrs
: Everyday 24 Hrs
: Everyday 24 Hrs
: Everyday 24 Hrs
: Everyday 24 Hrs
: Everyday 24 Hrs
: Everyday 24 Hrs
: Everyday 24 Hrs
: Everyday 24 Hrs
: Everyday 24 Hrs
: Everyday 24 Hrs