by Aaditee Kulkarni Updated on 17 Dec 2018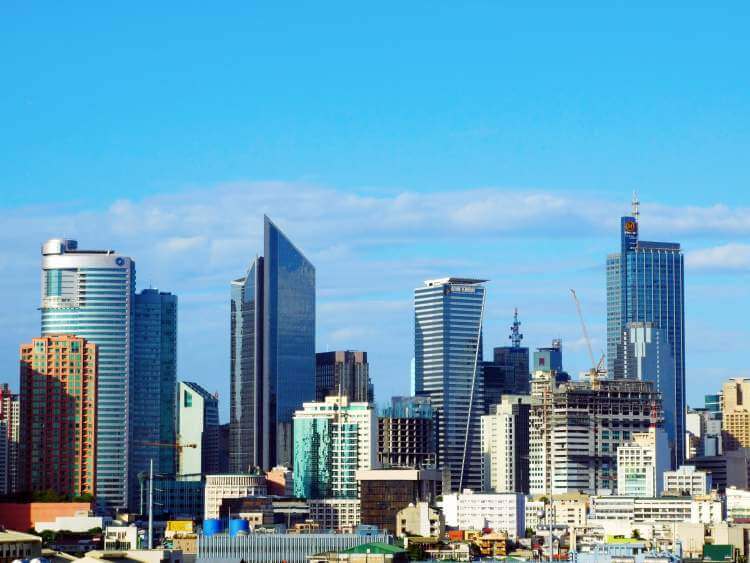 Image: Makati City, The Philippines via flickr
Makati - a vibrant city, the financial capital of Philippines, with cultural attractions and located just a little bit far away from the centre of Manila. It is one of the 16 metropolitan cities that make up the district of Manila, and also a major financial hub. Makati is not all about banks and business but also popular for local attractions. Don't miss out on the amazing sights at Makati City. It also has a list of fascinating tourist attractions you might want to visit while you are there – museums, parks, galleries, shopping malls, restaurants – you name it, and you have it. Check out the list of Makati attractions and activities to do.
Our list of what you can do in Makati City (Content Index):
Let's explore 15 best things to do in Makati City:
1. Know Filipino's History, Art, and Culture at the Ayala Museum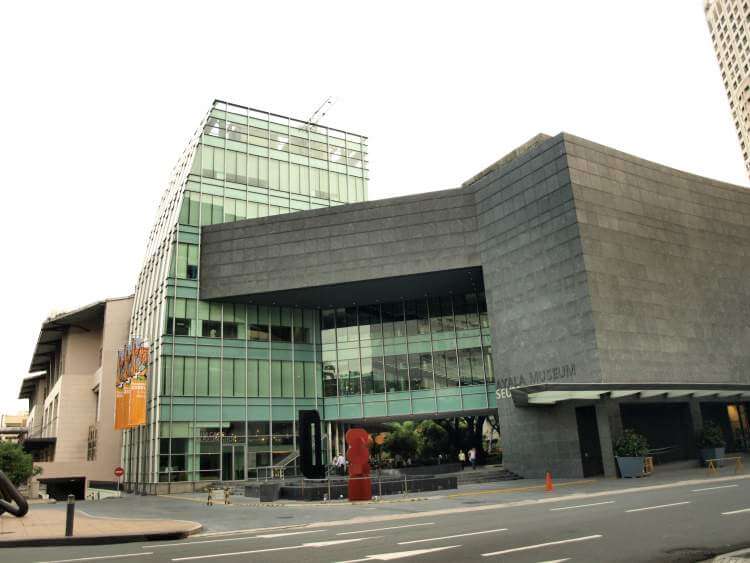 Image: Ayala Museum via flickr
One of the most popular place in Makati, the Ayala Museum is a complete exhibition of Filipino culture, their art and history, customs, traditions and significant milestones. The first-floor gallery is all about contemporary Filipino art, and as you go up, you will find more and more displays about almost everything exciting about the Philippines. If you are really into knowing everything about the country, take the audio tour guide.
2. Rest and Feel Rejuvenated at the Ayala Triangle Gardens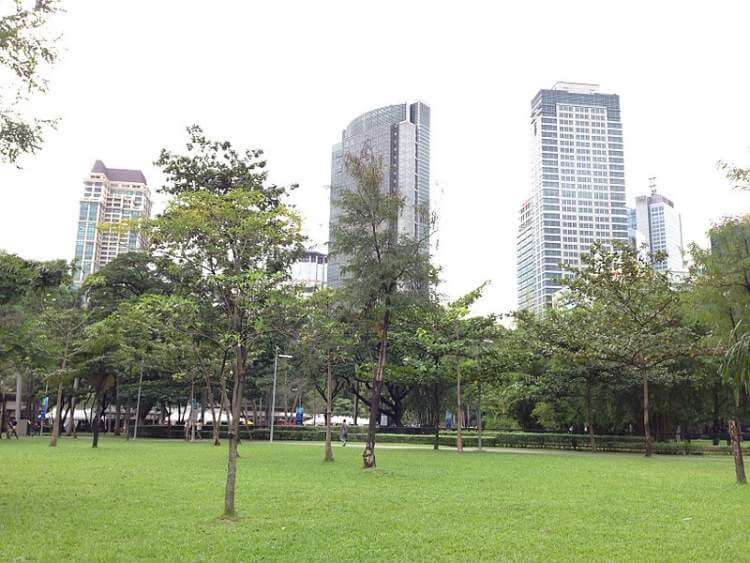 Image: Ayala Triangle Gardens via wikimedia
Right in the middle of sky-high buildings with shining windows and corporate facades, the Ayala Triangle Garden is a patch of refreshing green place. It has crisscrossing pathways for walking and jogging, benches for resting and adjacent eateries for refreshments. The garden decks up during the Yuletide season, which is celebrated massively in the Philippines.
3. View Historical Fine Art at Yuchengco Museum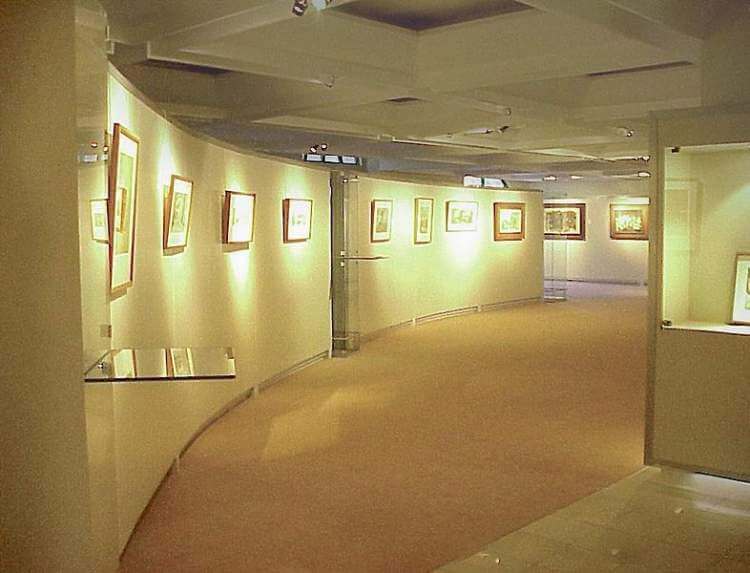 Image: Yuchengco Museum via wikimedia
Yuchengco Museum can give a tough competition to the Ayala Museum in terms of its collections. Housing some of the best specimens of historical fine art, the facility is a highly sophisticated one. There is a souvenir shop for gifts and books as well, from where you can take home some memorabilia of the place in Makati City.
4. Step 400 Years Back by Visiting the Guadalupe Ruins

Image: Guadalupe Ruins via facebook
The Guadalupe Ruins are a complete contrast from the rest of the city of Makati. It is a collection of 400-year-old churches amongst the skyscrapers and busy traffic. Experts say that they date back to 1629-30, and they were not only used for religious purposes but as a strategic fortress by Spanish conquerors. They still stand with their eerie looks and crumbling structure, bearing the weight of 400 years.
5. Appreciate Contemporary Architecture of the Greenbelt Chapel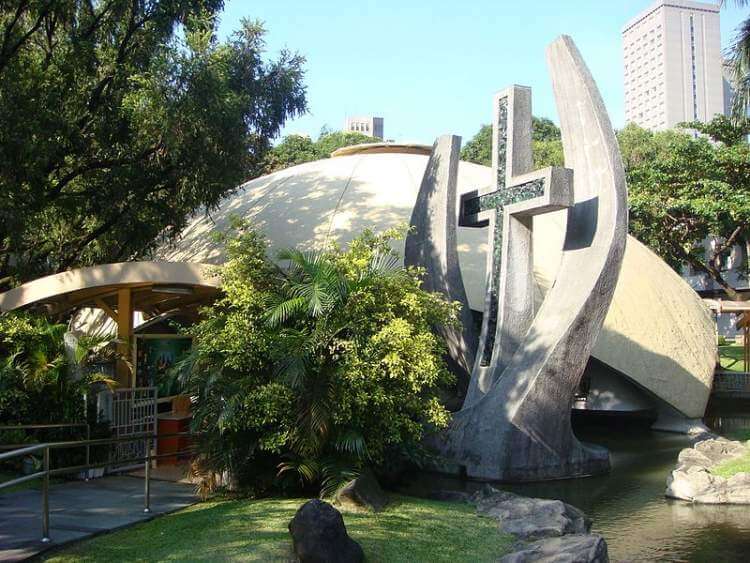 Image: Greenbelt Chapel via wikimedia
The Greenbelt Chapel is an absolute opposite of the Guadalupe regarding church architecture. This one is so contemporary that it almost does not look like a church at all. From the outside, it looks like a modern artwork in the middle of a park. Inside, the whole place looks almost surrealistic with the bright yellow tinted glasses and sunlight pouring in through them.
6. Have Fun at the Jethro Shooting Range

Image: Shooting Range via pxhere
Found by the only non-American to be the World Speed Shooting Champion, Jethro T. Dionisio, the indoor shooting range is a great place to blow off some steam and enjoy with friends. Makati has a great combination of historical and modern attractions, and this shooting range is a great example of the latter. They have guns to rent out for those who do not have their own. So even if you are an amateur at this, you can still give it a try.
7. Enjoy a Tour of the Leon Gallery

Image: Leon Gallery via facebook
Leon Gallery in Makati is completely dedicated towards the art buffs. It is considered to be the leading exhibitory store for art in the Philippines, showcasing both classic vintage art, and modern and contemporary ones. Run by the donations and enthusiasm of art scholars, you can see some of the best collections in the Leon Gallery. There is an antique collection from where you can make a purchase as well.
8. Treat Your Taste at The Salcedo Saturday Market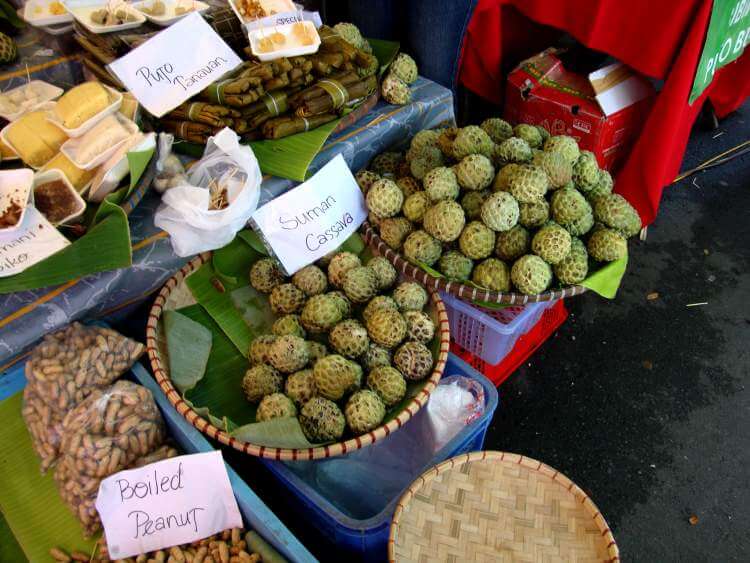 Image: Salcedo Saturday Market via flickr
The Salcedo Saturday Market is a feast for the foodies. Unlike most street markets in Philly, this one in Makati does not restrict itself to meat on a stick or fried doughs. You will find a lot of traditional homemade stuff like juice popsicles, jams and pickles. There are gourmet items available too like cream cheese with garlic; oven baked crostini or lobster rolls.
9. Have Fun Playing Billiards at the Puyat Sport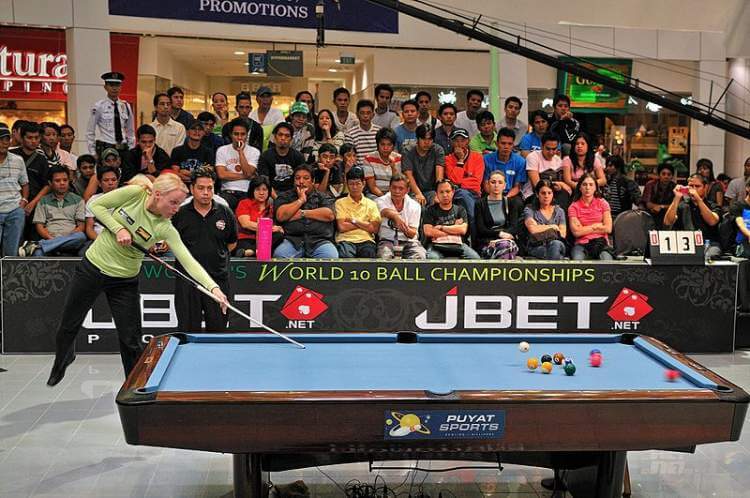 Image: The Puyat Sports via wikimedia
Puyat Sports is the place to go if you want to enjoy an evening of bowling, billiards, pool and lots of beers in Makati. There are at least a dozen table of billiards in the central hub, and an equal number of bowling alleys, where you can play for a couple of hours at a time. There are different price packages you can choose from.
10. Spend a Pleasant Afternoon in Jaime C Velasquez Park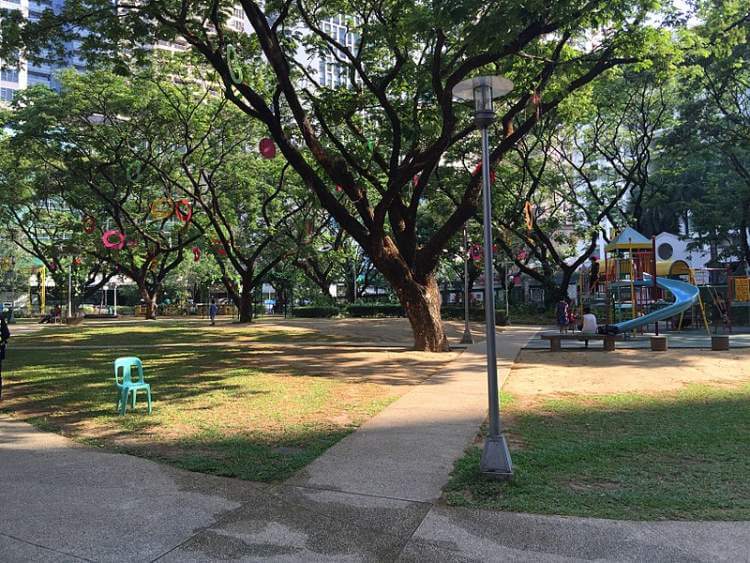 Image: Jaime C Velasquez Park via wikimedia
Not as big as the Ayala Triangle, but Jaime C Velasquez Park gives you every reason to visit. The towering trees, benches and the cool air make it an ideal place to spend an afternoon. Once the sun is down, you can taste some of the best Filipino street food specimens in the food market. All sorts of meat and seafood, grilled, baked, sauté and fried, along with smoothies and mojitos are on the menus.
11. Enjoy a Date-Night at Belle and Dragon Bar

Image: Belle and Dragon Bar via facebook
If you want to steer clear of Filipino style and go western for one night, the Belle and Dragon Bar all sorts of drinks and food that you are familiar with, but with a twist. It is open from breakfast until late night dinner. The signature items of the eatery are Ranch Skillet, Mix Berry Pancakes and a range of exquisite cocktails that go by the names of Lannister Money, Zero Tolerance, Date Night, et cetera. It is a perfect venue for a date with your significant other.
12. Admire Mesmerizing Skyline Views from Z Hostel Rooftop

Image: Z Hostel Rooftop
The Z Hostel Rooftop is a popular haunt of the Filipino people with great food and drinks and an even greater view. It offers happy hours from 5 to 8 PM. You can see the whole city of Makati and even the Manila skyline glittering in the distance from up there. It is the best place to make some new friends if you are new in the city.
13. Test Your Puzzle-solving Skills in Mystery Manila

Image: Mystery Manila
The world has fallen in love with the 'escape the room' game stations. It is fun and exciting and gives a rush of adrenaline. But unlike the usual thriller rides where you just have to sit tight and hold on, here you have to use your brain. Mystery Manila is a popular place in Makati, where you and your friends will be locked in a room for an hour, and you have to solve the puzzles and crack the riddles to get out. There are two theme rooms at present – Rebecca's Room and Sinister Sensorium.
14. Shop till You Drop at Market Market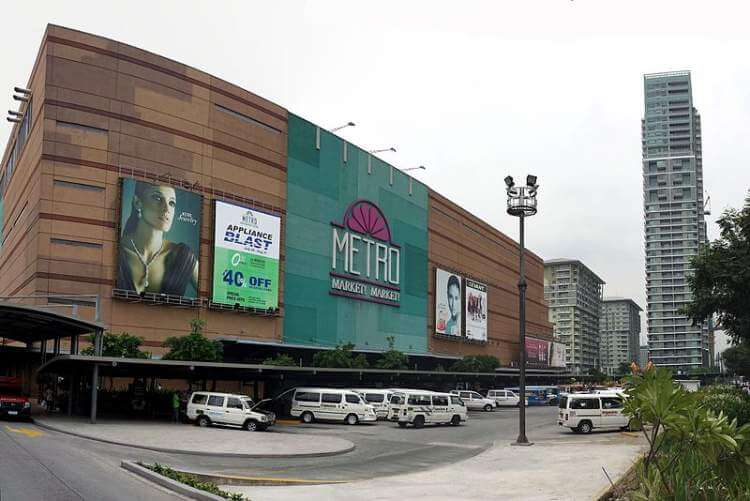 Image: Market Market via wikimedia
The name is uncommon, but the place is fascinating. Market Market is an air-conditioned shopping mall which has everything you are looking for. It has branded apparels, jewelry, high-end shops along with a movie plex and a great food-court serving Asian style cuisines. There is a flower market outside and a fountain as well.
15. Stroll through the Lovely Washington Sycip Park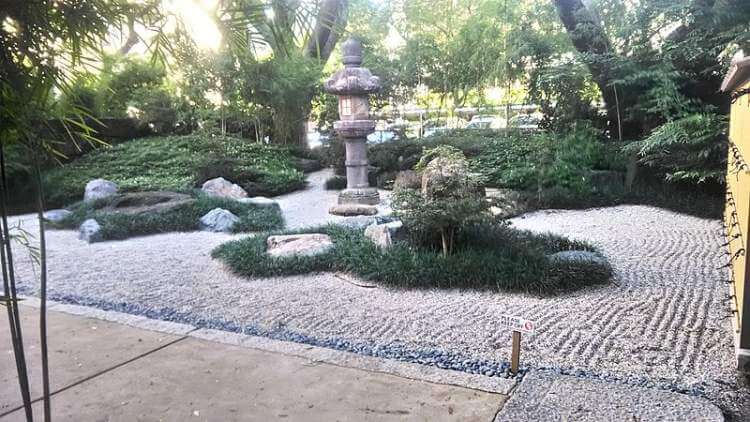 Image: Washington Sycip Park via wikimedia
Named after a Filipino accountant Washington Sycip, the park is home to numerous tropical plants, gazebos, benches, boards with different quotes by Sycip, a koi pond and different sculptures. It is the place to unwind yourself and take in some fresh air amidst the city of cacophony.
You will find all the public amenities and the usual entertainment and dine-out experiences you get back home. Makati is one of the cleanest and safest cities of Philippines, and being so close to the capital, traveling in Makati is very much comfortable and convenient.