Best Time To Visit Malaga
Explore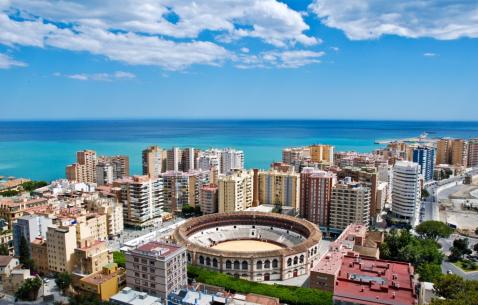 Best Time To Go To Malaga
Malaga boasts of the warmest winters in Europe and also has the highest number of sunny days. While the summers can get a tad bit uncomfortable, winters are mild and pleasant. The best time to visit Malaga is from October to March.
Summers: Summers here are long and hot but made bearable due to the winds from Mediterranean Sea. Typically, summers last eight months long and the warmest month is August, with temperatures ranging from 26 degree Celsius to 35 degree Celsius.
Winters: Unlike most of Europe, Malaga weather is predictable. There are rarely any large fluctuations in temperature which means you don't really need to depend on the weather man! Winters here are beautiful with mild temperatures and clear blue skies. In the coldest month, January, the temperature ranges from 12 to 20 degree Celsius during the day, 4 to 13 degree Celsius at night.
Best time to go to Malaga Attractions

: Monday 9:00 AM - 11:00 AM; Tuesday to Sunday 8:30 AM - 11:00 AM
: Monday 9:00 AM - 11:00 AM; Tuesday to Sunday 8:30 AM - 11:00 AM
: Monday 9:00 AM - 11:00 AM
: Monday 9:00 AM - 11:00 AM
: Monday 9:00 AM - 11:00 AM
: Monday 9:00 AM - 11:00 AM; Tuesday to Sunday 9:30 AM - 11:00 AM
: Monday 9:00 AM - 11:00 AM; Tuesday to Sunday 9:30 AM - 11:00 AM
: Monday 9:00 AM - 11:00 AM; Tuesday to Sunday 9:30 AM - 11:00 AM
: Monday 9:00 AM - 11:00 AM; Tuesday to Sunday 9:30 AM - 11:00 AM
: Monday 9:00 AM - 11:00 AM
: Monday 9:00 AM - 11:00 AM
: Monday 9:00 AM - 11:00 AM; Tuesday to Sunday 8:30 AM - 11:00 AM

: Tuesday to Sunday 10:00 AM - 1:00 PM
: Tuesday to Sunday 10:00 AM - 1:00 PM
: Tuesday to Sunday 10:00 AM - 1:00 PM
: Tuesday to Sunday 10:00 AM - 1:00 PM
: Tuesday to Sunday 10:00 AM - 1:00 PM
: Tuesday to Sunday 10:00 AM - 1:00 PM
: Tuesday to Sunday 10:00 AM - 1:00 PM
: Tuesday to Sunday 10:00 AM - 1:00 PM
: Tuesday to Sunday 10:00 AM - 1:00 PM
: Tuesday to Sunday 10:00 AM - 1:00 PM
: Tuesday to Sunday 10:00 AM - 1:00 PM
: Tuesday to Sunday 10:00 AM - 1:00 PM

: Monday to Saturday 11:00 AM - 3:00 PM
: Monday to Saturday 11:00 AM - 3:00 PM
: Monday to Saturday 11:00 AM - 3:00 PM
: Monday to Saturday 11:00 AM - 3:00 PM
: Monday to Saturday 11:00 AM - 3:00 PM
: Monday to Saturday 11:00 AM - 3:00 PM
: Monday to Saturday 11:00 AM - 3:00 PM
: Monday to Saturday 11:00 AM - 3:00 PM
: Monday to Saturday 11:00 AM - 3:00 PM
: Monday to Saturday 11:00 AM - 3:00 PM
: Monday to Saturday 11:00 AM - 3:00 PM
: Monday to Saturday 11:00 AM - 3:00 PM

: Tuesday to Sunday 9:00 AM - 3:00 PM
: Tuesday to Sunday 9:00 AM - 3:00 PM
: Everyday 9:00 AM - 6:00 PM
: Everyday 9:00 AM - 6:00 PM
: Everyday 9:00 AM - 6:00 PM
: Tuesday to Sunday 9:00 AM - 6:00 PM
: Tuesday to Sunday 9:00 AM - 6:00 PM
: Tuesday to Sunday 9:00 AM - 6:00 PM
: Tuesday to Sunday 9:00 AM - 6:00 PM
: Everyday 9:00 AM - 6:00 PM
: Everyday 9:00 AM - 6:00 PM
: Tuesday to Sunday 9:00 AM - 6:00 PM

: Everyday 5:00 PM - 8:00 PM
: Everyday 5:00 PM - 8:00 PM
: Everyday 5:00 PM - 8:00 PM
: Everyday 5:00 PM - 8:00 PM
: Everyday 5:00 PM - 8:00 PM
: Everyday 5:00 PM - 8:00 PM
: Everyday 5:00 PM - 8:00 PM
: Everyday 5:00 PM - 8:00 PM
: Everyday 5:00 PM - 8:00 PM
: Everyday 5:00 PM - 8:00 PM
: Everyday 5:00 PM - 8:00 PM
: Everyday 5:00 PM - 8:00 PM

: Tuesday to Sunday 11:00 AM - 7:00 PM
: Tuesday to Sunday 11:00 AM - 7:00 PM
: Tuesday to Sunday 11:00 AM - 7:00 PM
: Tuesday to Sunday 11:00 AM - 7:00 PM
: Tuesday to Sunday 11:00 AM - 7:00 PM
: Tuesday to Sunday 11:00 AM - 7:00 PM
: Tuesday to Sunday 11:00 AM - 7:00 PM
:
: Tuesday to Sunday 11:00 AM - 7:00 PM
: Tuesday to Sunday 11:00 AM - 7:00 PM
: Tuesday to Sunday 11:00 AM - 7:00 PM
: Tuesday to Sunday 11:00 AM - 7:00 PM

: Friday 4:00 PM - 11:59 PM; Saturday, Sunday 4:00 PM - 7:00 PM
: Friday 4:00 PM - 11:59 PM; Saturday, Sunday 4:00 PM - 7:00 PM
: Friday 4:00 PM - 11:59 PM; Saturday, Sunday 4:00 PM - 7:00 PM
: Friday 4:00 PM - 11:59 PM; Saturday, Sunday 4:00 PM - 7:00 PM
: Friday 4:00 PM - 11:59 PM; Saturday, Sunday 4:00 PM - 7:00 PM
: Friday 4:00 PM - 11:59 PM; Saturday, Sunday 4:00 PM - 7:00 PM
: Friday 4:00 PM - 11:59 PM; Saturday, Sunday 4:00 PM - 7:00 PM
: Friday 4:00 PM - 11:59 PM; Saturday, Sunday 4:00 PM - 7:00 PM
: Friday 4:00 PM - 11:59 PM; Saturday, Sunday 4:00 PM - 7:00 PM
: Friday 4:00 PM - 11:59 PM; Saturday, Sunday 4:00 PM - 7:00 PM
: Friday 4:00 PM - 11:59 PM; Saturday, Sunday 4:00 PM - 7:00 PM
: Friday 4:00 PM - 11:59 PM; Saturday, Sunday 4:00 PM - 7:00 PM

: Everyday 10:00 AM - 6:00 PM
: Everyday 10:00 AM - 6:00 PM
: Everyday 10:00 AM - 6:00 PM
: Everyday 10:00 AM - 6:00 PM
: Everyday 10:00 AM - 6:00 PM
: Everyday 10:00 AM - 6:00 PM
: Everyday 10:00 AM - 6:00 PM
: Everyday 10:00 AM - 6:00 PM
: Everyday 10:00 AM - 6:00 PM
: Everyday 10:00 AM - 6:00 PM
: Everyday 10:00 AM - 6:00 PM
: Everyday 10:00 AM - 6:00 PM

: Everyday 11:00 AM - 1:00 PM
: Everyday 11:00 AM - 1:00 PM
: Everyday 11:00 AM - 1:00 PM
: Everyday 11:00 AM - 1:00 PM
: Everyday 11:00 AM - 1:00 PM
: Everyday 11:00 AM - 1:00 PM
: Everyday 11:00 AM - 1:00 PM
: Everyday 11:00 AM - 1:00 PM
: Everyday 11:00 AM - 1:00 PM
: Everyday 11:00 AM - 1:00 PM
: Everyday 11:00 AM - 1:00 PM
: Everyday 11:00 AM - 1:00 PM

: Tuesday to Sunday 1:00 PM - 4:00 PM
: Tuesday to Sunday 1:00 PM - 4:00 PM
: Tuesday to Sunday 1:00 PM - 4:00 PM
: Tuesday to Sunday 1:00 PM - 4:00 PM
: Tuesday to Sunday 1:00 PM - 4:00 PM
: Tuesday to Sunday 1:00 PM - 4:00 PM
: Tuesday to Sunday 1:00 PM - 4:00 PM
: Tuesday to Sunday 1:00 PM - 4:00 PM
: Tuesday to Sunday 1:00 PM - 4:00 PM
: Tuesday to Sunday 1:00 PM - 4:00 PM
: Tuesday to Sunday 1:00 PM - 4:00 PM
: Tuesday to Sunday 1:00 PM - 4:00 PM

: Everyday 00:1 AM - 1:00 AM; Everyday 00:1 AM - 1:00 AM | 9:00 AM - 11:59 PM
: Everyday 00:1 AM - 1:00 AM; Everyday 00:1 AM - 1:00 AM | 9:00 AM - 11:59 PM
: Everyday 00:1 AM - 1:00 AM; Everyday 00:1 AM - 1:00 AM | 9:00 AM - 11:59 PM
: Everyday 00:1 AM - 1:00 AM; Everyday 00:1 AM - 1:00 AM | 9:00 AM - 11:59 PM
: Everyday 00:1 AM - 1:00 AM; Everyday 00:1 AM - 1:00 AM | 9:00 AM - 11:59 PM
: Everyday 00:1 AM - 1:00 AM; Everyday 00:1 AM - 1:00 AM | 9:00 AM - 11:59 PM
: Everyday 00:1 AM - 1:00 AM; Everyday 00:1 AM - 1:00 AM | 9:00 AM - 11:59 PM
: Everyday 00:1 AM - 1:00 AM; Everyday 00:1 AM - 1:00 AM | 9:00 AM - 11:59 PM
: Everyday 00:1 AM - 1:00 AM; Everyday 00:1 AM - 1:00 AM | 9:00 AM - 11:59 PM
: Everyday 00:1 AM - 1:00 AM; Everyday 00:1 AM - 1:00 AM | 9:00 AM - 11:59 PM
: Everyday 00:1 AM - 1:00 AM; Everyday 00:1 AM - 1:00 AM | 9:00 AM - 11:59 PM
: Everyday 00:1 AM - 1:00 AM; Everyday 00:1 AM - 1:00 AM | 9:00 AM - 11:59 PM

: Everyday 2:00 PM - 4:30 PM
: Everyday 2:00 PM - 4:30 PM
: Everyday 2:00 PM - 4:30 PM
: Everyday 2:00 PM - 6:00 PM
: Everyday 2:00 PM - 6:00 PM
: Everyday 2:00 PM - 6:00 PM
: Everyday 2:00 PM - 6:00 PM
: Everyday 2:00 PM - 6:00 PM
: Everyday 2:00 PM - 6:00 PM
: Everyday 2:00 PM - 4:30 PM
: Everyday 2:00 PM - 4:30 PM
: Everyday 2:00 PM - 4:30 PM

: Everyday 5:00 PM - 8:00 PM
: Everyday 5:00 PM - 8:00 PM
: Everyday 5:00 PM - 8:00 PM
: Everyday 5:00 PM - 8:00 PM
: Everyday 5:00 PM - 8:00 PM
: Everyday 5:00 PM - 8:00 PM
: Everyday 5:00 PM - 8:00 PM
: Everyday 5:00 PM - 8:00 PM
: Everyday 5:00 PM - 8:00 PM
: Everyday 5:00 PM - 8:00 PM
: Everyday 5:00 PM - 8:00 PM
: Everyday 5:00 PM - 8:00 PM

: Tuesday to Sunday 10:00 AM - 8:00 PM
: Tuesday to Sunday 10:00 AM - 8:00 PM
: Tuesday to Sunday 10:00 AM - 8:00 PM
: Tuesday to Sunday 10:00 AM - 8:00 PM
: Tuesday 10:00 AM - 2:00 PM; Wednesday to Saturday 9:00 AM - 11:00 AM; Sunday 10:00 AM - 11:00 AM
: Tuesday 10:00 AM - 2:00 PM; Wednesday to Saturday 9:00 AM - 11:00 AM; Sunday 10:00 AM - 11:00 AM
: Tuesday 10:00 AM - 2:00 PM; Wednesday to Saturday 9:00 AM - 11:00 AM; Sunday 10:00 AM - 11:00 AM
: Tuesday 10:00 AM - 2:00 PM; Wednesday to Saturday 9:00 AM - 11:00 AM; Sunday 10:00 AM - 11:00 AM
: Tuesday 10:00 AM - 2:00 PM; Wednesday to Saturday 9:00 AM - 11:00 AM; Sunday 10:00 AM - 11:00 AM
: Tuesday, Sunday 10:00 AM - 11:00 AM; Wednesday to Saturday 9:00 AM - 11:00 AM
: Tuesday, Sunday 10:00 AM - 11:00 AM; Wednesday to Saturday 9:00 AM - 11:00 AM
: Tuesday, Sunday 10:00 AM - 11:00 AM; Wednesday to Saturday 9:00 AM - 11:00 AM

: Everyday 2:00 PM - 4:00 PM
: Everyday 2:00 PM - 4:00 PM
: Everyday 2:00 PM - 4:00 PM
: Everyday 2:00 PM - 4:00 PM
: Everyday 2:00 PM - 4:00 PM
: Everyday 2:00 PM - 4:00 PM
: Everyday 2:00 PM - 4:00 PM
: Everyday 2:00 PM - 4:00 PM
: Everyday 2:00 PM - 4:00 PM
: Everyday 2:00 PM - 4:00 PM
: Everyday 2:00 PM - 4:00 PM
: Everyday 2:00 PM - 4:00 PM

: Tuesday to Sunday 11:00 AM - 2:00 PM
: Tuesday to Sunday 11:00 AM - 2:00 PM
: Tuesday to Sunday 11:00 AM - 2:00 PM
: Tuesday to Sunday 11:00 AM - 2:00 PM
: Tuesday to Sunday 11:00 AM - 2:00 PM
: Tuesday to Sunday 11:00 AM - 2:00 PM
: Tuesday to Sunday 11:00 AM - 2:00 PM
: Tuesday to Sunday 11:00 AM - 2:00 PM
: Tuesday to Sunday 11:00 AM - 2:00 PM
: Tuesday to Sunday 11:00 AM - 2:00 PM
: Tuesday to Sunday 11:00 AM - 2:00 PM
: Tuesday to Sunday 11:00 AM - 2:00 PM

: Everyday 9:00 PM - 10:30 PM
: Everyday 9:00 PM - 10:30 PM
: Everyday 9:00 PM - 10:30 PM
: Everyday 9:00 PM - 10:30 PM
: Everyday 9:00 PM - 10:30 PM
: Everyday 9:00 PM - 10:30 PM
: Everyday 9:00 PM - 10:30 PM
: Everyday 9:00 PM - 10:30 PM
: Everyday 9:00 PM - 10:30 PM
: Everyday 9:00 PM - 10:30 PM
: Everyday 9:00 PM - 10:30 PM
: Everyday 9:00 PM - 10:30 PM

: Everyday 8:00 PM - 11:59 PM
: Everyday 8:00 PM - 11:59 PM
: Everyday 8:00 PM - 11:59 PM
: Everyday 8:00 PM - 11:59 PM
: Everyday 8:00 PM - 11:59 PM
: Everyday 8:00 PM - 11:59 PM
: Everyday 8:00 PM - 11:59 PM
: Everyday 8:00 PM - 11:59 PM
: Everyday 8:00 PM - 11:59 PM
: Everyday 8:00 PM - 11:59 PM
: Everyday 8:00 PM - 11:59 PM
: Everyday 8:00 PM - 11:59 PM

: Everyday 10:00 AM - 5:00 PM
: Everyday 10:00 AM - 5:00 PM
: Everyday 10:00 AM - 5:00 PM
: Everyday 10:00 AM - 5:00 PM
: Everyday 10:00 AM - 5:00 PM
: Everyday 10:00 AM - 5:00 PM
: Everyday 10:00 AM - 5:00 PM
: Everyday 10:00 AM - 5:00 PM
: Everyday 10:00 AM - 5:00 PM
: Everyday 10:00 AM - 5:00 PM
: Everyday 10:00 AM - 5:00 PM
: Everyday 10:00 AM - 5:00 PM

: Everyday 11:00 AM - 2:00 PM
: Everyday 11:00 AM - 2:00 PM
: Everyday 11:00 AM - 2:00 PM
: Everyday 11:00 AM - 2:00 PM
: Everyday 11:00 AM - 2:00 PM
: Everyday 11:00 AM - 2:00 PM
: Everyday 11:00 AM - 2:00 PM
: Everyday 11:00 AM - 2:00 PM
: Everyday 11:00 AM - 2:00 PM
: Everyday 11:00 AM - 2:00 PM
: Everyday 11:00 AM - 2:00 PM
: Everyday 11:00 AM - 2:00 PM

: Everyday 11:00 AM - 11:59 PM
: Everyday 11:00 AM - 11:59 PM
: Everyday 11:00 AM - 11:59 PM
: Everyday 11:00 AM - 11:59 PM
: Everyday 11:00 AM - 11:59 PM
: Everyday 11:00 AM - 11:59 PM
: Everyday 11:00 AM - 11:59 PM
: Everyday 11:00 AM - 11:59 PM
: Everyday 11:00 AM - 11:59 PM
: Everyday 11:00 AM - 11:59 PM
: Everyday 11:00 AM - 11:59 PM
: Everyday 11:00 AM - 11:59 PM

: Monday, Wednesday, Thursday, Friday, Saturday, Sunday 11:00 AM - 4:00 PM
: Monday, Wednesday, Thursday, Friday, Saturday, Sunday 11:00 AM - 4:00 PM
: Monday, Wednesday, Thursday, Friday, Saturday, Sunday 11:00 AM - 4:00 PM
: Everyday 11:00 AM - 4:00 PM
: Everyday 11:00 AM - 4:00 PM
: Everyday 11:00 AM - 4:00 PM
: Everyday 11:00 AM - 4:00 PM
: Everyday 11:00 AM - 4:00 PM
: Everyday 11:00 AM - 4:00 PM
: Everyday 11:00 AM - 4:00 PM
: Monday, Wednesday, Thursday, Friday, Saturday, Sunday 11:00 AM - 4:00 PM
: Monday, Wednesday, Thursday, Friday, Saturday, Sunday 11:00 AM - 4:00 PM

: Everyday 5:00 PM - 7:00 PM
: Everyday 5:00 PM - 7:00 PM
: Everyday 5:00 PM - 7:00 PM
: Everyday 5:00 PM - 7:00 PM
: Everyday 5:00 PM - 7:00 PM
: Everyday 5:00 PM - 7:00 PM
: Everyday 5:00 PM - 7:00 PM
: Everyday 5:00 PM - 7:00 PM
: Everyday 5:00 PM - 7:00 PM
: Everyday 5:00 PM - 7:00 PM
: Everyday 5:00 PM - 7:00 PM
: Everyday 5:00 PM - 7:00 PM

: Everyday 10:00 AM - 1:00 PM
: Everyday 10:00 AM - 1:00 PM
: Everyday 10:00 AM - 1:00 PM
: Everyday 10:00 AM - 1:00 PM
: Everyday 10:00 AM - 1:00 PM
: Everyday 10:00 AM - 1:00 PM
: Everyday 10:00 AM - 1:00 PM
: Everyday 10:00 AM - 1:00 PM
: Everyday 10:00 AM - 1:00 PM
: Everyday 10:00 AM - 1:00 PM
: Everyday 10:00 AM - 1:00 PM
: Everyday 10:00 AM - 1:00 PM

: Monday to Saturday 10:00 AM - 1:00 PM
: Monday to Saturday 10:00 AM - 1:00 PM
: Monday to Saturday 10:00 AM - 1:00 PM
: Monday to Saturday 10:00 AM - 1:00 PM
: Monday to Saturday 10:00 AM - 1:00 PM
: Monday to Saturday 10:00 AM - 1:00 PM
: Monday to Saturday 10:00 AM - 1:00 PM
: Monday to Saturday 10:00 AM - 1:00 PM
: Monday to Saturday 10:00 AM - 1:00 PM
: Monday to Saturday 10:00 AM - 1:00 PM
: Monday to Saturday 10:00 AM - 1:00 PM
: Monday to Saturday 10:00 AM - 1:00 PM

: Everyday 11:00 AM - 5:00 PM
: Everyday 11:00 AM - 5:00 PM
: Everyday 11:00 AM - 5:00 PM
: Everyday 11:00 AM - 5:00 PM
: Everyday 11:00 AM - 5:00 PM
: Everyday 11:00 AM - 5:00 PM
: Everyday 11:00 AM - 5:00 PM
: Everyday 11:00 AM - 5:00 PM
: Everyday 11:00 AM - 5:00 PM
: Everyday 11:00 AM - 5:00 PM
: Everyday 11:00 AM - 5:00 PM
: Everyday 11:00 AM - 5:00 PM

: Everyday 9:00 PM - 11:59 PM
: Everyday 9:00 PM - 11:59 PM
: Everyday 9:00 PM - 11:59 PM
: Everyday 9:00 PM - 11:59 PM
: Everyday 9:00 PM - 11:59 PM
: Everyday 9:00 PM - 11:59 PM
: Everyday 9:00 PM - 11:59 PM
: Everyday 9:00 PM - 11:59 PM
: Everyday 9:00 PM - 11:59 PM
: Everyday 9:00 PM - 11:59 PM
: Everyday 9:00 PM - 11:59 PM
: Everyday 9:00 PM - 11:59 PM

: Everyday 11:00 AM - 7:00 PM
: Everyday 11:00 AM - 7:00 PM
: Everyday 11:00 AM - 7:00 PM
: Everyday 11:00 AM - 7:00 PM
: Everyday 11:00 AM - 7:00 PM
: Everyday 11:00 AM - 7:00 PM
: Everyday 11:00 AM - 7:00 PM
: Everyday 11:00 AM - 7:00 PM
: Everyday 11:00 AM - 7:00 PM
: Everyday 11:00 AM - 7:00 PM
: Everyday 11:00 AM - 7:00 PM
: Everyday 11:00 AM - 7:00 PM

: Everyday 7:00 PM - 10:00 PM
: Everyday 7:00 PM - 10:00 PM
: Everyday 7:00 PM - 10:00 PM
: Everyday 7:00 PM - 10:00 PM
: Everyday 7:00 PM - 10:00 PM
: Everyday 7:00 PM - 10:00 PM
: Everyday 7:00 PM - 10:00 PM
: Everyday 7:00 PM - 10:00 PM
: Everyday 7:00 PM - 10:00 PM
: Everyday 7:00 PM - 10:00 PM
: Everyday 7:00 PM - 10:00 PM
: Everyday 7:00 PM - 10:00 PM

: Everyday 8:00 AM - 10:00 AM
: Everyday 8:00 AM - 10:00 AM
: Everyday 8:00 AM - 10:00 AM
: Everyday 8:00 AM - 10:00 AM
: Everyday 8:00 AM - 10:00 AM
: Everyday 8:00 AM - 10:00 AM
: Everyday 8:00 AM - 10:00 AM
: Everyday 8:00 AM - 10:00 AM
: Everyday 8:00 AM - 10:00 AM
: Everyday 8:00 AM - 10:00 AM
: Everyday 8:00 AM - 10:00 AM
: Everyday 8:00 AM - 10:00 AM