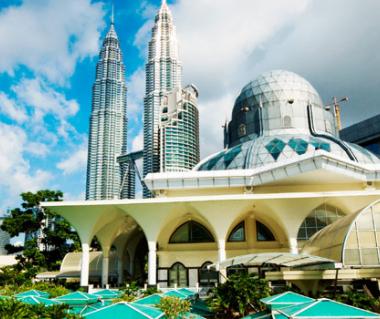 Malaysia Trip Planner
Plan your customized trip plan for Malaysia. Choose from Top Toursim cities and tourist attarctions of Malaysia using trip planner.
Malaysia Overview
To know Malaysia is to love Malaysia. Malaysia, one of the most beautiful cities in Southeast Asia immersed in rich cultural and traditional heritage has emerged to be a great holiday destination for the tourist around the world today. A bubbling, bustling melting pot of races and religions where Malays, Indians, Chinese and many other ethnic groups live together in peace and harmony. Malaysia, in every sense of the word is truly 'cosmopolitan'. Multiculturalism has not only made Malaysia a gastronomical paradise, but it has also made Malaysia home to hundreds of colorful festivals. As a society, Malaysians are very laid back, warm and friendly.
The fascinating city of Malaysia offers a lot of options to the travelers by its pristine beaches, deep blue sea, and water games, or the exotic islands swamped with luxury hotels and marvelous resorts, elegant shopping complexes, restaurant's and dining halls combined with excellent hospitality and therefore it has become the trendsetter for holiday goers' from around the globe.
Best time to visit Malaysia
Malaysia is good to visit year round. Weather wise the best time to visit Malaysia is between the months of May till September when the average temperature remains around 28 degrees Celsius. Malaysia receives heavy rains from mid-October till January therefore if you want to enjoy the beach then try and avoid these months. If not water sports these months are the ideal time to enjoy the Malaysian Mega Sale Carnival and year-end festivities like Christmas, New Year's Eve, Chinese New Year and Hari Raya Puasa.
Getting to Malaysia
By Air :-
Malaysia is pretty well connected to the rest of the world by air. Most major airlines regularly fly to Kuala Lumpur International Airport, 70 km south of the city. Besides this, travelers can fly from some of Malaysia's neighboring countries – including Singapore, Thailand and Indonesia- either directly or through a connecting flight to some cities other than Kuala Lumpur.
By Rail :-
Malaysia is well connected to the neighboring countries of Singapore and Thailand. There are daily train connections from both countries to Malaysia. The train takes 2 days to Bangkok and 7 – 10 hours to Singapore.
By Road :-
There are regular bus services to Malaysia from Both Singapore and Thailand. Taxis can be hired or cars rented to do the trip. Either way, its an extremely comfortable and pleasant way to arrive in Malaysia, as the roads are good and the scenery spectacular. :-
What to see and experience
Sightseeing:
Kuala Lumpur : The capital city is a cosmopolitan, modern city boasting a thriving business and commercial centre with an old world charm of its own. The city also lays claim to the world's tallest buildings, a Formula I Grand Prix track and glittering shops and malls.
Penang: Penang Hill, the 'Pearl of the Orient" is the best known of all Malaysian tourist destination. Ships and cruisers loaded with holidaymakers on an oriental tour must stopover at its mystical temples and palm-fringed beaches. Penang is the oldest British settlement in Malaysia.
Langkawi: Langkawi Island, an archipelago of more than 104 islands of which Langkawi is the only habited one, makes it the centre piece of an ocean paradise. Its priceless treasures are the sea, golden beaches, thick green forests and calm blue lakes that entice and permanently enrapture the visitor. It is the 'Island of Legends' with a myth and story hidden in each curve and contour of the island. Dinning out in Malaysia-
Malaysia (particularly along the peninsular west coast) has one of the best assortments of cuisines in the world. Start with Chinese-Malay 'Nonya' fare, move on to Indian curries, Chinese buffets, Malay food stalls and even impressive Western food. Yet despite all the pockets of ethnicities, religions, landscapes and the sometimes-great distances between them, the beauty of Malaysia lies in the fusion of it all, into a country that is one of the safest, most stable and manageable in Southeast Asia.
Some of the other cities that you can definitely include in your plan are Genting Highlands, Ipoh, Melaka, Johor Bahru and the list is nearly endless.
Shopping:
Malaysia is a 'shopper's paradise', because you can get virtually anything under the sun, at very competitive prices and often duty free too. Large cities like Kuala Lumpur have huge department stores where international brands- including designer labels- is readily available. There is also no end to the smaller shops, art galleries and emporia where you can buy traditional Malaysian handicrafts. Another interesting feature of Malaysian cities are the 'pasarmalam' (night markets) set up by vendors who move their caravan-like stalls from place to place; here, as in other 'tamus' (town markets in Sabah) or 'Sunday markets', there are invariably large crowds, and a lot of bargaining.
Events
Malaysia calendar is full with fairs and festivals and this proves that the country is rich in culture and traditions and celebrates all the special days with great enthusiasm, joy and happiness. It is almost certain no country in the world celebrates fairs and festivals as Malaysia do. Although the country celebrates fairs and festivals all the year round, but among the many some of the famous Malaysia festival are as follows-
Chinese New year Moon Festival Nine emperors god Festival Ramadan and Hariraya Colors of Malaysia Christmas
Apart from all these festivals the shopping festivals of Malaysia are very famous it also known as "International Tourism Carnival". To get a glimpse of these events one must Visit Malaysia during the months of March, August & December.
Searching for something specific?