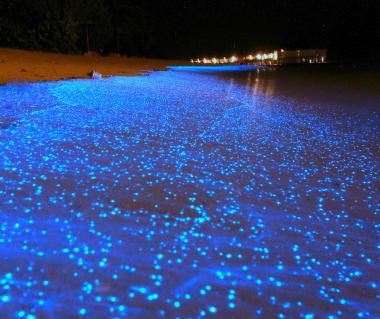 Maldives Trip Planner
Plan your customized trip plan for Maldives. Choose from Top Toursim cities and tourist attarctions of Maldives using trip planner.
Maldives Overview
So, the next thing on your wanderlust wishlist is to plan a trip to Maldives? And now you are wondering how and where to start from? We have all the Maldives tourist information over here!
As with most remote islands, some of the best adventures in the Maldives are to be had in the ocean. Particularly renowned are sunset cruises offered on most of the 200 inhabited islands (out of a total of 2000) Maldives is an Island Nation, sometimes called the Maldives Islands, located in the Indian Ocean near India and Sri Lanka. It is the most geographically dispersed country in the whole world. The island is famous for its deep blue sky, brilliant white sands, and sparkling sun kissed beaches, tropical palms and much more. The country embraces travellers from around the world allowing them the freedoms holiday makers require without compromising the islands' deep Muslim faith one bit.
Once you are in Maldives you can expect to find yourself clicking with joy as scores of dolphins put on an effortless natural display that you won't find at any marine park. Another popular excursion is Maldives night fishing, where even the lamest landlubber can expect to reel in a snapper. You must include night fishing in your Maldives vacation planner. During the day it's a tossup between sunbathing or donning a snorkel and chasing angelic reef fish through corridors of coral.
A trip to Maldives will include perfect places to sit on a beach and watch a sunset with a cocktail balanced on your hand. It is also a geographical marvel, knowing that there are thousands of fish swimming around the vivid corals just a few feet away from where you sit.
This is an exciting time to create a Maldives itinerary and visit a country in developmental frenzy. Every few months brings newly opened resorts from top end boutique brands to ecologically sound back-to-nature hotels. Not cheap even at the bottom end, this is a place for a holiday of a lifetime (and that phrase suddenly takes on a new meaning here). Maldives tourism demands the attention of anyone looking for a uniquely indulgent break, breathtaking nature and sheer beauty that will stay with you long after your tan has faded. And for nations situated close by, Maldives is a perfect weekend getaway.
BEST TIME TO VISIT MALDIVES:
While working on your Maldives itinerary planner, keep the following points in mind:
The best tourist season is from December to March when the Maldives weather is sunny and warm. Tourist activity peaks around the Christmas-New Year week. It's wise to book in advance for this time. February to April is the hottest period and resorts are almost all operating at capacity during this period. Mid-December to early January comes at even more of a premium due to Christmas and New Year and prices are even higher. Easter and the Italian holiday week in August also attract peak prices at most resorts, especially the Italian-oriented ones.
Diving is good year-round, although a basic rule is that life on the reef is more varied and visibility better on the western side of any atoll from May to November and from the eastern side of any atoll December to April. This means you'd be wise to choose your resort accordingly.
For surfers, the best time to visit Maldives is from March to October, which is great as this is when resorts are cheapest. Professional Surfers prefer visiting Maldives in May and June.
In conclusion, to answer the question of when to visit Maldives, there is no bad time to plan a Maldives tour, although if you're interested in spending time by doing interesting things to do in Male Maldives or any other inhabited islands, Ramazan is a time to avoid as restaurants are closed and people aren't always at their most receptive.
GETTING TO MALDIVES:
If you look at the map of Maldives, you'll realise it is a country made up of a lot many tiny islands. However, the routes to reaching Maldives are limited.
By Air: The main Maldives airport is the Male International Airport located in the Hulhule Island, 2.5 km from the capital. There are many flights to Maldives island from Delhi, Sri Lanka, Kuala Lumpur and all other major cities of South East Asia.
By Sea: There are no cruises to Maldives and very few private yachts are willing to go there, as the duties are prohibitively high and the coral reef difficult to negotiate. The best way is to fly to Maldives.
PLACES TO STAY
As mentioned previously, there is no dearth of resorts in Maldives. Ranging from splurge worthy to pocket friendly, for water sports lovers to environment lovers, here is a list of top 10 resorts in Maldives:
Four Seasons Resort at Kuda Huraa: For the adventurous souls and the water babies, the Four Seasons Resort is situated only a few minutes away from some of the best surfing spots in Maldives. This resort also offers complimentary windsurfing, sailing, wakeboarding and water-skiing.
Anantara Kihavah Villas: An ideal resort for Maldives honeymooners and for people who are in search of some peace and solace.
Cocoa Island: If budget is not a constraint for you, head over to the resort at Cocoa Island. Part of Christina Ong's luxury hotel brand COMO, Cocoa has been consistently rated one of the best resorts in Maldives.
Reethi Beach Resort: If you are on a shoe string budget while exploring Maldives, pick Reethi Beach Resort as your place of accommodation.
Taj Exotica: If you want to have your privacy, head over to Taj Exotica. The accommodations over here redefine the term 'over water villas'.
Soneva Fushi: Soneva Fushi is arguably the best family friendly resort in Maldives. It offers jungle tours, 'Robinson Crusoe' picnics, open air cinema and cookery classes for its children customers.
Jumeirah Dhevanafushi: This one is for the VIPs! If you have the moolah, head over to Jumeirah Dhevanafushi. Divided into two areas, the exclusive Ocean Pearls is a group of villas located 800 meters away from the main island.
Huvafen Fushi: The Huvafen Fushi is the best Maldives spa resort. It has underwater spa rooms! The very first of its kind in the world.
W Retreat and Spa: The W has a cool vibe to it. One for social butterflies and nightlife lovers, the resort offers many drinking spots and also has an underground nightclub!
Six Senses Laamu: For the visitors who are environmental friendly and worry about their ecological footprint, the Six Senses is the only resort in the Laamu Atoll which was built with minimal impact on the environment. Everything over here, from the jetty to the floorings and furniture has been made with recycled materials.
THINGS TO DO AND SEE IN MALDVIES
Beaches:
The main thing to expect on your Maldives holidays is exotic beaches! Maldives is a heaven of beautiful beaches with coconut trees and tropical fruit everywhere. Owing to these tempting beaches, the Maldives attracts thousands of tourists every year. The shades of blue, turquoise and subtle greens spread along the white beaches, provide the much needed relaxation and rejuvenation to the eyes and to the soul.The most popular among all the beaches are Banyan Tree Island, Nika Island, Cocoa Island and Nalaguraaidhoo in the South Ari Atoll.
Maldives Artificial Beach: Although the Maldives has lots of sandy white beaches along its coastline, the artificial beach was built specially for the Maldivians to enjoy and relax in tough summers. This artificial beach also hosts lots of activities like water sports, live music shows, carnivals, festivals and parades throughout the year. Quite popular with residents and tourists alike, it's a wonderful place for a good swim and to get some fresh air. Do visit it while on your Maldives vacation.
Snorkelling and Diving: The Maldives offer the best sites for snorkelling and deep sea diving. There are almost 30 dive resorts all over the islands and they provide an excellent service for diving enthusiasts to enjoy the beautiful underwater world to their hearts. The mild and moderate temperature of sea water makes it a perfect spot to dive and explore the coral reefs, flora and fauna and excellent marine life with clear visibility. A motorboat takes the divers away from the shore to enjoy snorkeling in the deep sea. Include snorkelling and diving in your 'things to do in Maldives' list.
Ithaa Underwater Restaurant: Ithaa Underwater Restaurant is the world's first of its kind. This amazing all-glass restaurant showcases the real marine life as it sits 16 feet below the Indian Ocean. It has been designed with perfection in arch shape and is an absolutely wondrous place to dine amidst the stunning marine life. It is located within a coral reef and can entertain 14 diners at one time. It provides a 180 degree panoramic view of the fabulous marine life through its glass walls. The location of the restaurant makes it a pretty safe place which stood strong to shield itself against the strong waves of the tsunamis. A must visit while on your Maldives voyage with family and kids.
The Iru: The Iru is situated on the seashore and gives a magnificent view of the crystal clear waters while you drink your favorite fruit cocktail or sip the awesome tea served at this open-air unique bar. Enjoy the drinks while taking a barefoot stroll on the sand along the coastline.
Shopping:
Male is bursting with shops and stalls that sell everything from fresh fruit to sophisticated toiletries and lovely light cotton sarongs in myriad colours. The Baa Atoll has many handicraft shops. These have local ware like lacquer inlaid earrings and ornamental knick-knacks, and cotton sarongs. Maldives imports most of its consumer goods including furniture for the hotels so things are nowhere near cheap. But the local stuff like the succulent fruits are great and sarongs will make friends at home happy.
Maldives Honeymoon: For newly married couples, Maldives is a dream honeymoon destination. With romantic pristine beaches, quaint secluded resorts, delicious food and therapeutic massages at many of the Maldives spas; it is a surreal place indeed to go on a honeymoon.
Island Hopping: If you have planned a trip to Maldives for a longer duration, we suggest island hopping. Naifaru, Male, Dhiddhoo, Maafushi, Rasdhoo, Felidhoo, Muli, Nilandhoo, Veymandoo and Vilingili are some of the best places to visit in Maldives in december. Do cover these islands during your Maldives sightseeing.
Events:
Maldives celebrates various events and festivals with great joy and enthusiasm. The festivals and events reflect the varied culture and heritage of the Island. Eid is an important festival that is celebrated by the Muslims in Maldives. All Muslims offer special prayers to Allah after which official processions are carried out. The festivities consist of various games and musical performances on the island. People wear new clothes, get together for feasting, exchange gifts and also distribute sweets amongst their family and friends to celebrate the auspicious day. Independence Day is celebrated by Maldivian locals on 26 July with dances and parades of brightly coloured floats and displays of traditional dancing. The day is officially celebrated in Republic Square in the capital city of Maldives, Male. Other Maldives events and festivals that are celebrated with pomp and glory are Islam Day in April, Ramadan in October, Victory Day and Republic Day in November.
Searching for something specific?