Things to do in Mammoth Lakes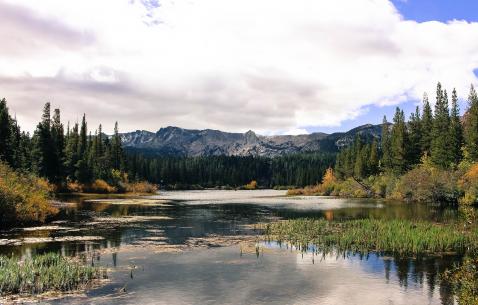 15 Best Things To Do in Mammoth Lakes
1. Get snowy at the Mammoth Mountain
A popular ski area in California, Mammoth Mountain is a lava dome that has formed due to series of volcanic eruptions. Located at a 5-hour drive from Los Angeles, Mammoth Mountain is a popular weekend gateway, thanks to its many hiking and biking trails. The mountain receives about 400" annual snowfall and is home to the Mammoth Mountain Ski Area, the highest ski resort in California. Winter activities at Mammoth Mountain include skiing, snowboarding, and snowmobile, while the summer activities include camping, fishing, biking, and ski gondolas among many others.
2. Mammoth Mountain Scenic Gondola
Panorama Gondola, or simply Mammoth Mountain Scenic Gondola is a scenic gondola ride up the scenic Mammoth Mountain. One of the best things to do in Mammoth Lakes, the gondola ride will take you 11,000 feet high up. Once up there, you can enjoy the breath-taking panoramic views of not only the mountain but also the surrounding beauty. Of the many things to do, you can enjoy a nice meal at Eleven53 Café, or take your kids to the interactive centre to learn more about the wonder of the Sierra. For every paying adult, up to two kids (under the age of 12) can ride for free.
3. Watch the true alpine beauty along Crystal Lake Trail
The Crystal Lake Trail is a picturesque trail that leads to the Crystal Lake in Mammoth Lakes. One of the unusual things to do in the Mammoth Lakes Basin. Perfect for people of all age groups, the hike trail is very scenic, and the roundtrip comes to approximately 3.5 miles. Start your trail from Lake George and make way along the make way along the marked path. Also, along the trail, you will be treated to beautiful views of the Crystal Crag which is a 10000 feet high monolith granite. The hike is not very strenuous, and you can take your kids along with you.
4. Travel back in time at the Mammoth Ski Museum
Mammoth Ski Museum is located in Mammoth Lakes in California covers the rich history of ski and other winter sports activities and is one of the top attractions in the area. Skiing has been in practice for many centuries now and this museum has chronicled many exhibits that do justice to this sport. One of the most loved collections at this museum is the Beekley Collection. Consisting of more than 10,000 historic artefacts that includes photographs, paintings, and works of literature. Also located here is The Pioneer Theatre that features daily shows. The admission to this museum is free.
5. Marvel at the nature's creation at the Devils Postpile National Monument
Located in the eastern California, close to the town on Mammoth Lakes, the Devils Postpile National Monument is an unusual rock formation that is made up of columnar basalt. Spread across 798 acres of land, this monument consists of two attractions – the Devils Postpile formation and Rainbow Falls. Another attraction of this park is that the John Muir Trail and Pacific Crest Trail merge and pass through this monument. The flora and fauna of the area is very similar to that of Sierra Nevada. Wondering about things to do around Mammoth Lakes, head to the Devils Postpile National Monument.
6. Have twice the fun at the Twin Lakes
Located along the south-eastern slope of Mammoth Mountain, Twin Lakes are a set of lakes that are connected at the base. Situated inside the Inyo National Forest, these lakes are located in eastern Sierra Nevada. The lakes have a very bizarre yet beautiful landscape. On one side of the lake you will see the lava cliffs, while on the other, you have the lush forests. There are many resorts located alongside the lake. One of the best places to visit in the town of Mammoth Lakes, this resort will help you get one with the nature.
7. History and beauty come together at the Convict Lake
Situated in the Sherwin Range of the Sierra Nevada, the Convict Lake is a beautiful fishing lake. The lake lies at an elevation of 7,850 ft (2,393 m), was previously known as 'Wit-sa-nap' and later renamed as the Convict Lake by a group of white settlers who had escaped from the prison. Today, the lake is used for recreational purposes and is one of the top attractions in Mammoth Lakes Basin. Known for its fishing activities, this lake is rich in Rainbow trout, German brown trout, and a species of sucker fish that attracts people from all over the state.
8. One of nature's spectacle - Hot Creek Geological Site
One of the geological marvels, the Hot Creek Geological Site sees boiling water bubble up from the creek along with periodic geyser eruptions. Here, the chamber of hot magma lies only 3 miles below the surface of the earth, hence the phenomenon. This site is located close to the Convict Lake and make up for an absolutely unmissable site. One of the points of interest in Mammoth Lakes Basin, extra care must be take while visiting this site. The water is extremely hot and hence going close to the water is not advisable.
9. Walk through the alpine jungles at the Minaret Vista
Minaret Vista is a hiking trail with lot of adventure activities. Located along the Minaret Lake, this trail has many breathe-taking sites along its path. The trail is an intermediate level with 2.3 miles (3.7 kilometres) of one-way path. One of the things to do around the Minaret Lake, the Minaret Vista cannot be missed. During winters, activities like skiing and snowmobiling are available. On a clear sunny day, you would be treated to the panoramic views from the Minarets to the White Mountain Range.
10. Enjoy a family day out at Mammoth Creek Park
Mammoth Creek Park is a beautiful neighbourhood park and one of the top attractions in Mammoth Lakes. Perfect for a family day-out, this park is a must visit. Carry a picnic with you and turn your visit into a fun day. The park has play areas that are specially designed play areas for toddlers and school-age children. This park has all the basic amenities like restrooms, parking, picnic tables, and drinking water. This park is closed during the winters.
11. Breathe taking wonder of the Twin Falls Overlook
Twin Falls Overlook is a specially designed view-point that overlooks two waterfalls with a scenic background of lakes and mountains. One of the points of interest in the area, this place is very easy to access and must not be missed. You will have to climb up a few steps to reach the top, but the view from the top is absolutely amazing. If you plan to visit, make sure you carry a light jacket with you as the place gets very breezy.
12. Drown yourself in the local draft beer at Mammoth Tavern
Located along with the Old Mammoth Road, the Mammoth Tavern is a bar for an easy night out. Experience some of the best food in town along with draft beer right here. Wondering what things to do around the town, head to this bar for some great music and delectable food. While here, do not miss out on the rib eye steak.
13. Enjoy the best whiskey in town at the Clocktower Cellar
A visit to Clocktower Cellar will end your search for the best whiskey in the town. Established in 1993, this place was formed by two brothers, Kirk and Robert Schaubmayer and boasts a never seen before collection of draft beers. This place has an amazing ambience and is a favourite among the locals. Featuring a great collection of food menu and wines that come from 13 different countries, Clocktower Cellar is one of the top attractions in town.
14. Hike your way through the Shady Rest Park
The Shady Rest Park is a summer park located in the town of Mammoth Lakes. Wondering what to do while in town, head to this park for an unparalleled experience. The park has a few trails where you can go hiking. The blue trail will offer you great views of the valley and the lakes. But if you are not feeling very adventurous, you can simply lay down and spend a day under one of the trees of the park.
15. Get the best of Sierra at the Agnew Meadows Trailhead
Agnew Meadows Trailhead is quiet and peaceful. If you wish to go right into the heart of the nature, you must gear up and embark on this trail. One of the top things to do near Mammoth Lakes, this trail will treat you to scenic views of the Sierra. There are many trails here: River Trail, Shadow Lake trail, Pacific Crest Trail, Agnew Pass, and Pacific Crest Trail. Some of the most beautiful peaks in the area like Banner Peak, Mt. Ritter, and the Minarets can be reached by this trail. Camping is available along this trail.
Explore the travel planning tool for your visit to Mammoth Lakes and create a flawless plan in few simple steps!
20 Tourist Attractions in Mammoth Lakes

Must see places in Mammoth Lakes ranked on popularity. Here is the complete list of best attractions in Mammoth Lakes and point of interests to visit.
Tourist Attractions Near Mammoth Lakes
Find Your Mammoth Lakes Attractions on Map
Types of Things To Do in Mammoth Lakes
Find more attractions and places to visit in Mammoth Lakes under these things to do categories.
Find more places to see in Mammoth Lakes
Horseshoe Lake

4500 Lake Mary Rd

Lakes
View On Map
Mammoth Ski Museum

100 College Pkwy

Museums

Mammoth Lakes Museum, Hayden Cabin

5489 Sherwin Creek

Museums

Mammoth Museum

5489 Sherwin Creek

Museums

Southern Mono Historical Society

5489 Sherwn Crk

Museums
View On Map
Wild Willy's Mammoth Arcade

437 Old Mammoth Rd

Arcades

Amusement Parks
View On Map
Mammoth Brewing Company

18 Lake Mary Rd

Breweries

Restaurants

Bars

McCoy Station

1 Minaret Rd

Bars

Restaurants

The EATery

18 Lake Mary Rd

Pizza

Bars

Mammoth Tavern

587 Old Mammoth Rd

American

Bars

Bistro Restaurant Sports Bar

51 Club Dr

Bars

Restaurants

Black Doubt Brewing Company

452 Old Mammoth Rd

Breweries

Bars

Restaurants
View On Map
Devils Postpile National Monument

Pacific Crest

Natural Parks

Lake Tenaya Yosemite National Park

Natural Parks
View On Map
Rush Creek On June Lake Loop

Beaches
View On Map
Duck Pass Trailhead

Coldwater Creek

Hiking

Panorama Dome Trailhead

Lake Mary Rd

Hiking

Deadman's Pass Summit

Hiking

French Camp In Rock Creek Canyon

Hiking

Sherwin Lake Trailhead

Sherwin Trail

Hiking

Mammoth Mountain Bike Park

1 Minaret Rd

Hiking
View On Map
Troutfitter

3011 Main St

Hunting and Fishing

Hot Creek Ranch

85 Hot Creek Hatchery Rd

Hunting and Fishing

Sierra Drifters Guide Service

1645 Crowley Lake Dr

Hunting and Fishing

Performance Anglers

26 Old Mammoth Rd

Hunting and Fishing

Performance Anglers Guide Service

Hunting and Fishing

Perforance Guide Service

Hunting and Fishing
View On Map
Whitmore Recreation Area

904 Benton Crossing Rd

Stadiums and Arenas
View On Map
Mammoth Mountain Scenic Gondola

1 Minaret Rd

Monuments and Memorials

Devils Postpile National Monument

Monuments and Memorials
View On Map
What To Do in Mammoth Lakes: Day-Wise Ideas
Find what not to miss in Mammoth Lakes! Recommended Mammoth Lakes itineraries and vacation ideas created by travelers across the world.