Best Time To Visit Marne-la-vallee
Explore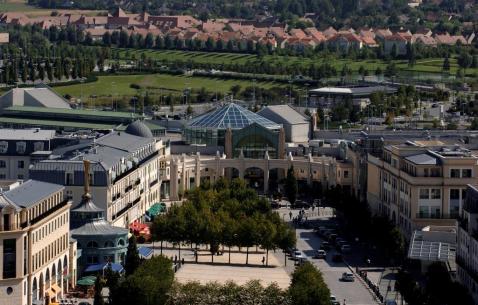 Best Time To Go To Marne-la-vallee
The weather in Marne-la-Vallee is often unpredictable and you don't know when there might be unlikely showers. The weather is often mild throughout the year.
Summer (June – August): Summers are long with temperatures about 19.5°C.
Winter (December – February): The average temperature is around 5°c in winter.
Spring (March – May): Spring sees a temperature of around 14°C.
Autumn (September – November): The average temperature of Autumn is about 16°C.
The best time to visit the place is around June to August.
Best time to go to Marne-la-vallee Attractions

: Everyday 10:00 AM - 1:00 PM
: Everyday 10:00 AM - 1:00 PM
: Everyday 10:00 AM - 1:00 PM
: Everyday 10:00 AM - 1:00 PM
: Everyday 10:00 AM - 1:00 PM
: Everyday 10:00 AM - 1:00 PM
: Everyday 10:00 AM - 1:00 PM
: Everyday 10:00 AM - 1:00 PM
: Everyday 10:00 AM - 1:00 PM
: Everyday 10:00 AM - 1:00 PM
: Everyday 10:00 AM - 1:00 PM
: Everyday 10:00 AM - 1:00 PM

: Everyday 10:00 AM - 11:00 AM
: Everyday 10:00 AM - 11:00 AM
: Everyday 10:00 AM - 11:00 AM
: Everyday 10:00 AM - 11:00 AM
: Everyday 10:00 AM - 11:00 AM
: Everyday 10:00 AM - 11:00 AM
: Everyday 10:00 AM - 11:00 AM
: Everyday 10:00 AM - 11:00 AM
: Everyday 10:00 AM - 11:00 AM
: Everyday 10:00 AM - 11:00 AM
: Everyday 10:00 AM - 11:00 AM
: Everyday 10:00 AM - 11:00 AM

: Everyday 10:00 AM - 5:00 PM
: Everyday 10:00 AM - 5:00 PM
: Everyday 10:00 AM - 5:00 PM
: Everyday 10:00 AM - 5:00 PM
: Everyday 10:00 AM - 5:00 PM
: Everyday 10:00 AM - 5:00 PM
: Everyday 10:00 AM - 5:00 PM
: Everyday 10:00 AM - 5:00 PM
: Everyday 10:00 AM - 5:00 PM
: Everyday 10:00 AM - 5:00 PM
: Everyday 10:00 AM - 5:00 PM
: Everyday 10:00 AM - 5:00 PM

: Everyday 11:00 AM - 2:00 PM
: Everyday 11:00 AM - 2:00 PM
: Everyday 11:00 AM - 2:00 PM
: Everyday 11:00 AM - 2:00 PM
: Everyday 11:00 AM - 2:00 PM
: Everyday 11:00 AM - 2:00 PM
: Everyday 11:00 AM - 2:00 PM
: Everyday 11:00 AM - 2:00 PM
: Everyday 11:00 AM - 2:00 PM
: Everyday 11:00 AM - 2:00 PM
: Everyday 11:00 AM - 2:00 PM
: Everyday 11:00 AM - 2:00 PM

: Everyday 11:00 AM - 4:00 PM
: Everyday 11:00 AM - 4:00 PM
: Everyday 11:00 AM - 4:00 PM
: Everyday 11:00 AM - 4:00 PM
: Everyday 11:00 AM - 4:00 PM
: Everyday 11:00 AM - 4:00 PM
: Everyday 11:00 AM - 4:00 PM
: Everyday 11:00 AM - 4:00 PM
: Everyday 11:00 AM - 4:00 PM
: Everyday 11:00 AM - 4:00 PM
: Everyday 11:00 AM - 4:00 PM
: Everyday 11:00 AM - 4:00 PM

: Everyday 11:00 AM - 1:00 PM
: Everyday 11:00 AM - 1:00 PM
: Everyday 11:00 AM - 1:00 PM
: Everyday 11:00 AM - 1:00 PM
: Everyday 11:00 AM - 1:00 PM
: Everyday 11:00 AM - 1:00 PM
: Everyday 11:00 AM - 1:00 PM
: Everyday 11:00 AM - 1:00 PM
: Everyday 11:00 AM - 1:00 PM
: Everyday 11:00 AM - 1:00 PM
: Everyday 11:00 AM - 1:00 PM
: Everyday 11:00 AM - 1:00 PM

: Everyday 11:00 AM - 1:00 PM
: Everyday 11:00 AM - 1:00 PM
: Everyday 11:00 AM - 1:00 PM
: Everyday 11:00 AM - 1:00 PM
: Everyday 11:00 AM - 1:00 PM
: Everyday 11:00 AM - 1:00 PM
: Everyday 11:00 AM - 1:00 PM
: Everyday 11:00 AM - 1:00 PM
: Everyday 11:00 AM - 1:00 PM
: Everyday 11:00 AM - 1:00 PM
: Everyday 11:00 AM - 1:00 PM
: Everyday 11:00 AM - 1:00 PM

: Everyday 11:00 AM - 1:00 PM
: Everyday 11:00 AM - 1:00 PM
: Everyday 11:00 AM - 1:00 PM
: Everyday 11:00 AM - 1:00 PM
: Everyday 11:00 AM - 1:00 PM
: Everyday 11:00 AM - 1:00 PM
: Everyday 11:00 AM - 1:00 PM
: Everyday 11:00 AM - 1:00 PM
: Everyday 11:00 AM - 1:00 PM
: Everyday 11:00 AM - 1:00 PM
: Everyday 11:00 AM - 1:00 PM
: Everyday 11:00 AM - 1:00 PM

: Wednesday to Sunday 11:00 AM - 2:00 PM
: Wednesday to Sunday 11:00 AM - 2:00 PM
: Wednesday to Sunday 11:00 AM - 2:00 PM
: Wednesday to Sunday 11:00 AM - 2:00 PM
: Wednesday to Sunday 11:00 AM - 2:00 PM
: Wednesday to Sunday 11:00 AM - 2:00 PM
: Wednesday to Sunday 11:00 AM - 2:00 PM
: Wednesday to Sunday 11:00 AM - 2:00 PM
: Wednesday to Sunday 11:00 AM - 2:00 PM
: Wednesday to Sunday 11:00 AM - 2:00 PM
: Wednesday to Sunday 11:00 AM - 2:00 PM
: Wednesday to Sunday 11:00 AM - 2:00 PM

: Tuesday 2:00 PM - 4:00 PM
: Tuesday 2:00 PM - 4:00 PM
: Tuesday 2:00 PM - 4:00 PM
: Tuesday to Sunday 2:00 PM - 4:00 PM
: Tuesday to Sunday 2:00 PM - 4:00 PM
: Tuesday to Sunday 2:00 PM - 4:00 PM
: Tuesday to Sunday 2:00 PM - 4:00 PM
: Tuesday to Sunday 2:00 PM - 4:00 PM
: Tuesday to Sunday 2:00 PM - 4:00 PM
: Tuesday 2:00 PM - 4:00 PM
: Tuesday 2:00 PM - 4:00 PM
: Tuesday 2:00 PM - 4:00 PM

: Everyday 10:00 AM - 11:00 AM
: Everyday 10:00 AM - 11:00 AM
: Everyday 10:00 AM - 11:00 AM
: Everyday 10:00 AM - 11:00 AM
: Everyday 10:00 AM - 11:00 AM
: Everyday 10:00 AM - 11:00 AM
: Everyday 10:00 AM - 11:00 AM
: Everyday 10:00 AM - 11:00 AM
: Everyday 10:00 AM - 11:00 AM
: Everyday 10:00 AM - 11:00 AM
: Everyday 10:00 AM - 11:00 AM
: Everyday 10:00 AM - 11:00 AM

: Everyday 24 Hrs
: Everyday 24 Hrs
: Everyday 24 Hrs
: Everyday 24 Hrs
: Everyday 24 Hrs
: Everyday 24 Hrs
: Everyday 24 Hrs
: Everyday 24 Hrs
: Everyday 24 Hrs
: Everyday 24 Hrs
: Everyday 24 Hrs
: Everyday 24 Hrs