Best Time To Visit Marrakesh
Explore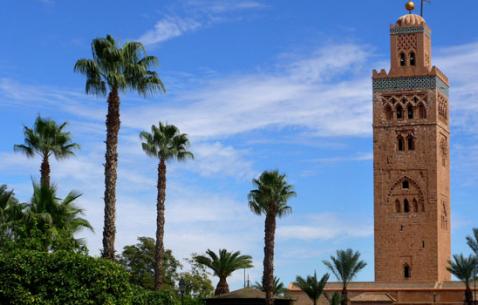 Accommodations with

See All
Best Time To Go To Marrakesh
Marrakech has favorable climate almost all year round. You can always visit this city and never be disappointed.
July-September: Although, the place is flooded with Moroccan's returning to their place and is also a tourist's popular season, the crowded city will not let you have a peaceful vacation if you are looking for the same.
November-May: This period is amazing with mild winters and warm yet bearable sunshine.
Explore the best travel planner for your visit to Marrakesh and create a flawless plan in few simple steps!
Best time to go to Marrakesh Attractions

: Everyday 8:00 AM - 5:30 PM
: Everyday 8:00 AM - 5:30 PM
: Everyday 8:00 AM - 5:30 PM
: Everyday 8:00 AM - 5:30 PM
: Everyday 8:00 AM - 6:00 PM
: Everyday 8:00 AM - 6:00 PM
: Everyday 8:00 AM - 6:00 PM
: Everyday 8:00 AM - 6:00 PM
: Everyday 8:00 AM - 6:00 PM
: Everyday 8:00 AM - 5:30 PM
: Everyday 8:00 AM - 5:30 PM
: Everyday 8:00 AM - 5:30 PM

: Everyday 6:00 AM - 1:00 PM
: Everyday 6:00 AM - 1:00 PM
: Everyday 6:00 AM - 1:00 PM
: Everyday 6:00 AM - 1:00 PM
: Everyday 6:00 AM - 1:00 PM
: Everyday 6:00 AM - 1:00 PM
: Everyday 6:00 AM - 1:00 PM
: Everyday 6:00 AM - 1:00 PM
: Everyday 6:00 AM - 1:00 PM
: Everyday 6:00 AM - 1:00 PM
: Everyday 6:00 AM - 1:00 PM
: Everyday 6:00 AM - 1:00 PM

: Everyday 10:00 AM - 1:00 PM
: Everyday 10:00 AM - 1:00 PM
: Everyday 10:00 AM - 1:00 PM
: Everyday 10:00 AM - 1:00 PM
: Everyday 10:00 AM - 1:00 PM
: Everyday 10:00 AM - 1:00 PM
: Everyday 10:00 AM - 1:00 PM
: Everyday 10:00 AM - 1:00 PM
: Everyday 10:00 AM - 1:00 PM
: Everyday 10:00 AM - 1:00 PM
: Everyday 10:00 AM - 1:00 PM
: Everyday 10:00 AM - 1:00 PM

: Everyday 4:00 PM - 5:00 PM
: Everyday 4:00 PM - 5:00 PM
: Everyday 4:00 PM - 5:00 PM
: Everyday 4:00 PM - 5:00 PM
: Everyday 4:00 PM - 5:00 PM
: Everyday 4:00 PM - 5:00 PM
: Everyday 4:00 PM - 5:00 PM
: Everyday 4:00 PM - 5:00 PM
: Everyday 4:00 PM - 5:00 PM
: Everyday 4:00 PM - 5:00 PM
: Everyday 4:00 PM - 5:00 PM
: Everyday 4:00 PM - 5:00 PM

: Everyday 4:00 PM - 6:00 PM
: Everyday 4:00 PM - 6:00 PM
: Everyday 4:00 PM - 6:00 PM
: Everyday 4:00 PM - 6:00 PM
: Everyday 4:00 PM - 6:00 PM
: Everyday 4:00 PM - 6:00 PM
: Everyday 4:00 PM - 6:00 PM
: Everyday 4:00 PM - 6:00 PM
: Everyday 4:00 PM - 6:00 PM
: Everyday 4:00 PM - 6:00 PM
: Everyday 4:00 PM - 6:00 PM
: Everyday 4:00 PM - 6:00 PM

: Everyday 9:00 AM - 11:00 AM
: Everyday 9:00 AM - 11:00 AM
: Everyday 9:00 AM - 11:00 AM
: Everyday 9:00 AM - 11:00 AM
: Everyday 9:00 AM - 11:00 AM
: Everyday 9:00 AM - 11:00 AM
: Everyday 9:00 AM - 11:00 AM
: Everyday 9:00 AM - 11:00 AM
: Everyday 9:00 AM - 11:00 AM
: Everyday 9:00 AM - 11:00 AM
: Everyday 9:00 AM - 11:00 AM
: Everyday 9:00 AM - 11:00 AM

: Everyday 8:00 AM - 4:00 PM
: Everyday 8:00 AM - 4:00 PM
: Everyday 8:00 AM - 4:00 PM
: Everyday 8:00 AM - 4:00 PM
: Everyday 8:00 AM - 4:00 PM
: Everyday 8:00 AM - 4:00 PM
: Everyday 8:00 AM - 4:00 PM
: Everyday 8:00 AM - 4:00 PM
: Everyday 8:00 AM - 4:00 PM
: Everyday 8:00 AM - 4:00 PM
: Everyday 8:00 AM - 4:00 PM
: Everyday 8:00 AM - 4:00 PM

: Everyday 9:00 AM - 8:00 PM
: Everyday 9:00 AM - 8:00 PM
: Everyday 9:00 AM - 8:00 PM
: Everyday 9:00 AM - 8:00 PM
: Everyday 9:00 AM - 8:00 PM
: Everyday 9:00 AM - 8:00 PM
: Everyday 9:00 AM - 8:00 PM
: Everyday 9:00 AM - 8:00 PM
: Everyday 9:00 AM - 8:00 PM
: Everyday 9:00 AM - 8:00 PM
: Everyday 9:00 AM - 8:00 PM
: Everyday 9:00 AM - 8:00 PM

: Everyday 4:00 PM - 6:00 PM
: Everyday 4:00 PM - 6:00 PM
: Everyday 4:00 PM - 6:00 PM
: Everyday 4:00 PM - 6:00 PM
: Everyday 4:00 PM - 6:00 PM
: Everyday 4:00 PM - 6:00 PM
: Everyday 4:00 PM - 6:00 PM
: Everyday 4:00 PM - 6:00 PM
: Everyday 4:00 PM - 6:00 PM
: Everyday 4:00 PM - 6:00 PM
: Everyday 4:00 PM - 6:00 PM
: Everyday 4:00 PM - 6:00 PM

: Monday, Wednesday, Thursday, Friday, Saturday, Sunday 9:00 AM - 6:00 PM; Monday, Wednesday, Thursday, Friday, Saturday, Sunday 9:00 AM - 6:00 PM | 3:00 PM - 6:00 PM
: Monday, Wednesday, Thursday, Friday, Saturday, Sunday 9:00 AM - 6:00 PM; Monday, Wednesday, Thursday, Friday, Saturday, Sunday 9:00 AM - 6:00 PM | 3:00 PM - 6:00 PM
: Monday, Wednesday, Thursday, Friday, Saturday, Sunday 9:00 AM - 6:00 PM; Monday, Wednesday, Thursday, Friday, Saturday, Sunday 9:00 AM - 6:00 PM | 3:00 PM - 6:00 PM
: Monday, Wednesday, Thursday, Friday, Saturday, Sunday 9:00 AM - 6:00 PM; Monday, Wednesday, Thursday, Friday, Saturday, Sunday 9:00 AM - 6:00 PM | 3:00 PM - 6:00 PM
: Monday, Wednesday, Thursday, Friday, Saturday, Sunday 9:00 AM - 6:00 PM; Monday, Wednesday, Thursday, Friday, Saturday, Sunday 9:00 AM - 6:00 PM | 3:00 PM - 6:00 PM
: Monday, Wednesday, Thursday, Friday, Saturday, Sunday 9:00 AM - 6:00 PM; Monday, Wednesday, Thursday, Friday, Saturday, Sunday 9:00 AM - 6:00 PM | 3:00 PM - 6:00 PM
: Monday, Wednesday, Thursday, Friday, Saturday, Sunday 9:00 AM - 6:00 PM; Monday, Wednesday, Thursday, Friday, Saturday, Sunday 9:00 AM - 6:00 PM | 3:00 PM - 6:00 PM
: Monday, Wednesday, Thursday, Friday, Saturday, Sunday 9:00 AM - 6:00 PM; Monday, Wednesday, Thursday, Friday, Saturday, Sunday 9:00 AM - 6:00 PM | 3:00 PM - 6:00 PM
: Monday, Wednesday, Thursday, Friday, Saturday, Sunday 9:00 AM - 6:00 PM; Monday, Wednesday, Thursday, Friday, Saturday, Sunday 9:00 AM - 6:00 PM | 3:00 PM - 6:00 PM
: Monday, Wednesday, Thursday, Friday, Saturday, Sunday 9:00 AM - 6:00 PM; Monday, Wednesday, Thursday, Friday, Saturday, Sunday 9:00 AM - 6:00 PM | 3:00 PM - 6:00 PM
: Monday, Wednesday, Thursday, Friday, Saturday, Sunday 9:00 AM - 6:00 PM; Monday, Wednesday, Thursday, Friday, Saturday, Sunday 9:00 AM - 6:00 PM | 3:00 PM - 6:00 PM
: Monday, Wednesday, Thursday, Friday, Saturday, Sunday 9:00 AM - 6:00 PM; Monday, Wednesday, Thursday, Friday, Saturday, Sunday 9:00 AM - 6:00 PM | 3:00 PM - 6:00 PM

: Everyday 9:30 AM - 6:00 PM; Everyday 9:30 AM - 6:00 PM | 2:30 PM - 6:00 PM
: Everyday 9:30 AM - 6:00 PM; Everyday 9:30 AM - 6:00 PM | 2:30 PM - 6:00 PM
: Everyday 9:30 AM - 6:00 PM; Everyday 9:30 AM - 6:00 PM | 2:30 PM - 6:00 PM
: Everyday 9:30 AM - 6:00 PM; Everyday 9:30 AM - 6:00 PM | 2:30 PM - 6:00 PM
: Everyday 9:30 AM - 6:00 PM; Everyday 9:30 AM - 6:00 PM | 2:30 PM - 6:00 PM
: Everyday 9:30 AM - 6:00 PM; Everyday 9:30 AM - 6:00 PM | 2:30 PM - 6:00 PM
: Everyday 9:30 AM - 6:00 PM; Everyday 9:30 AM - 6:00 PM | 2:30 PM - 6:00 PM
: Everyday 9:30 AM - 6:00 PM; Everyday 9:30 AM - 6:00 PM | 2:30 PM - 6:00 PM
: Everyday 9:30 AM - 6:00 PM; Everyday 9:30 AM - 6:00 PM | 2:30 PM - 6:00 PM
: Everyday 9:30 AM - 6:00 PM; Everyday 9:30 AM - 6:00 PM | 2:30 PM - 6:00 PM
: Everyday 9:30 AM - 6:00 PM; Everyday 9:30 AM - 6:00 PM | 2:30 PM - 6:00 PM
: Everyday 9:30 AM - 6:00 PM; Everyday 9:30 AM - 6:00 PM | 2:30 PM - 6:00 PM

: Everyday 9:30 AM - 2:00 PM
: Everyday 9:30 AM - 2:00 PM
: Everyday 9:30 AM - 2:00 PM
: Everyday 9:30 AM - 2:00 PM
: Everyday 9:30 AM - 2:00 PM
: Everyday 9:30 AM - 2:00 PM
: Everyday 9:30 AM - 2:00 PM
: Everyday 9:30 AM - 2:00 PM
: Everyday 9:30 AM - 2:00 PM
: Everyday 9:30 AM - 2:00 PM
: Everyday 9:30 AM - 2:00 PM
: Everyday 9:30 AM - 2:00 PM

: Everyday 11:00 AM - 1:00 PM
: Everyday 11:00 AM - 1:00 PM
: Everyday 11:00 AM - 1:00 PM
: Everyday 11:00 AM - 1:00 PM
: Everyday 11:00 AM - 1:00 PM
: Everyday 11:00 AM - 1:00 PM
: Everyday 11:00 AM - 1:00 PM
: Everyday 11:00 AM - 1:00 PM
: Everyday 11:00 AM - 1:00 PM
: Everyday 11:00 AM - 1:00 PM
: Everyday 11:00 AM - 1:00 PM
: Everyday 11:00 AM - 1:00 PM

: Everyday 9:00 AM - 5:00 PM
: Everyday 9:00 AM - 5:00 PM
: Everyday 9:00 AM - 5:00 PM
: Everyday 9:00 AM - 5:00 PM
: Everyday 9:00 AM - 5:00 PM
: Everyday 9:00 AM - 5:00 PM
: Everyday 9:00 AM - 5:00 PM
: Everyday 9:00 AM - 5:00 PM
: Everyday 9:00 AM - 5:00 PM
: Everyday 9:00 AM - 5:00 PM
: Everyday 9:00 AM - 5:00 PM
: Everyday 9:00 AM - 5:00 PM

: Everyday 9:00 AM - 5:00 PM
: Everyday 9:00 AM - 5:00 PM
: Everyday 9:00 AM - 5:00 PM
: Everyday 9:00 AM - 5:00 PM
: Everyday 9:00 AM - 5:00 PM
: Everyday 9:00 AM - 5:00 PM
: Everyday 9:00 AM - 5:00 PM
: Everyday 9:00 AM - 5:00 PM
: Everyday 9:00 AM - 5:00 PM
: Everyday 9:00 AM - 5:00 PM
: Everyday 9:00 AM - 5:00 PM
: Everyday 9:00 AM - 5:00 PM

: Everyday 8:30 AM - 5:00 PM
: Everyday 8:30 AM - 5:00 PM
: Everyday 8:30 AM - 5:00 PM
: Everyday 8:30 AM - 5:00 PM
: Everyday 8:30 AM - 5:00 PM
: Everyday 8:30 AM - 5:00 PM
: Everyday 8:30 AM - 5:00 PM
: Everyday 8:30 AM - 5:00 PM
: Everyday 8:30 AM - 5:00 PM
: Everyday 8:30 AM - 5:00 PM
: Everyday 8:30 AM - 5:00 PM
: Everyday 8:30 AM - 5:00 PM

: Everyday 24 Hrs
: Everyday 24 Hrs
: Everyday 24 Hrs
: Everyday 24 Hrs
: Everyday 24 Hrs
: Everyday 24 Hrs
: Everyday 24 Hrs
: Everyday 24 Hrs
: Everyday 24 Hrs
: Everyday 24 Hrs
: Everyday 24 Hrs
: Everyday 24 Hrs

: Everyday 24 Hrs
: Everyday 24 Hrs
: Everyday 24 Hrs
: Everyday 24 Hrs
: Everyday 24 Hrs
: Everyday 24 Hrs
: Everyday 24 Hrs
: Everyday 24 Hrs
: Everyday 24 Hrs
: Everyday 24 Hrs
: Everyday 24 Hrs
: Everyday 24 Hrs

: Everyday 24 Hrs
: Everyday 24 Hrs
: Everyday 24 Hrs
: Everyday 24 Hrs
: Everyday 24 Hrs
: Everyday 24 Hrs
: Everyday 24 Hrs
: Everyday 24 Hrs
: Everyday 24 Hrs
: Everyday 24 Hrs
: Everyday 24 Hrs
: Everyday 24 Hrs

: Everyday 24 Hrs
: Everyday 24 Hrs
: Everyday 24 Hrs
: Everyday 24 Hrs
: Everyday 24 Hrs
: Everyday 24 Hrs
: Everyday 24 Hrs
: Everyday 24 Hrs
: Everyday 24 Hrs
: Everyday 24 Hrs
: Everyday 24 Hrs
: Everyday 24 Hrs

: Everyday 24 Hrs
: Everyday 24 Hrs
: Everyday 24 Hrs
: Everyday 24 Hrs
: Everyday 24 Hrs
: Everyday 24 Hrs
: Everyday 24 Hrs
: Everyday 24 Hrs
: Everyday 24 Hrs
: Everyday 24 Hrs
: Everyday 24 Hrs
: Everyday 24 Hrs

: Everyday 24 Hrs
: Everyday 24 Hrs
: Everyday 24 Hrs
: Everyday 24 Hrs
: Everyday 24 Hrs
: Everyday 24 Hrs
: Everyday 24 Hrs
: Everyday 24 Hrs
: Everyday 24 Hrs
: Everyday 24 Hrs
: Everyday 24 Hrs
: Everyday 24 Hrs

: Everyday 24 Hrs
: Everyday 24 Hrs
: Everyday 24 Hrs
: Everyday 24 Hrs
: Everyday 24 Hrs
: Everyday 24 Hrs
: Everyday 24 Hrs
: Everyday 24 Hrs
: Everyday 24 Hrs
: Everyday 24 Hrs
: Everyday 24 Hrs
: Everyday 24 Hrs

: Everyday 24 Hrs
: Everyday 24 Hrs
: Everyday 24 Hrs
: Everyday 24 Hrs
: Everyday 24 Hrs
: Everyday 24 Hrs
: Everyday 24 Hrs
: Everyday 24 Hrs
: Everyday 24 Hrs
: Everyday 24 Hrs
: Everyday 24 Hrs
: Everyday 24 Hrs

: Everyday 2:00 PM - 6:00 PM
: Everyday 2:00 PM - 6:00 PM
: Everyday 2:00 PM - 6:00 PM
: Everyday 2:00 PM - 6:00 PM
: Everyday 2:00 PM - 6:00 PM
: Everyday 2:00 PM - 6:00 PM
: Everyday 2:00 PM - 6:00 PM
: Everyday 2:00 PM - 6:00 PM
: Everyday 2:00 PM - 6:00 PM
: Everyday 2:00 PM - 6:00 PM
: Everyday 2:00 PM - 6:00 PM
: Everyday 2:00 PM - 6:00 PM

: Everyday 4:30 PM - 5:30 PM
: Everyday 4:30 PM - 5:30 PM
: Everyday 4:30 PM - 5:30 PM
: Everyday 4:30 PM - 5:30 PM
: Everyday 4:30 PM - 5:30 PM
: Everyday 4:30 PM - 5:30 PM
: Everyday 4:30 PM - 5:30 PM
: Everyday 4:30 PM - 5:30 PM
: Everyday 4:30 PM - 5:30 PM
: Everyday 4:30 PM - 5:30 PM
: Everyday 4:30 PM - 5:30 PM
: Everyday 4:30 PM - 5:30 PM

: Everyday 2:00 PM - 4:00 PM
: Everyday 2:00 PM - 4:00 PM
: Everyday 2:00 PM - 4:00 PM
: Everyday 2:00 PM - 4:00 PM
: Everyday 2:00 PM - 4:00 PM
: Everyday 2:00 PM - 4:00 PM
: Everyday 2:00 PM - 4:00 PM
: Everyday 2:00 PM - 4:00 PM
: Everyday 2:00 PM - 4:00 PM
: Everyday 2:00 PM - 4:00 PM
: Everyday 2:00 PM - 4:00 PM
: Everyday 2:00 PM - 4:00 PM

: Everyday 2:00 PM - 6:00 PM
: Everyday 2:00 PM - 6:00 PM
: Everyday 2:00 PM - 6:00 PM
: Everyday 2:00 PM - 6:00 PM
: Everyday 2:00 PM - 6:00 PM
: Everyday 2:00 PM - 6:00 PM
: Everyday 2:00 PM - 6:00 PM
: Everyday 2:00 PM - 6:00 PM
: Everyday 2:00 PM - 6:00 PM
: Everyday 2:00 PM - 6:00 PM
: Everyday 2:00 PM - 6:00 PM
: Everyday 2:00 PM - 6:00 PM

: Everyday 24 Hrs
: Everyday 24 Hrs
: Everyday 24 Hrs
: Everyday 24 Hrs
: Everyday 24 Hrs
: Everyday 24 Hrs
: Everyday 24 Hrs
: Everyday 24 Hrs
: Everyday 24 Hrs
: Everyday 24 Hrs
: Everyday 24 Hrs
: Everyday 24 Hrs