Best Time To Visit Medellin
Explore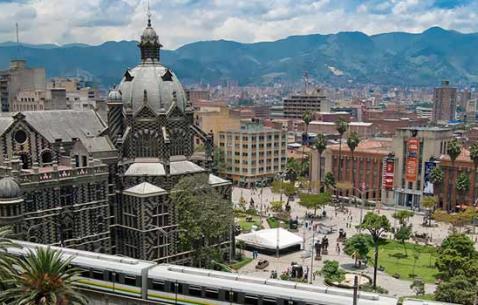 Best Time To Go To Medellin
Medellin in Colombia has a tropical rainforest climate (equatorial climate). The average annual temperature of the city is around 22 degree Celsius and there aren't any fluctuations in almost all the months of the year, given the proximity of the city to the equator. The maximum lowest and the highest temperature in the city is between 15 and 30 degree Celsius, respectively.
Given the pleasant spring-like climate that Medellin possesses throughout the year, it is called the 'La Ciudad de la Eterna Primavera', which translates to 'The City of Eternal Spring'. And the best thing about this is that Medellin can be visited at all times of the year. So there are no restrictions totally. The city of Medellin experiences higher amounts of rain during the months of May and October.
While the temperature in the city is on the warmer side, the districts located on the slopes surrounding the city have a cooler climate. And given the moderate temperature in the city, most restaurants are open air.
Best time to go to Medellin Attractions

: Everyday 5:00 AM - 7:00 PM
: Everyday 5:00 AM - 7:00 PM
: Everyday 5:00 AM - 7:00 PM
: Everyday 5:00 AM - 7:00 PM
: Everyday 5:00 AM - 7:00 PM
: Everyday 5:00 AM - 7:00 PM
: Everyday 5:00 AM - 7:00 PM
: Everyday 5:00 AM - 7:00 PM
: Everyday 5:00 AM - 7:00 PM
: Everyday 5:00 AM - 7:00 PM
: Everyday 5:00 AM - 7:00 PM
: Everyday 5:00 AM - 7:00 PM

: Everyday 9:00 AM - 6:00 PM
: Everyday 9:00 AM - 6:00 PM
: Everyday 9:00 AM - 6:00 PM
: Everyday 9:00 AM - 6:00 PM
: Everyday 9:00 AM - 6:00 PM
: Everyday 9:00 AM - 6:00 PM
: Everyday 9:00 AM - 6:00 PM
: Everyday 9:00 AM - 6:00 PM
: Everyday 9:00 AM - 6:00 PM
: Everyday 9:00 AM - 6:00 PM
: Everyday 9:00 AM - 6:00 PM
: Everyday 9:00 AM - 6:00 PM

: Tuesday to Friday 9:00 AM - 3:00 PM; Saturday, Sunday 10:00 AM - 6:00 PM
: Tuesday to Friday 9:00 AM - 3:00 PM; Saturday, Sunday 10:00 AM - 6:00 PM
: Tuesday to Friday 9:00 AM - 3:00 PM; Saturday, Sunday 10:00 AM - 6:00 PM
: Tuesday to Friday 9:00 AM - 3:00 PM; Saturday, Sunday 10:00 AM - 6:00 PM
: Tuesday to Friday 9:00 AM - 3:00 PM; Saturday, Sunday 10:00 AM - 6:00 PM
: Tuesday to Friday 9:00 AM - 3:00 PM; Saturday, Sunday 10:00 AM - 6:00 PM
: Tuesday to Friday 9:00 AM - 3:00 PM; Saturday, Sunday 10:00 AM - 6:00 PM
: Tuesday to Friday 9:00 AM - 3:00 PM; Saturday, Sunday 10:00 AM - 6:00 PM
: Tuesday to Friday 9:00 AM - 3:00 PM; Saturday, Sunday 10:00 AM - 6:00 PM
: Tuesday to Friday 9:00 AM - 3:00 PM; Saturday, Sunday 10:00 AM - 6:00 PM
: Tuesday to Friday 9:00 AM - 3:00 PM; Saturday, Sunday 10:00 AM - 6:00 PM
: Tuesday to Friday 9:00 AM - 3:00 PM; Saturday, Sunday 10:00 AM - 6:00 PM

: Everyday 8:00 AM - 5:00 PM
: Everyday 8:00 AM - 5:00 PM
: Everyday 8:00 AM - 5:00 PM
: Everyday 8:00 AM - 5:00 PM
: Everyday 8:00 AM - 5:00 PM
: Everyday 8:00 AM - 5:00 PM
: Everyday 8:00 AM - 5:00 PM
: Everyday 8:00 AM - 5:00 PM
: Everyday 8:00 AM - 5:00 PM
: Everyday 8:00 AM - 5:00 PM
: Everyday 8:00 AM - 5:00 PM
: Everyday 8:00 AM - 5:00 PM

: Everyday 9:30 AM - 2:00 PM
: Everyday 9:30 AM - 2:00 PM
: Everyday 9:30 AM - 2:00 PM
: Everyday 9:30 AM - 2:00 PM
: Everyday 9:30 AM - 2:00 PM
: Everyday 9:30 AM - 2:00 PM
: Everyday 9:30 AM - 2:00 PM
: Everyday 9:30 AM - 2:00 PM
: Everyday 9:30 AM - 2:00 PM
: Everyday 9:30 AM - 2:00 PM
: Everyday 9:30 AM - 2:00 PM
: Everyday 9:30 AM - 2:00 PM

: Tuesday to Sunday 9:30 AM - 3:00 PM
: Tuesday to Sunday 9:30 AM - 3:00 PM
: Tuesday to Sunday 9:30 AM - 3:00 PM
: Tuesday to Sunday 9:30 AM - 3:00 PM
: Tuesday to Sunday 9:30 AM - 3:00 PM
: Tuesday to Sunday 9:30 AM - 3:00 PM
: Tuesday to Sunday 9:30 AM - 3:00 PM
: Tuesday to Sunday 9:30 AM - 3:00 PM
: Tuesday to Sunday 9:30 AM - 3:00 PM
: Tuesday to Sunday 9:30 AM - 3:00 PM
: Tuesday to Sunday 9:30 AM - 3:00 PM
: Tuesday to Sunday 9:30 AM - 3:00 PM

: Everyday 10:30 AM - 4:00 PM
: Everyday 10:30 AM - 4:00 PM
: Everyday 10:30 AM - 4:00 PM
: Everyday 10:30 AM - 4:00 PM
: Everyday 10:30 AM - 4:00 PM
: Everyday 10:30 AM - 4:00 PM
: Everyday 10:30 AM - 4:00 PM
: Everyday 10:30 AM - 4:00 PM
: Everyday 10:30 AM - 4:00 PM
: Everyday 10:30 AM - 4:00 PM
: Everyday 10:30 AM - 4:00 PM
: Everyday 10:30 AM - 4:00 PM

: Everyday 5:00 PM - 8:00 PM
: Everyday 5:00 PM - 8:00 PM
: Everyday 5:00 PM - 8:00 PM
: Everyday 5:00 PM - 8:00 PM
: Everyday 5:00 PM - 8:00 PM
: Everyday 5:00 PM - 8:00 PM
: Everyday 5:00 PM - 8:00 PM
: Everyday 5:00 PM - 8:00 PM
: Everyday 5:00 PM - 8:00 PM
: Everyday 5:00 PM - 8:00 PM
: Everyday 5:00 PM - 8:00 PM
: Everyday 5:00 PM - 8:00 PM

: Everyday 9:00 AM - 6:00 PM
: Everyday 9:00 AM - 6:00 PM
: Everyday 9:00 AM - 6:00 PM
: Everyday 9:00 AM - 6:00 PM
: Everyday 9:00 AM - 6:00 PM
: Everyday 9:00 AM - 6:00 PM
: Everyday 9:00 AM - 6:00 PM
: Everyday 9:00 AM - 6:00 PM
: Everyday 9:00 AM - 6:00 PM
: Everyday 9:00 AM - 6:00 PM
: Everyday 9:00 AM - 6:00 PM
: Everyday 9:00 AM - 6:00 PM

: Monday to Friday 9:30 AM - 11:00 AM; Monday to Friday 9:30 AM - 11:00 AM | 2:00 PM - 5:00 PM; Saturday, Sunday 11:00 AM - 4:00 PM
: Monday to Friday 9:30 AM - 11:00 AM; Monday to Friday 9:30 AM - 11:00 AM | 2:00 PM - 5:00 PM; Saturday, Sunday 11:00 AM - 4:00 PM
: Monday to Friday 9:30 AM - 11:00 AM; Monday to Friday 9:30 AM - 11:00 AM | 2:00 PM - 5:00 PM; Saturday, Sunday 11:00 AM - 4:00 PM
: Monday to Friday 9:30 AM - 11:00 AM; Monday to Friday 9:30 AM - 11:00 AM | 2:00 PM - 5:00 PM; Saturday, Sunday 11:00 AM - 4:00 PM
: Monday to Friday 9:30 AM - 11:00 AM; Monday to Friday 9:30 AM - 11:00 AM | 2:00 PM - 5:00 PM; Saturday, Sunday 11:00 AM - 4:00 PM
: Monday to Friday 9:30 AM - 11:00 AM; Monday to Friday 9:30 AM - 11:00 AM | 2:00 PM - 5:00 PM; Saturday, Sunday 11:00 AM - 4:00 PM
: Monday to Friday 9:30 AM - 11:00 AM; Monday to Friday 9:30 AM - 11:00 AM | 2:00 PM - 5:00 PM; Saturday, Sunday 11:00 AM - 4:00 PM
: Monday to Friday 9:30 AM - 11:00 AM; Monday to Friday 9:30 AM - 11:00 AM | 2:00 PM - 5:00 PM; Saturday, Sunday 11:00 AM - 4:00 PM
: Monday to Friday 9:30 AM - 11:00 AM; Monday to Friday 9:30 AM - 11:00 AM | 2:00 PM - 5:00 PM; Saturday, Sunday 11:00 AM - 4:00 PM
: Monday to Friday 9:30 AM - 11:00 AM; Monday to Friday 9:30 AM - 11:00 AM | 2:00 PM - 5:00 PM; Saturday, Sunday 11:00 AM - 4:00 PM
: Monday to Friday 9:30 AM - 11:00 AM; Monday to Friday 9:30 AM - 11:00 AM | 2:00 PM - 5:00 PM; Saturday, Sunday 11:00 AM - 4:00 PM
: Monday to Friday 9:30 AM - 11:00 AM; Monday to Friday 9:30 AM - 11:00 AM | 2:00 PM - 5:00 PM; Saturday, Sunday 11:00 AM - 4:00 PM

: Tuesday to Sunday 11:00 AM - 5:00 PM
: Tuesday to Sunday 11:00 AM - 5:00 PM
: Tuesday to Sunday 11:00 AM - 5:00 PM
: Tuesday to Sunday 11:00 AM - 5:00 PM
: Tuesday to Sunday 11:00 AM - 5:00 PM
: Tuesday to Sunday 11:00 AM - 5:00 PM
: Tuesday to Sunday 11:00 AM - 5:00 PM
: Tuesday to Sunday 11:00 AM - 5:00 PM
: Tuesday to Sunday 11:00 AM - 5:00 PM
: Tuesday to Sunday 11:00 AM - 5:00 PM
: Tuesday to Sunday 11:00 AM - 5:00 PM
: Tuesday to Sunday 11:00 AM - 5:00 PM

: Tuesday to Sunday 10:00 AM - 3:30 PM
: Tuesday to Sunday 10:00 AM - 3:30 PM
: Tuesday to Sunday 10:00 AM - 3:30 PM
: Tuesday to Sunday 10:00 AM - 3:30 PM
: Tuesday to Sunday 10:00 AM - 3:30 PM
: Tuesday to Sunday 10:00 AM - 3:30 PM
: Tuesday to Sunday 10:00 AM - 3:30 PM
: Tuesday to Sunday 10:00 AM - 3:30 PM
: Tuesday to Sunday 10:00 AM - 3:30 PM
: Tuesday to Sunday 10:00 AM - 3:30 PM
: Tuesday to Sunday 10:00 AM - 3:30 PM
: Tuesday to Sunday 10:00 AM - 3:30 PM

: Monday to Saturday 10:30 AM - 6:00 PM; Sunday 10:30 AM - 7:00 PM
: Monday to Saturday 10:30 AM - 6:00 PM; Sunday 10:30 AM - 7:00 PM
: Monday to Saturday 10:30 AM - 6:00 PM; Sunday 10:30 AM - 7:00 PM
: Monday to Saturday 10:30 AM - 6:00 PM; Sunday 10:30 AM - 7:00 PM
: Monday to Saturday 10:30 AM - 6:00 PM; Sunday 10:30 AM - 7:00 PM
: Monday to Saturday 10:30 AM - 6:00 PM; Sunday 10:30 AM - 7:00 PM
: Monday to Saturday 10:30 AM - 6:00 PM; Sunday 10:30 AM - 7:00 PM
: Monday to Saturday 10:30 AM - 6:00 PM; Sunday 10:30 AM - 7:00 PM
: Monday to Saturday 10:30 AM - 6:00 PM; Sunday 10:30 AM - 7:00 PM
: Monday to Saturday 10:30 AM - 6:00 PM; Sunday 10:30 AM - 7:00 PM
: Monday to Saturday 10:30 AM - 6:00 PM; Sunday 10:30 AM - 7:00 PM
: Monday to Saturday 10:30 AM - 6:00 PM; Sunday 10:30 AM - 7:00 PM

: Everyday 10:00 AM - 7:00 PM
: Everyday 10:00 AM - 7:00 PM
: Everyday 10:00 AM - 7:00 PM
: Everyday 10:00 AM - 7:00 PM
: Everyday 10:00 AM - 7:00 PM
: Everyday 10:00 AM - 7:00 PM
: Everyday 10:00 AM - 7:00 PM
: Everyday 10:00 AM - 7:00 PM
: Everyday 10:00 AM - 7:00 PM
: Everyday 10:00 AM - 7:00 PM
: Everyday 10:00 AM - 7:00 PM
: Everyday 10:00 AM - 7:00 PM

: Monday to Saturday 10:30 AM - 6:00 PM; Sunday 10:30 AM - 7:00 PM
: Monday to Saturday 10:30 AM - 6:00 PM; Sunday 10:30 AM - 7:00 PM
: Monday to Saturday 10:30 AM - 6:00 PM; Sunday 10:30 AM - 7:00 PM
: Monday to Saturday 10:30 AM - 6:00 PM; Sunday 10:30 AM - 7:00 PM
: Monday to Saturday 10:30 AM - 6:00 PM; Sunday 10:30 AM - 7:00 PM
: Monday to Saturday 10:30 AM - 6:00 PM; Sunday 10:30 AM - 7:00 PM
: Monday to Saturday 10:30 AM - 6:00 PM; Sunday 10:30 AM - 7:00 PM
: Monday to Saturday 10:30 AM - 6:00 PM; Sunday 10:30 AM - 7:00 PM
: Monday to Saturday 10:30 AM - 6:00 PM; Sunday 10:30 AM - 7:00 PM
: Monday to Saturday 10:30 AM - 6:00 PM; Sunday 10:30 AM - 7:00 PM
: Monday to Saturday 10:30 AM - 6:00 PM; Sunday 10:30 AM - 7:00 PM
: Monday to Saturday 10:30 AM - 6:00 PM; Sunday 10:30 AM - 7:00 PM

: Monday to Friday 9:30 AM - 4:30 PM; Saturday, Sunday 10:00 AM - 5:00 PM
: Monday to Friday 9:30 AM - 4:30 PM; Saturday, Sunday 10:00 AM - 5:00 PM
: Monday to Friday 9:30 AM - 4:30 PM; Saturday, Sunday 10:00 AM - 5:00 PM
: Monday to Friday 9:30 AM - 4:30 PM; Saturday, Sunday 10:00 AM - 5:00 PM
: Monday to Friday 9:30 AM - 4:30 PM; Saturday, Sunday 10:00 AM - 5:00 PM
: Monday to Friday 9:30 AM - 4:30 PM; Saturday, Sunday 10:00 AM - 5:00 PM
: Monday to Friday 9:30 AM - 4:30 PM; Saturday, Sunday 10:00 AM - 5:00 PM
: Monday to Friday 9:30 AM - 4:30 PM; Saturday, Sunday 10:00 AM - 5:00 PM
: Monday to Friday 9:30 AM - 4:30 PM; Saturday, Sunday 10:00 AM - 5:00 PM
: Monday to Friday 9:30 AM - 4:30 PM; Saturday, Sunday 10:00 AM - 5:00 PM
: Monday to Friday 9:30 AM - 4:30 PM; Saturday, Sunday 10:00 AM - 5:00 PM
: Monday to Friday 9:30 AM - 4:30 PM; Saturday, Sunday 10:00 AM - 5:00 PM

: Everyday 9:00 AM - 6:00 PM
: Everyday 9:00 AM - 6:00 PM
: Everyday 9:00 AM - 6:00 PM
: Everyday 9:00 AM - 6:00 PM
: Everyday 9:00 AM - 6:00 PM
: Everyday 9:00 AM - 6:00 PM
: Everyday 9:00 AM - 6:00 PM
: Everyday 9:00 AM - 6:00 PM
: Everyday 9:00 AM - 6:00 PM
: Everyday 9:00 AM - 6:00 PM
: Everyday 9:00 AM - 6:00 PM
: Everyday 9:00 AM - 6:00 PM

: Everyday 9:30 AM - 3:00 PM
: Everyday 9:30 AM - 3:00 PM
: Everyday 9:30 AM - 3:00 PM
: Everyday 9:30 AM - 3:00 PM
: Everyday 9:30 AM - 3:00 PM
: Everyday 9:30 AM - 3:00 PM
: Everyday 9:30 AM - 3:00 PM
: Everyday 9:30 AM - 3:00 PM
: Everyday 9:30 AM - 3:00 PM
: Everyday 9:30 AM - 3:00 PM
: Everyday 9:30 AM - 3:00 PM
: Everyday 9:30 AM - 3:00 PM

: Everyday 5:00 PM - 8:00 PM
: Everyday 5:00 PM - 8:00 PM
: Everyday 5:00 PM - 8:00 PM
: Everyday 5:00 PM - 8:00 PM
: Everyday 5:00 PM - 8:00 PM
: Everyday 5:00 PM - 8:00 PM
: Everyday 5:00 PM - 8:00 PM
: Everyday 5:00 PM - 8:00 PM
: Everyday 5:00 PM - 8:00 PM
: Everyday 5:00 PM - 8:00 PM
: Everyday 5:00 PM - 8:00 PM
: Everyday 5:00 PM - 8:00 PM

: Monday to Friday 8:30 AM - 11:00 AM; Monday to Friday 8:30 AM - 11:00 AM | 2:00 PM - 4:00 PM; Saturday 9:00 AM - 1:00 PM
: Monday to Friday 8:30 AM - 11:00 AM; Monday to Friday 8:30 AM - 11:00 AM | 2:00 PM - 4:00 PM; Saturday 9:00 AM - 1:00 PM
: Monday to Friday 8:30 AM - 11:00 AM; Monday to Friday 8:30 AM - 11:00 AM | 2:00 PM - 4:00 PM; Saturday 9:00 AM - 1:00 PM
: Monday to Friday 8:30 AM - 11:00 AM; Monday to Friday 8:30 AM - 11:00 AM | 2:00 PM - 4:00 PM; Saturday 9:00 AM - 1:00 PM
: Monday to Friday 8:30 AM - 11:00 AM; Monday to Friday 8:30 AM - 11:00 AM | 2:00 PM - 4:00 PM; Saturday 9:00 AM - 1:00 PM
: Monday to Friday 8:30 AM - 11:00 AM; Monday to Friday 8:30 AM - 11:00 AM | 2:00 PM - 4:00 PM; Saturday 9:00 AM - 1:00 PM
: Monday to Friday 8:30 AM - 11:00 AM; Monday to Friday 8:30 AM - 11:00 AM | 2:00 PM - 4:00 PM; Saturday 9:00 AM - 1:00 PM
: Monday to Friday 8:30 AM - 11:00 AM; Monday to Friday 8:30 AM - 11:00 AM | 2:00 PM - 4:00 PM; Saturday 9:00 AM - 1:00 PM
: Monday to Friday 8:30 AM - 11:00 AM; Monday to Friday 8:30 AM - 11:00 AM | 2:00 PM - 4:00 PM; Saturday 9:00 AM - 1:00 PM
: Monday to Friday 8:30 AM - 11:00 AM; Monday to Friday 8:30 AM - 11:00 AM | 2:00 PM - 4:00 PM; Saturday 9:00 AM - 1:00 PM
: Monday to Friday 8:30 AM - 11:00 AM; Monday to Friday 8:30 AM - 11:00 AM | 2:00 PM - 4:00 PM; Saturday 9:00 AM - 1:00 PM
: Monday to Friday 8:30 AM - 11:00 AM; Monday to Friday 8:30 AM - 11:00 AM | 2:00 PM - 4:00 PM; Saturday 9:00 AM - 1:00 PM

: Everyday 8:00 AM - 1:00 PM
: Everyday 8:00 AM - 1:00 PM
: Everyday 8:00 AM - 1:00 PM
: Everyday 8:00 AM - 1:00 PM
: Everyday 8:00 AM - 1:00 PM
: Everyday 8:00 AM - 1:00 PM
: Everyday 8:00 AM - 1:00 PM
: Everyday 8:00 AM - 1:00 PM
: Everyday 8:00 AM - 1:00 PM
: Everyday 8:00 AM - 1:00 PM
: Everyday 8:00 AM - 1:00 PM
: Everyday 8:00 AM - 1:00 PM

: Tuesday to Friday 8:30 AM - 4:30 PM; Saturday, Sunday 11:00 AM - 6:00 PM
: Tuesday to Friday 8:30 AM - 4:30 PM; Saturday, Sunday 11:00 AM - 6:00 PM
: Tuesday to Friday 8:30 AM - 4:30 PM; Saturday, Sunday 11:00 AM - 6:00 PM
: Tuesday to Friday 8:30 AM - 4:30 PM; Saturday, Sunday 11:00 AM - 6:00 PM
: Tuesday to Friday 8:30 AM - 4:30 PM; Saturday, Sunday 11:00 AM - 6:00 PM
: Tuesday to Friday 8:30 AM - 4:30 PM; Saturday, Sunday 11:00 AM - 6:00 PM
: Tuesday to Friday 8:30 AM - 4:30 PM; Saturday, Sunday 11:00 AM - 6:00 PM
: Tuesday to Friday 8:30 AM - 4:30 PM; Saturday, Sunday 11:00 AM - 6:00 PM
: Tuesday to Friday 8:30 AM - 4:30 PM; Saturday, Sunday 11:00 AM - 6:00 PM
: Tuesday to Friday 8:30 AM - 4:30 PM; Saturday, Sunday 11:00 AM - 6:00 PM
: Tuesday to Friday 8:30 AM - 4:30 PM; Saturday, Sunday 11:00 AM - 6:00 PM
: Tuesday to Friday 8:30 AM - 4:30 PM; Saturday, Sunday 11:00 AM - 6:00 PM

: Monday 11:00 AM - 6:00 PM; Tuesday to Friday 9:30 AM - 5:30 PM; Saturday 11:00 AM - 3:00 PM
: Monday 11:00 AM - 6:00 PM; Tuesday to Friday 9:30 AM - 5:30 PM; Saturday 11:00 AM - 3:00 PM
: Monday 11:00 AM - 6:00 PM; Tuesday to Friday 9:30 AM - 5:30 PM; Saturday 11:00 AM - 3:00 PM
: Monday 11:00 AM - 6:00 PM; Tuesday to Friday 9:30 AM - 5:30 PM; Saturday 11:00 AM - 3:00 PM
: Monday 11:00 AM - 6:00 PM; Tuesday to Friday 9:30 AM - 5:30 PM; Saturday 11:00 AM - 3:00 PM
: Monday 11:00 AM - 6:00 PM; Tuesday to Friday 9:30 AM - 5:30 PM; Saturday 11:00 AM - 3:00 PM
: Monday 11:00 AM - 6:00 PM; Tuesday to Friday 9:30 AM - 5:30 PM; Saturday 11:00 AM - 3:00 PM
: Monday 11:00 AM - 6:00 PM; Tuesday to Friday 9:30 AM - 5:30 PM; Saturday 11:00 AM - 3:00 PM
: Monday 11:00 AM - 6:00 PM; Tuesday to Friday 9:30 AM - 5:30 PM; Saturday 11:00 AM - 3:00 PM
: Monday 11:00 AM - 6:00 PM; Tuesday to Friday 9:30 AM - 5:30 PM; Saturday 11:00 AM - 3:00 PM
: Monday 11:00 AM - 6:00 PM; Tuesday to Friday 9:30 AM - 5:30 PM; Saturday 11:00 AM - 3:00 PM
: Monday 11:00 AM - 6:00 PM; Tuesday to Friday 9:30 AM - 5:30 PM; Saturday 11:00 AM - 3:00 PM

: Everyday 8:00 AM - 4:00 PM
: Everyday 8:00 AM - 4:00 PM
: Everyday 8:00 AM - 4:00 PM
: Everyday 8:00 AM - 4:00 PM
: Everyday 8:00 AM - 4:00 PM
: Everyday 8:00 AM - 4:00 PM
: Everyday 8:00 AM - 4:00 PM
: Everyday 8:00 AM - 4:00 PM
: Everyday 8:00 AM - 4:00 PM
: Everyday 8:00 AM - 4:00 PM
: Everyday 8:00 AM - 4:00 PM
: Everyday 8:00 AM - 4:00 PM

: Tuesday to Sunday 9:30 AM - 4:00 PM
: Tuesday to Sunday 9:30 AM - 4:00 PM
: Tuesday to Sunday 9:30 AM - 4:00 PM
: Tuesday to Sunday 9:30 AM - 4:00 PM
: Tuesday to Sunday 9:30 AM - 4:00 PM
: Tuesday to Sunday 9:30 AM - 4:00 PM
: Tuesday to Sunday 9:30 AM - 4:00 PM
: Tuesday to Sunday 9:30 AM - 4:00 PM
: Tuesday to Sunday 9:30 AM - 4:00 PM
: Tuesday to Sunday 9:30 AM - 4:00 PM
: Tuesday to Sunday 9:30 AM - 4:00 PM
: Tuesday to Sunday 9:30 AM - 4:00 PM