Memphis is one of the youngest towns in South America. This charming town in Tennessee has a cheerful vibe that will warm your heart and leave you wanting to stay here forever. The excellent food and soulful music of this town are also strong magnets in attracting tourists from all over the world. The little town of Memphis is jolly with the rays of the bright southern sun and a great place to spend your holidays either lazing around with great food to keep you company or run around the town with over a score of exciting activities and beautiful monuments to explore and see. Some of the most popular places to visit in Memphis are listed below.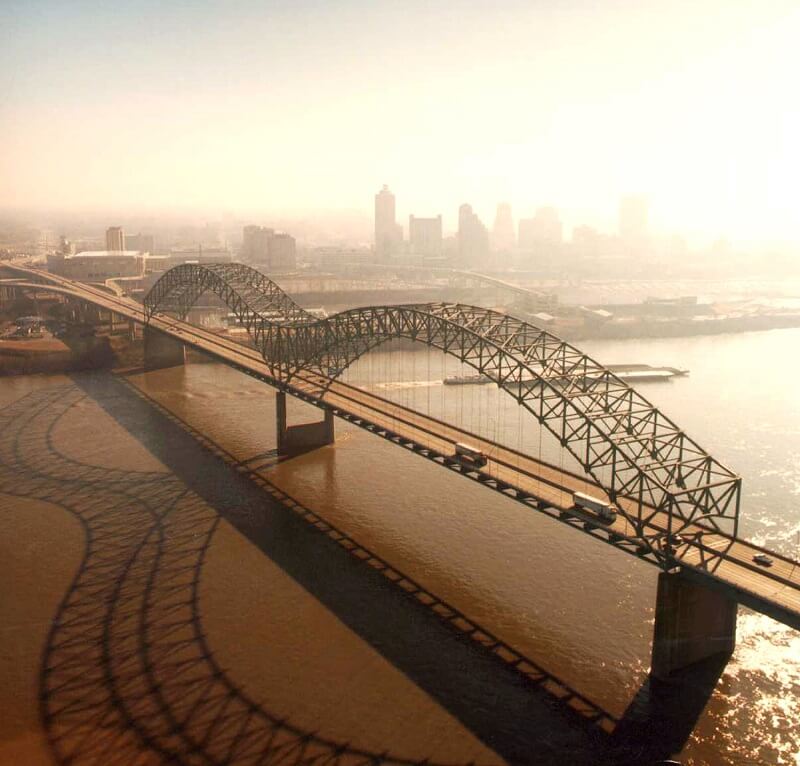 Image Source: wikipedia.org
Let's explore Memphis points of interest and 15 best things to do in Memphis:
1. See the origins of Rock & Roll at The Sun Studio
The Sun Studio is basically the birthplace of Rock and Roll. It was opened in 1950 and went on to host reputed artists like Elvis Presley, Jerry Lew Lewis and Johnny Cash. You can take a tour around the studio and see fun things like the microphone in which Elvis recorded his first song.
2. Visit The National Civil Rights Museum
This museum exhibits relics from the civil war over five centuries in the form of films, oral histories, artefacts and interactive media. This museum is free for residents of Tennessee and military officers. It will be an enriching experience for you and your family, laced with loads of fun.
3. Spend Time At Graceland
This was originally the house that Elvis Presley bought for himself in 1957. You can take a tour of this historical landmark along with an iPad guidance provided by John Stamos. The kids get a separate tour guide and the option of buying various goodies like CDs, DVDs, t-shirts, accessories, etc.
4. Know More About American Music at Stax Museum Of American Soul Music
This is another museum in Memphis that is dedicated to music, especially American soul music. The gallery has a collection of various artefacts and musical instruments that can help you understand the musical heritage of the place better.
5. Spend a leisurely evening at Autozone Park
Autosome Park is a family-friendly ballpark that is home to the Memphis Redbirds. The grounds are very well maintained with an extensive playing area and amusement area. At the end of every match, there is an awesome display of fireworks. It is the perfect place for a fun day out with your family.
6. Get Touristy at Beale Street
Beale Street is a novelty of Memphis. Adorned with neon lights and an assortment of unique shops, the Beale Street is a hub for tourists. You can find unique pieces of clothing, accessories etc. along with good food and drinks. In this street, you will find the true Southern charm, which morphs into a vibrant party hub at night.
7. Spend time with The Peabody Ducks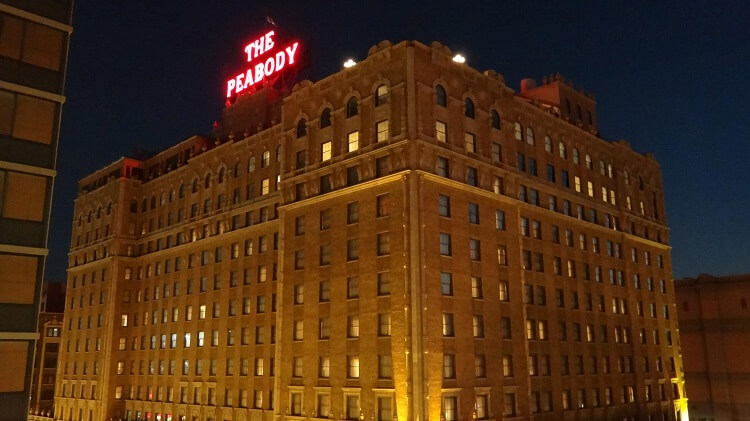 Image Source: wikipedia.org
The Peabody Ducks found their way into Memphis in 1933 with the GM of Peabody, Frank Schutt. These ducks perform the famous 'Duck March' in the lobby fountain at 11 AM and 5 PM. It is the perfect place for a delightful evening with your kids, who will love these talented ducks, strutting their stuff.
8. Spend time at Memphis Rock And Soul Museum
This museum is a relatively new addition to the Memphis neighbourhood. It is the birthplace of the American Rock and Soul music. It has many musical artefacts and records that have been recorded in this studio over time.
9. Take your kids out to FedExForum
The FedExForum is the home to the NBA Grizzlies and the NCAA Division I Men's basketball program. It is a sports arena where you can head out with your family on a fun family trip. The friendly staff and the general spirit of the place will make your day enjoyable.
10. Cool yourself off at Mud Island River Park
The Mud Island river park is an island surrounded by the Mississippi River. It is the perfect place to cool off on a hot day. The cool breeze from the river and the host of fun activities makes it a place you must visit while in Memphis.
11. Know about different cultures at Belz Museum Of Asian And Judaic Art
This museum was originally a showcase by the Belz household of their unique collection of artefacts. This museum now houses various articles from the Asian and the Judaic cultures, the most famous being the Jade figurines.
12. Take part in activities at Shelby Farms Park
This park is a treasure trove for people who crave adventure. This 4500-acre park is nothing but greenery stretching beyond the horizon. You can do horseback riding, biking and many other exciting activities waiting for you on the trail. There are innovative sports for the kids and a food truck always at your service.
13. Visit The Historical Elmwood Cemetery
The Elmwood Cemetery is the oldest cemetery in Memphis. It was built in 1852 and despite its morbid purpose, is a place of much historical significance. You can visit this cemetery if you want a tour down the memory lane of this town. However, there is not much to do out here except just take in the quiet serenity of the place.
14. Visit The Pink Palace Museum
This is one of the biggest museums of the region. It has an I-Max theatre and ample opportunities for you to explore around the interesting nooks and corners of the museum.
15. Visit The Slave Haven/Burkle Estate Museum
In the 1800s, Memphis was the biggest slave trading town of the area. This museum tells you the heart wrenching story of the slave trading that took place here. You can get an enriching experience that will help you know Memphis better.
Thus, Memphis is not only a town to laze around but a real town of action! Wrapped up beautifully in culture, history, music and gastronomical delights, Memphis is a town that will always keep you on your toes. Pack your bags today to visit this beautiful town with your family and friends and get a taste of the bright spirit of South America in Memphis.