Best Time To Visit Menton
Explore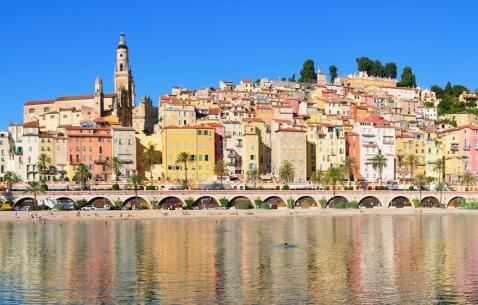 Best Time To Go To Menton
Often termed as the micro-climate, the Menton weather is different from the rest of the French territory. Sheltered by Maritime Alps, it has a mild climate.
Summer (June – August): The average temperature is around 24°C but can crop up to 30°C in July and August.
Winter (December – February): The average temperature in winter ranges around 8-9°C.
Spring (March – May): Spring sees an average temperature of 14.5°C.
Autumn (September – November): During the autumn, the temperature is generally about 18°C.
However, the temperature may be quick to change and may be unpredictable at times. The best time to visit Menton is May through September.
Best time to go to Menton Attractions

: Monday, Wednesday, Thursday, Friday, Saturday, Sunday 10:00 AM - 2:00 PM
: Monday, Wednesday, Thursday, Friday, Saturday, Sunday 10:00 AM - 2:00 PM
: Monday, Wednesday, Thursday, Friday, Saturday, Sunday 10:00 AM - 2:00 PM
: Monday, Wednesday, Thursday, Friday, Saturday, Sunday 10:00 AM - 2:00 PM
: Monday, Wednesday, Thursday, Friday, Saturday, Sunday 10:00 AM - 2:00 PM
: Monday, Wednesday, Thursday, Friday, Saturday, Sunday 10:00 AM - 2:00 PM
: Monday, Wednesday, Thursday, Friday, Saturday, Sunday 10:00 AM - 2:00 PM
: Monday, Wednesday, Thursday, Friday, Saturday, Sunday 10:00 AM - 2:00 PM
: Monday, Wednesday, Thursday, Friday, Saturday, Sunday 10:00 AM - 2:00 PM
: Monday, Wednesday, Thursday, Friday, Saturday, Sunday 10:00 AM - 2:00 PM
: Monday, Wednesday, Thursday, Friday, Saturday, Sunday 10:00 AM - 2:00 PM
: Monday, Wednesday, Thursday, Friday, Saturday, Sunday 10:00 AM - 2:00 PM

: Monday, Wednesday, Thursday, Friday, Saturday, Sunday 11:00 AM - 2:00 PM
: Monday, Wednesday, Thursday, Friday, Saturday, Sunday 11:00 AM - 2:00 PM
: Monday, Wednesday, Thursday, Friday, Saturday, Sunday 11:00 AM - 2:00 PM
: Monday, Wednesday, Thursday, Friday, Saturday, Sunday 11:00 AM - 2:00 PM
: Monday, Wednesday, Thursday, Friday, Saturday, Sunday 11:00 AM - 2:00 PM
: Monday, Wednesday, Thursday, Friday, Saturday, Sunday 11:00 AM - 2:00 PM
: Monday, Wednesday, Thursday, Friday, Saturday, Sunday 11:00 AM - 2:00 PM
: Monday, Wednesday, Thursday, Friday, Saturday, Sunday 11:00 AM - 2:00 PM
: Monday, Wednesday, Thursday, Friday, Saturday, Sunday 11:00 AM - 2:00 PM
: Monday, Wednesday, Thursday, Friday, Saturday, Sunday 11:00 AM - 2:00 PM
: Monday, Wednesday, Thursday, Friday, Saturday, Sunday 11:00 AM - 2:00 PM
: Monday, Wednesday, Thursday, Friday, Saturday, Sunday 11:00 AM - 2:00 PM

: Monday to Friday 10:00 AM - 2:00 PM
: Monday to Friday 10:00 AM - 2:00 PM
: Monday to Friday 10:00 AM - 2:00 PM
: Monday to Friday 10:00 AM - 2:00 PM
: Monday to Friday 10:00 AM - 2:00 PM
: Monday to Friday 10:00 AM - 2:00 PM
: Monday to Friday 10:00 AM - 2:00 PM
: Monday to Friday 10:00 AM - 2:00 PM
: Monday to Friday 10:00 AM - 2:00 PM
: Monday to Friday 10:00 AM - 2:00 PM
: Monday to Friday 10:00 AM - 2:00 PM
: Monday to Friday 10:00 AM - 2:00 PM

: Monday, Wednesday, Thursday, Friday, Saturday, Sunday 4:00 PM - 6:00 PM
: Monday, Wednesday, Thursday, Friday, Saturday, Sunday 4:00 PM - 6:00 PM
: Monday, Wednesday, Thursday, Friday, Saturday, Sunday 4:00 PM - 6:00 PM
: Monday, Wednesday, Thursday, Friday, Saturday, Sunday 4:00 PM - 6:00 PM
: Monday, Wednesday, Thursday, Friday, Saturday, Sunday 4:00 PM - 6:00 PM
: Monday, Wednesday, Thursday, Friday, Saturday, Sunday 4:00 PM - 6:00 PM
: Monday, Wednesday, Thursday, Friday, Saturday, Sunday 4:00 PM - 6:00 PM
: Monday, Wednesday, Thursday, Friday, Saturday, Sunday 4:00 PM - 6:00 PM
: Monday, Wednesday, Thursday, Friday, Saturday, Sunday 4:00 PM - 6:00 PM
: Monday, Wednesday, Thursday, Friday, Saturday, Sunday 4:00 PM - 6:00 PM
: Monday, Wednesday, Thursday, Friday, Saturday, Sunday 4:00 PM - 6:00 PM
: Monday, Wednesday, Thursday, Friday, Saturday, Sunday 4:00 PM - 6:00 PM

: Everyday 3:00 PM - 7:00 PM
: Everyday 3:00 PM - 7:00 PM
: Everyday 3:00 PM - 7:00 PM
: Everyday 3:00 PM - 7:00 PM
: Everyday 3:00 PM - 7:00 PM
: Everyday 3:00 PM - 7:00 PM
: Everyday 3:00 PM - 7:00 PM
: Everyday 3:00 PM - 7:00 PM
: Everyday 3:00 PM - 7:00 PM
: Everyday 3:00 PM - 7:00 PM
: Everyday 3:00 PM - 7:00 PM
: Everyday 3:00 PM - 7:00 PM

: Everyday 3:00 PM - 5:00 PM
: Everyday 3:00 PM - 5:00 PM
: Everyday 3:00 PM - 5:00 PM
: Everyday 3:00 PM - 5:00 PM
: Everyday 3:00 PM - 5:00 PM
: Everyday 3:00 PM - 5:00 PM
: Everyday 3:00 PM - 5:00 PM
: Everyday 3:00 PM - 5:00 PM
: Everyday 3:00 PM - 5:00 PM
: Everyday 3:00 PM - 5:00 PM
: Everyday 3:00 PM - 5:00 PM
: Everyday 3:00 PM - 5:00 PM

: Everyday 11:00 AM - 11:59 PM
: Everyday 11:00 AM - 11:59 PM
: Everyday 11:00 AM - 11:59 PM
: Everyday 11:00 AM - 11:59 PM
: Everyday 11:00 AM - 11:59 PM
: Everyday 11:00 AM - 11:59 PM
: Everyday 11:00 AM - 11:59 PM
: Everyday 11:00 AM - 11:59 PM
: Everyday 11:00 AM - 11:59 PM
: Everyday 11:00 AM - 11:59 PM
: Everyday 11:00 AM - 11:59 PM
: Everyday 11:00 AM - 11:59 PM

: Everyday 2:00 PM - 4:30 PM
: Everyday 2:00 PM - 4:30 PM
: Everyday 2:00 PM - 4:30 PM
: Everyday 2:00 PM - 4:30 PM
: Everyday 2:00 PM - 4:30 PM
: Everyday 2:00 PM - 4:30 PM
: Everyday 2:00 PM - 4:30 PM
: Everyday 2:00 PM - 4:30 PM
: Everyday 2:00 PM - 4:30 PM
: Everyday 2:00 PM - 4:30 PM
: Everyday 2:00 PM - 4:30 PM
: Everyday 2:00 PM - 4:30 PM

: Everyday 2:00 PM - 7:00 PM
: Everyday 2:00 PM - 7:00 PM
: Everyday 2:00 PM - 7:00 PM
: Everyday 2:00 PM - 7:00 PM
: Everyday 2:00 PM - 7:00 PM
: Everyday 2:00 PM - 7:00 PM
: Everyday 2:00 PM - 7:00 PM
: Everyday 2:00 PM - 7:00 PM
: Everyday 2:00 PM - 7:00 PM
: Everyday 2:00 PM - 7:00 PM
: Everyday 2:00 PM - 7:00 PM
: Everyday 2:00 PM - 7:00 PM

: Everyday 9:00 AM - 9:00 PM
: Everyday 9:00 AM - 9:00 PM
: Everyday 9:00 AM - 9:00 PM
: Everyday 9:00 AM - 9:00 PM
: Everyday 9:00 AM - 9:00 PM
: Everyday 9:00 AM - 9:00 PM
: Everyday 9:00 AM - 9:00 PM
: Everyday 9:00 AM - 9:00 PM
: Everyday 9:00 AM - 9:00 PM
: Everyday 9:00 AM - 9:00 PM
: Everyday 9:00 AM - 9:00 PM
: Everyday 9:00 AM - 9:00 PM

: Everyday 4:00 PM - 6:00 PM
: Everyday 4:00 PM - 6:00 PM
: Everyday 4:00 PM - 6:00 PM
: Everyday 4:00 PM - 6:00 PM
: Everyday 4:00 PM - 6:00 PM
: Everyday 4:00 PM - 6:00 PM
: Everyday 4:00 PM - 6:00 PM
: Everyday 4:00 PM - 6:00 PM
: Everyday 4:00 PM - 6:00 PM
: Everyday 4:00 PM - 6:00 PM
: Everyday 4:00 PM - 6:00 PM
: Everyday 4:00 PM - 6:00 PM

: Monday, Wednesday, Thursday, Friday, Saturday, Sunday 2:00 PM - 5:00 PM
: Monday, Wednesday, Thursday, Friday, Saturday, Sunday 2:00 PM - 5:00 PM
: Monday, Wednesday, Thursday, Friday, Saturday, Sunday 2:00 PM - 5:00 PM
: Monday, Wednesday, Thursday, Friday, Saturday, Sunday 2:00 PM - 5:00 PM
: Monday, Wednesday, Thursday, Friday, Saturday, Sunday 2:00 PM - 5:00 PM
: Monday, Wednesday, Thursday, Friday, Saturday, Sunday 2:00 PM - 5:00 PM
: Monday, Wednesday, Thursday, Friday, Saturday, Sunday 2:00 PM - 5:00 PM
: Monday, Wednesday, Thursday, Friday, Saturday, Sunday 2:00 PM - 5:00 PM
: Monday, Wednesday, Thursday, Friday, Saturday, Sunday 2:00 PM - 5:00 PM
: Monday, Wednesday, Thursday, Friday, Saturday, Sunday 2:00 PM - 5:00 PM
: Monday, Wednesday, Thursday, Friday, Saturday, Sunday 2:00 PM - 5:00 PM
: Monday, Wednesday, Thursday, Friday, Saturday, Sunday 2:00 PM - 5:00 PM

: Everyday 4:00 PM - 6:00 PM
: Everyday 4:00 PM - 6:00 PM
: Everyday 4:00 PM - 6:00 PM
: Everyday 4:00 PM - 6:00 PM
: Everyday 4:00 PM - 6:00 PM
: Everyday 4:00 PM - 6:00 PM
: Everyday 4:00 PM - 6:00 PM
: Everyday 4:00 PM - 6:00 PM
: Everyday 4:00 PM - 6:00 PM
: Everyday 4:00 PM - 6:00 PM
: Everyday 4:00 PM - 6:00 PM
: Everyday 4:00 PM - 6:00 PM

: Monday, Thursday, Friday 10:00 AM - 6:00 PM
: Monday, Thursday, Friday 10:00 AM - 6:00 PM
: Monday, Thursday, Friday 10:00 AM - 6:00 PM
: Monday, Thursday, Friday 10:00 AM - 6:00 PM
: Monday, Thursday, Friday 10:00 AM - 6:00 PM
: Monday, Thursday, Friday 10:00 AM - 6:00 PM
: Monday, Thursday, Friday 10:00 AM - 6:00 PM
: Monday, Thursday, Friday 10:00 AM - 6:00 PM
: Monday, Thursday, Friday 10:00 AM - 6:00 PM
: Monday, Thursday, Friday 10:00 AM - 6:00 PM
: Monday, Thursday, Friday 10:00 AM - 6:00 PM
: Monday, Thursday, Friday 10:00 AM - 6:00 PM

: Everyday 7:00 AM - 7:00 PM
: Everyday 7:00 AM - 7:00 PM
: Everyday 7:00 AM - 7:00 PM
: Everyday 7:00 AM - 7:00 PM
: Everyday 7:00 AM - 7:00 PM
: Everyday 7:00 AM - 7:00 PM
: Everyday 7:00 AM - 7:00 PM
: Everyday 7:00 AM - 7:00 PM
: Everyday 7:00 AM - 7:00 PM
: Everyday 7:00 AM - 7:00 PM
: Everyday 7:00 AM - 7:00 PM
: Everyday 7:00 AM - 7:00 PM

: Everyday 10:00 AM - 10:00 PM
: Everyday 10:00 AM - 10:00 PM
: Everyday 10:00 AM - 10:00 PM
: Everyday 10:00 AM - 10:00 PM
: Everyday 10:00 AM - 10:00 PM
: Everyday 10:00 AM - 10:00 PM
: Everyday 10:00 AM - 10:00 PM
: Everyday 10:00 AM - 10:00 PM
: Everyday 10:00 AM - 10:00 PM
: Everyday 10:00 AM - 10:00 PM
: Everyday 10:00 AM - 10:00 PM
: Everyday 10:00 AM - 10:00 PM

: Everyday 2:00 PM - 6:00 PM
: Everyday 2:00 PM - 6:00 PM
: Everyday 2:00 PM - 6:00 PM
: Everyday 2:00 PM - 6:00 PM
: Everyday 2:00 PM - 6:00 PM
: Everyday 2:00 PM - 6:00 PM
: Everyday 3:00 PM - 6:00 PM
: Everyday 3:00 PM - 6:00 PM
: Everyday 2:00 PM - 5:00 PM
: Everyday 2:00 PM - 5:00 PM
:
:

: Everyday 11:00 AM - 5:00 PM
: Everyday 11:00 AM - 5:00 PM
: Everyday 11:00 AM - 5:00 PM
: Everyday 11:00 AM - 5:00 PM
: Everyday 11:00 AM - 5:00 PM
: Everyday 11:00 AM - 5:00 PM
: Everyday 11:00 AM - 5:00 PM
: Everyday 11:00 AM - 5:00 PM
: Everyday 11:00 AM - 5:00 PM
: Everyday 11:00 AM - 5:00 PM
: Everyday 11:00 AM - 5:00 PM
: Everyday 11:00 AM - 5:00 PM

: Everyday 11:00 AM - 3:00 PM
: Everyday 11:00 AM - 3:00 PM
: Everyday 11:00 AM - 3:00 PM
: Everyday 11:00 AM - 3:00 PM
: Everyday 11:00 AM - 3:00 PM
: Everyday 11:00 AM - 3:00 PM
: Everyday 11:00 AM - 3:00 PM
: Tuesday to Sunday 11:00 AM - 3:00 PM
: Tuesday to Sunday 11:00 AM - 3:00 PM

: Everyday 4:00 PM - 6:00 PM
: Everyday 4:00 PM - 6:00 PM
: Everyday 4:00 PM - 6:00 PM
: Everyday 4:00 PM - 6:00 PM
: Everyday 4:00 PM - 6:00 PM
: Everyday 4:00 PM - 6:00 PM
: Everyday 4:00 PM - 6:00 PM
: Everyday 4:00 PM - 6:00 PM
: Everyday 4:00 PM - 6:00 PM
: Everyday 4:00 PM - 6:00 PM
: Everyday 4:00 PM - 6:00 PM
: Everyday 4:00 PM - 6:00 PM

: Everyday 10:00 AM - 6:00 PM
: Everyday 10:00 AM - 6:00 PM
: Everyday 10:00 AM - 6:00 PM
: Everyday 10:00 AM - 6:00 PM
: Everyday 10:00 AM - 6:00 PM
: Everyday 10:00 AM - 6:00 PM
: Everyday 10:00 AM - 6:00 PM
: Everyday 10:00 AM - 6:00 PM
: Everyday 10:00 AM - 6:00 PM
: Everyday 10:00 AM - 6:00 PM
: Everyday 10:00 AM - 6:00 PM
: Everyday 10:00 AM - 6:00 PM

: Everyday 4:00 PM - 6:00 PM
: Everyday 4:00 PM - 6:00 PM
: Everyday 4:00 PM - 6:00 PM
: Everyday 4:00 PM - 6:00 PM
: Everyday 4:00 PM - 6:00 PM
: Everyday 4:00 PM - 6:00 PM
: Everyday 4:00 PM - 6:00 PM
: Everyday 4:00 PM - 6:00 PM
: Everyday 4:00 PM - 6:00 PM
: Everyday 4:00 PM - 6:00 PM
: Everyday 4:00 PM - 6:00 PM
: Everyday 4:00 PM - 6:00 PM

: Everyday 4:00 PM - 3:00 PM
: Everyday 4:00 PM - 3:00 PM
: Everyday 4:00 PM - 3:00 PM
: Everyday 4:00 PM - 3:00 PM
: Everyday 4:00 PM - 3:00 PM
: Everyday 4:00 PM - 3:00 PM
: Everyday 4:00 PM - 3:00 PM
: Everyday 4:00 PM - 3:00 PM
: Everyday 4:00 PM - 3:00 PM
: Everyday 4:00 PM - 3:00 PM
: Everyday 4:00 PM - 3:00 PM
: Everyday 4:00 PM - 3:00 PM

: Everyday 4:00 PM - 6:00 PM
: Everyday 4:00 PM - 6:00 PM
: Everyday 4:00 PM - 6:00 PM
: Everyday 4:00 PM - 6:00 PM
: Everyday 4:00 PM - 6:00 PM
: Everyday 4:00 PM - 6:00 PM
: Everyday 4:00 PM - 6:00 PM
: Everyday 4:00 PM - 6:00 PM
: Everyday 4:00 PM - 6:00 PM
: Everyday 4:00 PM - 6:00 PM
: Everyday 4:00 PM - 6:00 PM
: Everyday 4:00 PM - 6:00 PM

: Everyday 2:00 PM - 5:00 PM
: Everyday 2:00 PM - 5:00 PM
: Everyday 2:00 PM - 5:00 PM
: Everyday 2:00 PM - 5:00 PM
: Everyday 2:00 PM - 5:00 PM
: Everyday 2:00 PM - 5:00 PM
: Everyday 2:00 PM - 5:00 PM
: Everyday 2:00 PM - 5:00 PM
: Everyday 2:00 PM - 5:00 PM
: Everyday 2:00 PM - 5:00 PM
: Everyday 2:00 PM - 5:00 PM
: Everyday 2:00 PM - 5:00 PM

: Everyday 2:00 PM - 5:00 PM
: Everyday 2:00 PM - 5:00 PM
: Everyday 2:00 PM - 5:00 PM
: Everyday 2:00 PM - 5:00 PM
: Everyday 2:00 PM - 5:00 PM
: Everyday 2:00 PM - 5:00 PM
: Everyday 2:00 PM - 5:00 PM
: Everyday 2:00 PM - 5:00 PM
: Everyday 2:00 PM - 5:00 PM
: Everyday 2:00 PM - 5:00 PM
: Everyday 2:00 PM - 5:00 PM
: Everyday 2:00 PM - 5:00 PM

: Tuesday to Sunday 6:00 AM - 5:00 PM
: Tuesday to Sunday 6:00 AM - 5:00 PM
: Tuesday to Sunday 6:00 AM - 5:00 PM
: Tuesday to Sunday 6:00 AM - 5:00 PM
: Tuesday to Sunday 6:00 AM - 5:00 PM
: Tuesday to Sunday 6:00 AM - 5:00 PM
: Tuesday to Sunday 6:00 AM - 5:00 PM
: Tuesday to Sunday 6:00 AM - 5:00 PM
: Tuesday to Sunday 6:00 AM - 5:00 PM
: Tuesday to Sunday 6:00 AM - 5:00 PM
: Tuesday to Sunday 6:00 AM - 5:00 PM
: Tuesday to Sunday 6:00 AM - 5:00 PM

: Everyday 10:00 AM - 5:00 PM
: Everyday 10:00 AM - 5:00 PM
: Everyday 10:00 AM - 5:00 PM
: Everyday 10:00 AM - 5:00 PM
: Everyday 10:00 AM - 5:00 PM
: Everyday 10:00 AM - 5:00 PM
: Everyday 10:00 AM - 5:00 PM
: Everyday 10:00 AM - 5:00 PM
: Everyday 10:00 AM - 5:00 PM
: Everyday 10:00 AM - 5:00 PM
: Everyday 10:00 AM - 5:00 PM
: Everyday 10:00 AM - 5:00 PM