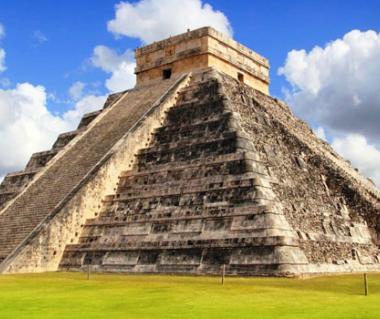 Mexico Trip Planner
Plan your customized trip plan for Mexico. Choose from Top Toursim cities and tourist attarctions of Mexico using trip planner.
Mexico Overview
French poet André Breton famously called Mexico the surrealist country par excellence. And therefore they say that Mexico is a country no one ever leaves. Every year, millions of tourists pass through, and Mexicans jovially warn that apart of them will remain behind forever.
Mexico is a dazzling land with an extensive cultural heritage that spans many centuries - an urban miracle where native markets thrive amidst a backdrop of colonial churches and sophisticated buildings. The vibrant synthesis of ancient relics and modern towns that bustle with activity and balmy beach resorts, invites you to a seaside rendezvous.
Mexico is what you make of it. Its multi-billion-dollar tourism industry is adept at satisfying those who like their travel easy. But the adventure is what you'll undoubtedly have if you take just a few steps off the pre-packaged path Mexico beckons with a truly astounding range of travel alternatives, from the cultural and historic to the adventurous and scenic. The intrepid traveler is well advised to try a little of each. Soak in sun and sand, dance through a Mexican fiesta, drool over turkey mole. Or simply float through Gothic churches and marvel at the splendors of Indian architecture that has survived the ravages of centuries. Whether rambling through ancient Mayan ruins or musing through Spanish churches, you are infused with the charm of this land, its native Indian culture, and its glorious colonial heritage.
Best time to visit Mexico
Visit Mexico at just about any time of the year, but do plan your holiday sensibly, taking in beaches in winter (November to April) and inland destinations in summer (May to October). Mexico's splendid beach resorts are best visited in winter; the summers can be uncomfortably hot and humid. Inland cities tend to remain cool and sometimes cold in winter.
The holiday season – Thanksgiving, Christmas, and Easter is a tourist time in Mexico, especially for the beaches. So you need to plan well to avoid getting caught in the holiday rush. The ideal time to travel in early December or early January when you can juggle between great weather and smaller crowds on the beaches. Of course, hotel prices are at their peak from December 15th till Easter and are lower the rest of the year. Establishments commonly extend off-season pricing during the first three weeks of January to attract tourists.
Getting to Mexico:
By Air:
Entering Mexico by air has become considerably simpler than it used to be. The international service has been streamlined by the introduction of three new air services. The U.S and Canada have increased their charter services into the country. Only Mexico City and Cancun receive direct scheduled flights from Europe, Canada Central, and South America & Havana and Cuba. When purchasing an air ticket in Mexico, do remember that there is a Departure Tax of about US$12.5
By Road:
There are about twenty official crossing points where buses and cars can enter Mexico from the US border, to connect with Mexican buses. Guatemala is also connected to Mexico at three border crossings. A road border crossing point connects Belize with Mexico.
What to see and experience:
Sightseeing :
Mexico City: Mexico City, with its endless sightseeing options and its non-stop invasion of the senses, creeps up on you till you seek refuge in one of the many getaways.
Acapulco: Vibrant Acapulco with its exuberant beaches and nightlife has a tempo that few other resorts can match.
Cancun can: Cancun can, with its tropical beaches and Mayan ruins and the many marvelous getaways that the city offers.
Cozumel: Cozumel is an alluring Caribbean island with a charming Old World atmosphere.
Tulum Corridor: A city where you can do some excellent diving or use as a gateway to explore the Tulum Corridor.
Guadalajara: The historic city of Guadalajara is a delight to walk through, with its gracious buildings, parks, and museums. This is where tequila and Mariachi music originated, and where you can find exquisite fine arts and folk crafts.
Eating out in Mexico:
Dining is one of the truly enjoyable experiences in Mexico. Mexicans love long, lingering meals. Their cuisine is as diverse as the country's topography and climate. There is a tremendous regional variation: what's "hot" on one coast may be cold inland.
Authentic Mexican cuisine is always distinct and bold, but it has been deeply influenced by Spanish, French and North American traditions. Mexican food liberally uses chocolate, vanilla, beans, corn, avocado, papaya, guava and chili peppers, tempered with spices and not necessarily flaming hot.
Start your day with a traditional breakfast of Huevos rancheros, chilaquiles, and café de olla. Munch through a variety of tortillas and bread or try some regional dishes (platos regionales) like pozole (hominy and pork soup), mole (a delicious sauce), tamales (stuffed cornmeal) and menudo (tripe stew). Or enjoy some seafood or mariscos, like camarones al mojo de ajo (grilled shrimp), filete de pescado (fish fillet), or ceviche. Finish your meal with a flan (caramel custard), mangos flameados (flambeed mangoes), helado (ice cream) or pastel de queso (cheesecake).
Shopping
A Mexican visit is not complete till you bring back some of the delightful souvenirs of the country. Carved wooden animals, silver jewelry, weaves and the most unusual ceramics and pottery are just waiting to be picked up. 

Mexican artists and craftspeople are famous for their brilliant artistry and inventiveness. Craft in Mexico is a vivid culmination of ancient Indian culture. The vibrant use of color, material and traditional techniques results in some of the most amazing handicrafts in the world. Each region in Mexico is famous for a particular kind of craft.
Mexico boasts of the best quality leather products such as shoes, bags, and belts at low prices. Mexico is the world's largest producer of silver and you can pick up beautiful silver jewelry here. Watch out for products stamped with the ".925" assurance of purity. Traditional Indian weaves are brought to you in the form of hand-woven products and textiles – scarves, shawls, dresses, blankets, baskets, and reed-mats. Mexico's ceramic crafts are delightfully unique and artistic. There is quite a variety, from trinkets and masks to the finest artwork of renowned artists like Sergio Bustamante. Oaxaca is famous for its woodwork, especially for carved animals called alebrijes which make wonderful souvenirs. Carved masks, furniture, guitars and lacquered products are also popular. Hand-painted pottery is available in some exotic and imaginative designs, notably the green and black pottery of Oaxaca.
Towns and cities across Mexico, meanwhile, boast fabulous little boutiques that offer you clothes, shoes, jewelry, and fashion goods, as well as the crafts and artwork made by Mexican hands. These kinds of stores allow you to purchase the right kinds of clothing and objects to share in the latest Mexican styles while you get to know the place up close.
The Pueblos Mágicos that are part of Mexico's "Magical Towns" program and the colorful villages that are found in every state all boast markets that, along with all the typical folklore of Mexican tradition, offer personal care articles made with fresh, local, hand-made ingredients as well as offering the chance to sample the regional cuisine and partake in the everyday life of the local people.
Your most enduring memory of shopping in Mexico will certainly be of market day. This is a fascinating, festive experience. The array is bewildering, from leather, pottery, weaving, ceramics, silver, woodwork and textiles. The markets take place both indoors and outdoors. Traders and artisans vend their wares in a frenzied medley, calling out to you for "bargains". You will be the safest dealing with reputed merchants, especially if you are looking for a quality purchase.
Events
Mexicans celebrate their festivals with gusto, Mexico's fiestas are full-blooded, highly colorful affairs, which often go on for several days and provide the chili in the recipe of Mexican life whether it is Guadalupe Day, Christmas or the feast of the local saint. September 15th and 16th are celebrated as Independence Days. In fact, there are some 5,000 to 6,000 celebrations every year, from spontaneous local events to formal nationwide celebrations. 


Festival - Carnaval: Late February or early March
About the festival :
A big bash preceding the 40-day penance of Lent, Carnaval takes place during the week or so before Ash Wednesday (which falls 46 days before Easter Sunday). It's celebrated most wildly in Mazatlan, Veracruz & La Paz with parades and masses of music, food, drink, dancing, fireworks, and fun.
I am planning a trip to Mexico city in July 2019 and need advise which other countries I can include in my itinerary

Answer

Report Abuse

Hi,

That entirely depends on how many days do you have in hand. Plus your budget for the trip and your visa status. Please let us know about these details and we will assist you further.

Report Abuse
Searching for something specific?